If you don't know it by now, let me be clear. I am invested in your craftiness. Seriously. I'm basically the Sacagawea of crafting, leading you through the uncharted terrain of cardstock and glue guns. Uncovering the mysteries of DIY. Making your life easier all along the way. I am also the queen of hyperbole.
So maybe my crafty prowess hasn't reached historic levels. Maybe I don't have a wiki page…but I do want to make crafting easier for you and today's post may just be the key that unlocks it all.
Back when I started crafting, I jammed all of my supplies into one cabinet. It was a huge mess of a cabinet. The kind of mess that jumps out at you like a canned snake toy when the door is opened. Over the years, my stash has grown…uh…let's say "considerably" but it's not necessary. You don't need a huge craftroom. You don't need stacks on stacks of supplies. You can actually fit everything you need into one file box. Let me show you exactly how: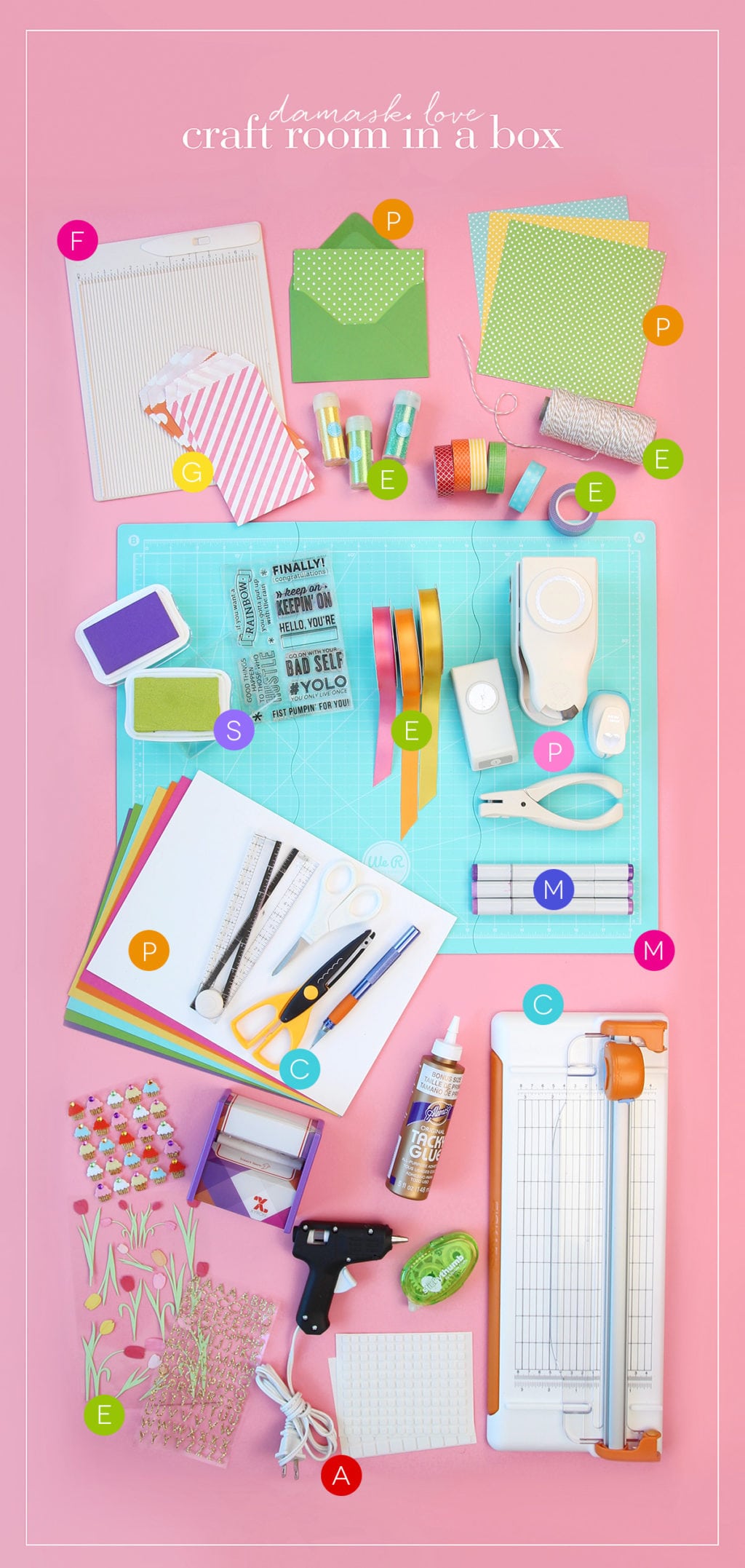 Everything pictured above fits neatly into the X-Large File Tote Box from The Container Store but before we get into the organization of all these crafty items, let's get down to the nitty gritty of what you need in your Craftroom in a Box. I've divided the contents into categories which correspond to the labeling above. This way you can select your own favorite products to fill each category.

Hot Glue Gun: When you are a last minute crafter like me, you don't have time to wait for glue to dry – which is why you need a glue gun . An inexpensive one will do the trick but if you want to get fancy, there is always THIS glue gun which I absolutely love.
Foam Adhesives: Foam adhesives are nothing more than little squares of foam with double sided adhesive. They are great for when you want something to pop off the page a bit.
Tape Runner: This staple will change the way you think of double sided adhesive. It's super easy to apply. I even use it during the holidays for gift wrapping.
Sticker Maker:  You know how much I love my sticker maker, so obviously you need one in your Craftroom in a Box.
Craft Glue: Thicker than regular Elmer's, craft glue adheres just about anything together and it dries relatively quickly.


Self Healing Mat: Since this craftroom in a box will have you crafting anywhere and everywhere, a good self-healing mat is great for protecting your work area, especially when you are using your craft knife.
Ruler: You probably own one of these already. I have a special love for my folding ruler, but any old ruler will do.

Scoring Tool: If you plan to make anything with paper, you'll want to have a good scoring board on hand to help with making cards, boxes, and tags. Here's a peek at how you can use a scoring tool to create a simple notecard. You can also use a scoring tool to create simple boxes and easy gift envelopes. 

Hole Punch: Since you will probably want to make some cute gift tags with your new craftroom in a box, a hole punch is a great tool to have on hand to create holes in gift tags. It's a great staple to include in your "craftroom."
Large Double Punch: Punches are awesome for quick crafting but they can be pricey. The layering punches from Martha are really great because you are basically getting two for one. The Layering Scalloped Circle Punch creates a scalloped circle, a traditional circle and a scalloped frame. Lots of options with it.
Heart Punch: Of all the shaped punches you can own, I suggest starting with a hear punch. It's a great basic and an iconic shape that can be used for a ton of different projects and designs.
Now, paper punches can be a little pricier but they are so great for whipping up easy crafts. I've made a TON of projects right here on Damask Love using paper punches. Flowers, ladybugs, cherries, apples, daisies…see, I told you. They are totally worth it!

Patterned Paper: You'll have to reign in your urge to buy every pretty paper on the shelf. Instead, invest in a few basic patterns like the Polka Dot Paper Pack from Lawn Fawn. The colors are bold and the patterns are good for any occasion. The 6×6 pack fits perfectly into the craftroom in a box.
Colored Cardstock: A good assortment of colorful cardstock is always a good idea. I recommend purchasing a sampler pack so that you have a ton of colors on hand. I prefer this sampler, but you can pick up an inexpensive sampler of cardstock at most craft stores.
White Cardstock: It took me a good while to find the perfect cardstock, and now I swear by this one. You can use whichever you like. You can usually pick up a large package of white cardstock for around $5 at your local Hobby Lobby or Michaels.
Prefolded Cards: Save yourself the trouble of cutting and folding your own cards and just buy some that are already made for you. Then, you have plenty of time to dress up the front with stickers, glitter and more. I love the A4 cards from Lawn Fawn, but any craft store will carry a good assortment of prefolded cards.
Envelopes: Make sure you send your handmade stationery in a colorful envie. This way, you friends know that it's not a bill! I find that Paper Source carries that best selection of colored envelopes.

Treat Bags: If you are a seasoned crafter, you probably have tons of ways to create your own gift packaging. But if you're a seasoned crafter, you also probably have a room full of supplies! For beginners who want to build their own craftroom in a box, investing in a few premade treat bags is a smart way to go. They make for quick, colorful solutions to package up yummy treats. Slap a handmade tag or sticker on the front and you're done.
Gift Boxes: When most substantial gifts need dressing up, keep a few gift boxes on hand. I recommend purchasing gift boxes that are fully collapsible so that they can easily be stored in your storage box.

Ribbon: This one is sort of a no brainer and I'm willing to bet you have some ribbon laying around the house already. Take a look at this ribbon sampler. It's cheap and offers a ton of different colors.
Glitter: It ain't a day that ends in "Y" with some glitter happening. I put that **** on everything. You should do. Go with this iridescent glitter pack. It's by far my fave.
Baker's Twine: Baker's twine is like the casual version of ribbon. Get you some! This pack has a bunch of colors so you'll never run out.
Washi Tape: When you are in a serious rush and don't have time to tie up a cute bow, slap some washi tape on and call it done. You can also use washi to seal your envelopes for a quick pop of color.
Stickers: Seasoned crafters own lots of different tools for creating custom shapes. No need. Stickers are cheap and come in every shape imaginable. They are quick and make your packaging look great.

Alcohol Markers: Okay – so these are a little pricey. If you are wanting to step up your coloring game, invest in a set. THESE are great and relatively affordable.
Traditional Markers: If you have no interest in expensive markers…no shame in your game. Just grab a set of old school Crayolas and they will do the trick. Just a little something to add color when needed. No need to go for broke if you don't want to.


Scissors: You know what scissors are. You have a pair or two…or ten. Grab em. Put em in your craftroom in a box. Done.
Decorative Edge Scissors: When you are feeling a little fancy schmancy, break these bad boys out to give a decorative edge to your paper projects.
Craft Knife: Great for detailed cuts. A good basic to have on hand.
Rotary Trimmer: This one is a must if you plan on doing anything with paper. You are pretty much guaranteed a straight cut every time.


Stamping is near and dear to my heart, since it's how I got started. Even if you aren't a hobby stamper, stamps are still great basics to have in your arsenal. I recommend clear stamps, since they store flat and are easy to use. Take a look at the Craft 101 page for a quick tutorial on how clear stamps work.
Clear Stamps: These are super easy to use and allow you to add really fun greeting and customized sayings to just about anything. I suggest getting an alphabet stamp set, so that you can personalize tags, namecards and more.
Ink: Well, if you're gonna have stamps, you'd better get some ink. Nuff said.
Acrylic Block: And…if you're gonna get ink and clear stamps…well, you're gonna need a block too.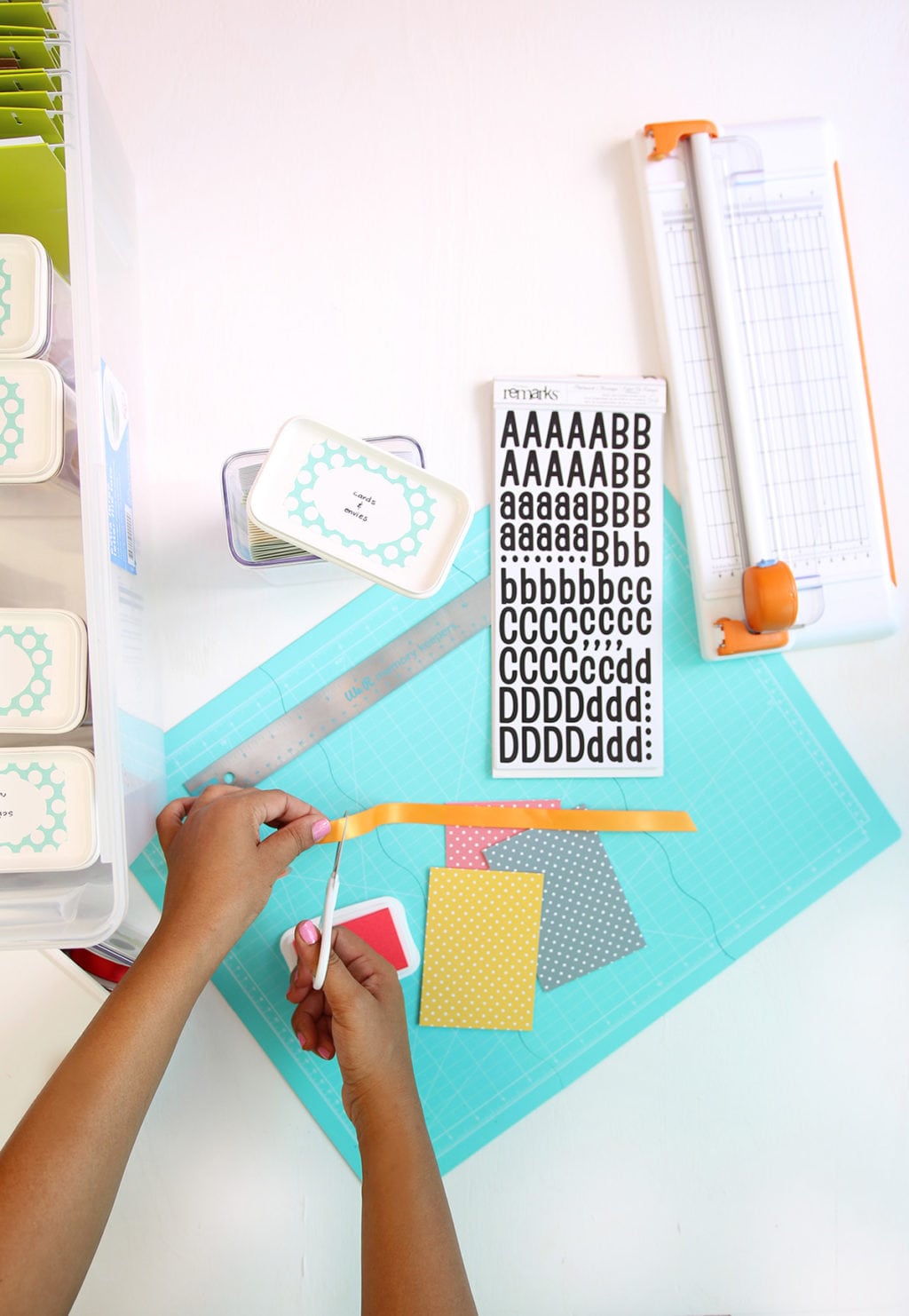 Keeping all your craft room supplies organized is the key to making the most of your goods. I scoured the aisles of The Container Store to come up with a solution that perfectly houses every single item.
The X-Large File Tote works perfectly as your "craftroom," housing everything in one place and small enough to store in a closet or beneath a desk.
Inside the file tote, I used the 40oz Narrow Stacking Canisters to organize glitters, washi tape, cards and envelopes, markers, scissors and rulers. For the larger items, I used the 69.7oz Modulbox Stacking Canisters. These stack perfectly next to each other for a snug fit in your storage box. You can slide the scoring board down the side of the file tote. The rotary cutting tool and foldable cutting mat both store perfectly on top. All cardstock, gift packaging, stickers go into hanging file folders for easy access.
Once you've set up your craftroom in a box, you can pretty much get crafty anywhere you want. At a desk. On the floor. Even take it to a friend's house for craft night. There are a ton of simple projects just waiting to be made with the contents of this box.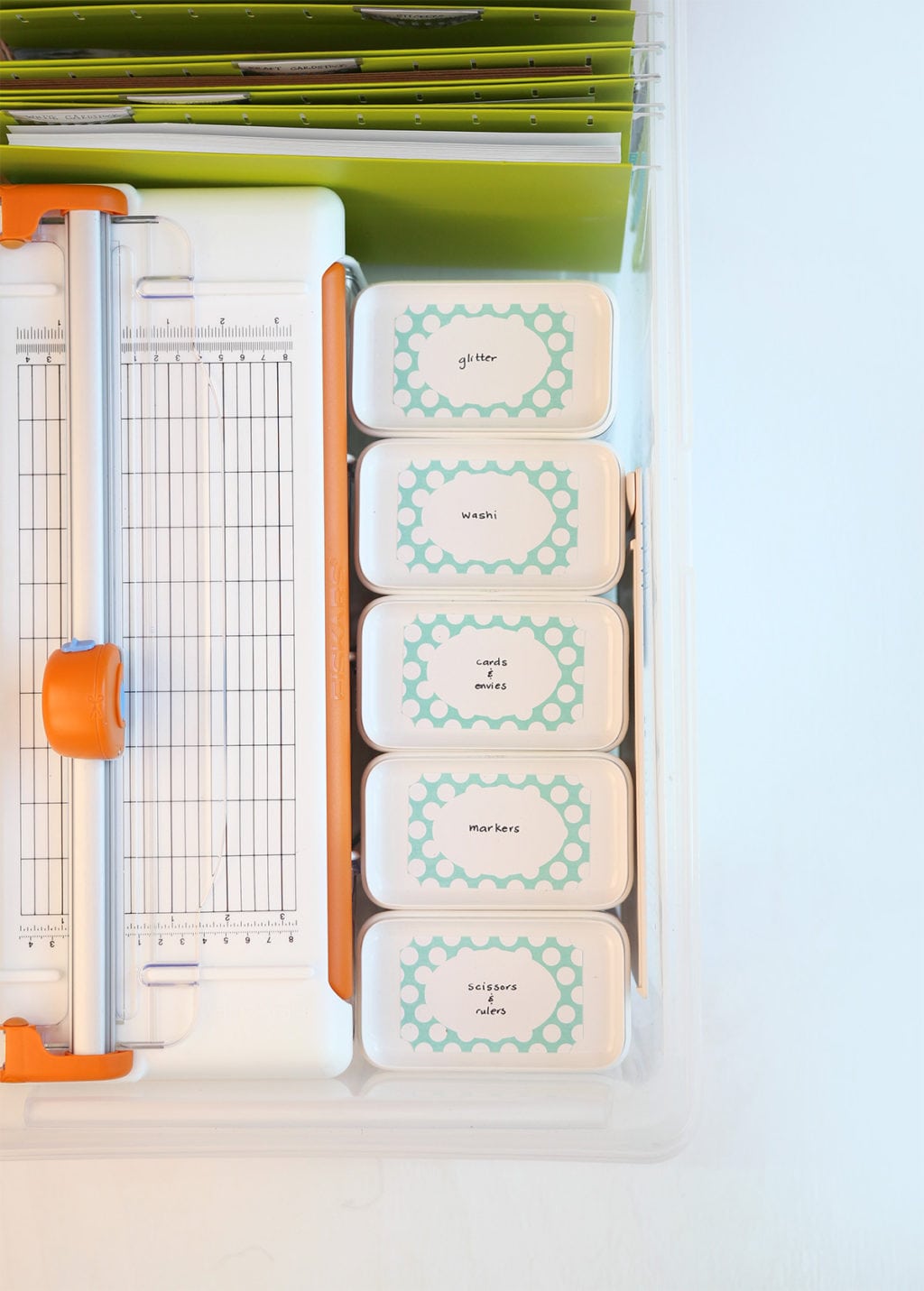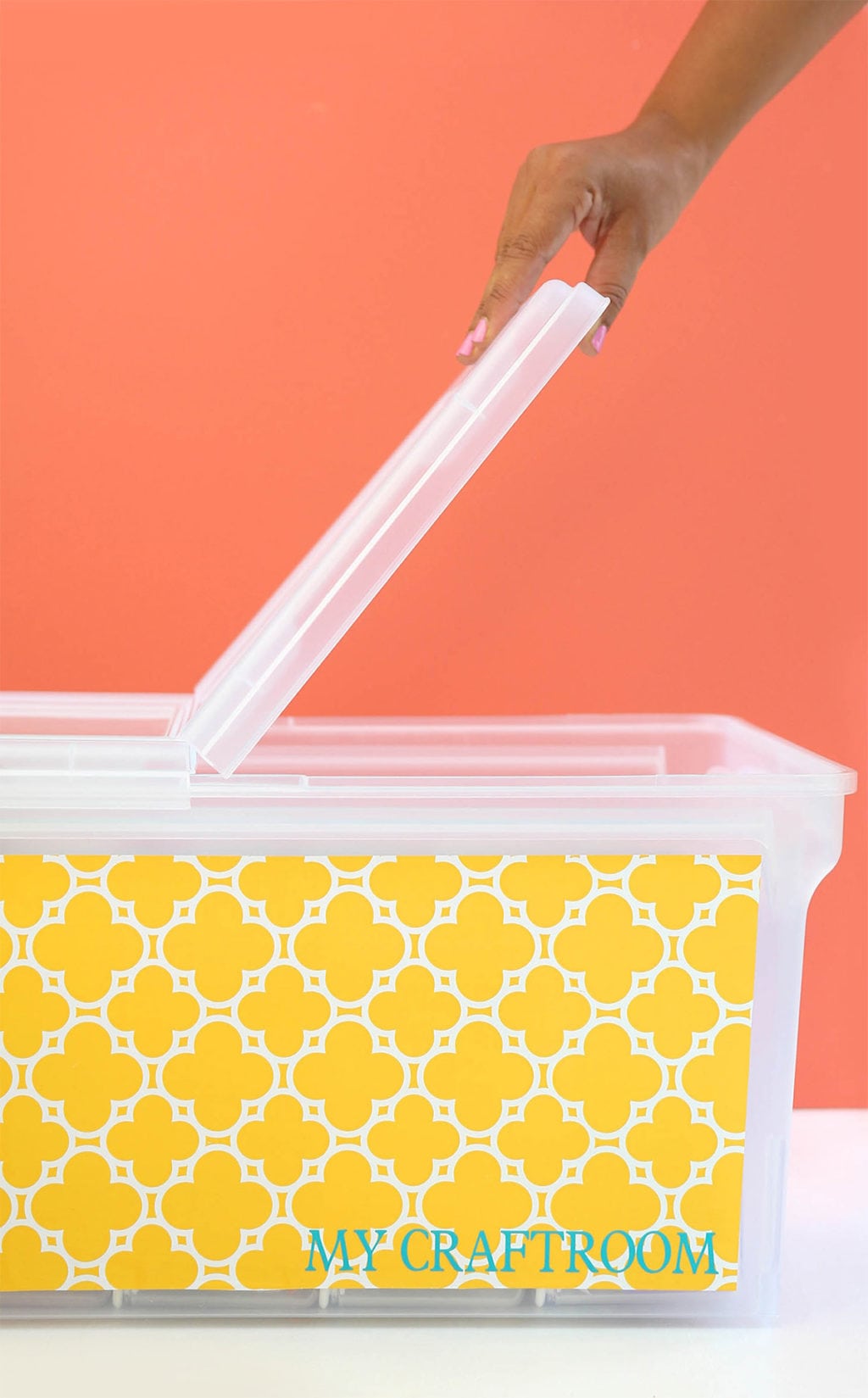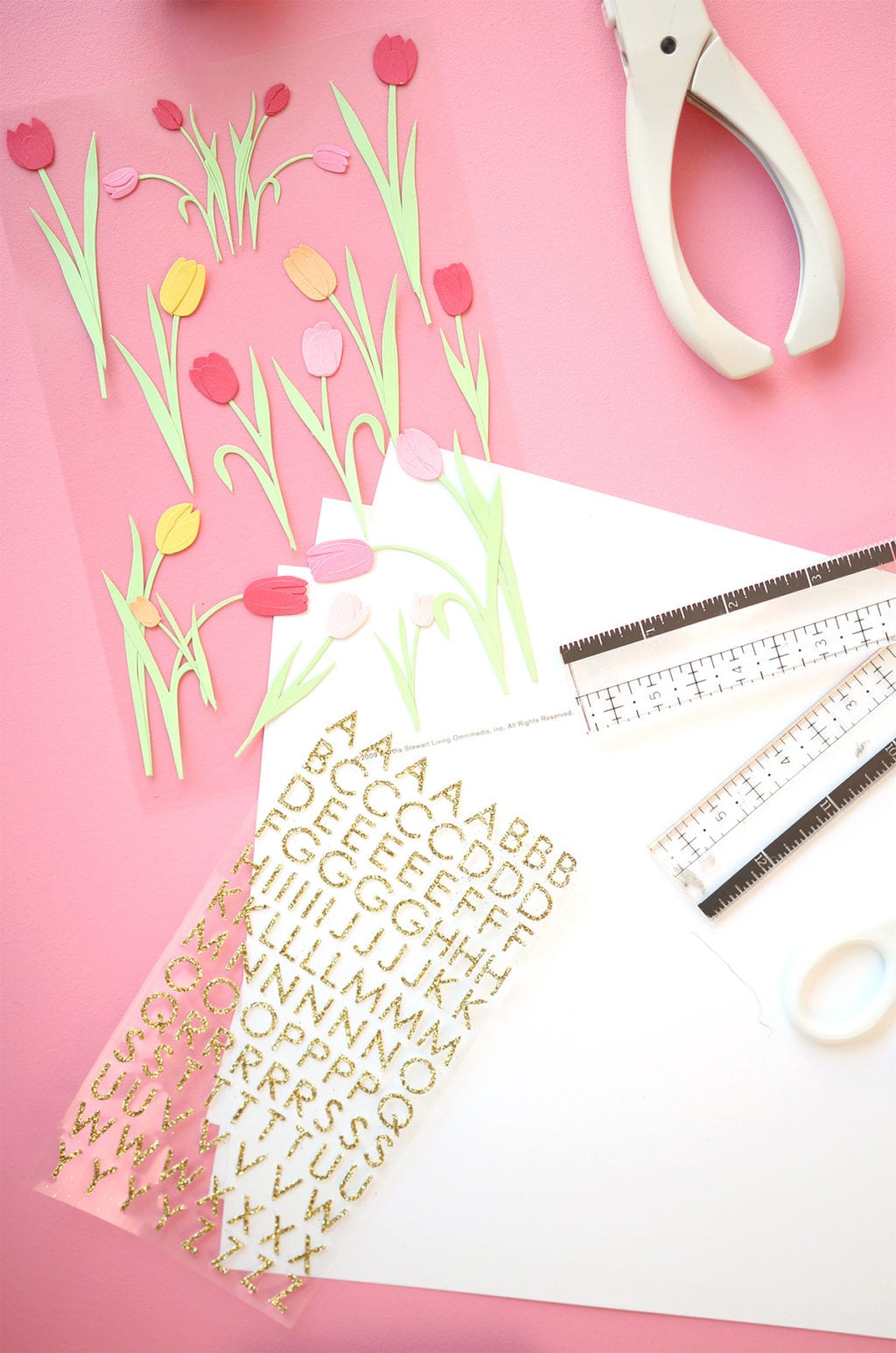 ORGANIZATION
PAPER
EMBELLISHMENTS
PAPER PUNCHES
ADHESIVES
MEASURING | FOLDING | CUTTING TOOLS
GIFT PACKAGING
STAMPING
MARKERS