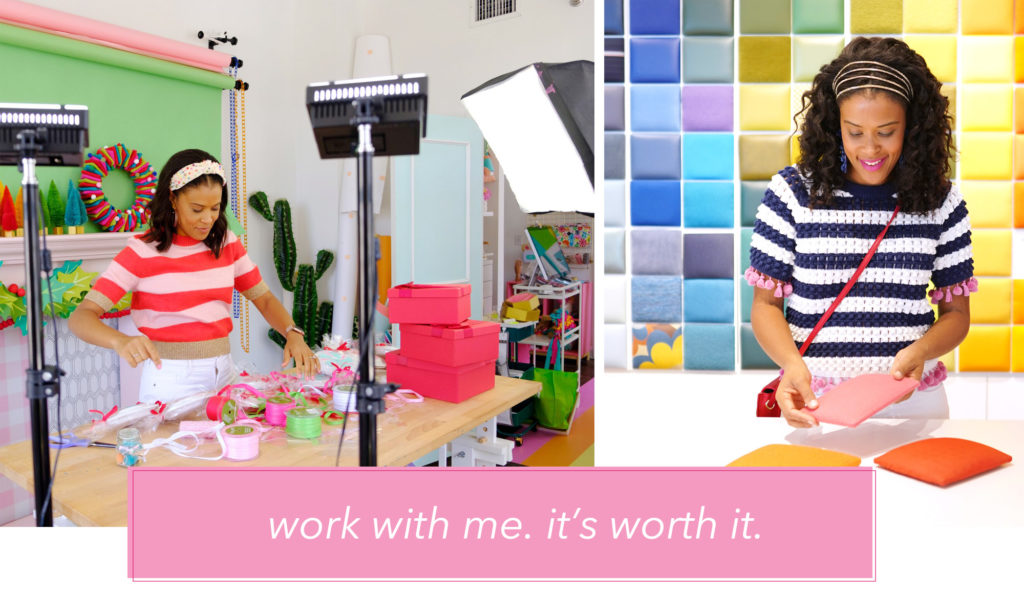 Never a dull moment in the Damask Love Studio. Never.
When asked "What's a typical day?" I usually respond – "No such thing." Each day brings different and exciting challenges and projects. This means there are countless ways you and I can work together. Here's a quick rundown:
BRAND PARTNERSHIPS
Not to toot my own horn but…toot toot! Around here, we're really good at bringing brand campaigns to life in a creative and engaging way. We've dreamt up some pretty incredible concepts including a paper mache birthday cake that magically transformed into a real one! Past campaign partnerships have included Clorox, Dove Chocolates, Barefoot Wines, Toyota, Caboodles, Publix and Crate and Barrel.
BRAND AMBASSADOR
I've got a loud voice. Really. I got in trouble for it all the time in grade school. Thankfully, my big mouth has been an asset because I'll gladly shout from the rooftops about my love of my favorite brands! If you have an incredible brand in need of a fearless cheerleader and ambassador, we should probably talk. I promise I won't talk too loudly over the phone! SPEAKING
Considering my loud voice and penchant for talking – I'm pretty good at speaking to large groups of people. Sometimes I don't even need a microphone! (See, I just saved you a few dollars on A/V!) Speaking at events is an incredible way to connect with the creative community – many of whom I've had the pleasure of knowing for years via the all mighty interwebs. Recent speaking appearances have included Keynote Address at the 2018 Chicago Planners Conference and invited panelist at the Duke University Arts & Media Networking Weekend.
TELEVISION/ON CAMERA
I'm no stranger to the camera. My approach is to talk to the camera as if I'm talking to my best friend and bring my very best creative self every time. I've appeared as a DIY expert on The Today Show, The Home Shopping Network and on Hallmark's Home and Family. In 2018, I was a finalist on NBC's Making It and in November 2019 I will appear as the host of Disney Family Sundays – a brand new series on Disney+.
What did I tell ya? There are several options for how we can work together …and I'm sure we can dream up even more than I've listed here.
If you'd like more details, we'd love to chat and send you the Damask Love Media Kit. Send an email to [email protected]
Can't wait to talk with you more and bring our ideas to life!