Yep. It's a New Year and we've all created some version of a "resolution." There's a decent chance that some of those resolutions will become distant memories in a couple of weeks – which is why this year, I'm switching up my resolution routine. No more lofty goals. No more generic promises to "eat healthier" or "go to the gym." No thanks. I'll pass on those. As far as I'm concerned, goal setting can happen all year long and smaller goals are more likely to be successful.
To get you off on the right foot for crushing your goals for the new year, I decided to give you ONE HUNDRED ideas to get started!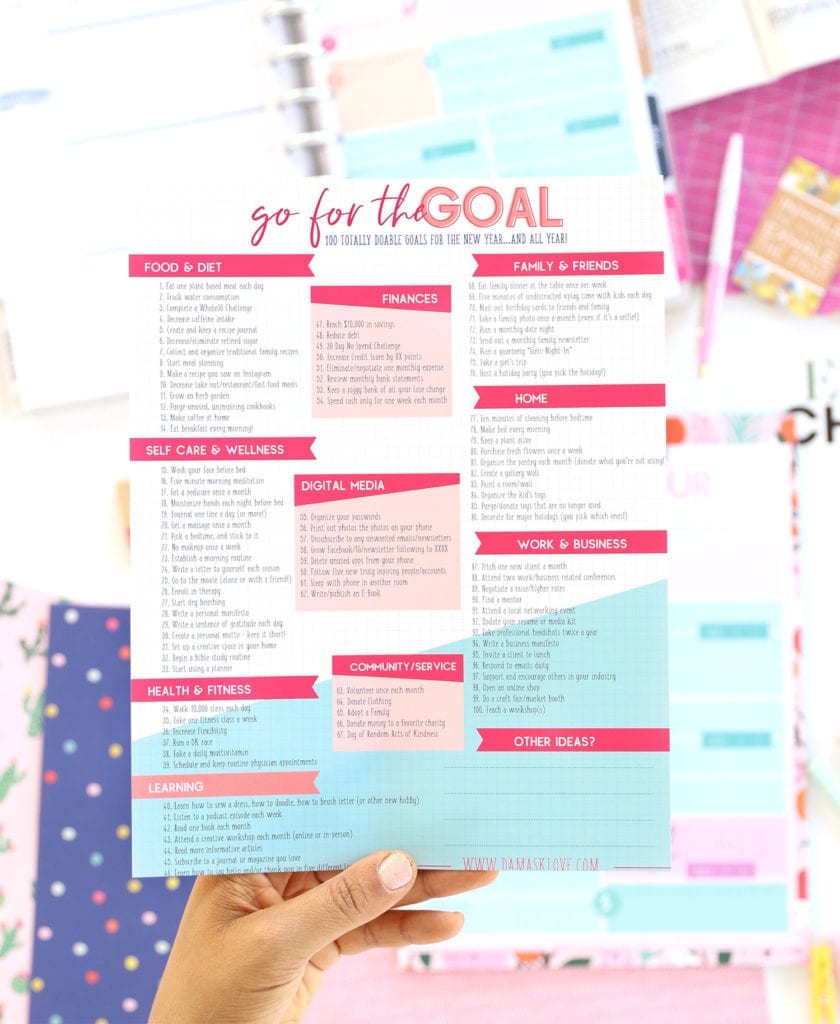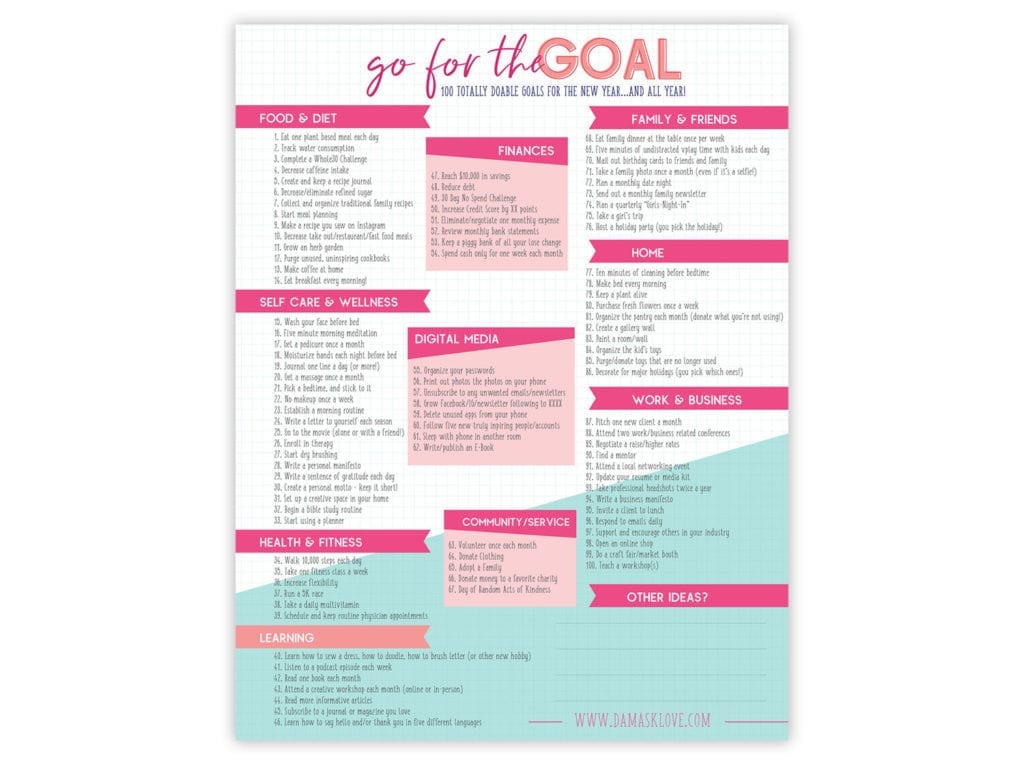 As much as I'd love to break down every single goal on this list – I'm pretty sure that would make for the longest blog post in the history of the entire internet. Instead, I've chosen a few of my favorites from the list and will give you the low down on how I think you can make this goals a success!

In November 2018, I had the awesome opportunity to meet Jessica Murnane – an author, podcast host and all around fantastic human. After about twenty minutes, I was convinced that Jessica would be my life coach and I would do anything she tells me to do…not really…but she's an inspiring girl, what can I say. I won't sit here and even try to tell you Jessica's full story, but in a nutshell, she completely changed her life by transitioning to a plant-based diet. The best part though is that she is NOT one of those people who gets all judge-y or argumentative about other people's decision to eat meat. She's all about encouraging you to do what makes you feel best. Anywho – her book One Part Plant is such a good read and gives you all the info you need to make the best decision for you. She encourages you to just start with one plant based meal per day and see where that takes you. If you've ever considered limiting or eliminating meat consumption, this goal might be a good one for you!

Did you know that crafting…specifically paper crafting can be incredibly drying for your skin! Ever since I fell down the rabbithole of card making, I've noticed that my hands are chronically dry and I'm terribly about moisturizing them. Lately, I've made a concerted effort to drink more water and moisturize my hands more regularly. Both have helped a ton with dry cuticles and scaly skin. My favorite moisturizers are Perlier Hand Cream from HSN and Helping Hands Hand Cream from LUSH Cosmetics.

Learning to sew has been on my to do list for YEARS! Last year, I made the lofty goal of learning to sew a quilt…yeah…that never happened! It's not that I can't operate a sewing machine…I can. And truthfully, I'm able to make anything that only requires a straight stitch, but clothing is something I've never tackled. If you're looking to get more creative this year, set a specific project goal like learning to sew a dress, how to brush letter your name or learn to bind a book. To get started, there are plenty of inspiring projects here on Damask Love or you can hit up Creativebug for tons of classes!

Podcasts are my go-to for passing the time on a plane, train or in the back of an Uber. There are some good ones out there and every New Year, I'm inspired to discover podcasts I've never listened to before. Some of my current favorite podcasts are:
One Part Podcast
The Gary Vee Experience
Super Soul Conversations
Online Marketing Made Easy
Raise Your Hand and Say Yes
I'd LOVE for you to comment below with some of your favorite podcast recommendations!!

Do you ever look at  your Instagram timeline and feel confused about the people and images showed up there? Chances are you've followed a bunch of people over the last year that may not be giving you the jolt of inspiration you need when you open up the IG app. Sadly, it might be time to do a little clean up. While it can be tough to unfollow people on IG, I like to think that we all have seasons on Instagram and sometimes a new season calls for new inspiration. So, go ahead…unfollow some of those accounts that aren't doing it for you any more and add a new group of people to your feed!

Everyone loves a piece of mail that is NOT a bill…a flyer…or any other random piece of junk that clutters up the mailbox. Make the commitment to send happiness to the mailboxes of your friends and family by mailing out birthday cards! IF you need a way to get organized and make note of all the upcoming birthdays, you can take a look at THIS tutorial where I show you how to create your own binder for organizing cards and stationery. If you'd prefer to forgo the DIY, you can just print out the Damask Love 2019 wall calendar and use it to make note of birthdays and events.

Be honest. You have at least ONE frame in your house right now that features a photo of some random people you don't know. You know…the photo that comes with the frame. The photo of the happy family running through the park or posing on a pier. You bought the frame because you love it but you never got around to actually putting your own photo into it. Maybe this year is the year that you update that frame with familiar faces and create a gallery wall to go with it! There are tons of tutorials out there on how to create a gallery wall! You can create a gallery wall filled with DIY projects using your Cricut, or create one with washi tape and gift boxes! How ever you tackle it, a gallery wall is a totally doable goal that will make you feel like a success!

Last year, I finally wrote the Damask Love Manifesto. It had been on my to-do list for a long time and I wrote in over the course of a 5 hour flight. When I was done, I felt so accomplished to have written something that so perfectly summarized the intentions for my business. I would encourage you to write your own manifesto. Keep it short – ten lines or so. Keep it personal – each line should truly reflect your values. When you're done, find an illustrator to turn it into art (or  do it yourself!) You'll have a very special piece of wall art that you can display in your home or workspace as a regular reminder of your goals!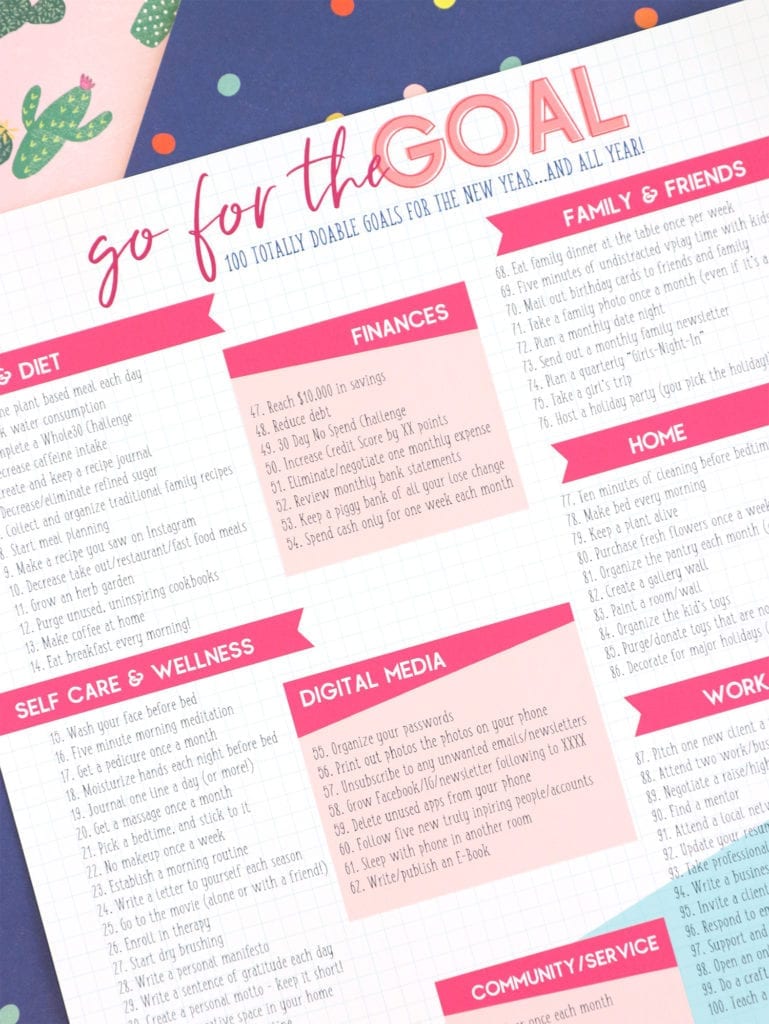 And now that you've taken a look at what goals you might set throughout the year, how about a simple and straightforward worksheet for actually turning those goals into plans! I've studied and used countless goal worksheets over the last few years. Some are way too simplistic and others are so time consuming that they make your goal seem too daunting. To solve that problem, I've created a FREE printable goal worksheet that will help you think through your goals, break down the steps necessary to complete it and consider any possible stumbling blocks. After using this system for the last few months, I've found that breaking down my simple goals makes me more successful and more likely to tackle a new goal once I've finished the first.
OH! And as a special treat for all my planner babes, I'm giving you two versions of this goal setting worksheet – one that is letter sized and another that is perfectly sized for your Classic Happy Planner!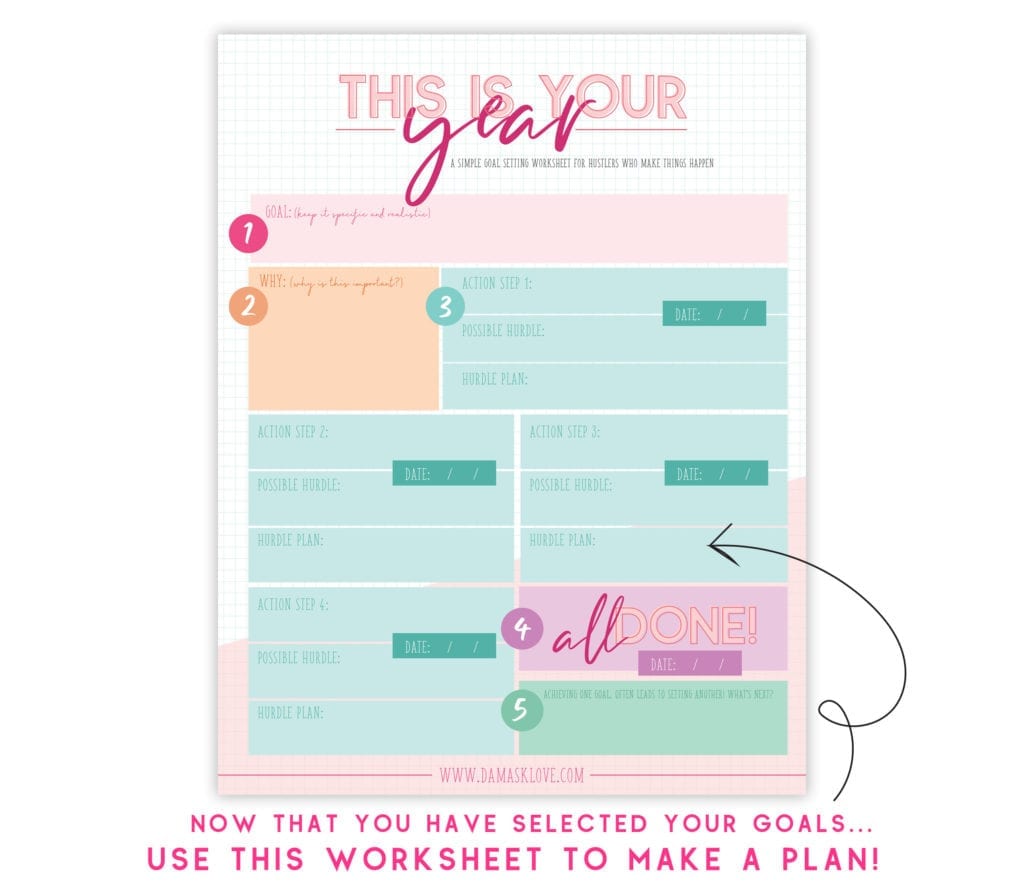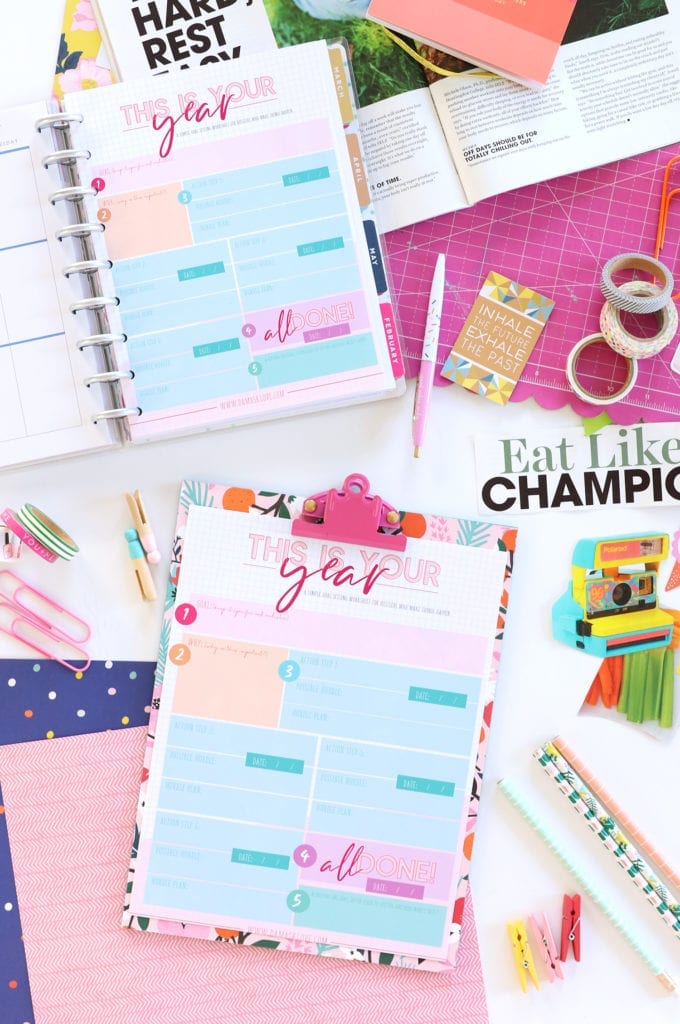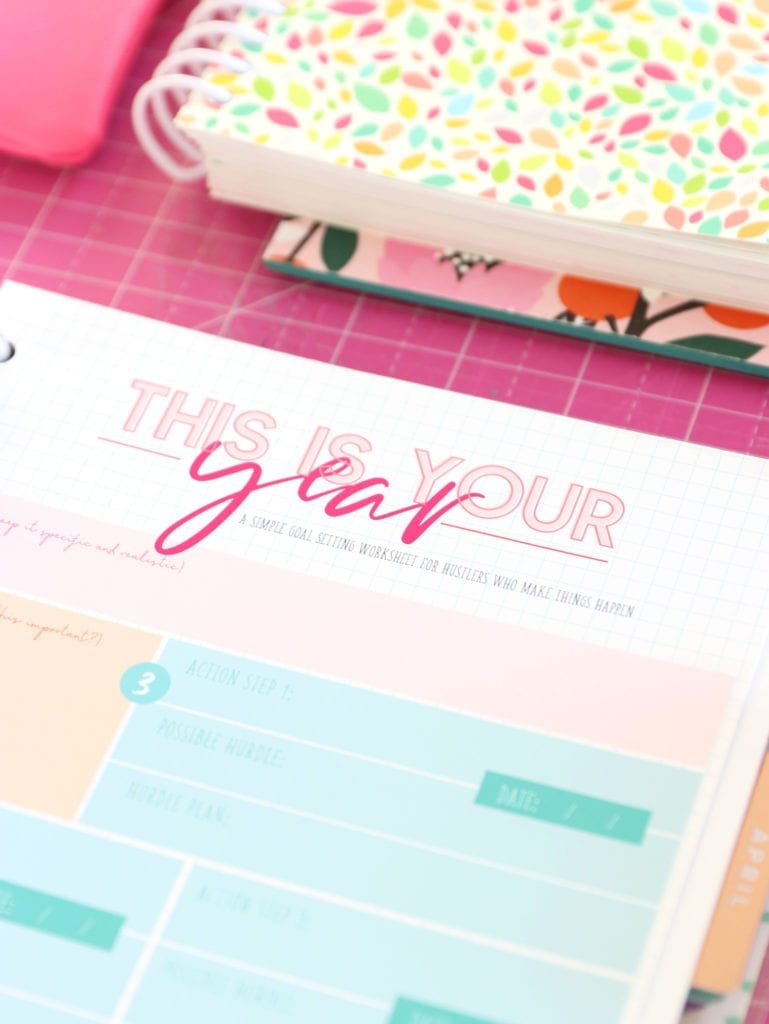 This is your year, girlfriend and I truly hope that these tools help you have the happiest and craftiest year yet!
…and before you go, be sure to comment below with any recommendations you have for Totally Doable Goals! Even though I've provided 100 for you, I'm sure you have lots more ideas!!