If you could click your heels and have a new skill, what would it be?
If you could snap your fingers and have a new talent, do you know what talent you'd choose?
When I was ten years old, I really wanted to be able to dance like Janet Jackson. These days, I've given up any hopes of jamming out in Rhythm Nation style. That's not going to happen. These days, I wish I could blink my eyes and immediately have graphic design and illustration skills. I've toyed with the idea of taking classes and learning the technique behind beautiful lettering, pattern-making and colorful illustrations. But alas, this whole "24 hours in a day" thing makes it tough to take on another task.
Instead of learning the art of illustration, I've enlisted the help of twelve incredible designers and illustrators who've honed their craft in beautiful ways!  Each of these designers is participating in a little thing called the Damask Love Blank Space Challenge. Here's how it's gonna work:
Each designer gets a blank template and works her magic in any way she chooses. She might make a card, gift tags or a notebook cover that reflects her own personal style and aesthetic. (hint: in the photo above you can see a few sneak peeks of their awesome work and designs!)
Each month, a featured designer will have her printable creation EXCLUSIVELY available in the Damask Love Newsletter! Are you signed up?
That's it! A simple, fun and a great way for me to feature and share the work of talented women whose skill I admire tremendously! Here's a list of all twelve designers! Check them out, follow them and tell them how great they are.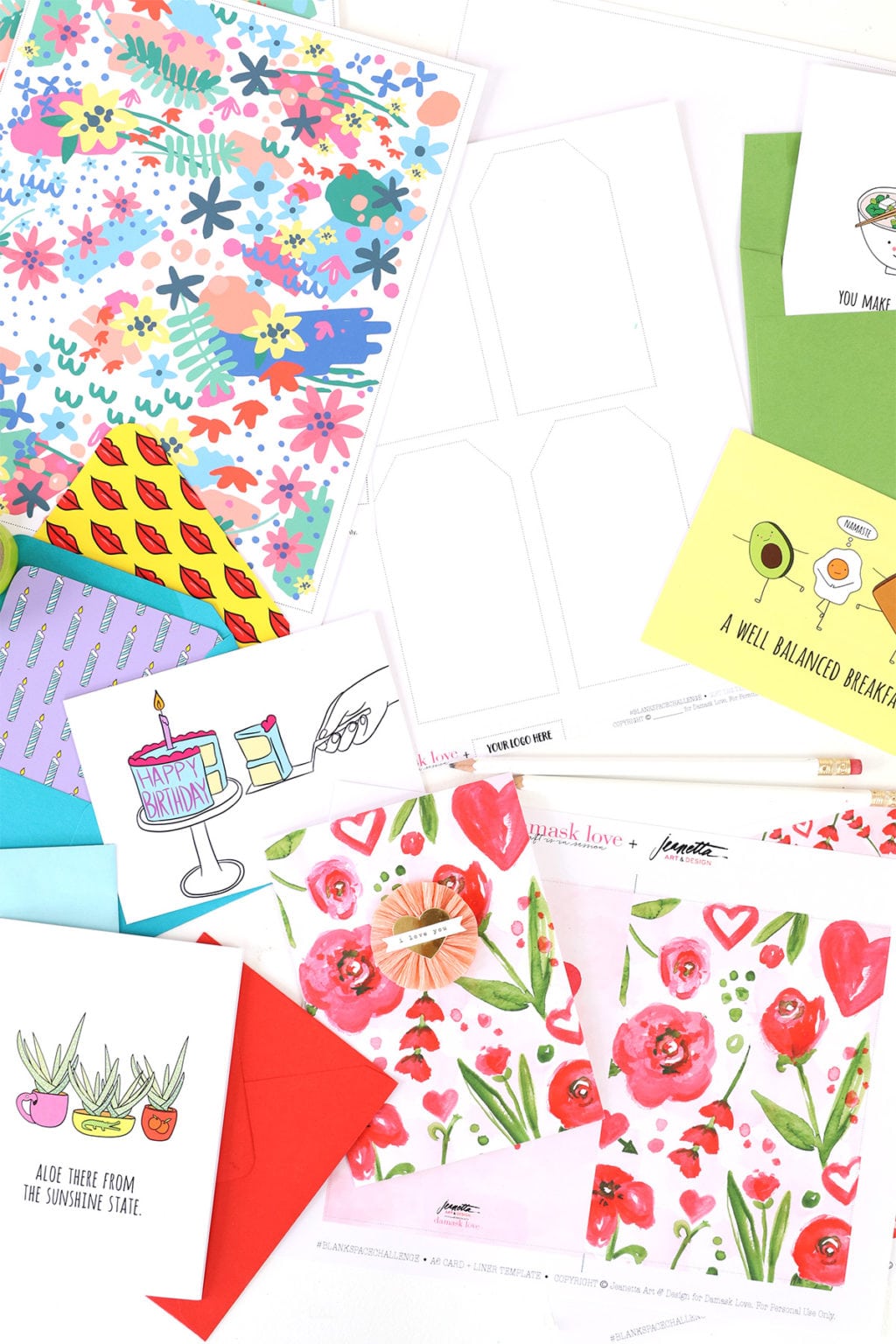 ….and, oh yeah,  make sure you're signed up for the Damask Love Newsletter to receive each exclusive design. Just check out the blog sidebar and enter your info!
The Damask Love Newsletter is emailed on the first Friday of each month! See you there!