Every Thanksgiving, for as long as I can remember, I get stuck on cheese grater duty. My mom stations me by the kitchen sink and hands over huge blocks of cheddar cheese and charges me with the task of turning those blocks into mounds of golden goodness that would make Scrooge McDuck proud. Quite frankly, I'm pretty sure that Wisconsin has a shortage every Thanksgiving because of all the cheese I'm grating.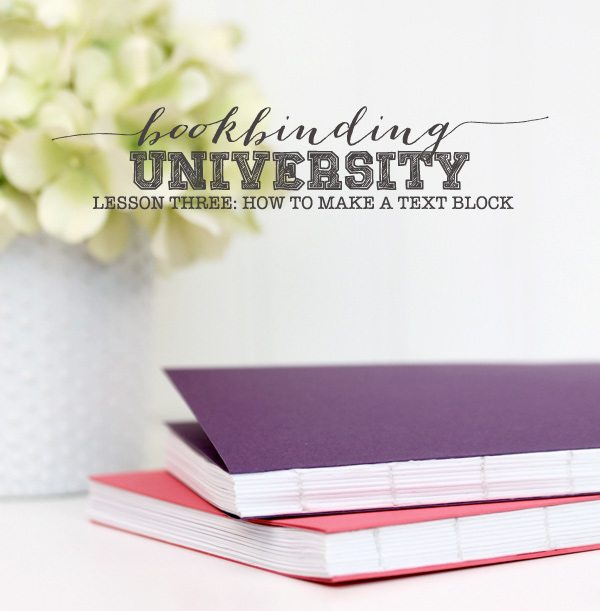 Thing is…no one really loves grating cheese. It's monotonous and repetitive and it sorta makes your arms tired after a while. But then..oh…but then, when that gooey mac & cheese emerges from the oven, I can take complete credit for all of its deliciousness. Because we all know that perfect mac & cheese all boils down to impeccable grating technique, right?
So why all this talk about mac & cheese: Well, here's the deal: text blocks are the "cheese grating" of bookbinding. Creating a text block is not a terribly riveting task, but it's the most important part. And when your handbound notebook is complete, you will revel in the perfection of that text block.
Today's Bookbinding University lesson is all about the text block. I encourage you to spend some time with this tutorial and give yourself plenty of practice. Your first one may not be perfect, but that's okay! After a few tries, you'll be doing this by memory and won't even need the tutorial anymore. Stick with it!

This tutorial is a longer one, clocking in at 19 minutes and 8 seconds, but I've broken it into sections to make it much easier to follow. Below you'll find minute markers to help find exactly what you need to know!
[ylwm_vimeo height="400″ width="600″ ]72243341[/ylwm_vimeo]
00:10 | Marking & Stitching the Text Block Signatures
3:18 | Stitching the First Signature
5:30 | Stitching the Second Signature to the First
8:10 | Adding Additional Signatures to the Text Block
11:17 | What To Do When You Run Out of Thread
14:03 | Placing Adhesive on the Spine of the Text Block
16:32 | Adding Cover Pages to the Text Block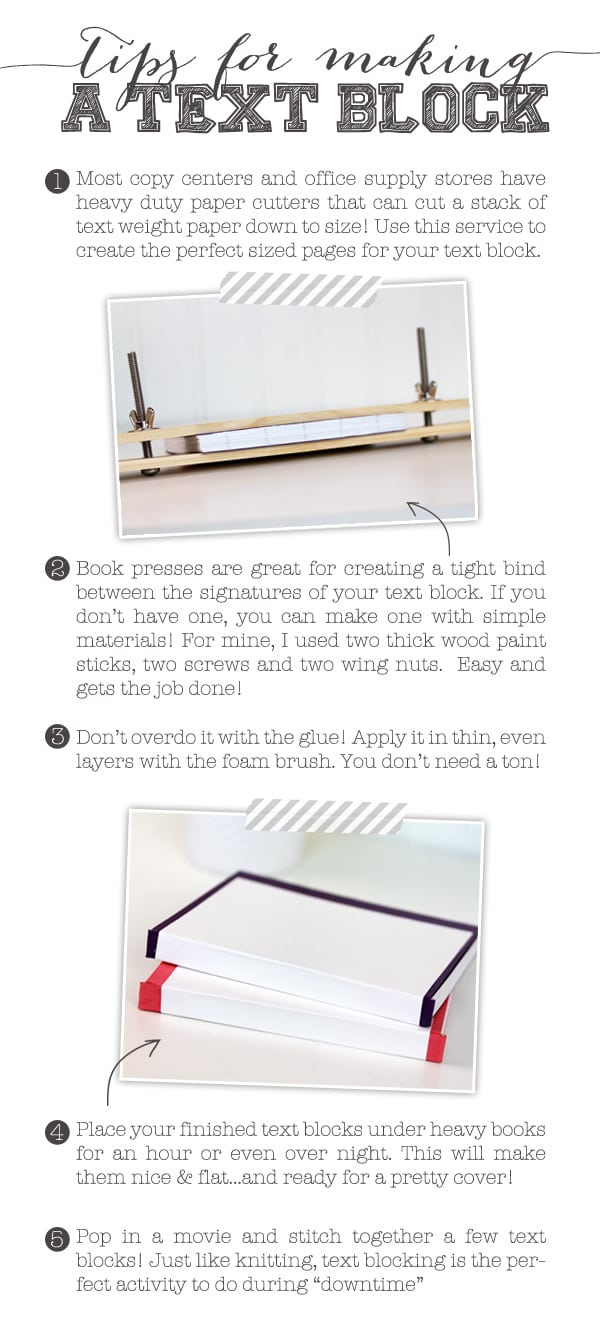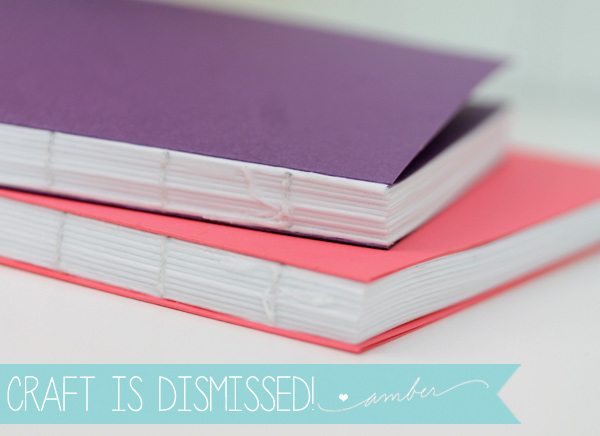 MORE BOOKBINDING TUTORIALS
How to Make a Text Block | How to Make a Hardcover | How to Make a Composition Style Notebook | How to Make Your Own Bookcloth | How to Make Elastic Closures & Headbands | Perfect Binding