Come with me on a little journey, friends. A journey where there is unlimited cotton candy and a larger than life mushroom playhouse. A journey where everyone creates beautiful crafts together in a huge studio space surrounded by floor to ceiling windows and flooded by natural sunlight. Where little kiddos, laughing mommas and silly daddies spend the morning making new friends and noshing on delicious eats.
That's the short version of MiniMakers – the event I cohosted with my good friend Chelsea Foy of Lovely Indeed. We dreamt of a creative workshop that would bring families together and man, oh man, was it a goodie. Easily my favorite workshop to date.
In true Damask Love form, I thought I'd bring you one of my infamous "lists" to give you the full #minimakersSF experience. Here we go: This is exactly how to be a MiniMaker.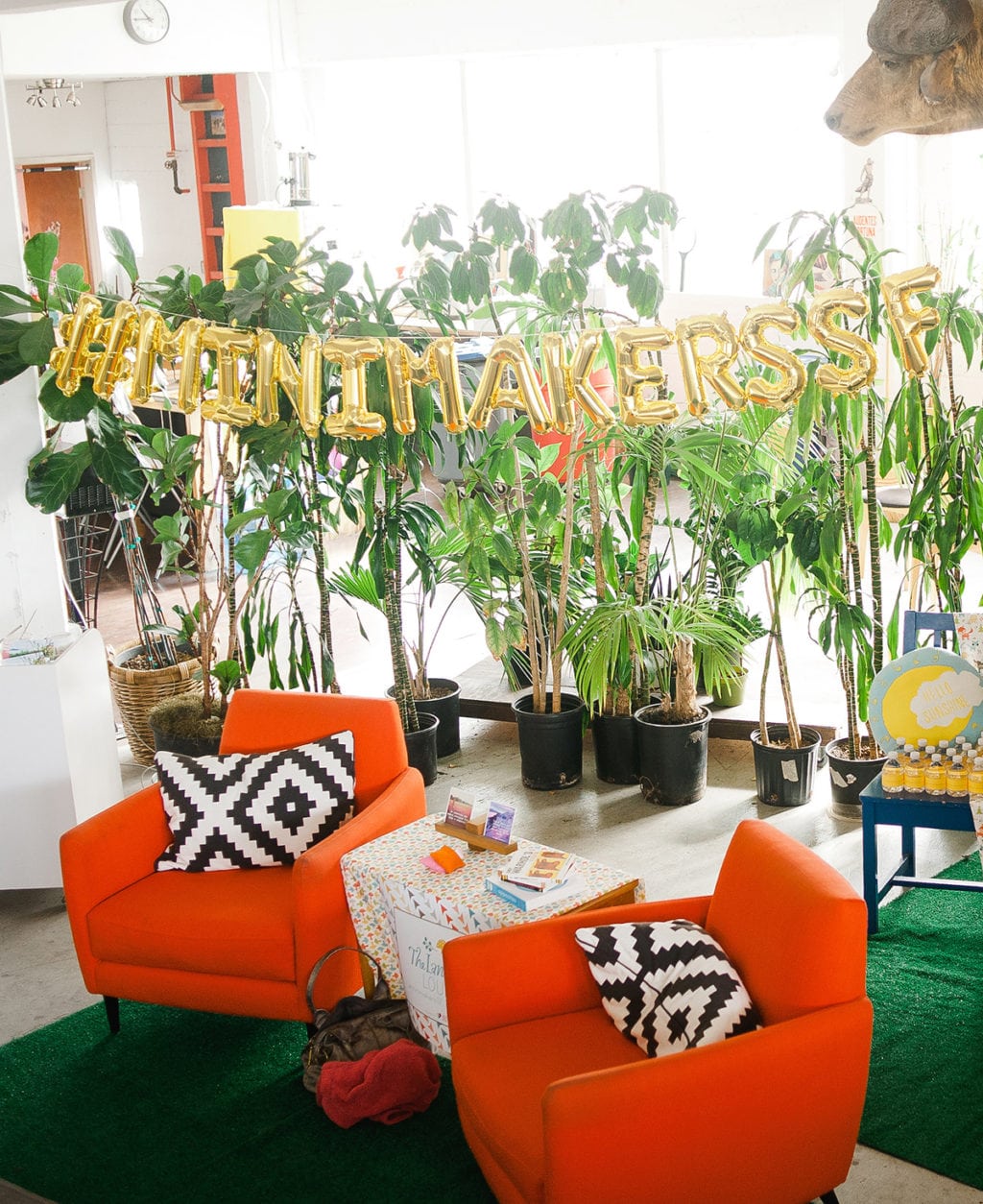 Cotton Candy is a Breakfast Food
When we started planning MiniMakers there were lots of questions, but from very early on there was one definite. Cotton candy.  There would be cotton candy. Unlimited cotton candy.  As you can imagine, young children behave in a completely reasonable and responsible manner when cotton candy is offered at 10am.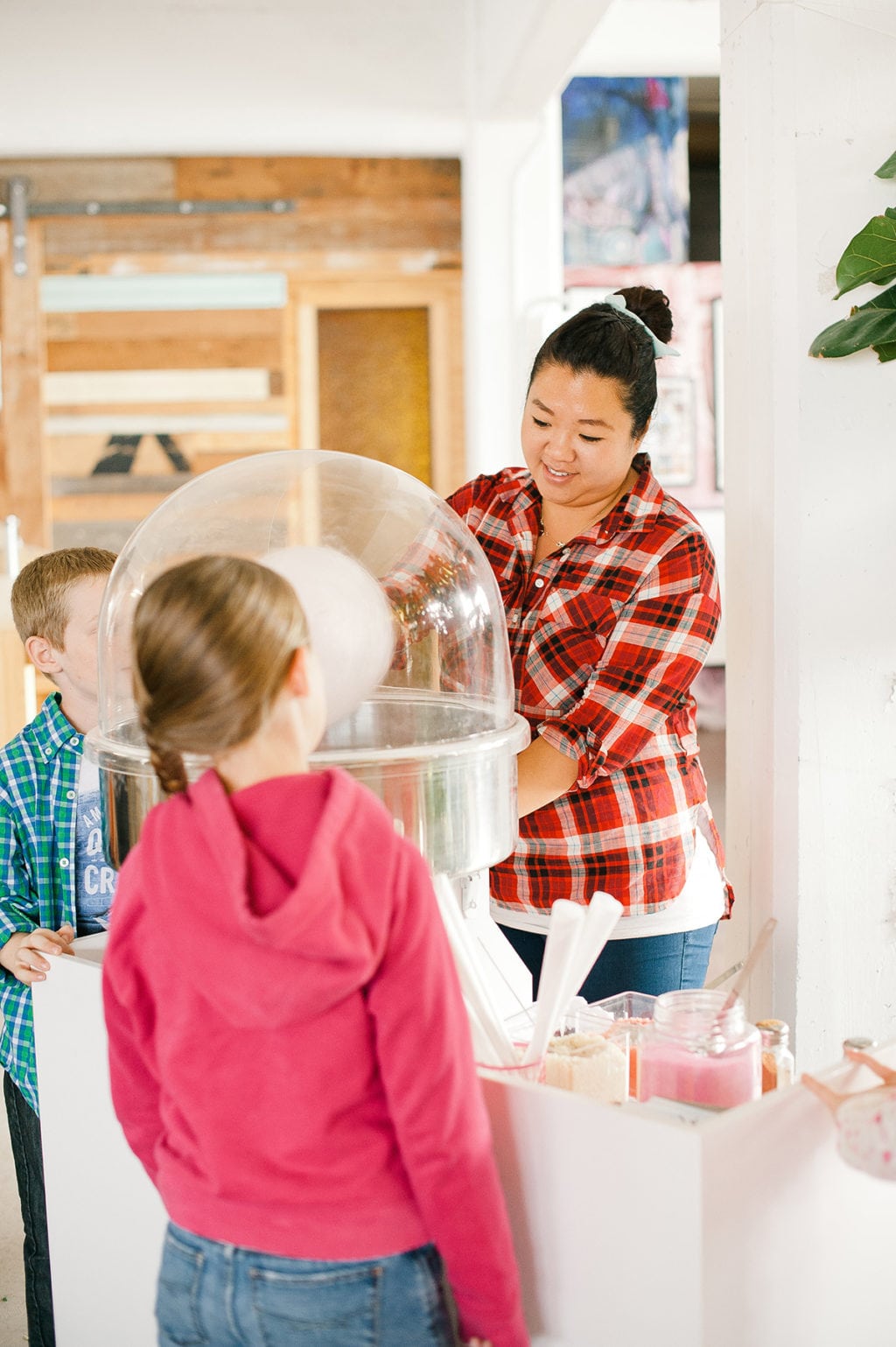 From the time MiniMakers began it was clear that Sweet Puff would rank very high on the list of favorite activities of the day. Minnie's cotton candy spinning is mesmerizing. She's like a sorcerer of sugar, that woman. She wheels in her adorable cart and next thing you know, you've downed three huge, delicious sugary puffs of candy. Minnie selected flavors that were out of this world. Let me be the first to tell you that Salted Caramel cotton candy ranks up with as one of the deliciously freaky experiences of my life. Warm, creamy caramel melts in your mouth yet there's nothing there to chew on. Weird. Delicious. Both.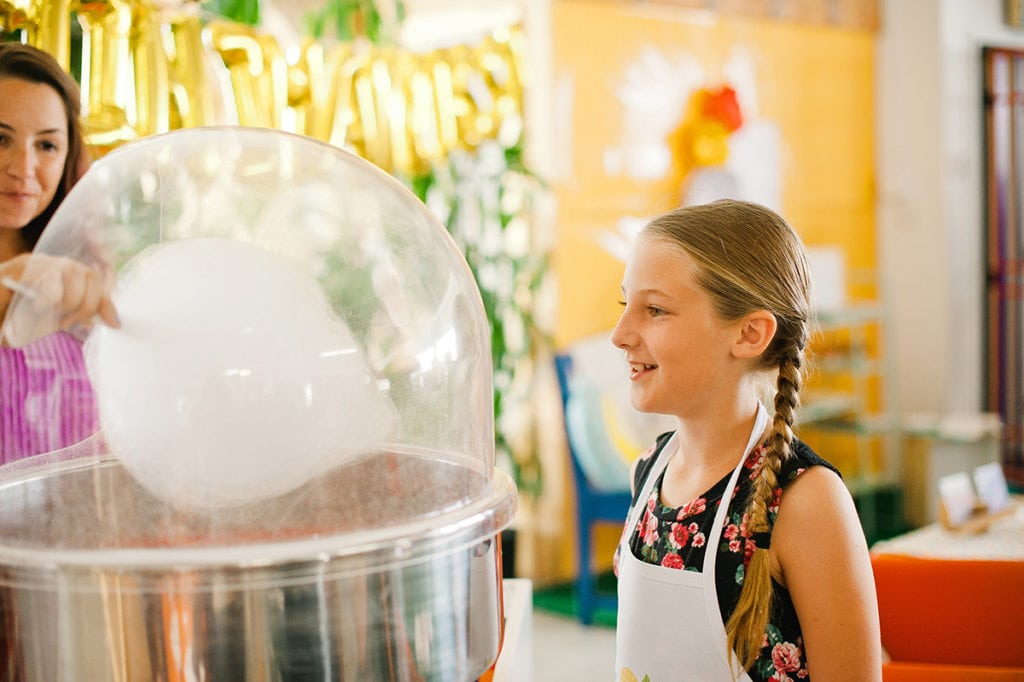 Minnie selected flavors that were out of this world including Watermelon and Apple but let me be the first to tell you that Salted Caramel cotton candy ranks up there as one of the most deliciously freaky experiences of my life. Warm, creamy caramel melts in your mouth yet there's nothing there to chew on. Weird. Delicious. Both.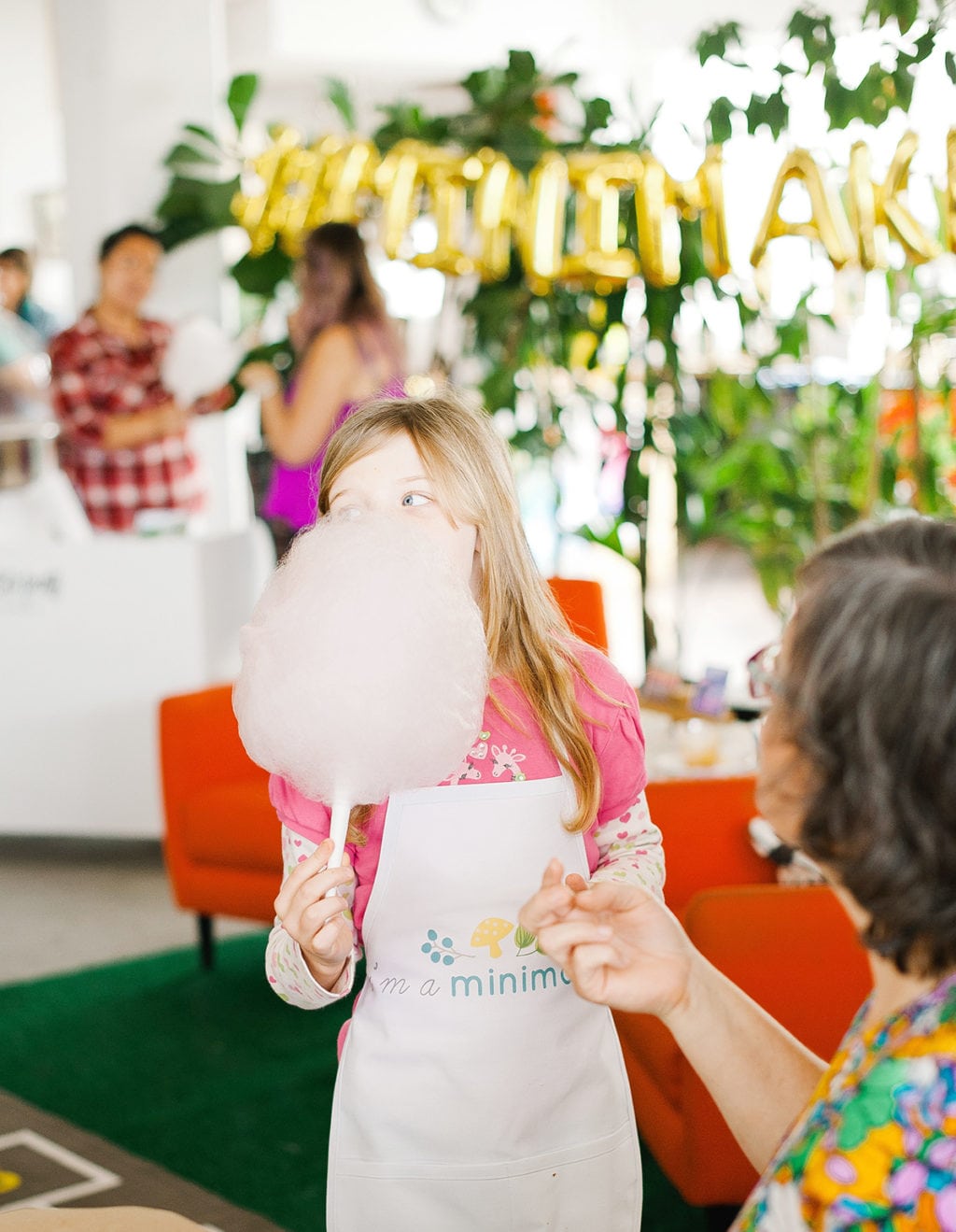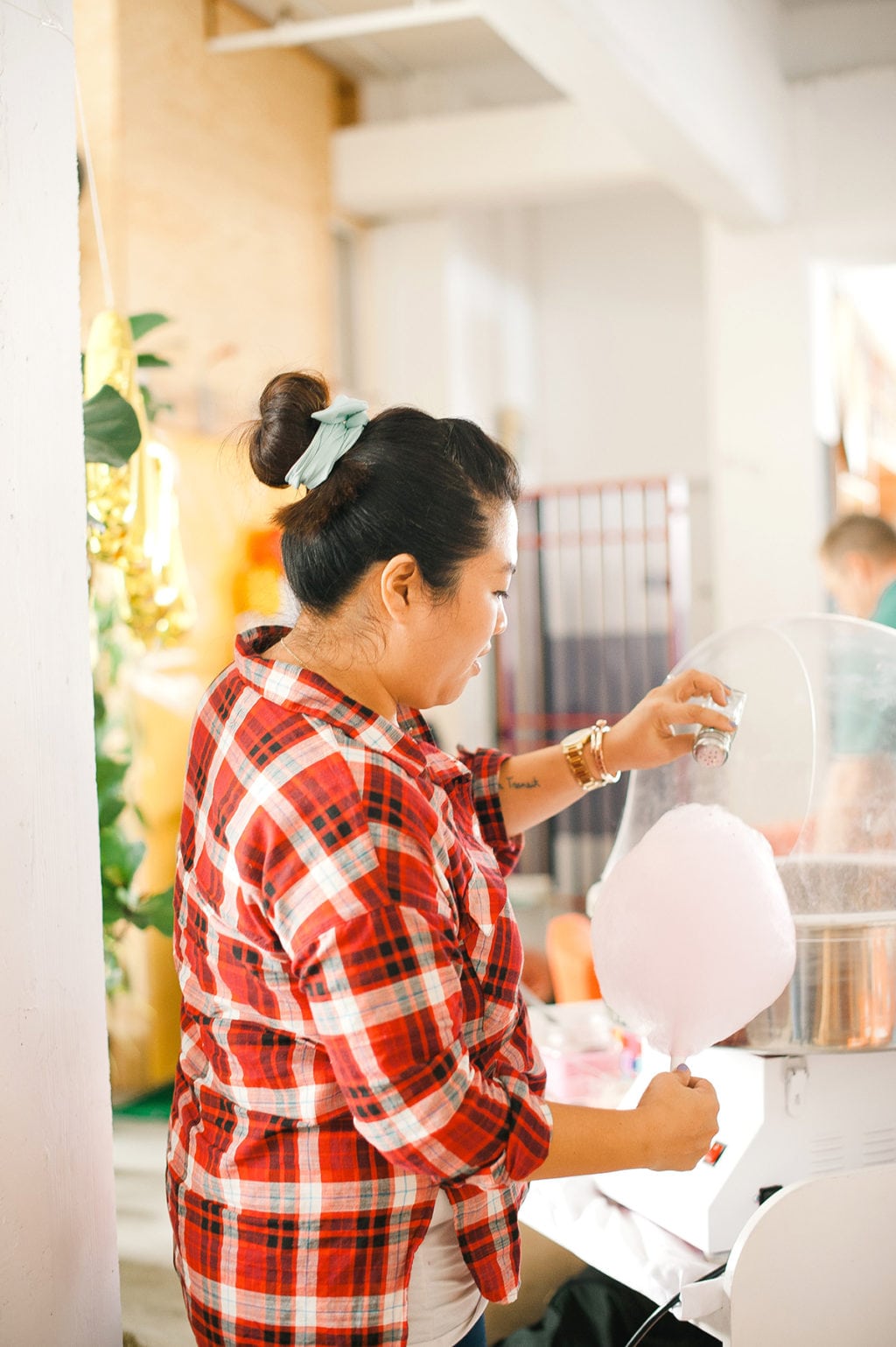 Zazzle customizes all the things.
I'm no stranger to Zazzle. I've made fabric with Zazzle. Twice. I've made tote bags with Zazzle, but here's the thing: you can customize just about anything you want with Zazzle. Do yourself the favor of getting lost in the Zazzle website and you'll find out that you can customize cheese boards, ping pong paddles and sugar cookies. For MiniMakers we decked out the place with Zazzle goodies. Each kiddo got to keep a custom MiniMakers apron and we designed custom fabric and wrapping paper to fit the theme.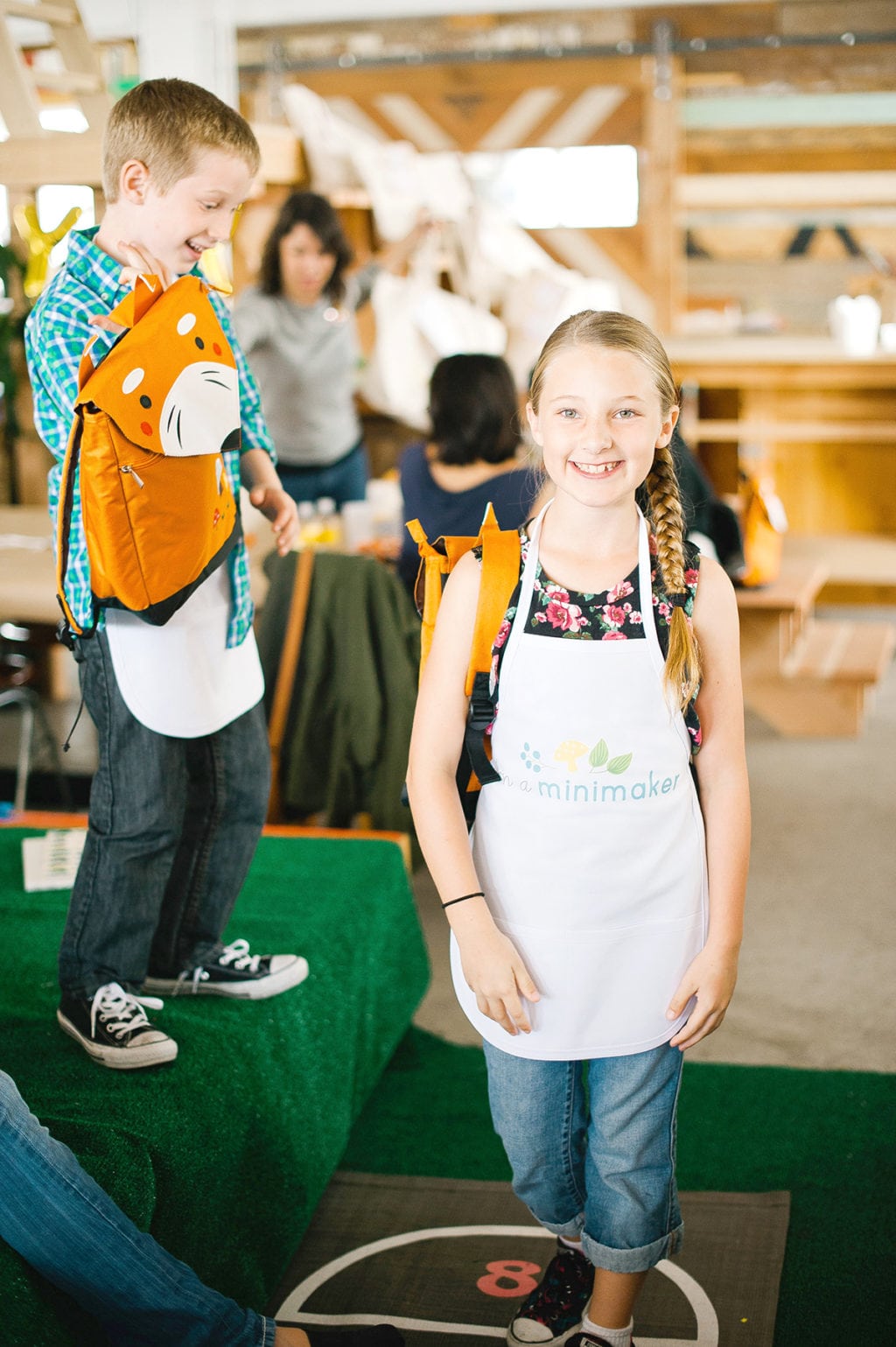 Perhaps my favorite Zazzle item are the custom plates. Custom plates, I say! These are such a show stopper and everyone noticed them!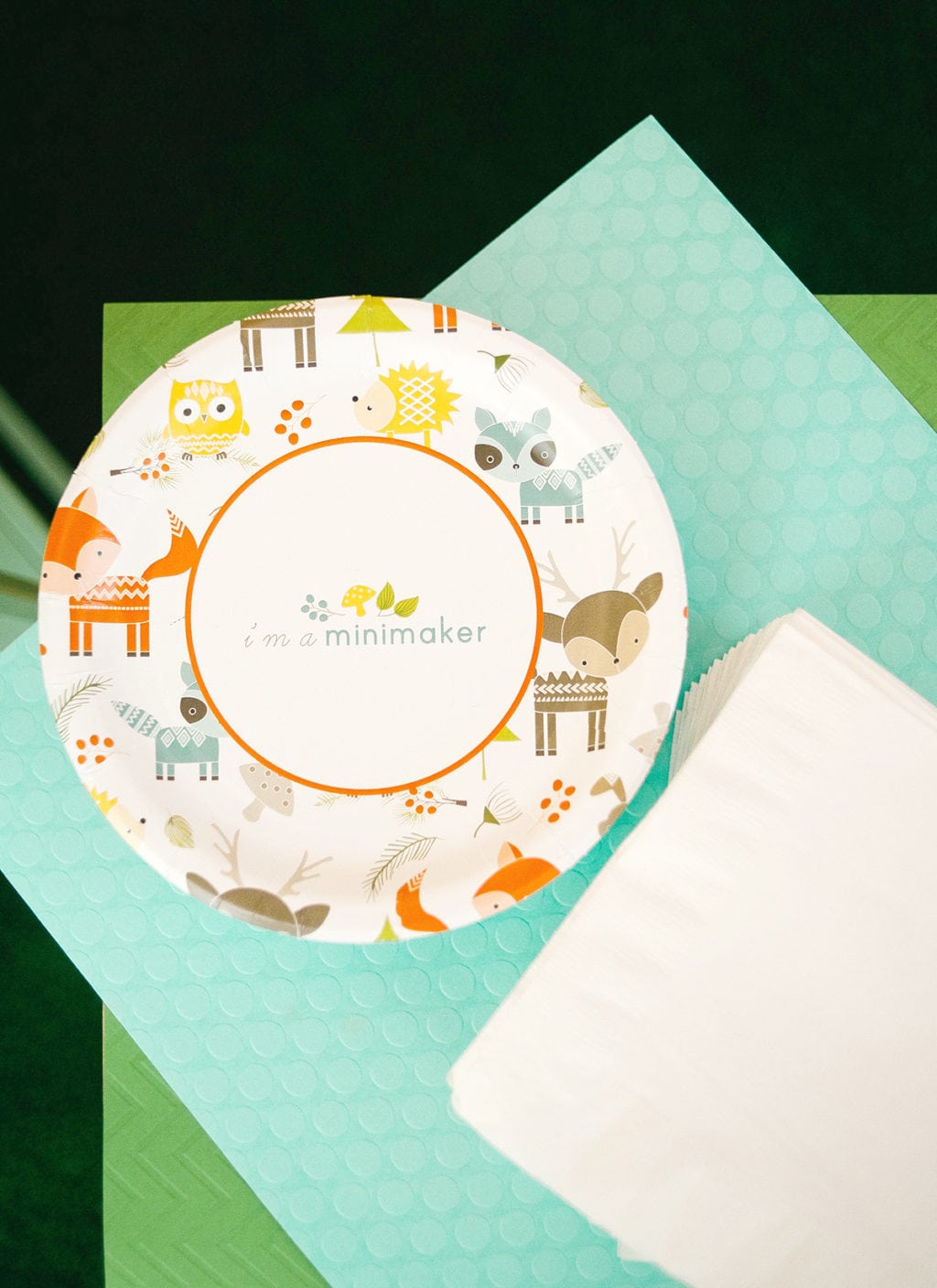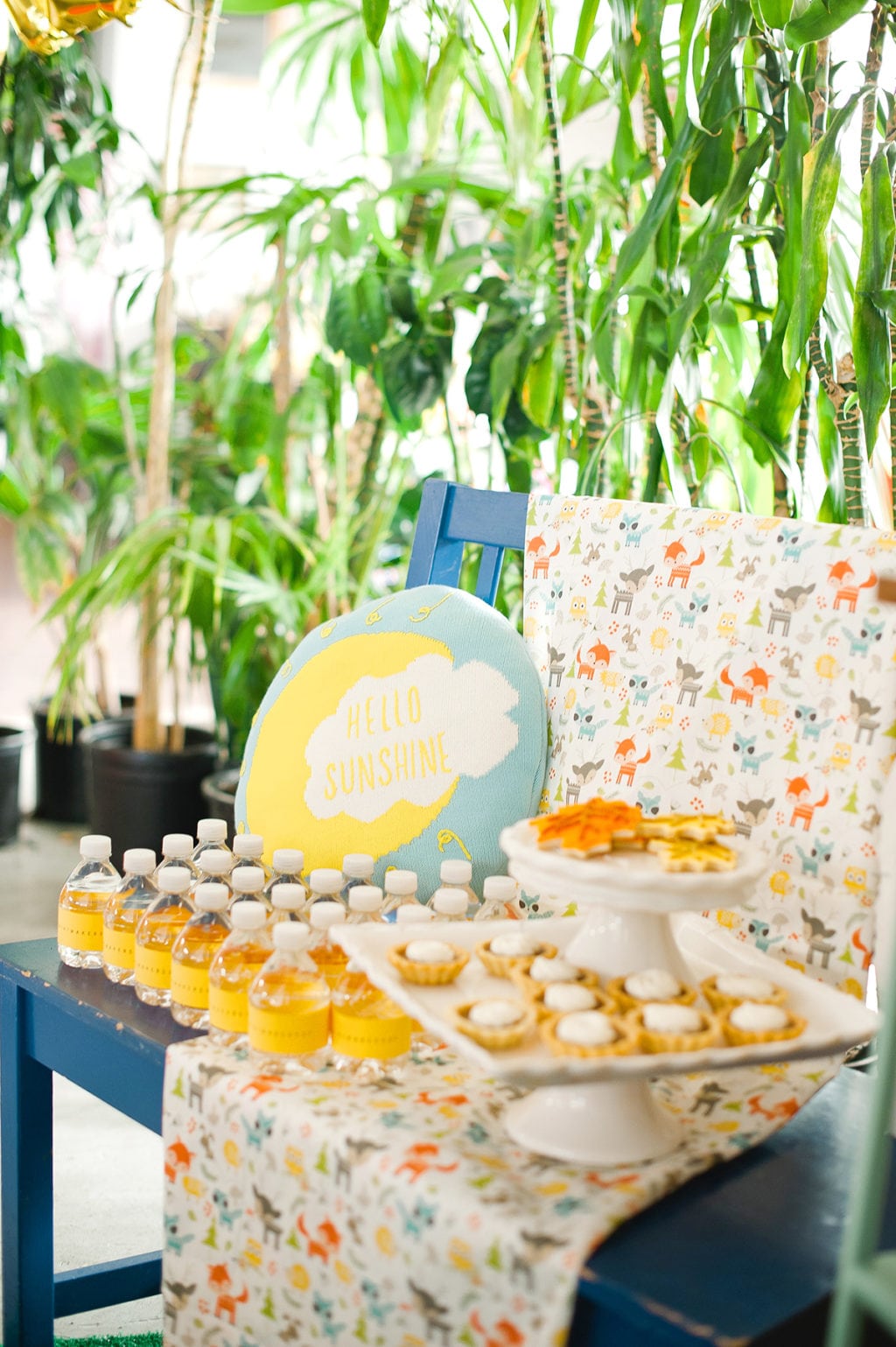 Kids will always love a toadstool
The platform stage was the focal point of MiniMakers, decked out with faux grass flooring, a little library of children's books for reading, lumberjack blocks for building, hopscotch for hopping and tic-tac-toe for…uh…tic-tac-toeing? Oh, and then there's the detail of that Toadstool Playhouse. The kids loved it. I mean LOVED it. I may have made my own trip into the toadstool….maybe. And just so you know, it's plenty big to house grown up kids, too. The view from the toadstool wasn't too shabby. Just above the Sweet Puffs Cotton Candy cart were shimmering gold mylar balloons hung from the walls spelling out #minimakersSF (shout out to Studio Pep!)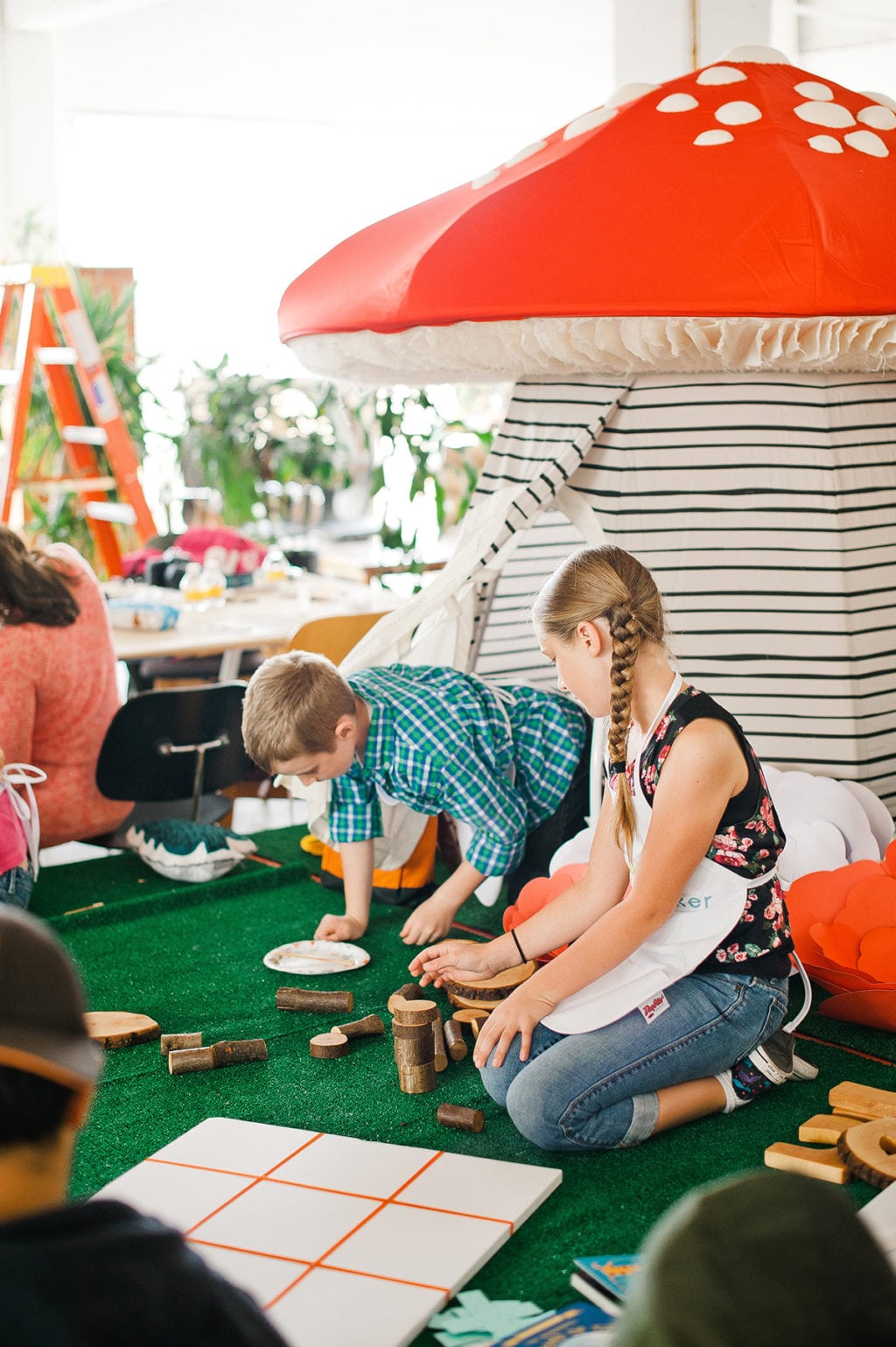 The details of the toadstool cannot be overlooked. It even has soft silky mushroom gills. It's a beaut!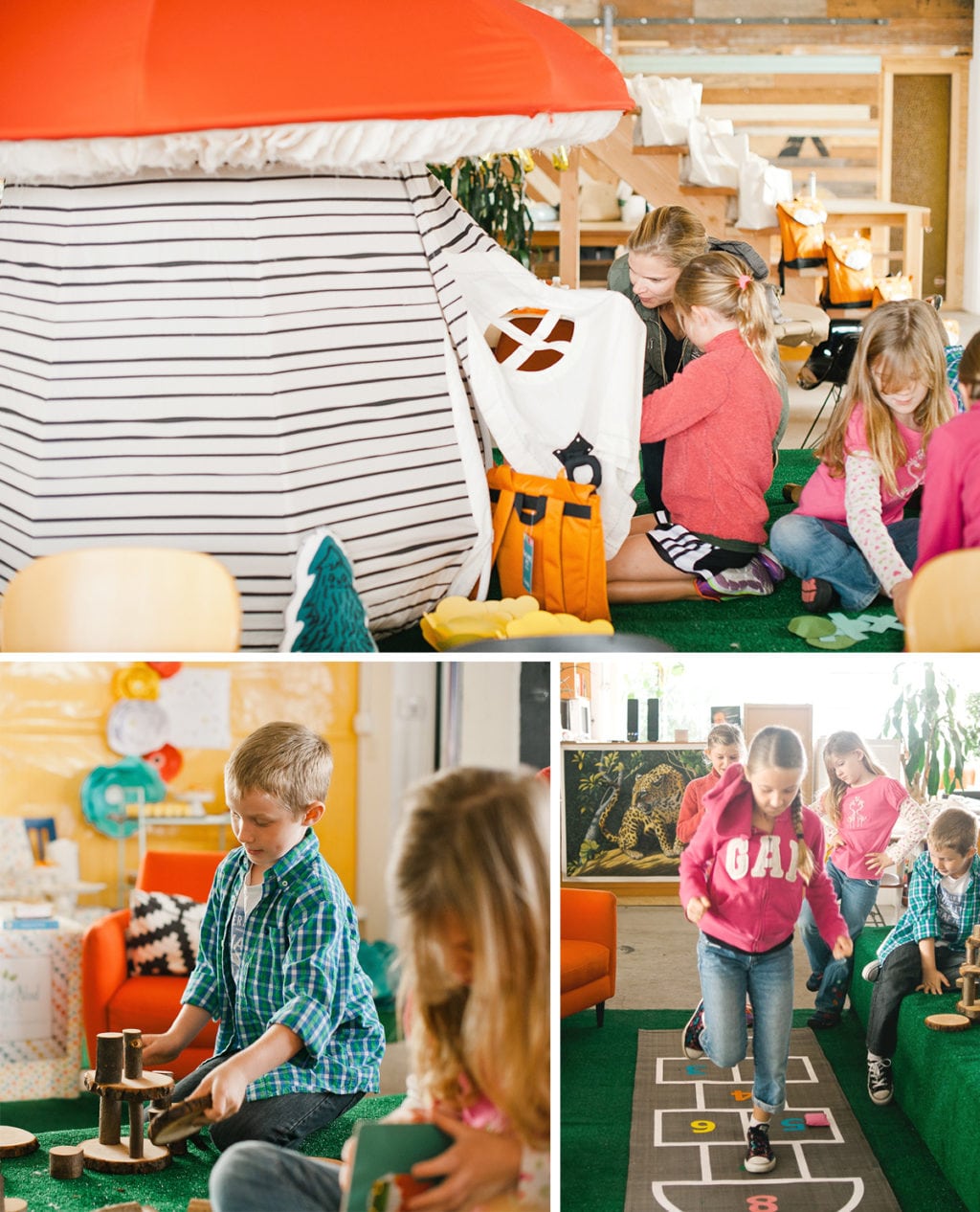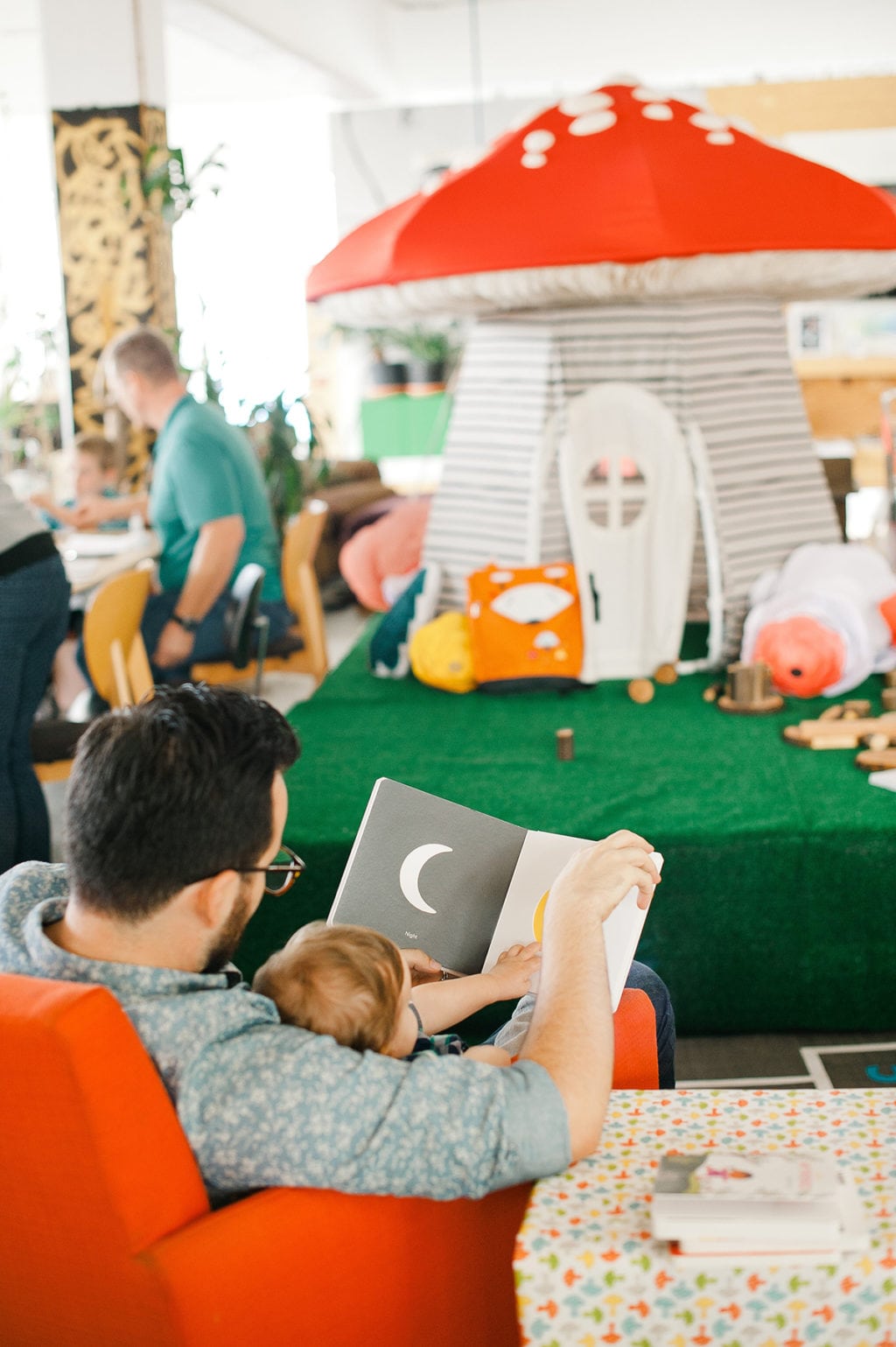 Don't piss off your elementary school friends
Be nice to people, because you never know when you'll need to call in a favor. That's exactly what I did for MiniMakers. Kira and I went to elementary school together and today we are both deep in the middle of building our creative careers. Kira is a crazy talented photog and I'm a crafty blogger who is always trying to "get the shot."
Cute food tastes better.
While cotton candy will get the job done for a little while, there comes a point in your day when the five food groups come calling and you'd better answer with a sammich of some type. Forty Winks to the rescue! Kristen is the culinary gal behind Forty Winks and she delivered the goods to keep the MiniMakers fed. She designed a custom menu just for our theme and our setting.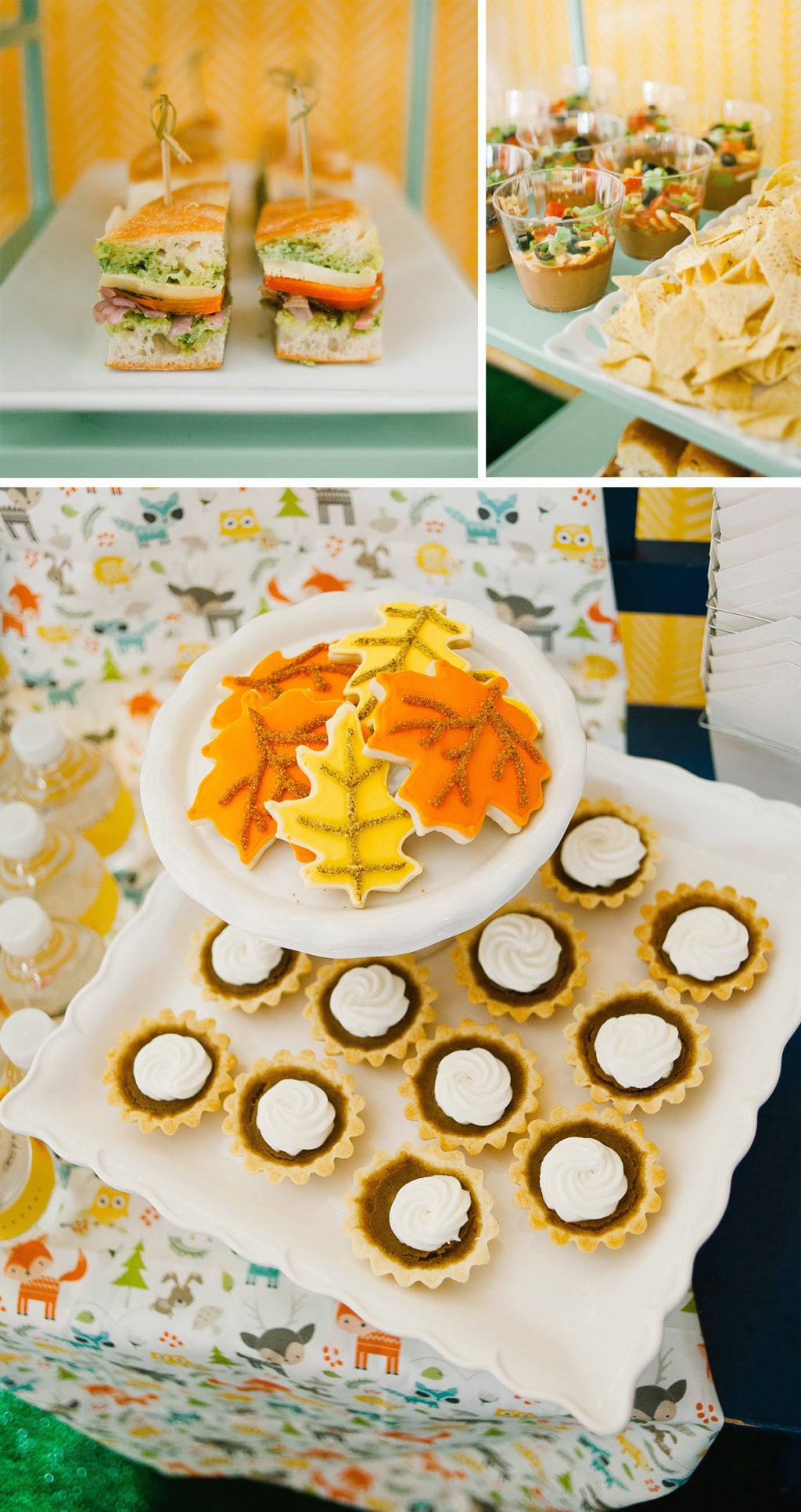 Forty Winsks rocked our socks with a menu of adorable and yummy bites including seven layer dip cups, roasted veggie and pesto sammies, mini pumpkin pie tarts, fall leaf sugar cookies and lots more. Each menu item was perfectly bite sized and presented with perfection in little cups or on skewers. No utensils needed! The spread was impressive and so very, very  delish. My little Markus was especially in love with her homemade ranch dressing. What can I say, the kid knows a good thing when he eats it.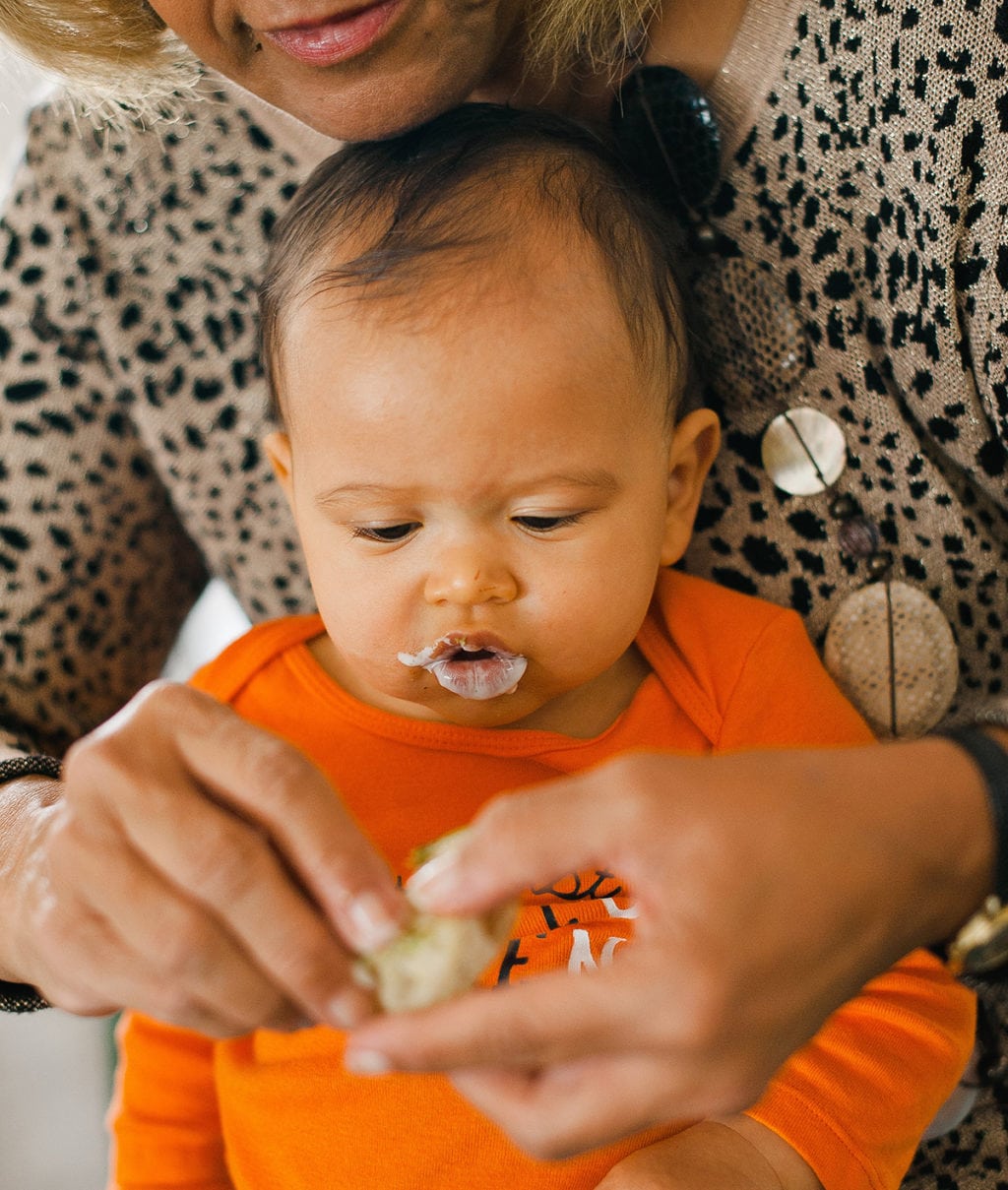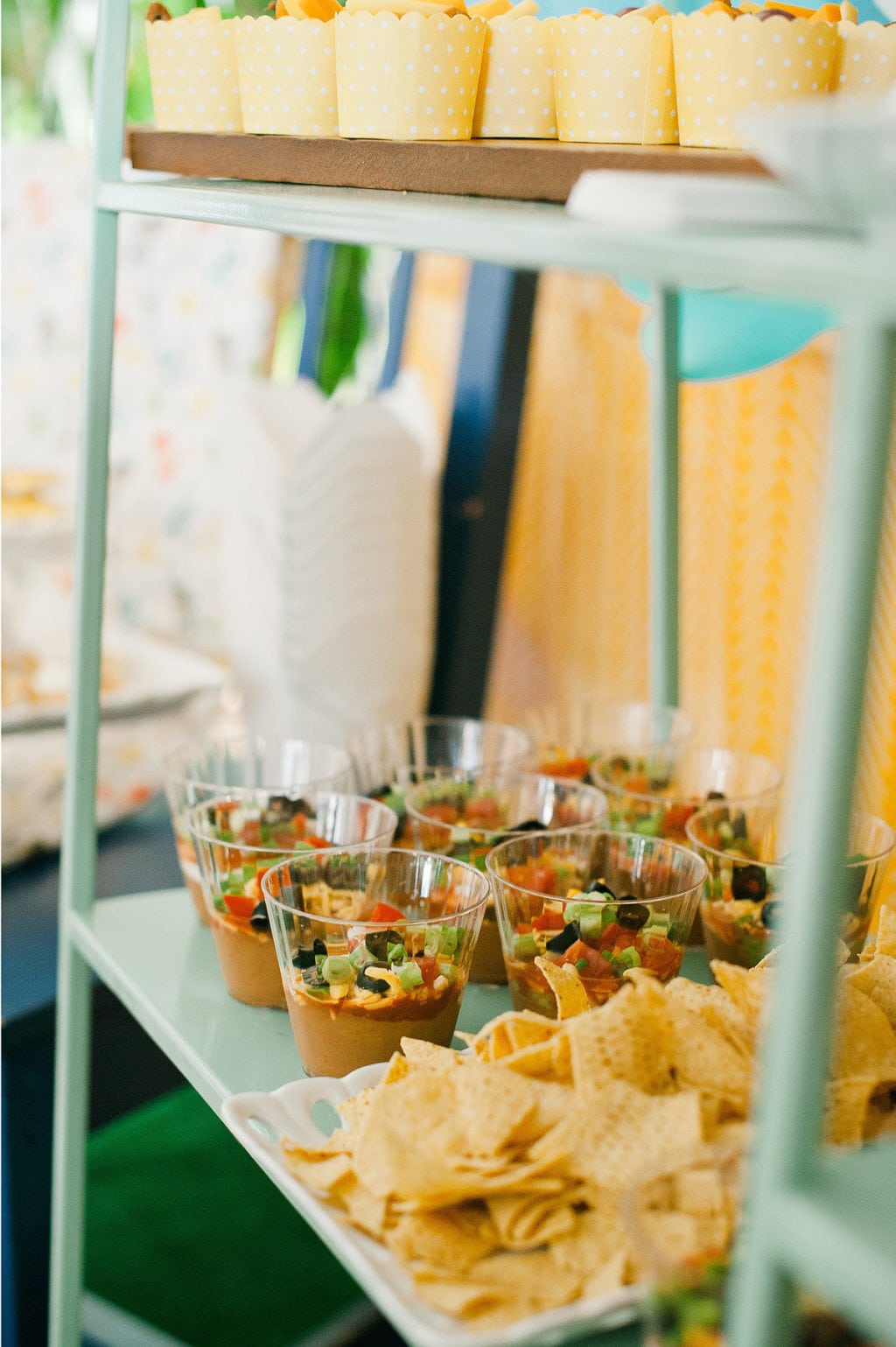 Kids + Crafts = Amazingness
I've done my fair share of workshops but doing a workshop for moms, dads and kids is especially rewarding. The kids were SO excited from the second they entered the space, which reassured me and Chelsea that we were on the right track!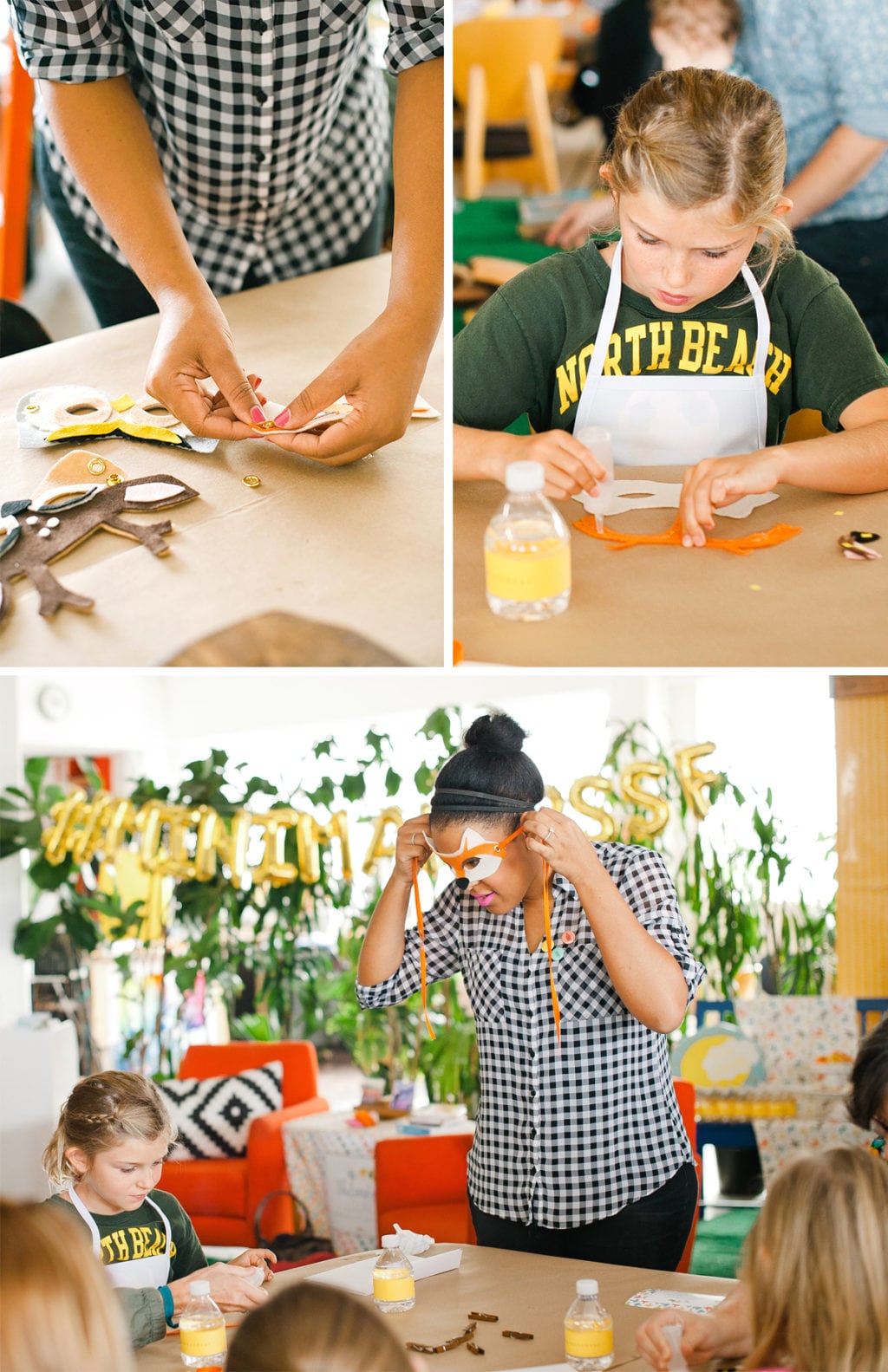 When we sat down to our tables and began crafting our woodland creature masks, the kids were in heaven and got super creative with their designs!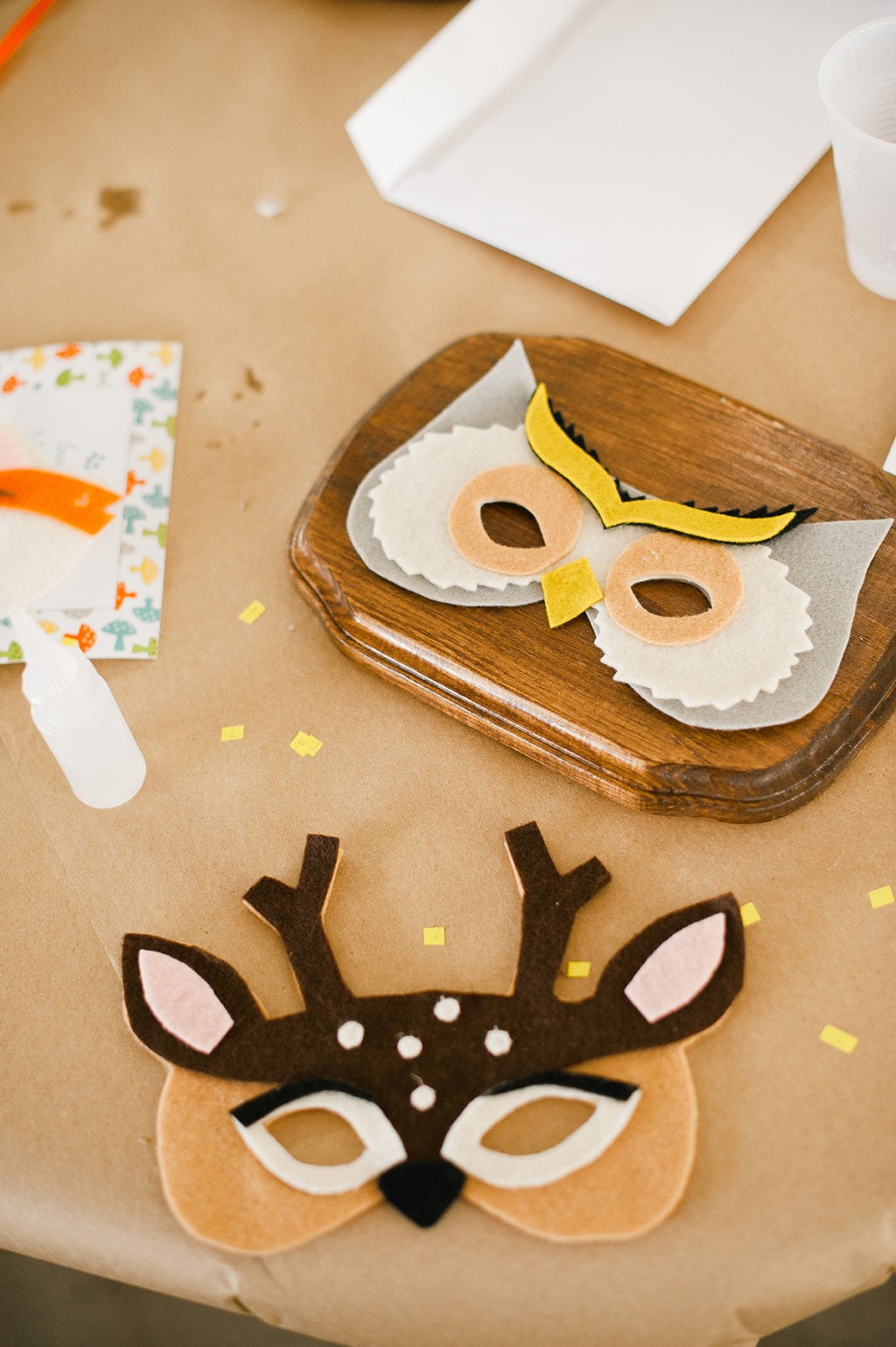 There's swag. Then there is swaggy swag swag.
It's not a party until there's loads of free stuff. I'm talking tons of it. As MiniMakers began to wind down, it was time to dole out some prizes and gifts. If you've met me before, I am quite possibly the worlds most excited gift giver and gift receiver…so, naturally, I handled the drawings for winners. The Land of Nod was incredibly generous and provided a ton of great prizes for the kids to receive…including a $100 gift card! Wowsers.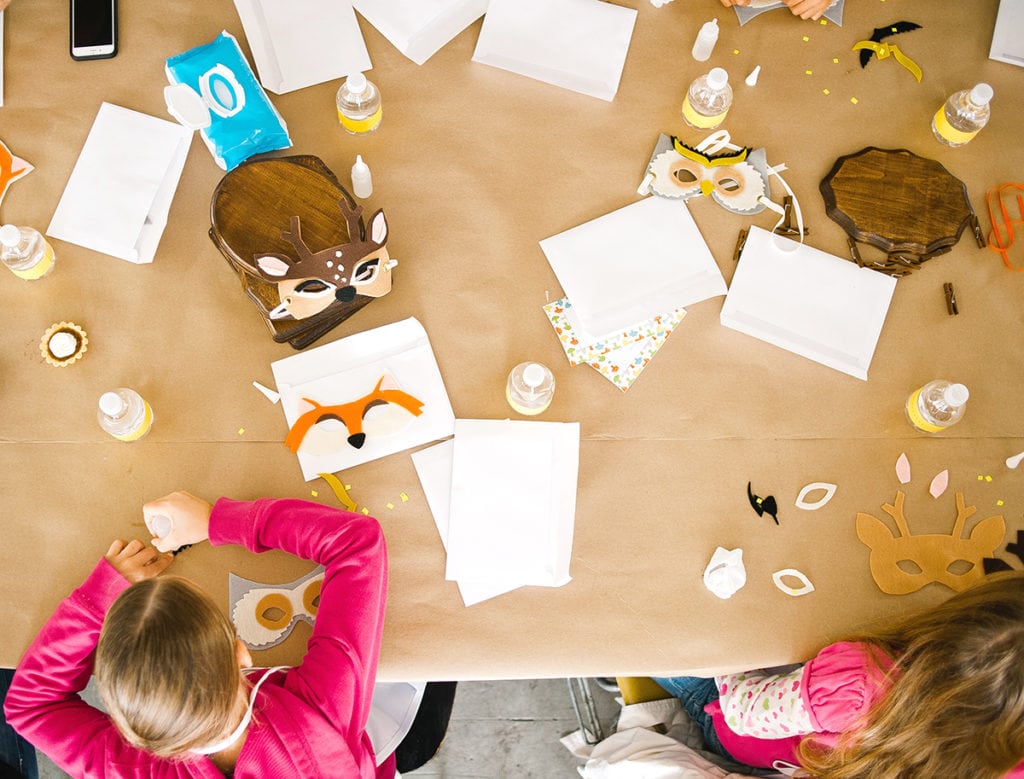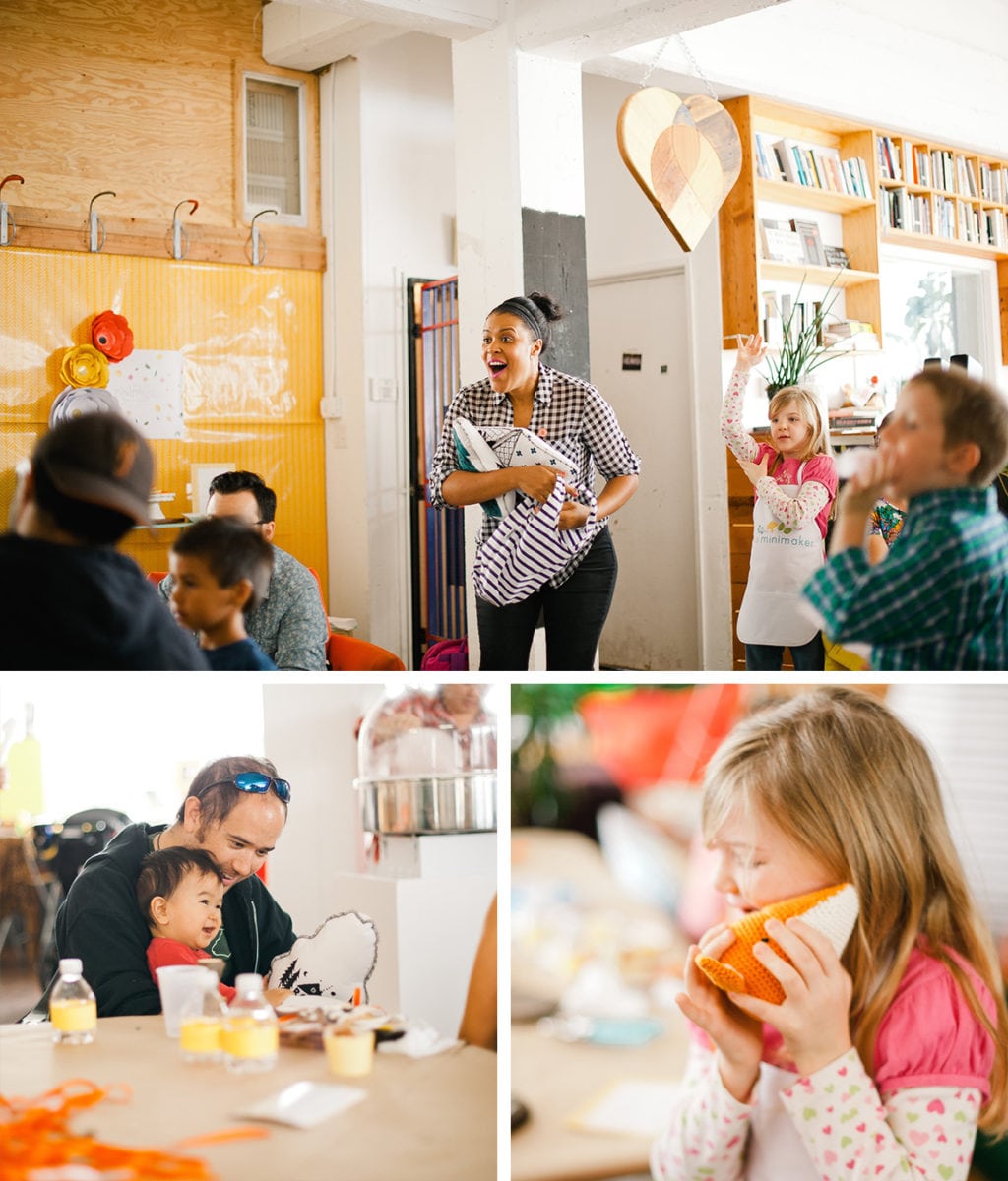 But fear not, friends.  Even those who didn't win a prize, left with more than enough swag to keep them busy for days…no, weeks! Mamas, papas and kiddos each left with their own swag bag. The Land of Nod even provided these adorable fox backpacks for each of the kids, which we filled with tons of goodies and each parent left with a custom canvas tote from Zazzle.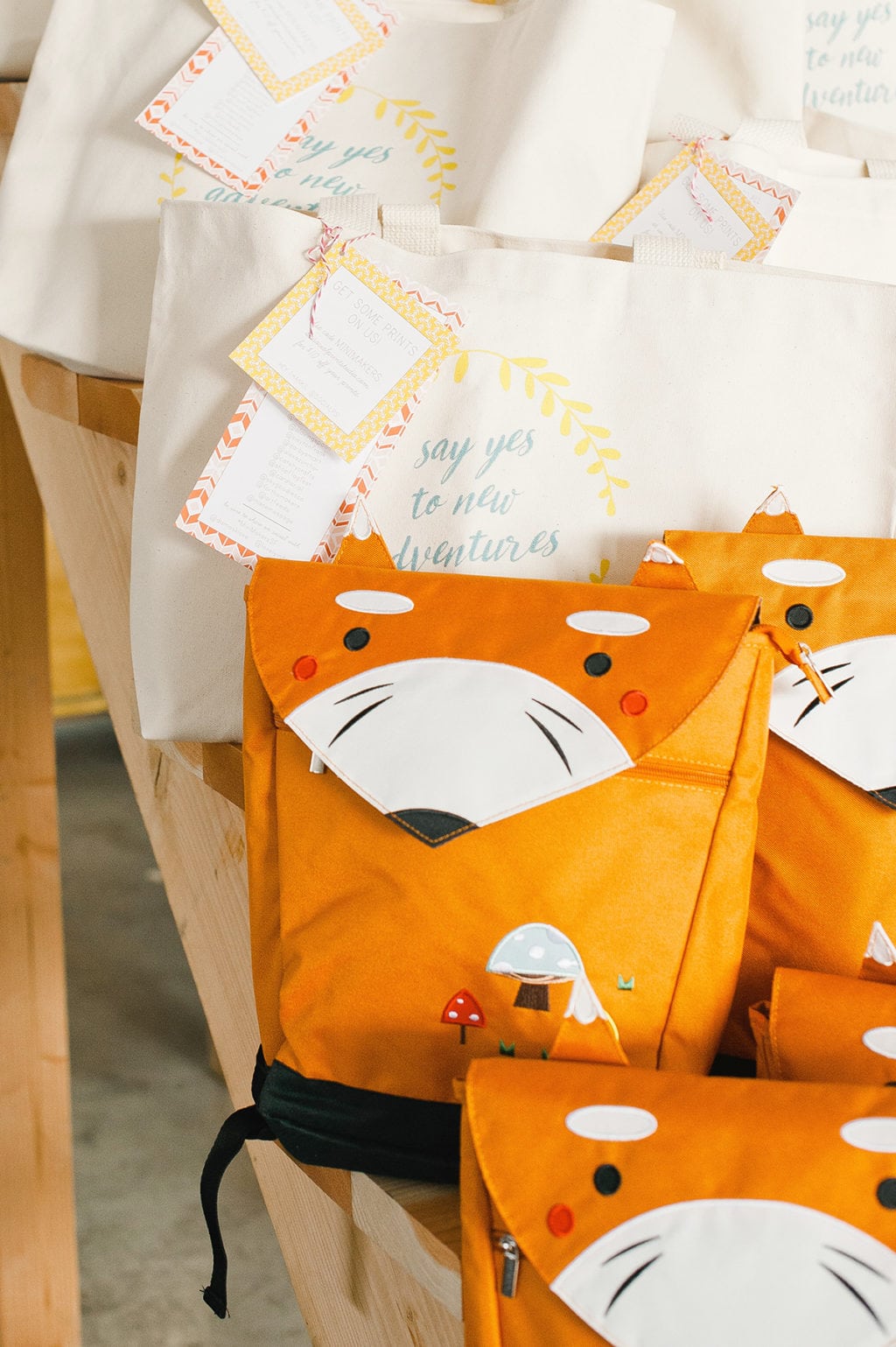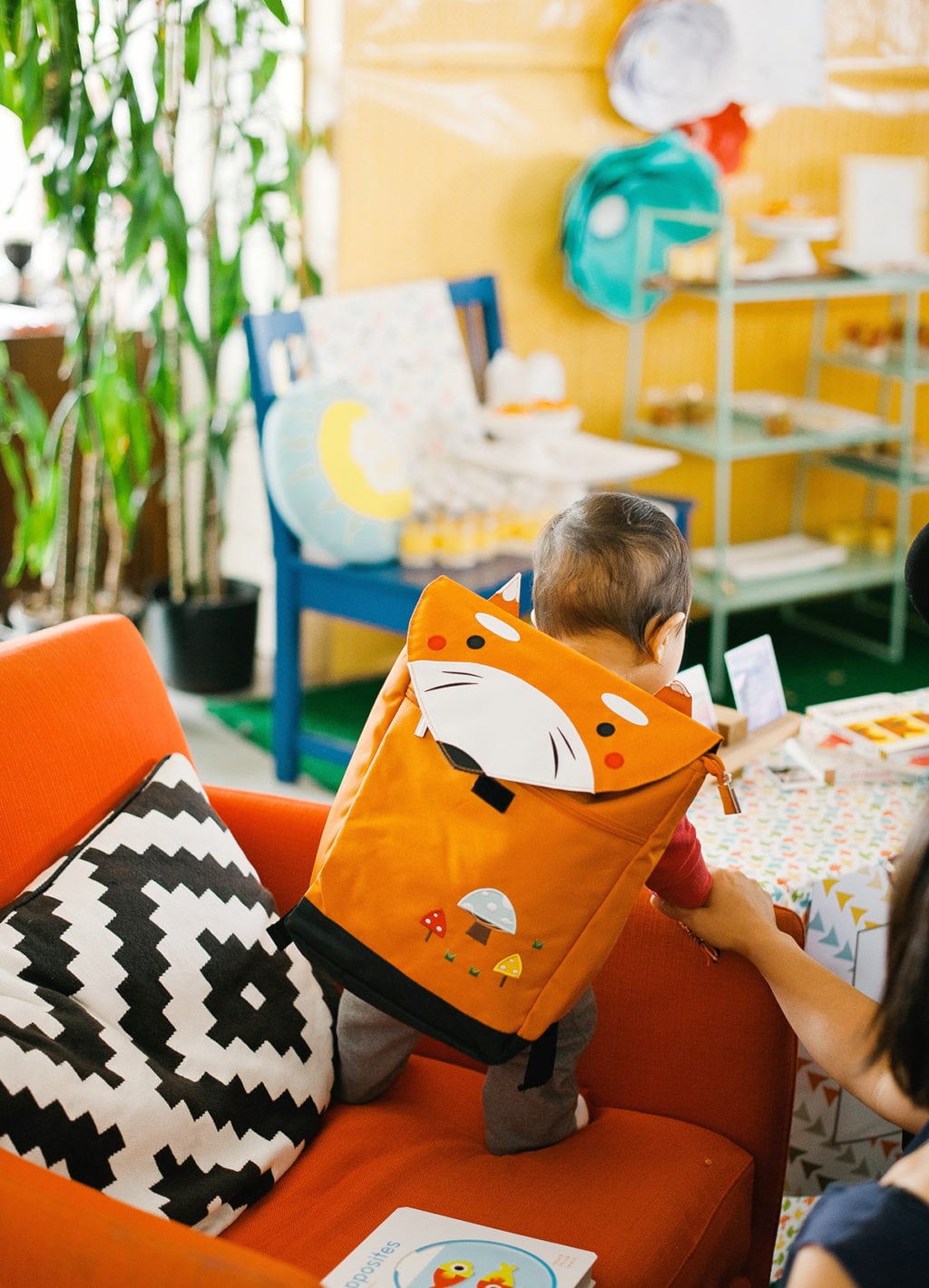 Always work in pairs…or more when possible.
There is exactly zero chance that I could have pulled off this workshop without Chelsea keeping me in line! We worked together and sent more text messages than I care to admit. We labored over decor options and Chelsea probably still has calluses from cutting all that felt. Having a partner in crime was essential…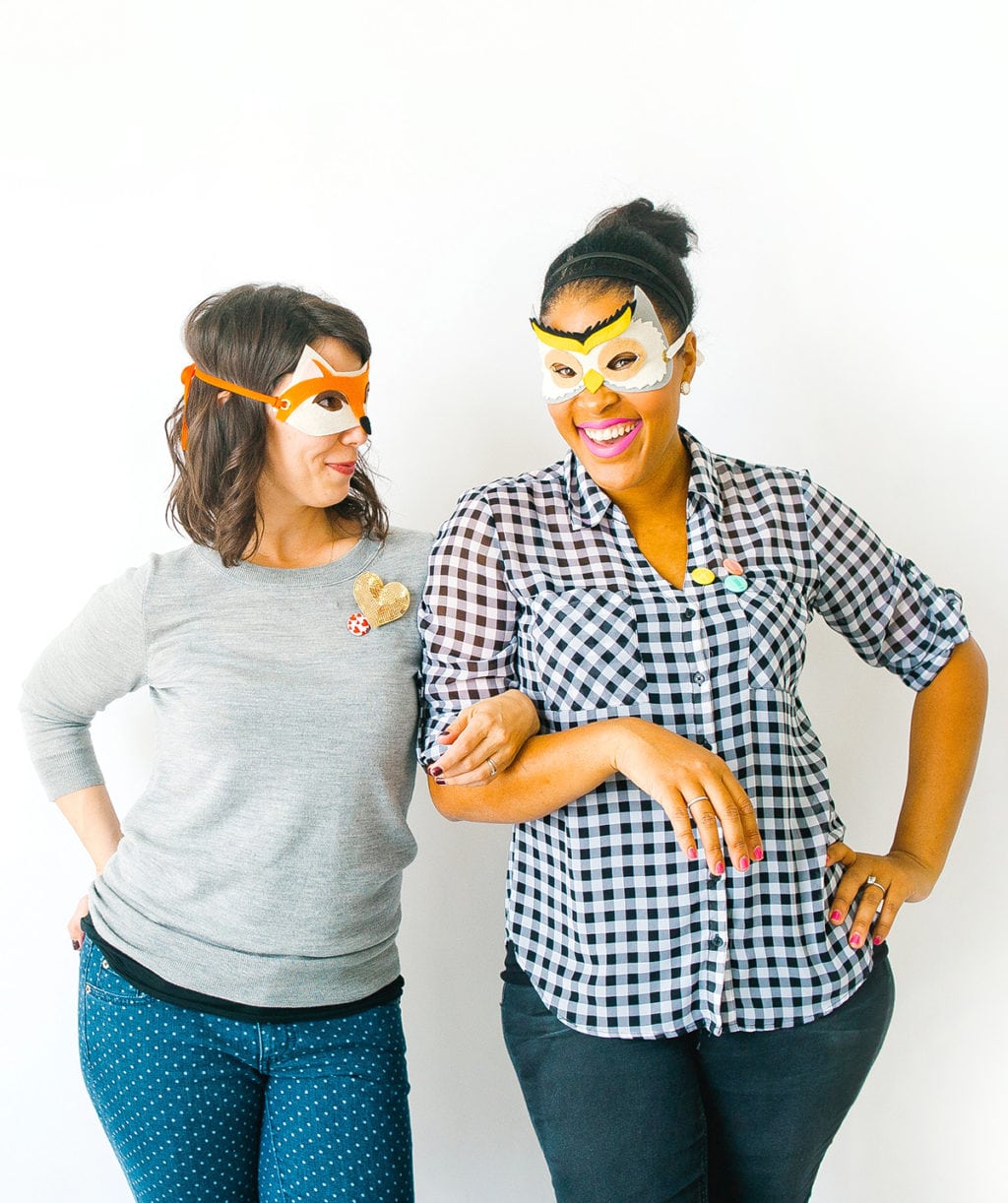 …and truly, there were several partners for MiniMakers.
Social Print Studio gave us free reign to create a woodland wonderland, and with their incredible open floor plan and quirky accents it was a super fun task. The Land of Nod saw to it that our woodland wonderland was filled with the best of the best in modern kid's furniture, toys and decorations. And then there's the incredible list of all the other's who partnered with us. Take a gander …
Phew! Now howsabout we gift a set of MiniMakers Swag Bags to one lucky reader? Enter below to win one of each of the swag bags!
Thank you to Forty Winks for providing the eats,  Social Print Studio for providing the space and The Land of Nod for providing so many pretty pretties.
and a special thanks to Kira Lauren Photography for lending her amazing photog skills to this event.