Do you remember your days of coloring? I have a pretty good recollection of it. I remember being really proud of myself when I learned that you could draw a sun in the upper right corner of the paper to make it look like it was peeking in ever so slightly. I remember when I started demanding markers because crayons were for babies. I remember when I meticulously colored in the edges before tackling the center – that way I would stay perfectly within the lines. So  – maybe you don't have memories of these same coloring milestones, but I bet you have some of your own. Like coloring on the walls. Or coloring your skin with markers because you wanted to be purple. However you remember coloring, I'm bringing it back in a totally adult friendly way. We've all seen the adult coloring books out there, right? This one is my fave by far.
Well, this project is sort of a coloring book – but made of out fabric – with fabric that I designed all on my own. Yeah. Be amazed. Well – actually don't be amazed. It's way easy to do. Turns out Zazzle let's you design your very own fabric in just a few minutes. You'll just need to schedule about 40 million hours of time for choosing the design you'll use. And the great thing about this, is that you don't have to know a damn thing about graphic design. Thanks to sites like Creative Market, you can purchase the designs of other illustrating geniuses and use it to create your own fabric. So great. Here's how it's done.

 Visit Creative Market and search the term "Seamless". This will give you a bajillion different beautiful seamless designs that are just waiting to be turned into pretty fabric. I chose this seamless pattern of doodles.
Purchase your seamless design and download it to your computer…and make a mental note of where it's been save (probably your "Downloads" folder)
Visit Zazzle and select which type of fabric you'd like to design. I used the Cotton Twill fabric which is a thick fabric great for bags and home decor.
Upload your newly purchased design and you're done. The design is replicated for you and since it's already seamless, the design will work perfectly. You can fidget with the scale of the design if you want by using the edit keys.
Order and wait for your pretty pretties to show up in the mail.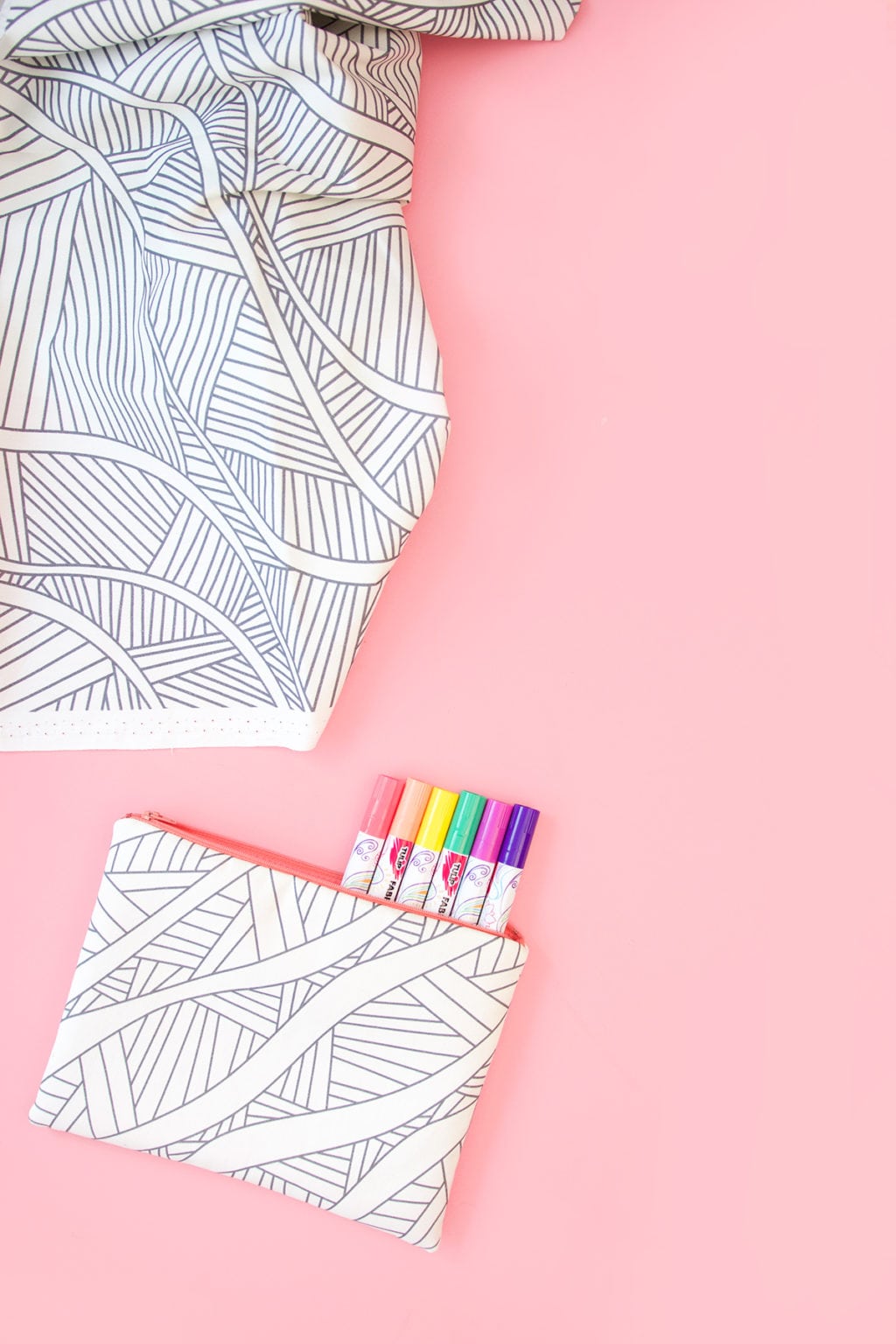 Now comes the honest truth. When I placed my order for these fabrics, I was completely and totally skeptical. I thought it would be cheap fabric with a filmy ink design on top of it. Not like the real-deal fabric from the actual fabric store. Welp, friends. I was wrong. When the fabric arrived in the mail, I opened it and proceeded to give Andrew a 30 minute talking-to about how impressed I was. He was riveted. (not really). But I was. Seriously, This stuff is legit. And now I'm on a mission to design all the fabrics – but first let's just ogle at the pretty little makeup bag I created with this one. I had a blast coloring it in with fabric markers.