We are in the thick of the holiday season which means you're probably in the mood for some DIY Christmas crafts. It's that time of year when we celebrate Christmas with crafting! Even the most timid crafter will try her hand at making something during the Christmas holiday season.

Whether you are a beginner crafter or a seasoned veteran, these 10 Colorful Christmas craft ideas will get you inspired to create. This post is the online equivalent of one-stop-shop for all things DIY holiday crafting! With my colorful approach, your handmade holiday is about to get a whole lot prettier.

These easy DIY Christmas crafts are perfect for gift giving, home decor and maybe even a little something for yourself! Personally, I'm a fan of the Santa Sneakers…but I'll let you be the judge!

Here's to the Loveliest Christmas ever with 10 Colorful DIY Christmas crafts you'll love.
Planning on doing some baking this year. Why not finish off your homemade Christmas gifts with adorable packaging. There are countless cool tools out there and this tutorial will introduce you to one of my favorites.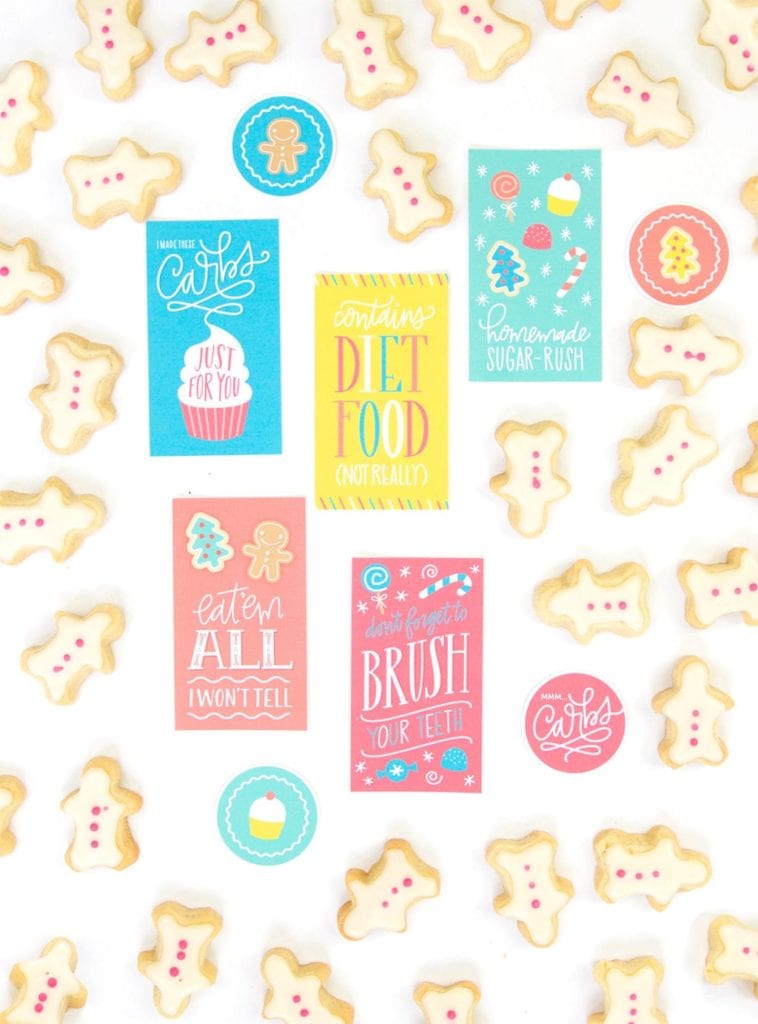 The We R Memory Keepers Fuse tool lets you create professional packaging for all kinds of gifts, including sweet treats. There's even a FREE printable waiting for you! With this project, you'll have everyone at the office laughing with this Punny Christmas cookie packaging.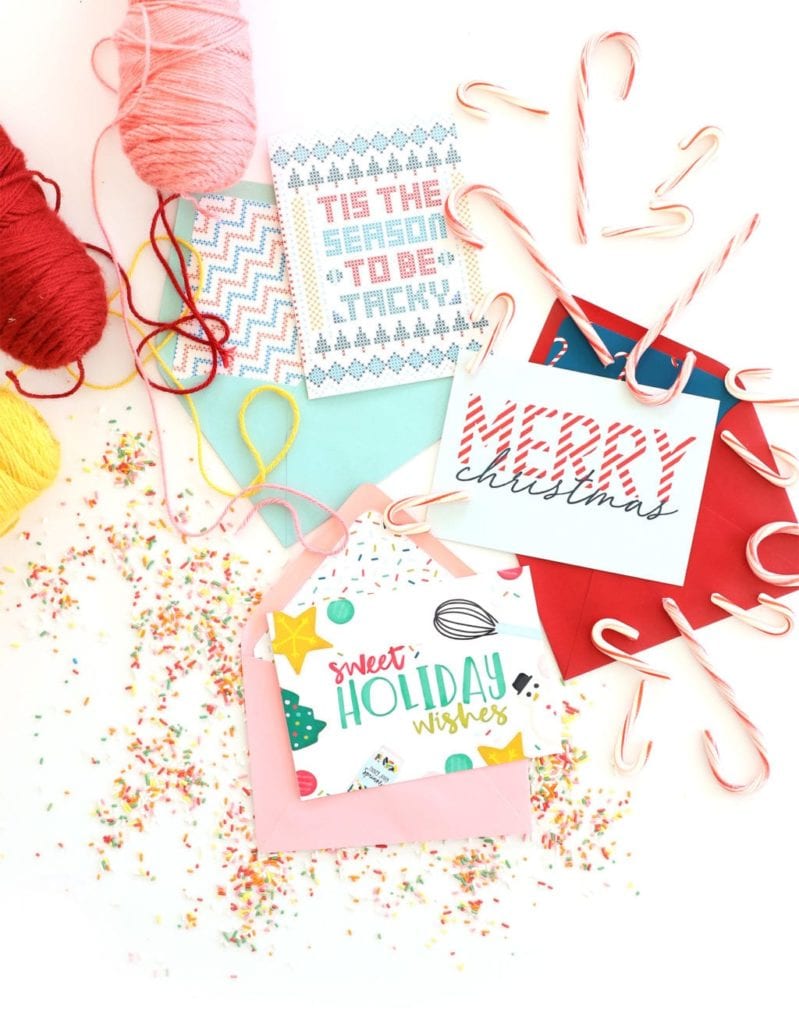 Everyone needs a last minute card around the holidays. Maybe you're headed out to a party or forgot to include your boss on your Christmas card mailing list.
Whatever the reason, I've got you covered with these beautiful FREE printable holiday cards with coordinating liners. There's a collection of three, so you can pick out your favorite.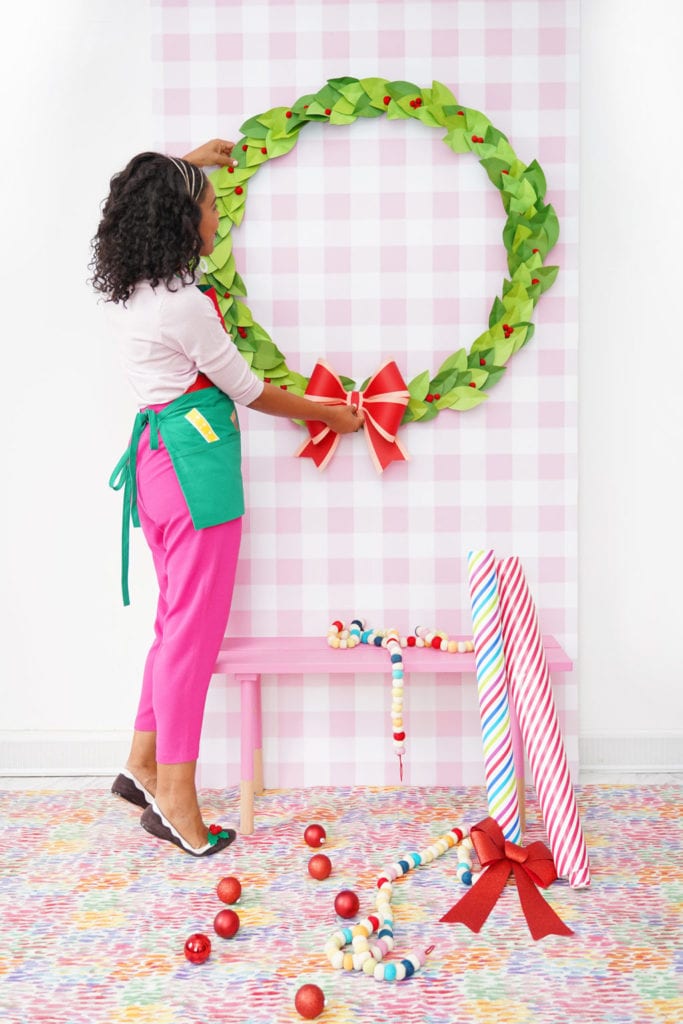 I can guarantee you've never made anything like this and the best part is that its super easy. This easy Christmas craft uses a hula hoop, paper and hot glue. It's very simple!This giant wreath will be the perfect show stopper and a great photo op for all your holiday guests.
Hang it above your mantel or use it as decor in your office. It would even make an awesome decorative item for the classroom. Whatever you do, don't miss this larger-than-life DIY Christmas craft. It's way too good to ignore.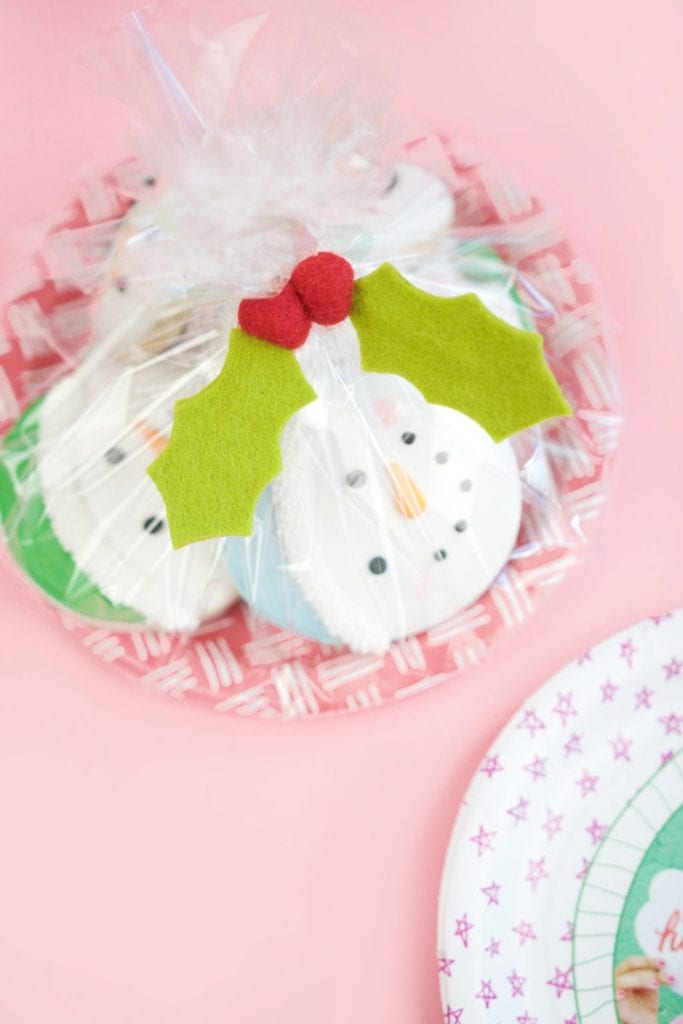 Baking treats for friends is the best, but don't get lazy when it comes to the packaging! Nothing is worse than a batch of homemade cookies delivered in a sad zip-top bag.
This tutorial will teach you how to use felt to create your own festive twist ties. They are the perfect topper to a plate of cookies. The best part is that they also help keep everything fresh and sealed!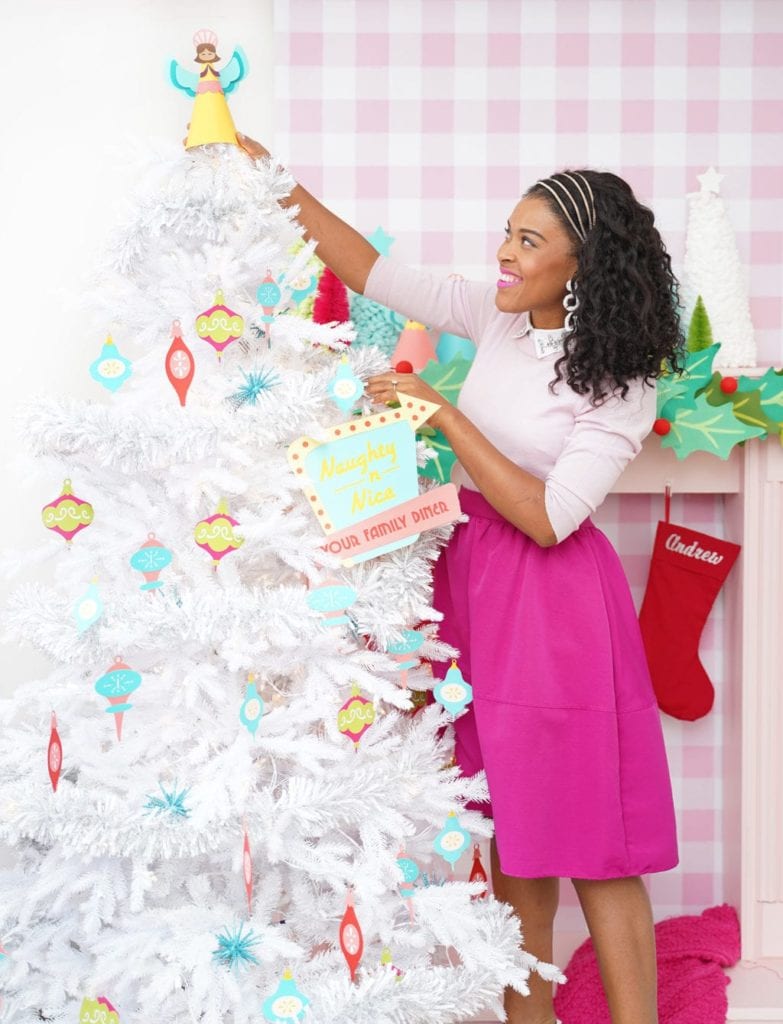 If you're looking for traditional holiday decor, you're in the wrong place. If you love red and green, this may not be for you. If you love colorful holiday decorations, then we are soul sisters and you're going to love this project. Grab your Cricut Explore or Cricut Maker, because this Christmas craft is for you!
With a bit of paper, you can deck your halls with handmade decor that will have your guests asking for all the details. My favorites are definitely the retro angels. You can customize them in any way you want! With one quick glance at this collection, you get the feeling of a retro Christmas…maybe even a slight "Meet George Jetson" vibe.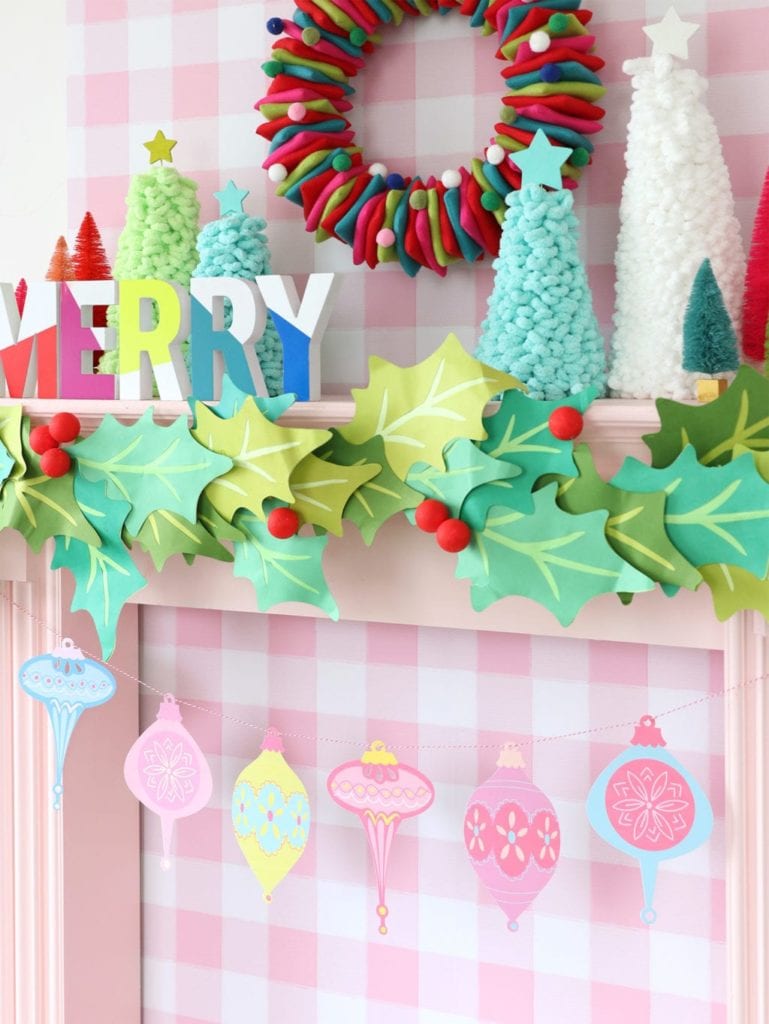 PRINTABLE RETRO ORNAMENT GARLAND
Let's keep the retro vibe going! This FREE printable holiday garland is an awesome way to add color and personality to your home decor. The oversized design and bold colors make these ornaments hard to ignore.
Just use paper and your printer to bring these beautiful and colorful ornaments to life. You can even use them as gift tags to dress up the gifts under the Christmas tree.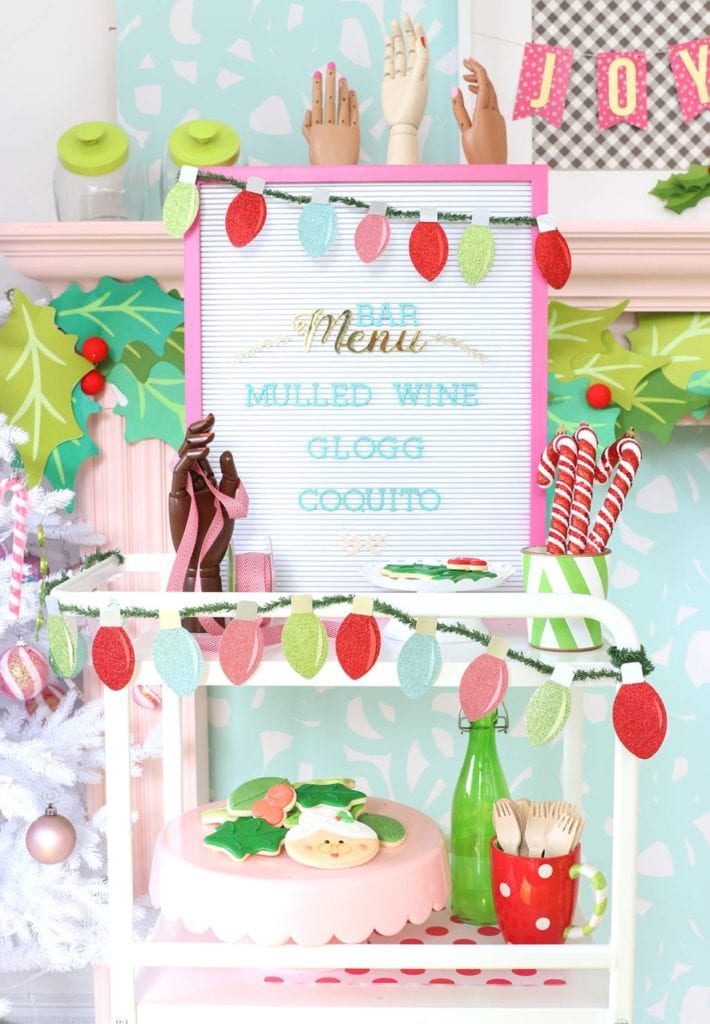 The worst part of Christmas decor is undoubtedly the Christmas lights because they get tangled do easily. This easy craft will save you the trouble of untangling the lights but still add plenty of colorful sparkle to your holiday home.
You'll love the clever trick to creating perfectly shaped Christmas light shapes.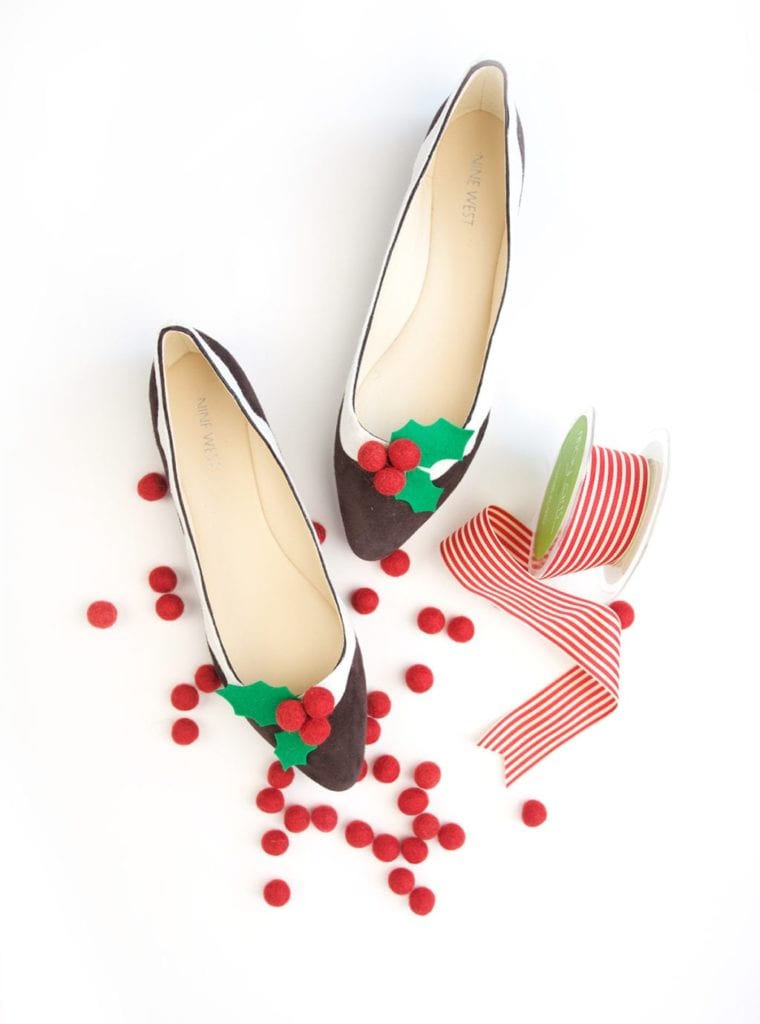 Now that your home is decked out and your gifts are wrapped, let's turn our attention to your holiday fashion! You'll definitely want to have a cute outfit for the holiday party at the office or the Christmas Eve dinner you're hosting for friends.
These figgy pudding flats are a super simple project that will have everyone envious of your festive footwear. Purchase a pair of brown flats and I'll show you how to do the rest!

And while you're at it, make a pair for the little ones. This is also an awesome Christmas craft for kids!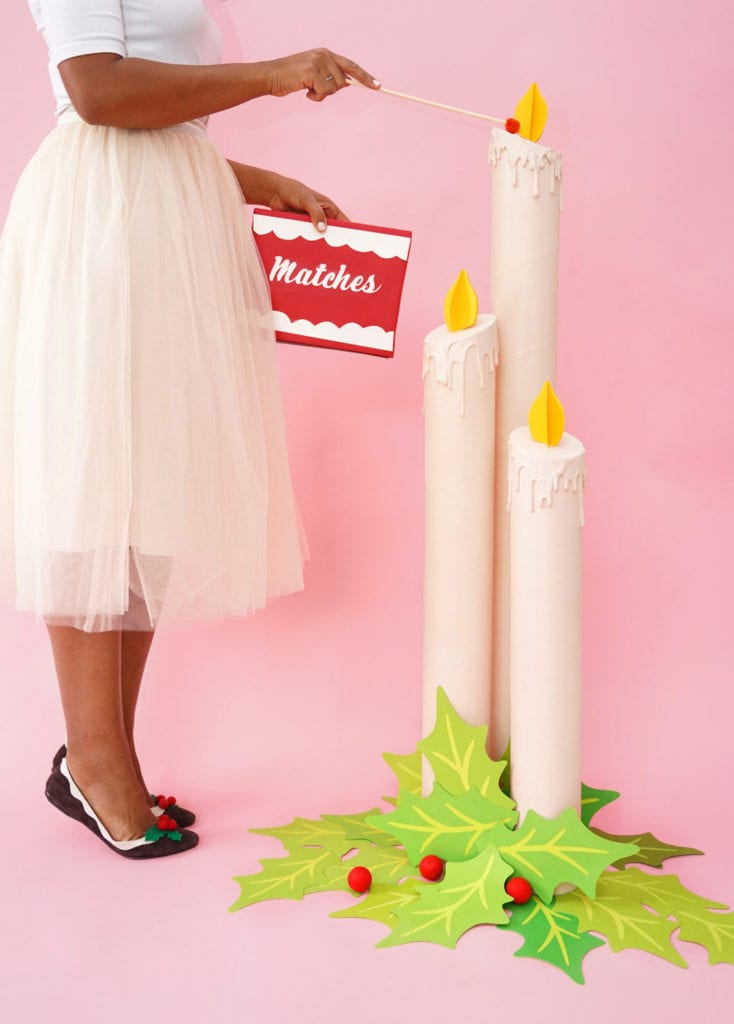 Still in the mood for some oversized decor? Here's a craft that coordinates perfectly with the giant hula hoop wreath you just made. Never in a million years will you guess what I used to make these christmas candles.
Learn how to make your own and prepare for all your neighbors to ask "How'd you do that?!"
You can never have too many pairs of shoes. This is especially true during the holiday season when there are countless parties to attend and lots of opportunities to take a cute photo.
These easy santa sneakers are comfortable and fashionable not to mention a great conversation starter. The pom pom accents on the laces are so much fun.
Watch this quick video and learn how to make your own.
You're just a few minutes away from living it up in Santa Clause style!