This is a sponsored post written by me on behalf of Canon. All opinions are 100% mine.
The coloring phenomenon is not going anywhere! For years, we've been using coloring books, coloring sheets, coloring apps and more to destress and relax. Damask Love is fully on board to support this trend and today's 2020 printable calendar is one our more highly anticipated.
Update: We got such great feedback and you guys loved the GRL PWR calendar so much, we turned it into a coloring book!! Check the updated printables library for it now.
A few years ago, we released our very first coloring calendar. It was a free printable calendar – but rather than standard illustrations, we offered it as a pdf calendar that you could print and color! If you missed that very first calendar designed with coloring in mind – you're in luck! We updated it along with all the other Damask Love printable calendars so that you can use them for the 2020 year.
Sadly, we didn't launch a 2019 calendar but today, we are making up for lost time with the 2020 calendar featuring twelve custom illustrated coloring pages! With the help of Kristen Magee of K.Becca – this year's calendar has a GRL PWR theme that will keep you motivated for the entire year!
The GRL PWR printable 2020 calendar is available in PDF format and as a JPEG. This means, you can import each monthly calendar into your favorite coloring app! With both options you can print, then color OR color, then print!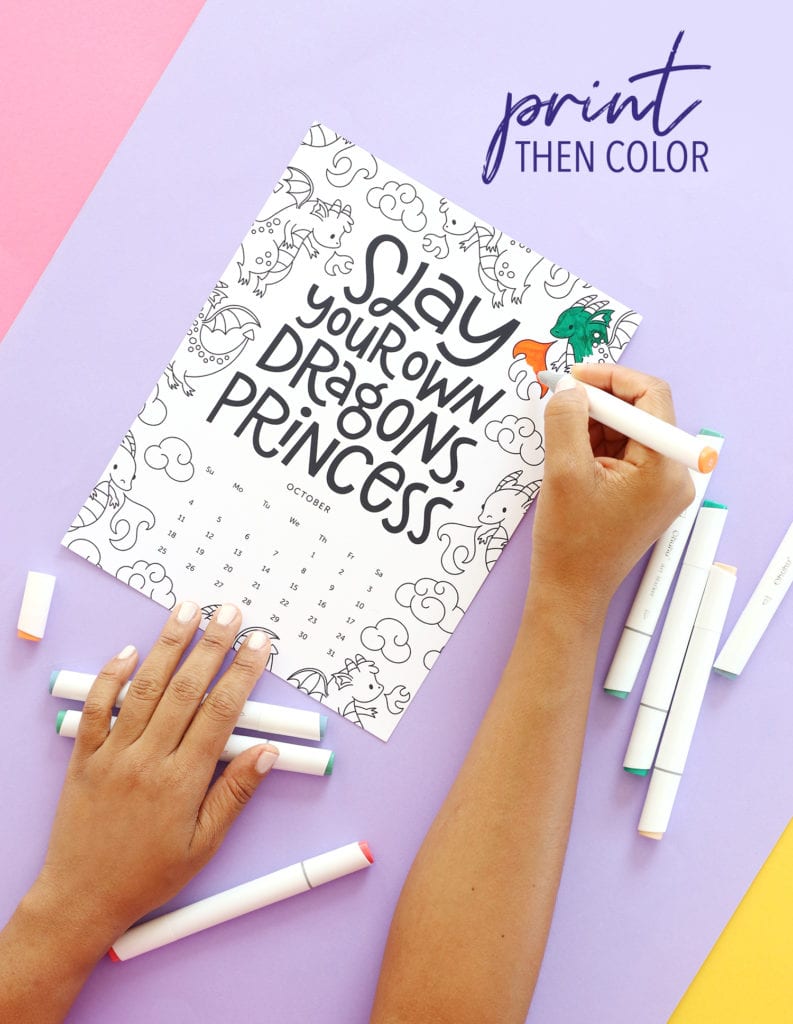 Use this sign up form and you'll get an email with everything you need to know to access the full Damask Love Printable Library…including the FREE GRL PWR Coloring Calendar!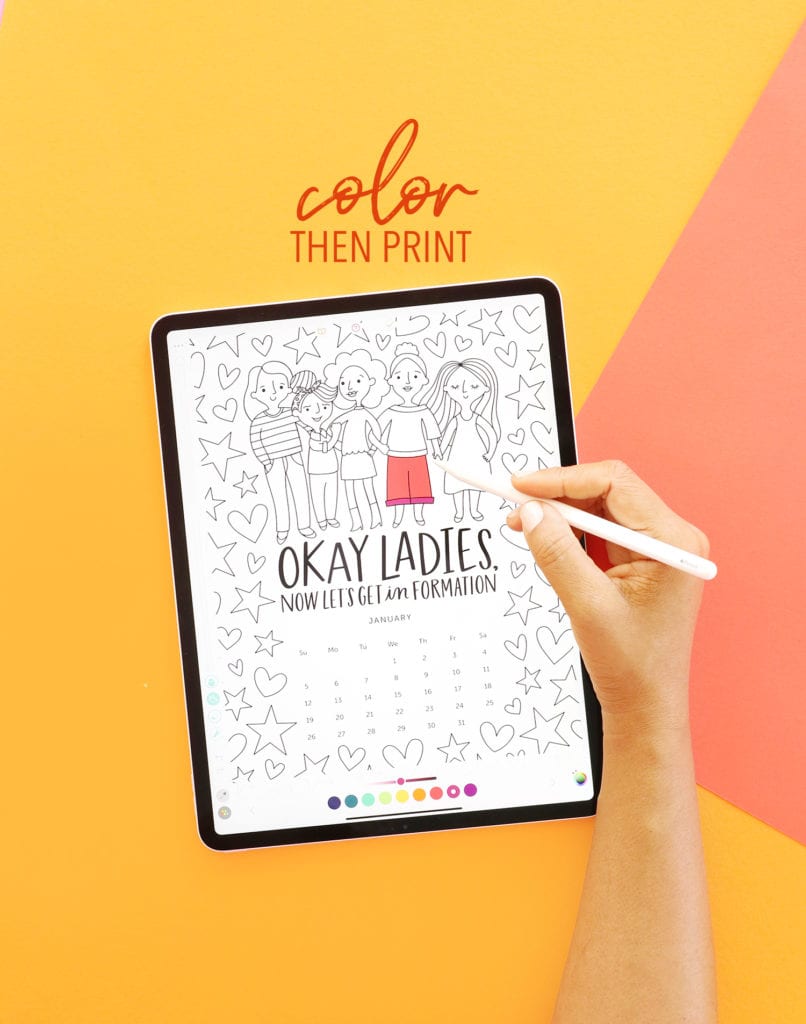 Now for a little tutorial on how the various options for coloring in the printable calendar.
OPTION 1: PRINT THEN COLOR
Join the Damask Love email list using the sign up form to access the complete library of Damask Love printables, including the 2020 GRL PWR calendar template!
Use your Canon printer to print the GRL PWR calendar.
Use your choice of pencils, crayons or markers to color your calendar. Need help with which tool is best for coloring? You're good to go with our full rundown about How to Color!
OPTION 2: COLOR THEN PRINT
This is the option that might need a little more explaining!
Download your favorite coloring app to your mobile device. Personally, I love using my iPad pro with the Apple Pencil for this but it works great on your phone too! As for the app, I love using Pigment. It's amazing!
Next, download your 2020 GRL PWR coloring calendar pages. Make sure you are downloading the JPEG versions! Save these to your own personal Dropbox folder so you can access them.
Now, import each page into the Pigment app and begin coloring.
Finish coloring then send your creation directly to your Canon TS9521C printer! The result will be incredible and you'll be so proud of what you've created!
Both options work seamlessly with the Canon TS9521C Printer. The Canon TS9521C . If you're planning to print the blank calendar, I recommend using Canon Matte Photo paper! It's incredible for coloring. It's also excellent for printing your fully colored design if you opt to color on an app like Pigment.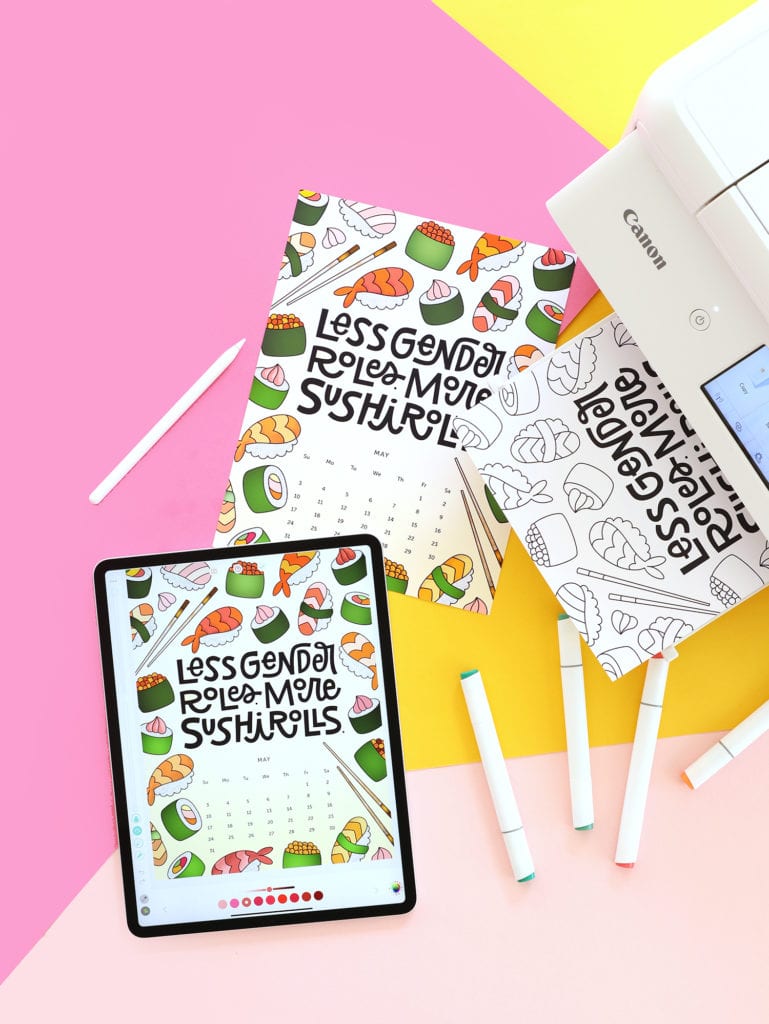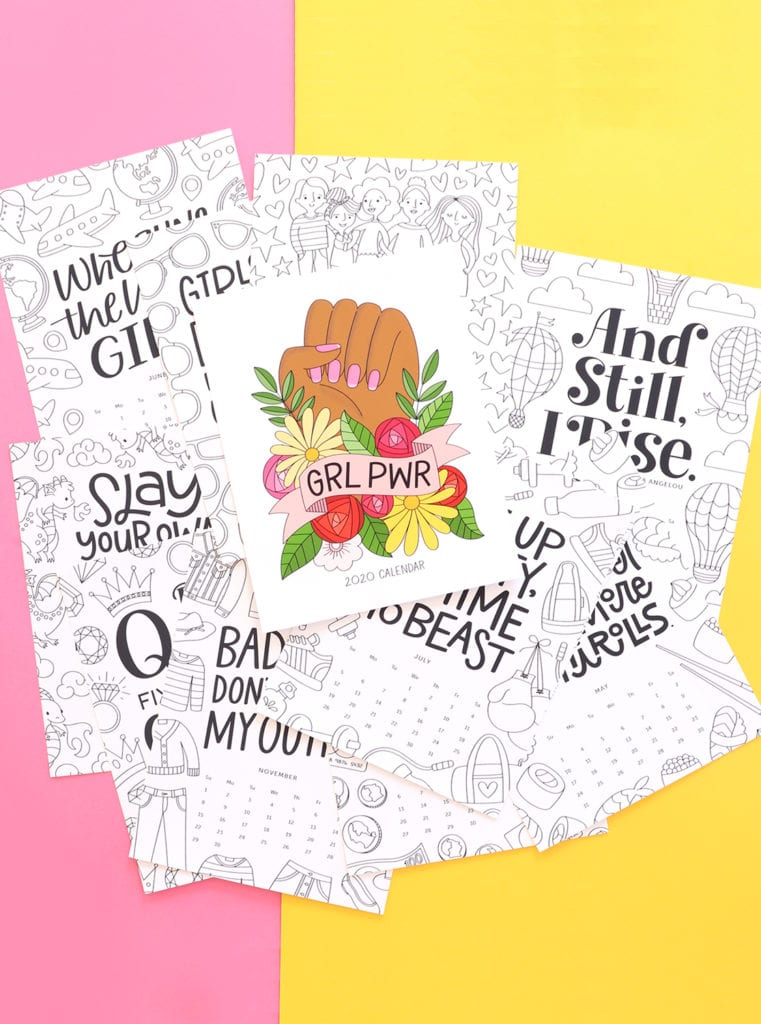 Are you ready to start 2020 with a bang! This free printable coloring calendar will help you do just that! Don't for get to share your creation on social media by tagging @canonUSA, #craftywithcanon and @damasklove.