My mom asked for a coloring book for Christmas. This is the official indication that everyone on earth is jumping onto the coloring bandwagon. A few weeks ago, a good friend texted to ask "What are the best colored pencils for me to buy?" Yup – coloring is officially a thing. Which is why, I'm gonna give you the low down on everything you need to color and I've even got a quick video on the simplest way to color with alcohol markers, which can be a tad bit intimidating.
So here we go, a thorough  walk through the basics of coloring (and if you keep scrolling, I've got plenty of links for free downloadable coloring pages).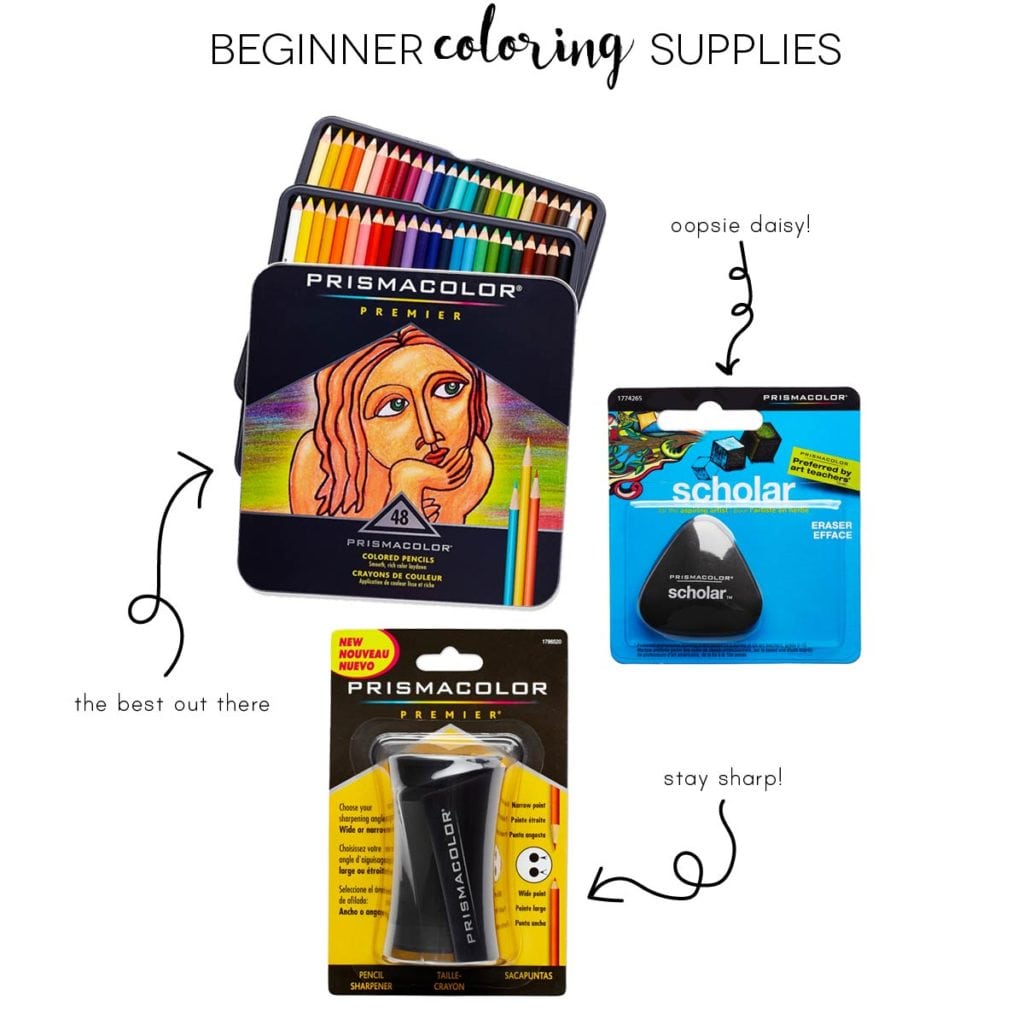 RECOMMENDED SUPPLY // PrismaColor Colored Pencils 48 Pack
HOW MUCH // $39
Colored pencils are probably the most forgiving when it comes to coloring. They are pretty intuitive. Color lightly for faint shades, press hard for dark shades. Layers colors to create blended effects or keep it simple with one color only. You can sharpen them over and over for a fresh, sharp pencil point and they are affordable! The PrismaColor Pencils are a midrange pricepoint and allow you to have something nice and still pay your electricity bill at the end of the month. I hear that lamps and electricity are pretty helpful when it comes to coloring.
ADD ONS // I love the PrismaColor sharpener because you can sharpen your pencil with either a wide point or a narrow point, depending on what's most comfortable. You may also want to grab an eraser because…well..mistakes happen, right? While you're at it, an eraser might not be a bad idea.
ALTERNATIVES // If you want to save a little money, there are several very inexpensive options for colored pencils. The Sargent Art 50 Pack rings in at about $15 and gives you tons of colors. The pencils won't blend as well as PrismaColor but you can use your extra money for a cocktail and then you won't care. PrismaColor also has a 24 pack of pencils for only $20-ish bucks which gives you all the greatness of their brand at a lower pricepoint. And last but not least, there's good 'ol Crayola. Our childhood favorite. Again, these won't blend as well as PrismaColor but they come in at $12 which is a great way to start coloring with very little investment.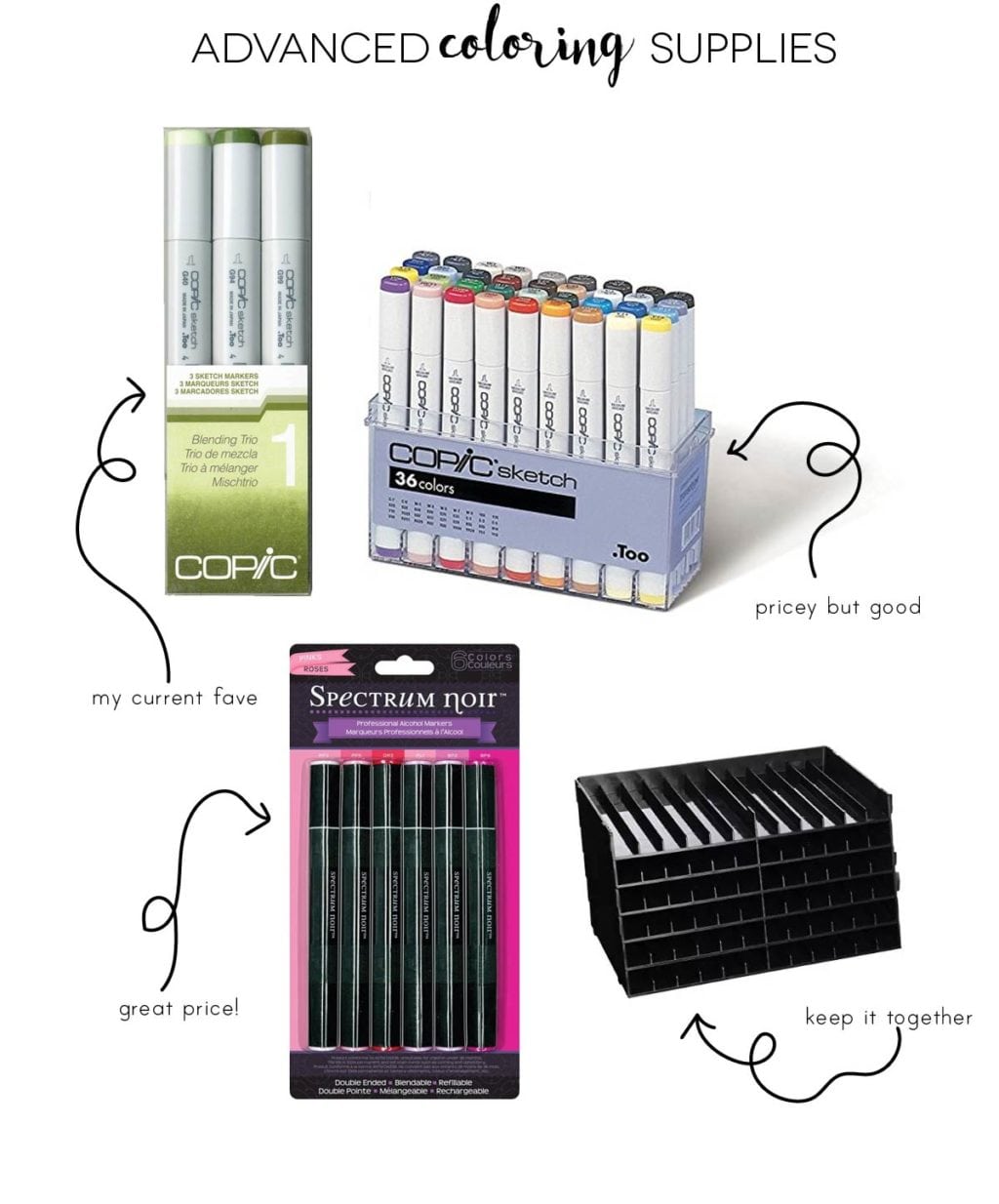 RECOMMENDED SUPPLY // Copic Trio Sets
HOW MUCH // $24 per set
Copics are a gold standard in advanced coloring. The technique isn't difficult, but they do take some getting used to. I currently use my Copics for almost every coloring project and if you're looking for quality markers these are a great way to go. I recommend getting your Copics in sets of three to maximize your ability to blend and create dimension in your coloring. I currently own the following Copic colors in my own personal set and I don't feel the need to buy more.
E31, E35, E37 // E00, E04, E09 // V04, V06, V09 // G00, G02, G07 // YR00, YR04, YR09 // T1, T3, T5 // BG10, BG13, BG5 // E21, E25, E29 // R20, R22, R24, R29 // Y00, Y06, Y08 // 0 (Colorless Blender)
Each copic marker color is labeled by a letter and number. The letter indicates the color family and the number indicates the darkness of the shade. If you opt to purchase your Copic markers individually, you'll want to select three markers in the same family with numbers that are two or three apart. This way you get a good range from light to dark.  Here's a quick video on the very simplest way to use Copics:
[ylwm_vimeo height="400″ width="600″ ]151487436[/ylwm_vimeo]
RECOMMENDED SUPPLY // Copic Marker Basic Set
HOW MUCH // $175
If you'd rather skip the work of assembling your own Copic set, you can purchase a preassembled set of markers that includes most every color you need. This 36-piece set cover all the basics and comes with a handy dandy storage cube.
ADD ONS // Since this 36 piece set does not group the markers into trios, you may need to purchase a few "one-offs" at your local craft store. Luckily, you can usually use a 40% off coupon to snags these individual markers at a good price.
RECOMMENDED SUPPLY // Spectrum Noir Alcohol Markers
HOW MUCH // $119
I am a huge fan of the Spectrum Noir Alcohol Markers. They work just like Copics but are a lot less money! My only gripe with these particular pens is that the pen tips are not quite a flexible as Copic Markers which can make blending a bit more difficult. Even with that one complaint, they are still WELL worth the money and for $119 you get every color in the collection which means you can color really beautiful pages that are perfectly blended…without going for broke.
ADD ONS // You'll always want to store your alcohol markers in the horizontal position so this organizer is a great option…or you can keep them in a shoe box like a certain someone I know (*raises hand*)


…and now that you're ready to color, how about a ton of incredibly fresh and on trend coloring pages that are FREE! This will be especially helpful for all you girls who just splurged on a full set of Copic markers!