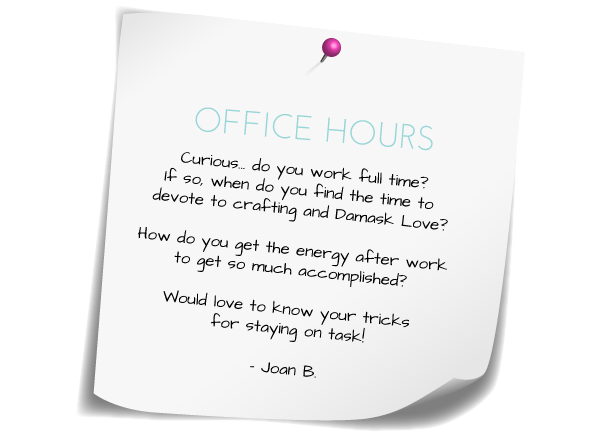 Joan's question is a good one…I wish I had the definitive answer for how I am able to juggle work and blogging. Most days I go with the  "Chicken with Her Head Cut Off" technique. It's tried and true, but it's not always the best approach if you want to maintain some semblance of sanity.
On days when I'm feeling less like a chicken and more like a productive person, I do a pretty decent job of managing life, work and blogging. Emphasis on the word "decent," because I am far from having mastered this balance.
So first, to answer Joan's  question – yes, I do work full-time. I am a child psychologist here in Miami and my day job includes clinical work and research. I love what I do and it challenges me. I also work with a bunch of brilliant colleagues who are also lots of fun to be around!
Blogging is my second full-time job. I love it, but it is work . A lot of work . A ton of work. Anyone who tells you that it's easy to host and grow a blog  is lying…or has a slew of assistants at her beck and call. Even then, she's still lying.   You'll never hear me complaining about the amount of work that goes into Damask Love because I love it. It's my creative outlet, it's my passion and on weekends, I wake up bright and early, excited that I get to walk straight into the craftroom and create. I love sharing my creativity with you and I love the idea that I can inspire others to get crafty!
But how does it all get done? I ask myself that question everyday…right around 8:00pm, when night has settled in, dinner needs to be prepped and there are a bunch of chicken scratch notes all over the place reminding me of the things I want to accomplish for the blog! Here's how I get it done:
The "Blogitorial" Calendar
When I began developing the new Damask Love, it wasn't long before I realized that I would need some sort of editorial calendar to keep myself organized and on task. I work best when I have a plan. Magazine editors plan their issues months, if not an entire year in advance. For me, it makes sense to treat my blog in the same way. I like to know what I have coming up, what features need to be posted and what blog obligations I need to fit in (e.g. design team posts, guest designer spots, etc). So – about two months ago, in true Damask Love form, I took on the task of designing my own blog editorial calendar…or Blogitorial Calendar as I call it…here it is: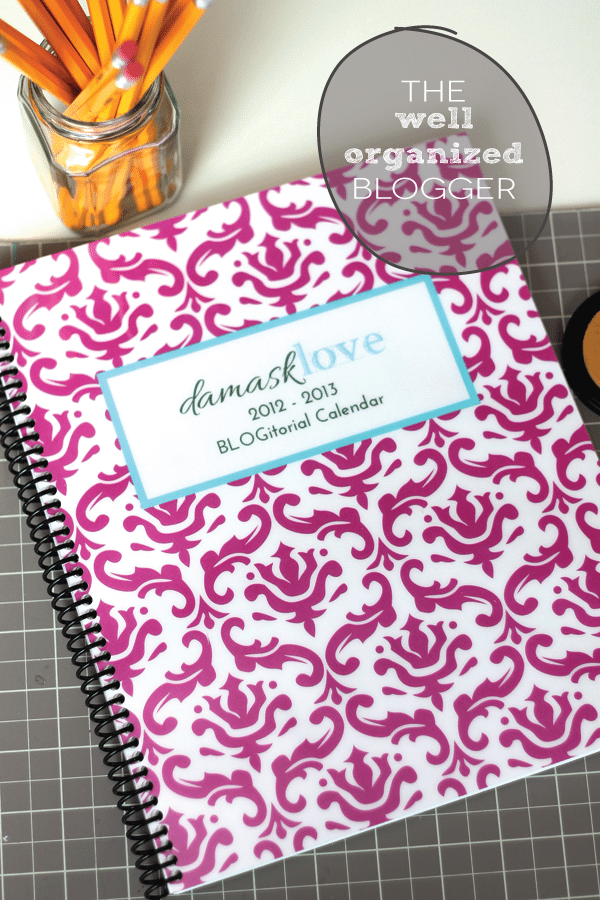 This thing is my best friend.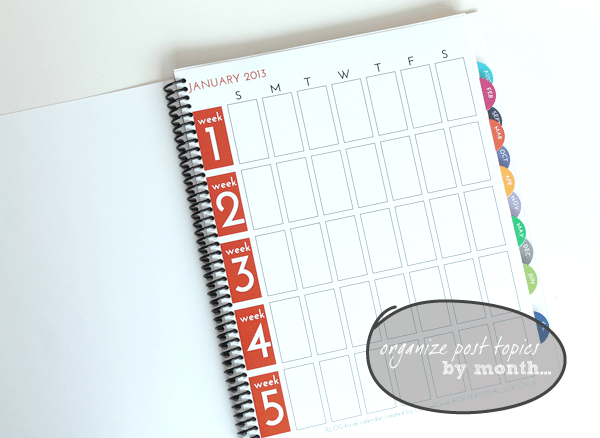 Inside, the calendar is divided into months with one page that allows me to organize my posts at a glance…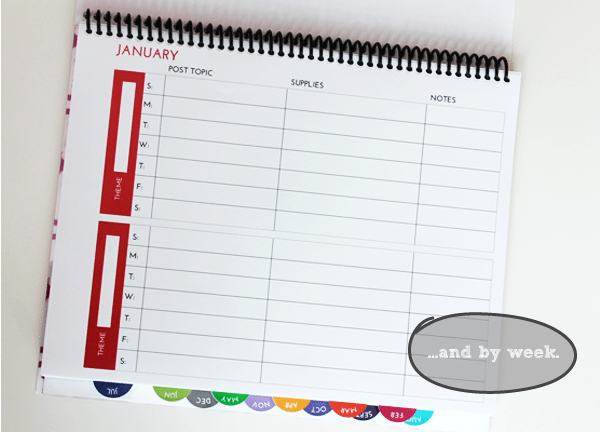 …and by week. This may seem like overkill, but for me it's very helpful to use the month pages to get a good look at how the month is shaping up. Do I have some gaping holes? Do I have enough variations in projects? Do I need to block out an entire week for a certain obligation?  Is there an upcoming event that I should blog about (e.g. Winter CHA)?
On the weekly pages, I can make notes about the supplies I may need for a given project, which is SUPER helpful! As you crafty girls know, there always seems to be that ONE supply that you need to finish a given project. Every week or so, I take a look at this section of the calendar to see what supplies I may need to order for the upcoming projects on the blog. This approach takes a load of stress off my brain since I know I'll have what I need!
The other nice thing about using an editorial calendar is that I've pretty much put the kibosh on last minute crafting. Instead, I'm constantly creating for future posts that are already in the calendar. Right now, I've got Damask Love planned well into 2013, which takes off all the pressure of "coming up" with something to blog about! Sometimes, I have such a hard time fitting in a certain post, that I decide to  toss it or share it "off campus" on Facebook or Instagram.
Now, of course I want to share this info with all of you bloggers who may want to implement a similar editorial calendar system, which is why I came up with this: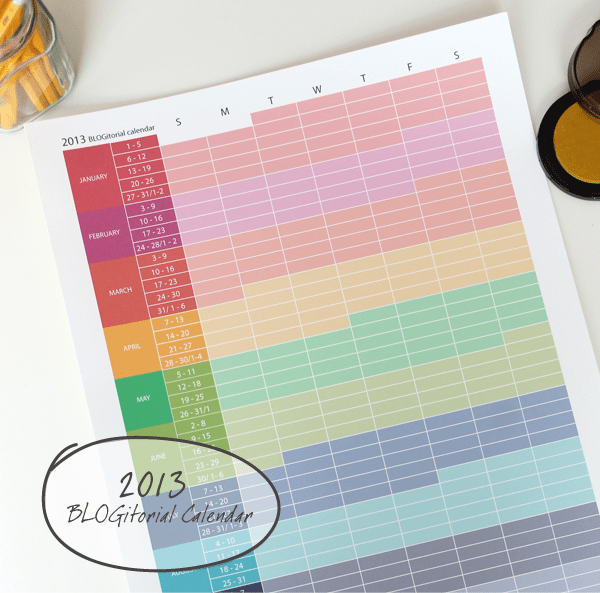 This 11×17 printable calendar is a great way to sketch out your blog all in one place! Pencil in the post theme for each day and get a sense of where you'd like to schedule certain posts. Hang it on your wall or bulletin board to keep yourself on task.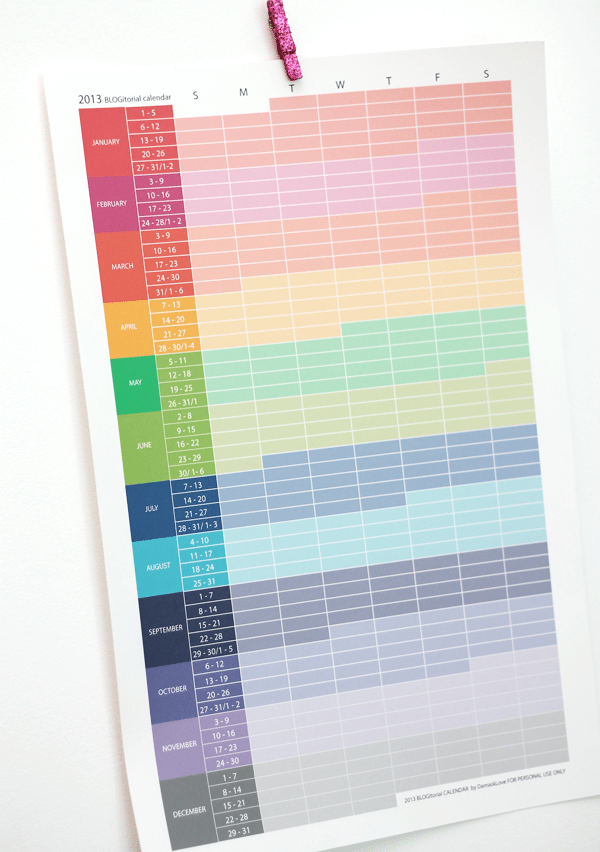 2013 BLOGITORIAL WALL CALENDAR
Keeping an editorial calendar is just one of the tips I have for staying on task as a creative blogger. Some of my other strategies include:
CREATE WHEN YOUR EXCITED ABOUT IT
This is something I learned from the Altitude Summit blog and it's oh so true! When  I come up with an idea that I'm excited about, I prioritize it! Make it as quickly as I can. If I let the idea sit, my excitement will fizzle and I won't get it done – because I'll come up with something else that I'm excited about! Also, if I'm excited about the project as I create it and photograph it – that will come through on my post!
SKETCH & COLLECT INSPIRATION LIKE IT'S YOUR JOB
As creative people, we are typically visual thinkers. When I come up with an idea – I sketch it out so that I can execute it once I'm back at the crafting table. In the same vein,  I look for inspiration everywhere. I'm that weirdo who is taking photos of detergent bottles at Target because I like the font they used!
SIMPLENOTE
I love Simplenote. So bad. I use it to keep a list of…a list of everything. Most importantly though, I use it to keep lists of my ideas for post topics, themes, collaborations, product features, blah, blah blah. Simply put, Simplenote is my brain.
GOOGLE READER
Every morning, I catch up my Google Reader while I take the train to work. I get to visit my favorite blogs and if I'm alert enough to tackle the touchpad keyboard – I might even leave a comment!  Part of my goal with the new Damask Love is to be a better blog neighbor to all the other creatives out there, and to stay in the loop on what's going on in blogland. Google Reader keeps me in the loop.
THE "FEATURE" APPROACH
You've probably noticed that I've added several "features" to the new blog. Class Field Trips. Office Hours. Craftroom Crush. There's a good reason for this . As much as I love creating tangible projects to share on this blog, it's not feasible to do that every single day.  Features  allow me to engage with you guys more, talk to you in a "conversational" sort of way and give myself  a break from the project-centered posts, that are typically more labor intensive.

There are lots of ways to balance life and blogging and mine may not be for you. Here are a few extra resources: