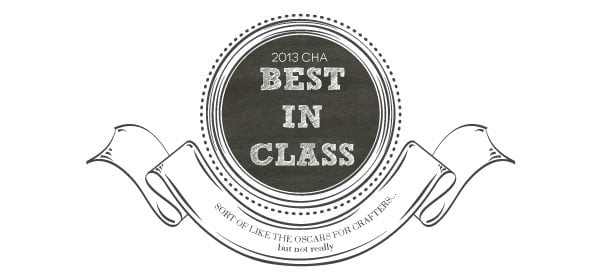 For the last few days, I've been in a CHA state of mind. Here's the lowdown. The Craft & Hobby Association Tradeshow, better known as CHA to all us hip lingo lovers, is a big ol festival of crafts. Hundreds of  vendors come together to show off their latest and greatest so that sellers, bloggers and crafters can drool over their goods. I am totally guilty of drooling a few times, and I'm here to give you the rundown on the products that caught my eye. I know there are many of you who would have liked to attend CHA, so hopefully this post will make you feel like you were there with me!
There are a ton of photos coming up along with lots of details on each product. If you have additional questions, leave a comment and I'll get back to you!
So, without further adieu, let's get this award show started!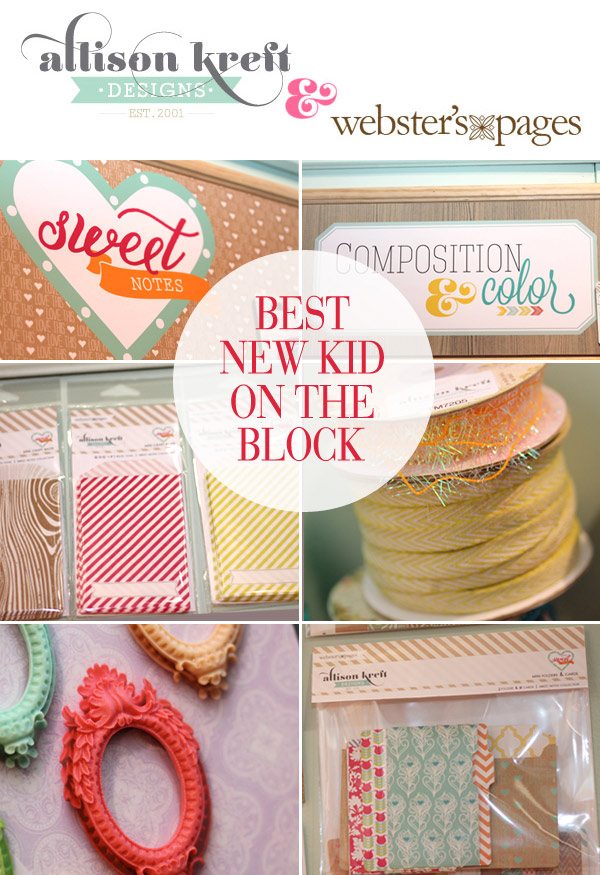 Allison Kreft is definitely no newbie to paper design. Allison has designed for Echo Park, Hambly Screenprints and now she has put her signature style to work with Webster's Pages. Her collections: Composition & Color and Sweet Notes were among my favorites at the show! The paper is beautiful, but I have a special place in my heart for the patterned mini bags!
Ready for the remaining Best in Class winners? There are a ton of photos so you'll have to click through to see who made the cut!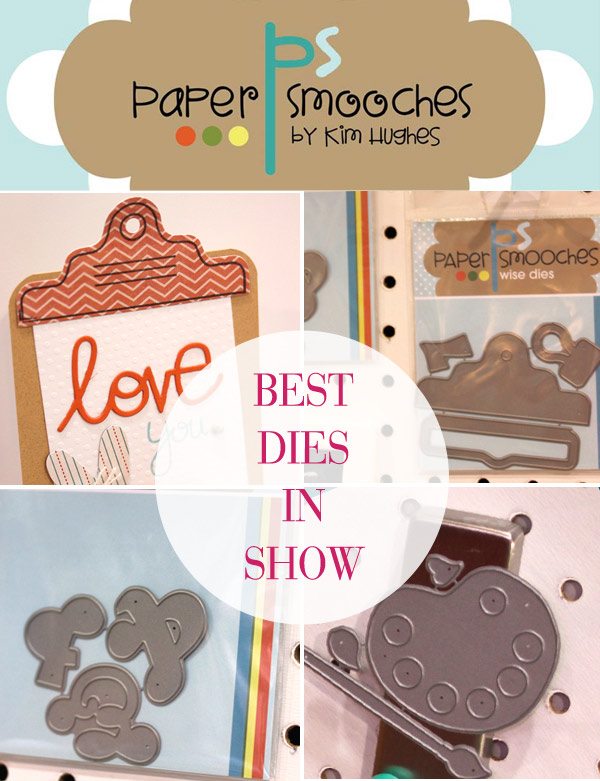 Paper Smooches is expanding their collection with the addition of dies…lots of them. I was blown away by the huge selection of dies coming up but there were a few that really caught my attention. The clipboard die, ampersand die and paint palette die are items that I will definitely be adding to my collection! They are unique and oh so cute.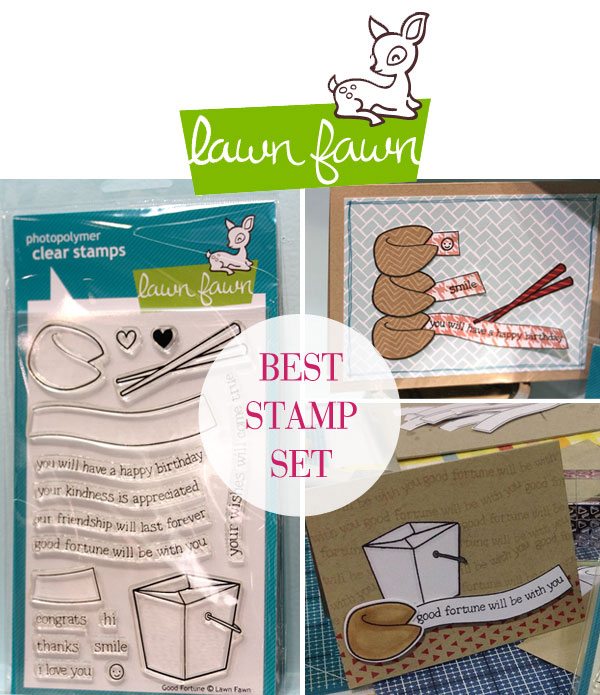 Here's the deal. If you make a stamp set about food, I will love it. If you make a stamp set about Chinese food, I will try to eat it and hope that it tastes like Mongolian Beef with a side of sauteed green beans. Lawn Fawn got everything about this stamp set right…but it doesn't taste like Mongolian beef (they'll need to work on that, part).  This set includes adorable sentiments for every occasion and there are coordinating dies available too! Love that. Thanks Lawn Fawn for creating the perfect set that speaks to my Chinese food loving soul.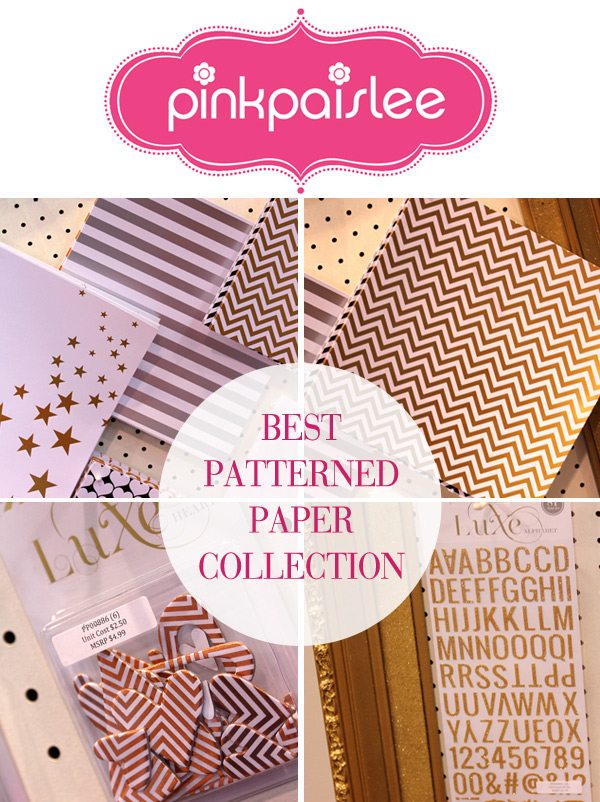 They really know what they're doing over at Pink Paislee. Their Luxe Collection will be available in March and you can preorder now. This collection is all about metallic, glitter, stripes & chevrons. How could you not love? The second I saw this collection, I may have screamed a little bit and said that I'd like to eat it up.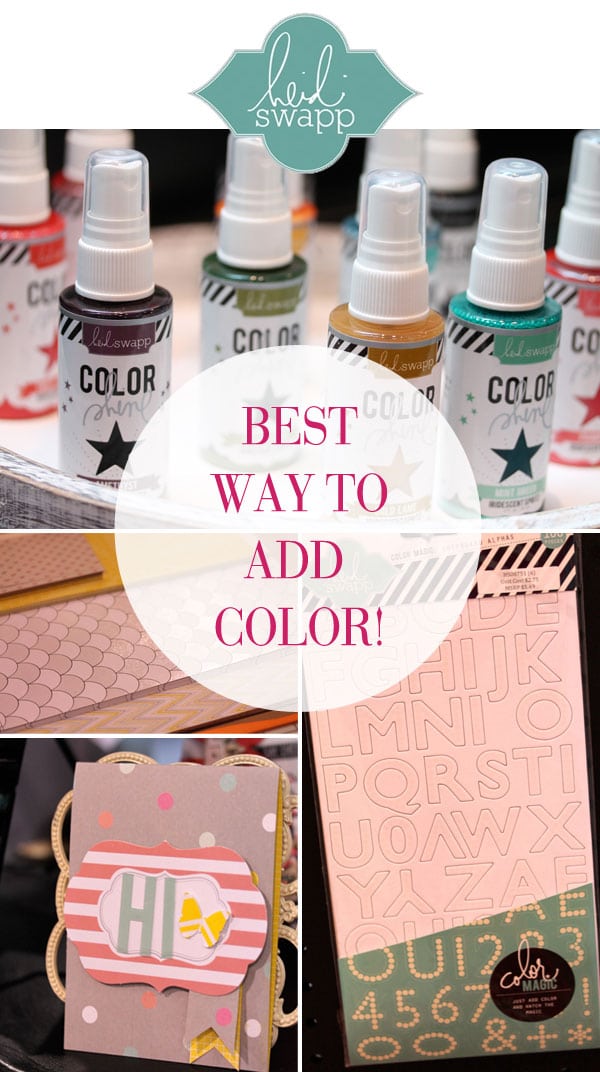 Right next door to that yummy Pink Paislee paper, was the Heidi Swapp booth. Not only was the booth adorable and staffed by the sweetest design team ever, it was filled to the brim with vibrant and bold colors. You guys know I love color, so it only made sense that I'd love the Heidi Swap collections. Her Color Shine sprays are so much fun to work with and when you combine them with her Color Pop papers & embellishments, you sort of can't go wrong. The Color Pop papers have a resist surface that is colored. When you spray them with Color Shine, you stain the non-resist surface, while the resist surface comes through. The result is a seriously awesome two toned pattern. And see those Color Magic adhesive letters in the photo above? They work the same way! The dots on each letter have a resist surface so you can spray them in any color, then let those trendy dots shine through. Coming from a person who's not usually a fan of messy crafting – you gotta trust me on this…these collections are a must have! You can visit Heidi's blog for more deets on these products.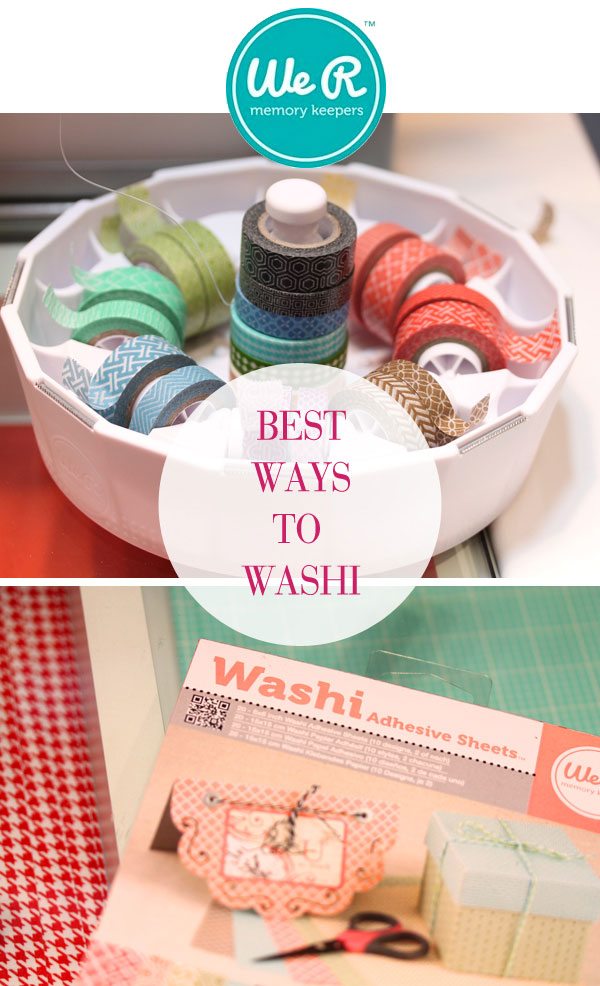 Recently, I wanted to make some washi stickers. My washi tape rolls were too thin for the shapes I wanted. I thought to myself that it would be great if someone would create sheets of washi. Enter: We R Memory Keepers! They are doing big things with washi and I am oh so happy about it. Considering that my collection of washi probably makes me eligible for an episode of Hoarders, I was especially pleased to see their Washi Dispenser. They also offer their washi sheets in a 6×6 pad that comes with an assortment of patterns. In my opinion, this is the right way to washi!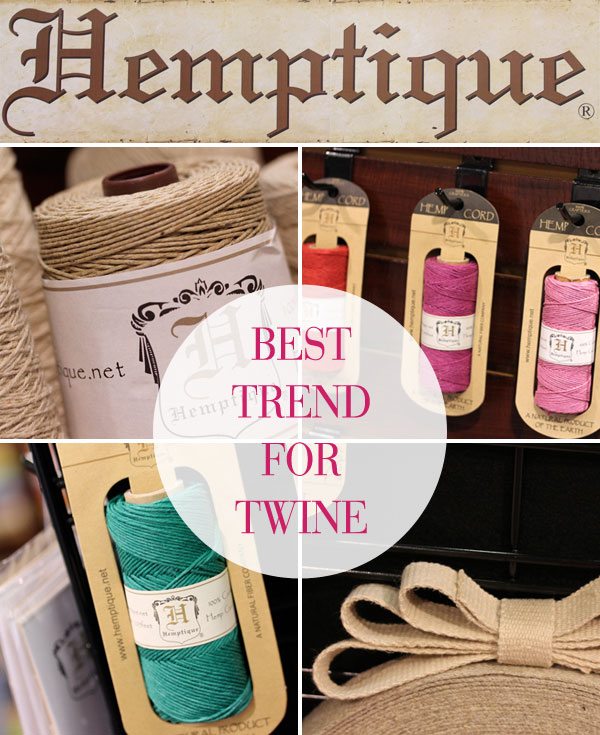 Typically I have no business predicting trends, but this time I feel good about my chances. I'm predicting that hemp cording is going to take over the scene leaving baker's twine in it's dust! There! I said it! The Hemptique booth was chock full of brightly colored spools of hemp cording. The twine is a bit stiffer than baker's twine and the color options are endless. I love the clean, smooth finish of hemp cording – perfect for clean and simple designs.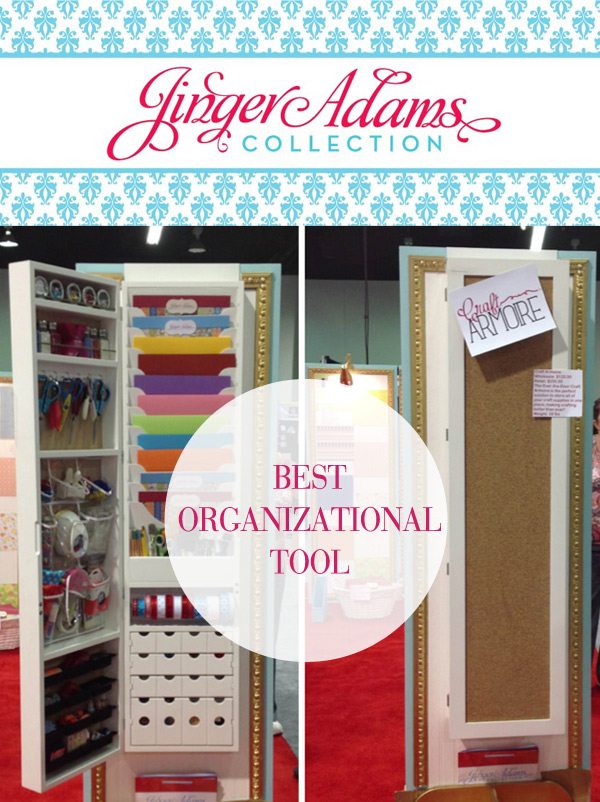 The Jinger Adams Craft Armoire may be the most buzz worthy item from CHA. This over-the-door organizational system weights 35lbs and measures 6.5 inches deep and 15 inches wide. Inside, you'll find a pocket, pouch, drawer, slot or hook for everything you can imagine. The paper slots will accomodate 12×12 scrapbook paper and the outside features a corkboard for pinning notes and inspiration. This product will be available in May 2013 and will retail fo $250.00. Raise your hand if you'll be adding this to your craft space!! **Hand raised**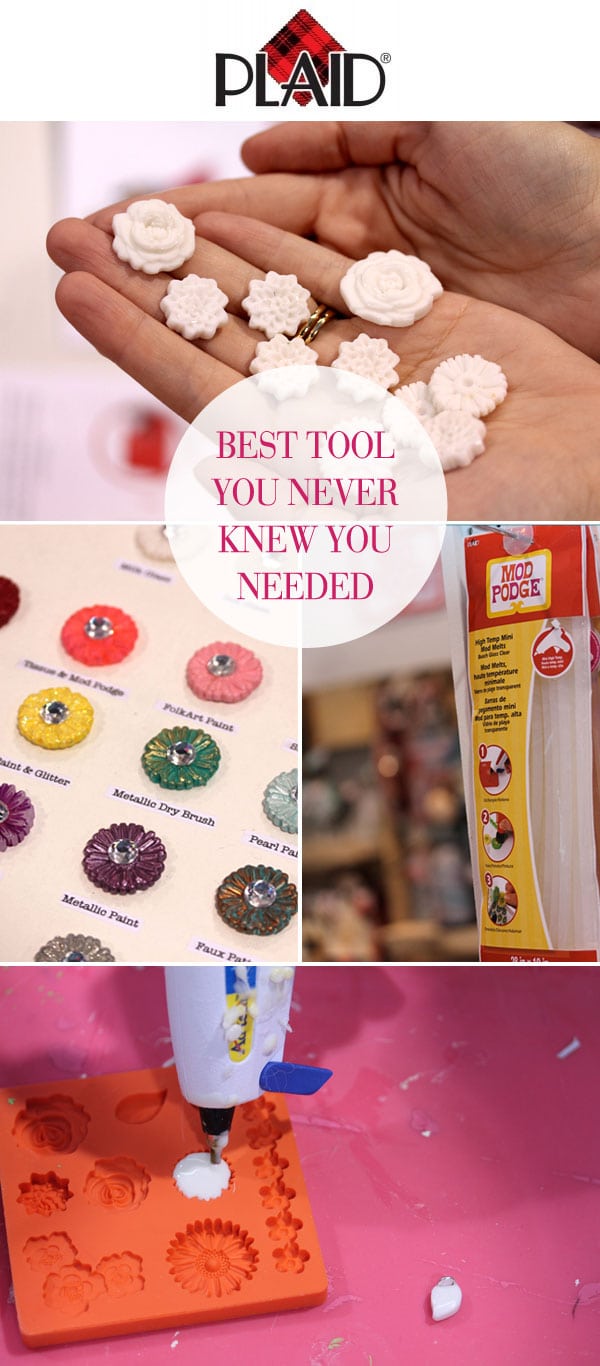 Creating epoxy resin embellishments has never been on my to-do list…until I found out about the Plaid Crafts Mod Melts. They are seriously the mostest. Here's how it works: Mod Melts look just like the inserts for your hot glue gun…except they are filling with awesome resin. Place the insert into your hot glue gun, heat it up then fill the mold with warm resin. In four minutes…yes FOUR MINUTES…you'll have beautiful, perfectly shaped embellishments.  The resin is white, but you can color it using a variety of options. You can paint them or add glitter. You can color them with copics. Get creative!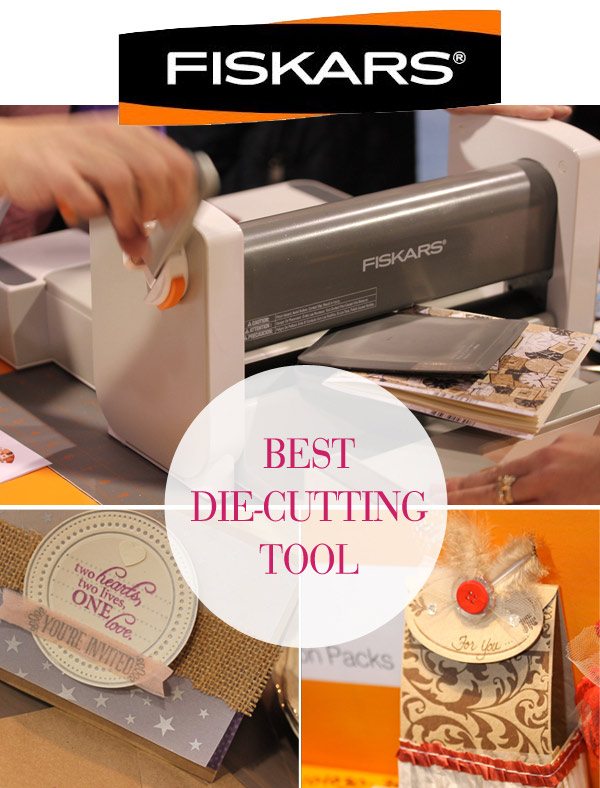 Okay. Some of you know me. Some of you don't. When I win something – I lose my shizz. Seriously. There is screaming, jumping, shaking and general tomfoolery involved when I win something. Imagine the scene, then, when I won a Fiskars Fuse at the 2013 CHA. It was quite the sight to behold. Poor Stephanie Haman thought I was going to trample her!! (Which, for the record, is not completely outside the realm of possibilities).  I'm so excited to receive my Fuse in the mail, and when I do, I'll be sharing all it's awesomeness with you right here, with tutorials and projects. In the meantime, you've gotta believe me. This machine is definitely deserving of a Best in Class award. It's a die cutting machine, a letter press machine, an embosser…and did I mention that it will cut through TEN sheets of cardstock at once! Nuff said. It's also super easy to crank. The pressure you exert is exactly the same whether you're cutting through one sheet or ten. Gotta love that, right!?
Welp! That just about does it for my favorites from the 2013 Craft & Hobby Association Trade Show! I had a great time scouring the floor for my must haves and I can't wait to return to the summer show to see what's new in crafting! In the meantime, thanks for putting up with all my Instagramming, Facebooking & Twittering over the last few days. It was really fun sharing every moment of my trip with all of you!
Now for the QUESTION OF THE DAY! Which of these products would YOU most want to add to your collection?

Did you leave a comment in the Paper Crafts Creative Card Challenges Blog Hop? If so…it's time to see if you won!
Congratulations to comment #62: Betty Sue
Betty Sue – please contact me via email to claim your issue of this awesome magazine!