Yeah. You heard me. Now excuse me while I go celebrate. Or vomit. Or pee my pants.
Ok. I'm back.
I decided to celebrate. Seemed like the most ladylike option… and the least messy.
A few weeks ago Better Homes and Gardens…you may have heard of them before…held open nominations for their First Annual Blogger Awards. I posted the contest on the Damask Love Facebook Page and didn't think much more about it. No telling how many nominations were submitted, but I'd like to think that there were millions…probably billions. Grillions.
Doesn't really matter, because here's the bottom line. Those editors over at BHG narrowed down each category to five finalists and they selected Damask Love as a finalist in the DIY category.
*cue imaginary marching band playing Kool and the Gang*
So today's post is a little different than what you're used to. If you're a long time, Damask Love reader, I hope you'll forgive the interruption in your regularly scheduled crafting. If you're new to the blog, I hope you'll take this chance to get comfortable and let me give you the low down on what we've got going on in this little corner of the interwebs.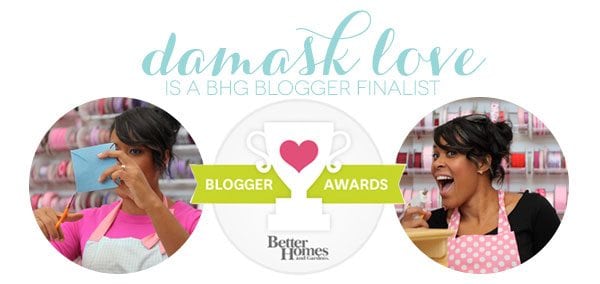 Simply put: I make stuff… with the occasional side of sassy commentary. The tutorials on Damask Love are designed for every level of expertise, although it'd be good if you knew how to use a pair of scissors. Beyond that, I've got your back. I'll walk you through it all and give you all the tips and techniques you need to make pretty things for yourself, for your friends, for your house or for your kiddos. More often not, the projects on Damask Love feature my favorite crafting medium: paper. Because I'm obsessed with the stuff. Probably borders on pathological. I've been known to ogle wrapping paper for uncomfortably long periods of time.
Damask Love is all about the doability of DIY and inspiring someone…anyone…maybe just one person, to make the day a little more awesome by crafting up something pretty. Everyday, craft is in session and the seats are unlimited.

I do my best to make every post pretty and here are a few of my faves from the archives. Click through and see what Damask Love is all about. You might just find something that you want to create!

Now let's talk biz-nass. Get those voting fingers ready because we are gonna make this happen…or we're gonna shut down the internet trying. Here are your marching orders:

Visit the Better Homes and Gardens Blogger Awards Voting Page to cast your ballot and see all the finalists in each category. It's a great place to scope out some new blogs for your morning read.

Share this contest with your friends, family, coworkers, in-laws, children and basically anyone within earshot. Personally, I have no shame. I am not above campaigning for this like I did for 8th grade student council. Let's just say that in the very near future,  my favorite Publix manager will be coerced into casting a vote. No shame, people. I have zero.

You can vote once an hour on the BHG Voting Page so vote …and vote often.

Stay in the loop and see all the behind the scenes Damask Love shenanigans by joining me on Facebook and Instagram. We have a good time over there.