Did you know that today is World Cardmaking Day? It's pretty much every crafter's dream holiday. An excuse to lock the door and get knee deep in cardstock and glue…or in the case of today's post, an excuse to visit a ton of blogs that are all offering you a first peek at the newest collection of stamps and dies available from Ellen Hutson. Papercrafter extraordinaire Julie Ebersole has designed a line of incredibly trendy and versatile products that are exclusively available at Ellen Hutson and today is the big day that you can grab 'em up.
I'm here along with twenty other crafty temptresses to show you my take on these new products. So, let's get scrolling – because I'm sure you are ready for me to stop talking and start crafting.
Each of the cards you'll see in this post are decididly simple, which means you can pump out a stack of cards in little to no time at all. These days, I am a very big fan of quick and easy.

SUPPLIES:
Cozy Christmas | Brushstroke Christmas | Merry & Bright Stamp Set | Memento Luxe Ink in Pear Tart // Love Letter
INSTRUCTIONS:
1. Apply ink the "Joy" stamp and use a wet wipe to remove ink from the dot over the "j" 2. Stamp "Peace" and "Love" on either side of "Joy" greeting 3. Stamp holly leaf image in red and green ink
Watercolors are a great way to add texture without doing much work at all . Just swipe on some color. No need to be neat or precise. Love that.
SUPPLIES:
Cozy Christmas | Merry & Bright Stamp Set| Memento Luxe Ink in Teal Zeal | Watercolor set | Watercolor Paper | Martha Stewart Iridescent Glitter Glue
INSTRUCTIONS:
1. Paint blue background onto front of card and allow to dry 2. Stamp swirly line from Merry & Bright stamp set 3. Stamp tree, star and "Merry Christmas" greeting 4. Add yellow glitter glue to star and dots of white glitter glue to create snowfall
When I received the products in this new release, I was so excited to see a laurel wreath die. I love a good laurel wreath and it's about time someone created one for all of us papercrafters. To create this card, I turned it upside down and added a simple twine bow.
SUPPLIES:
Laurel Wreath Die | Merry & Bright Handwritten Dies | Merry & Bright Stamp Set| Memento Luxe Ink in Love Letter | Ellen Hutson Craft-a-Board | Copic Markers in YG11, Y13, YG17 | Red & White Baker's Twine
INSTRUCTIONS:
1. Die cut wreath from green cardstock and from Craft-a-board 2. Use Copics to add shading to edges of wreath 3. Adhere cardstock wreath to Craft-A-Board 4. Adhere bow to wreath 5. Die cut "happy" sentiment from red cardstock 6. Cut banner from white cardstock and stamp "holidays" greeting in red ink.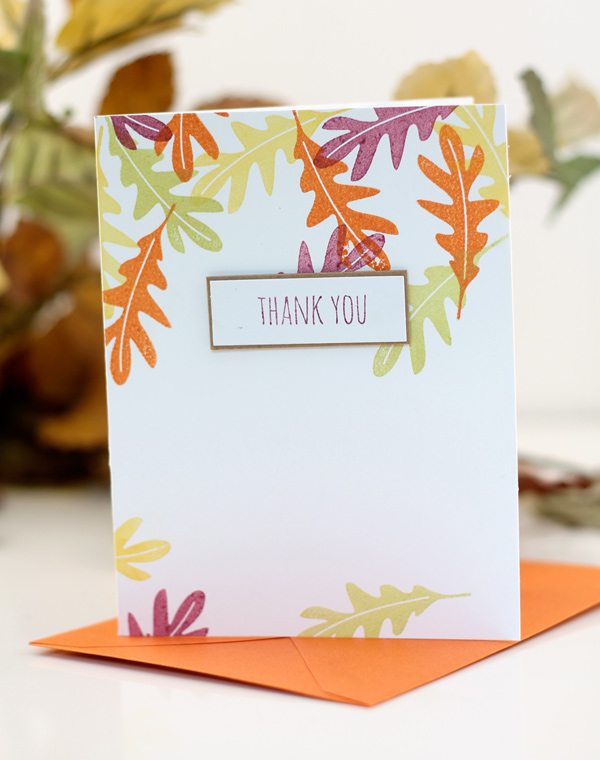 SUPPLIES:
INSTRUCTIONS:
1. Stamp leaves 2. Stamp "Thank You" greeting on a small strip of white paper 3. Mount strip on kraft paper and adhere to front of card
SUPPLIES:
Merry & Bright Stamp Set | Bokeh Dots Stamp Set | Solid Red Baker's Twine
INSTRUCTIONS:
1. Stamp large circle in shades of green 2. Stamp greeting 3. Adhere red twine bow
This last project may just be my very fave. If you are unfamiliar with the hilarity of "Treat Yo Self" do your self a favor and indulge in next thirty-five seconds. Considering that Halloween is right around the corner, it only made sense to put this die to use for the holiday. I printed out the "Trick or" portion and added it to the die.
SUPPLIES:
Treat Yo Self Die | Vellum | Crop-a-dile Tool | Fiskars Pinking Shears | Orange Striped Treat Bags | Black Striped Treat Bags | Purple Baker's Twine | Xyron 3″ Sticker Maker
INSTRUCTIONS:
1. Cut die from orange cardstock 2. Run through sticker maker 3. Print out banner with additional greeting and adhere to die 4. Cut tag shape from vellum and add eyelet with Crop-a-dile 5. Trim bottom tag with pinking shears
And now that you've scrolled your way through all these projects, you've earned a chance to win one of my favorite stamp sets! Please leave a comment here by October 8th; winners will be announced October 9th!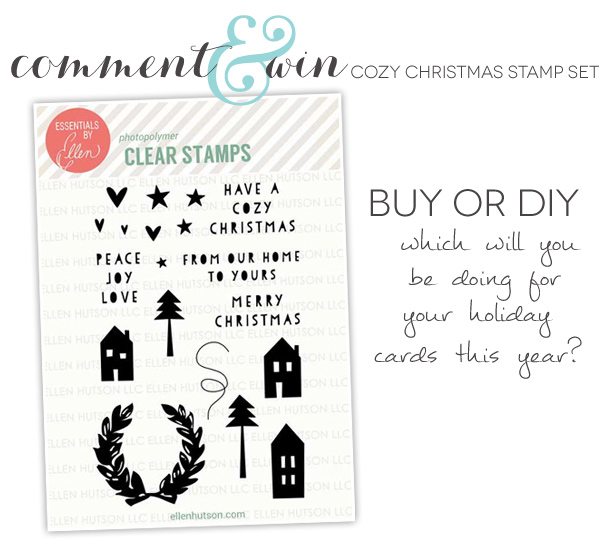 For more WCMD inspiration featuring the Ellen Hutson Essentials Collection by Julie Ebersole, visit these bloggers! There are prizes to be won – so don't miss out on a single blog!
http://parkermolly.blogspot.com
http://kittiekraft.typepad.com/kittiekraft/
http://paperfections.typepad.com/
http://mypapersecret.blogspot.com/
karolyns-paperkraft.blogspot.com
http://nicholmagouirk.typepad.com
http://www.jennifermcguireink.com/
http://www.prettypinkposh.com/blog
http://redballooncards.blogspot.com