\I've attended my fair share of networking events. When I first started attending blogger networking events, I would arrive with intentions of world domination and leave with just a bag of swag. Now, don't get me wrong..swag is my jam. I live and breath for a bag full of snacks, keychains, notepads and an oversized tee-shirt that is destined to become sleepwear, but if I'm going to go out of my way to hit up a networking event or blogging conference, I should probably be prepared and be productive.
I recently revamped my entire networking routine when I attended the Craft & Hobby Association Tradeshow in Anaheim. I hit up Minted for all my business goods and used them throughout the entire tradeshow to make sure I made the most of every networking opportunity. So, today I'm sharing a few helpful hints on how you can do the same. Let the lesson begin…
DEVISE A GAMEPLAN
Make a list of your goals and stick to it. We creative types have a tendency to get quickly distracted by …well…by anything, so when you're in a fun environment of likeminded creatives, it's easy to get derailed by all the fun photoboothing and swag bagging. I always like to create a list of goals before I hit day one of any conference, event, tradeshow or meetup. That list might include things like "Find a candy sponsor," or "Reach out to local photographers" or "Collaborate with another DIY blogger." Whatever your goals are, write them down and stick to 'em. This way you can enjoy all the photoboothing you want but you'll always be able to fall back onto your gameplan when you feel like you're getting overly distracted.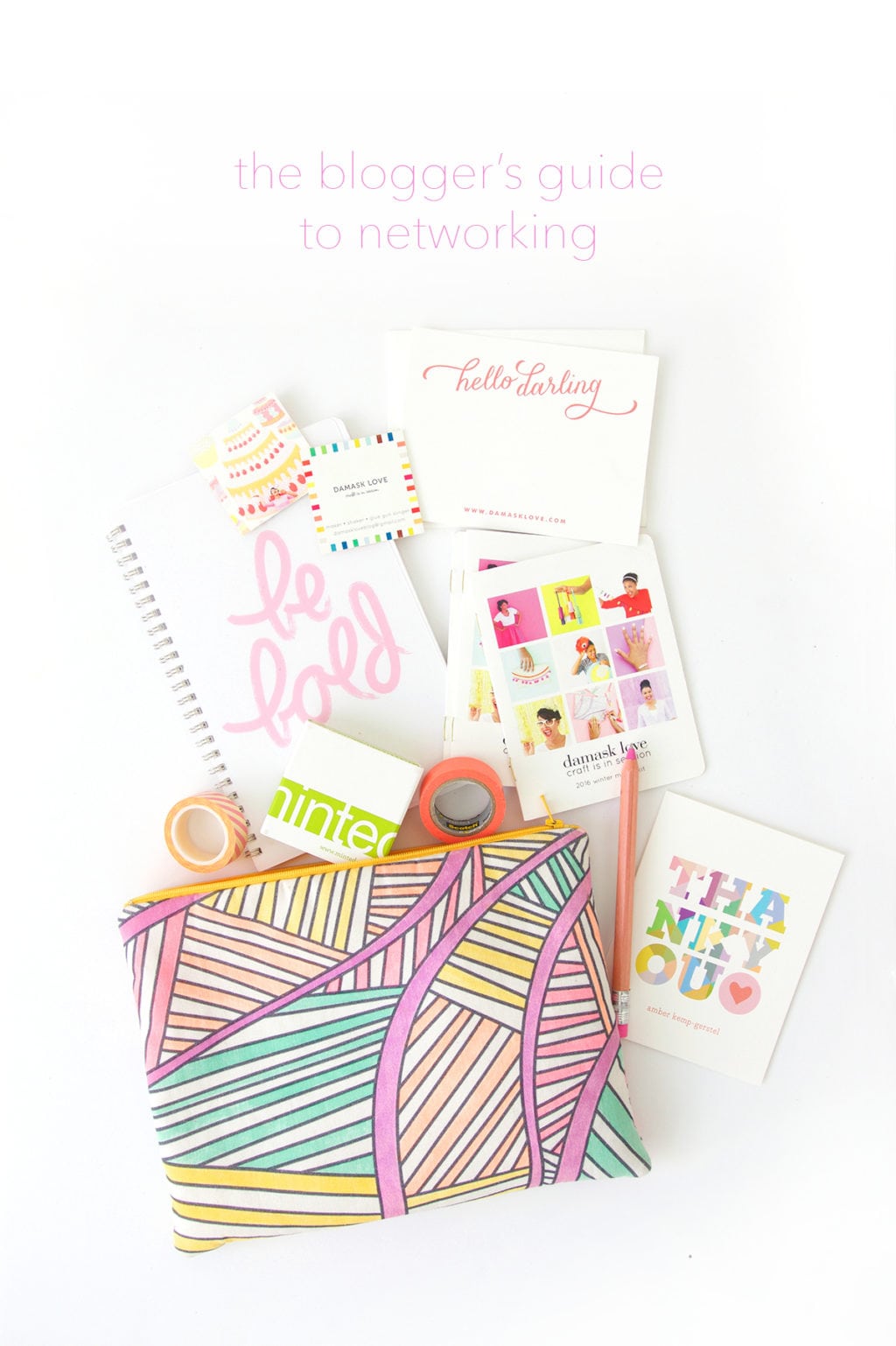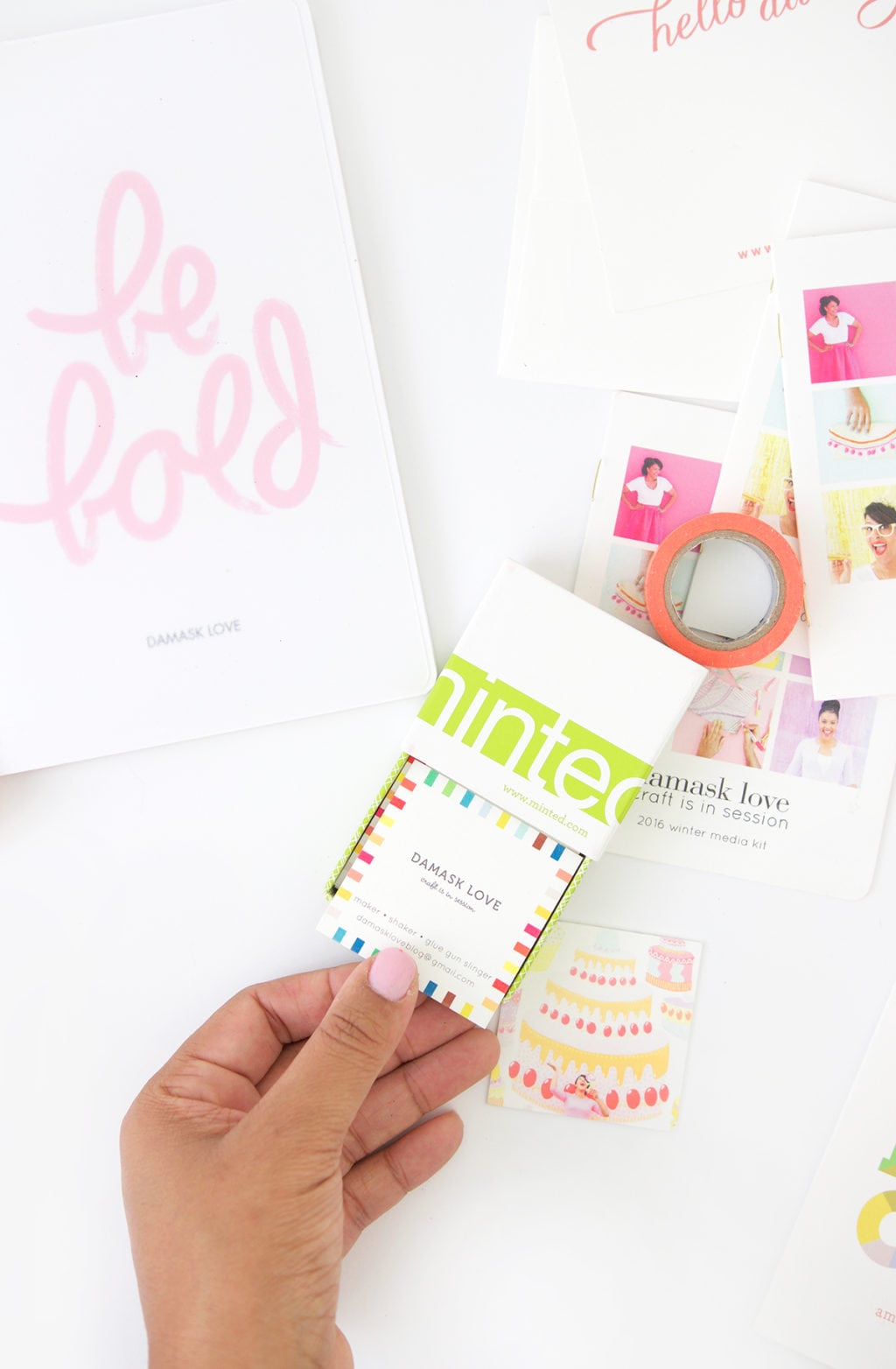 BUSINESS CARDS…MAKE 'EM GOOD
At any networking event, you will give and receive about seventeen bajillion business cards. It's incredibly tough to be memorable in that sea of cards so you've gotta put some thought into it. At my first blogger conference I assembled business card craft kits that included a bunch of crafting goodies in a glassine envelope. It was not my best idea. Matter of fact, it was a complete pain in the …uh…tuchus. They were big, cumbersome and no one wanted to deal with my craft kit of a million pieces when they were trying to manage a ton of other business cards. So here's my suggestion, keep it simple but well executed. I opted for square business cards since they are slightly different than the typical rectangular ones but still nicely sized so that you don't create enemies with everyone you give them to. I also went for the Triple Thick paper option which makes for a super sturdy and luxe feel that you can't ignore.
GET LOCAL
Don't wait for big national networking conferences to happen. Find your local tribe of makers and shakers so you'll have your own hometown glory goin' on. Search Instagram for blogger hashtags in your area. For example, I've found lots of local creatives by just searching #miamibloggers. Also, check out any co-working spaces in your area. Places like WeWork and Pipeline often host events and workshops for creatives and it's a great place to meet new peeps.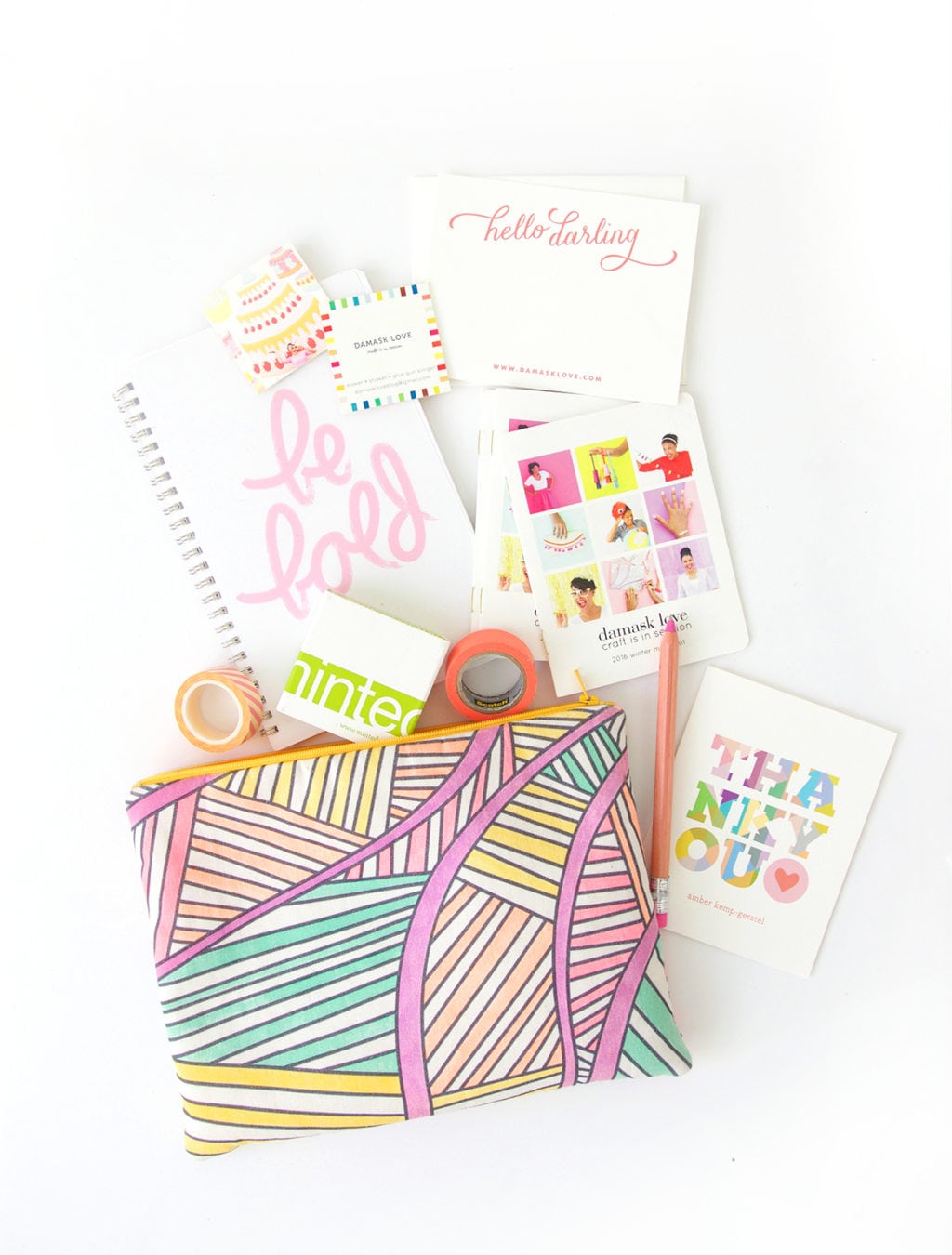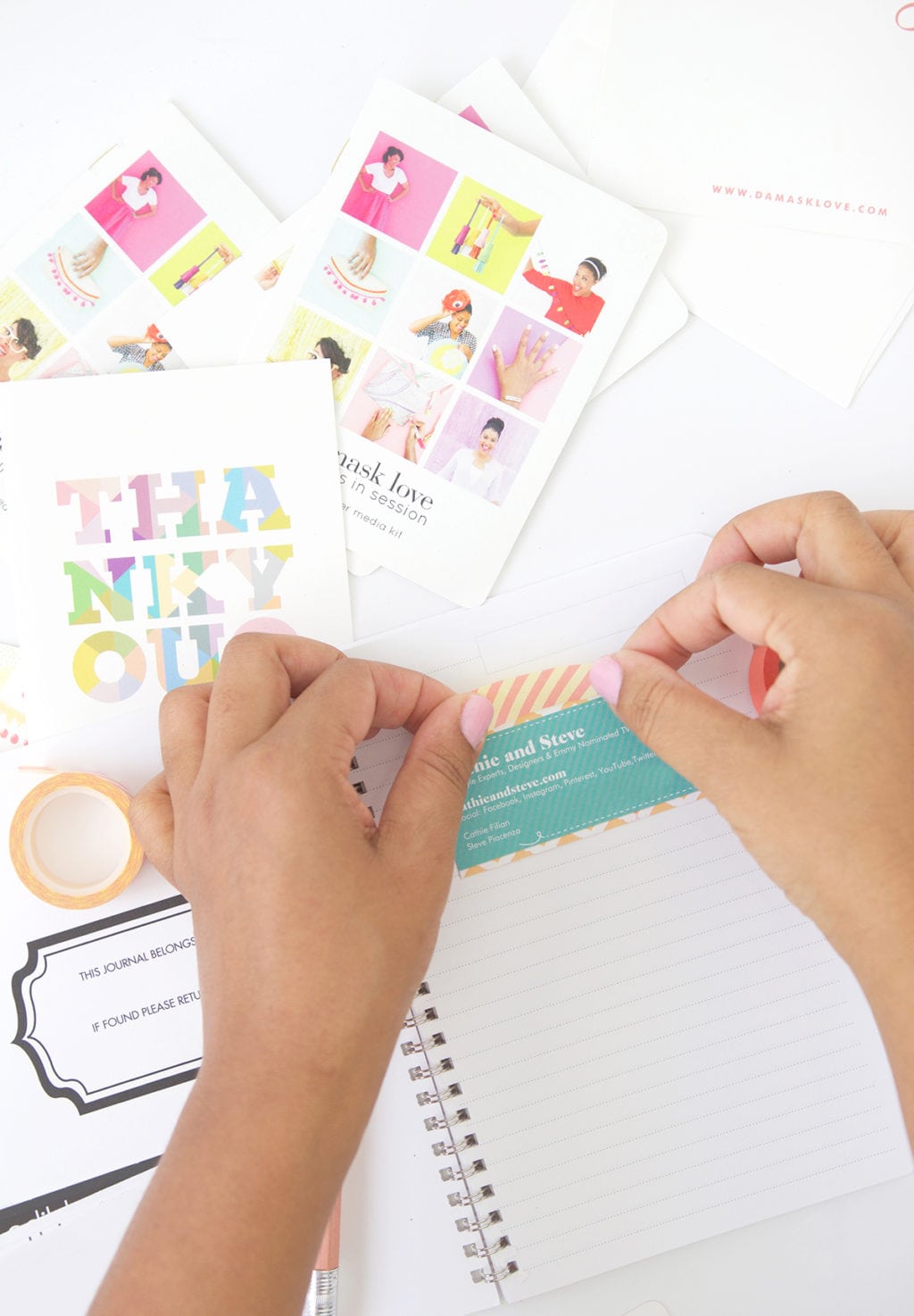 KEEP NOTES!
Now this one is important, so listen up! Make notes about every single business card you receive! If you don't you'll completely forget who's who and you'll have a pile of pretty pieces paper that serve no purpose. Pick a notebook that fits your personality, blog or brand and use it as a catalog for all those business cards. Adhere each card into the notebook with washi then make brief notes below the card about that person or business. Your notes can be super brief, just something that will jog your memory like, "magazine editor from Brazil," or "told funny joke about airports," or "bakery owner from Texas with three kids." This step is SO important and totally worth the few minutes it will take to complete. You'll thank yourself. I promise.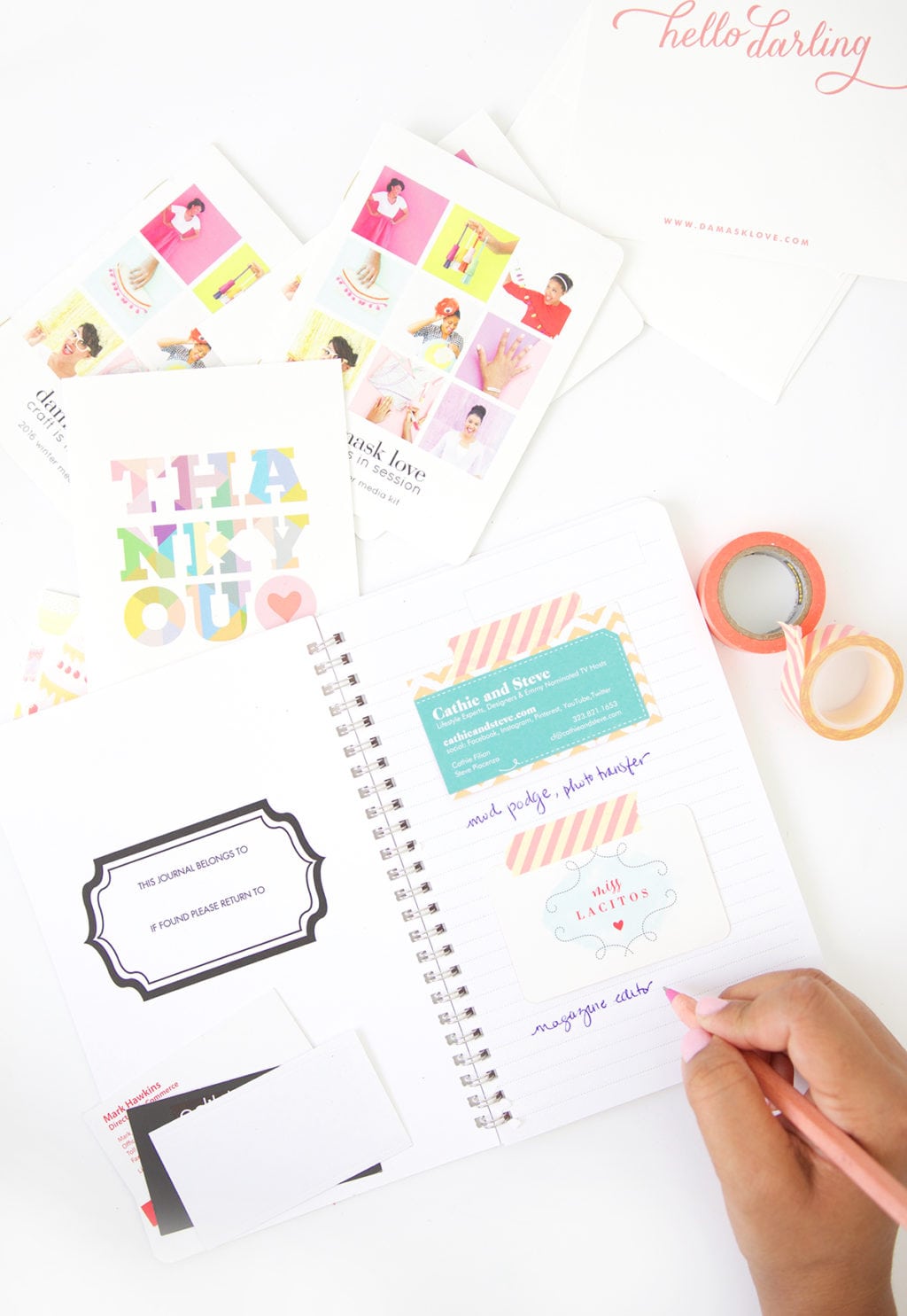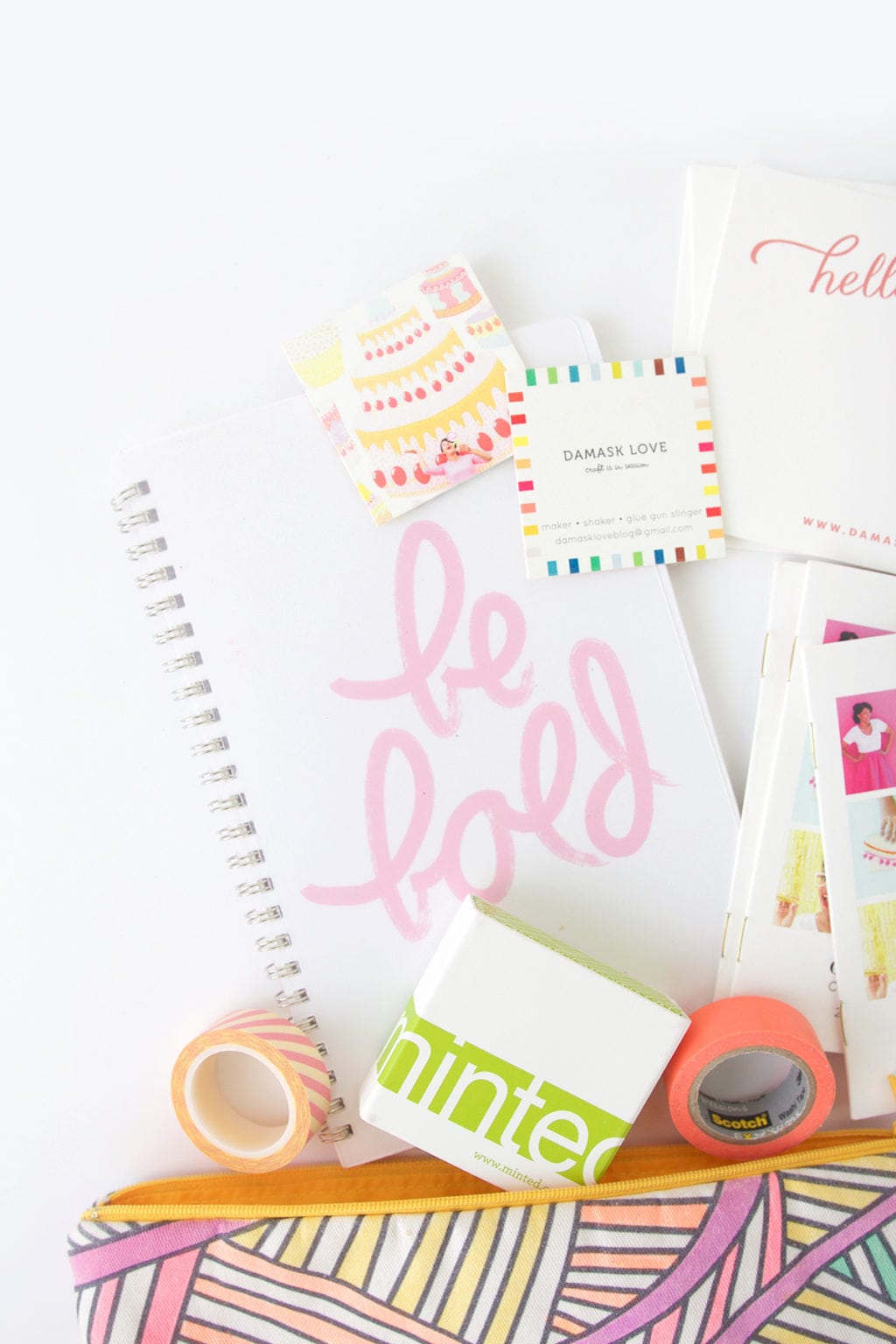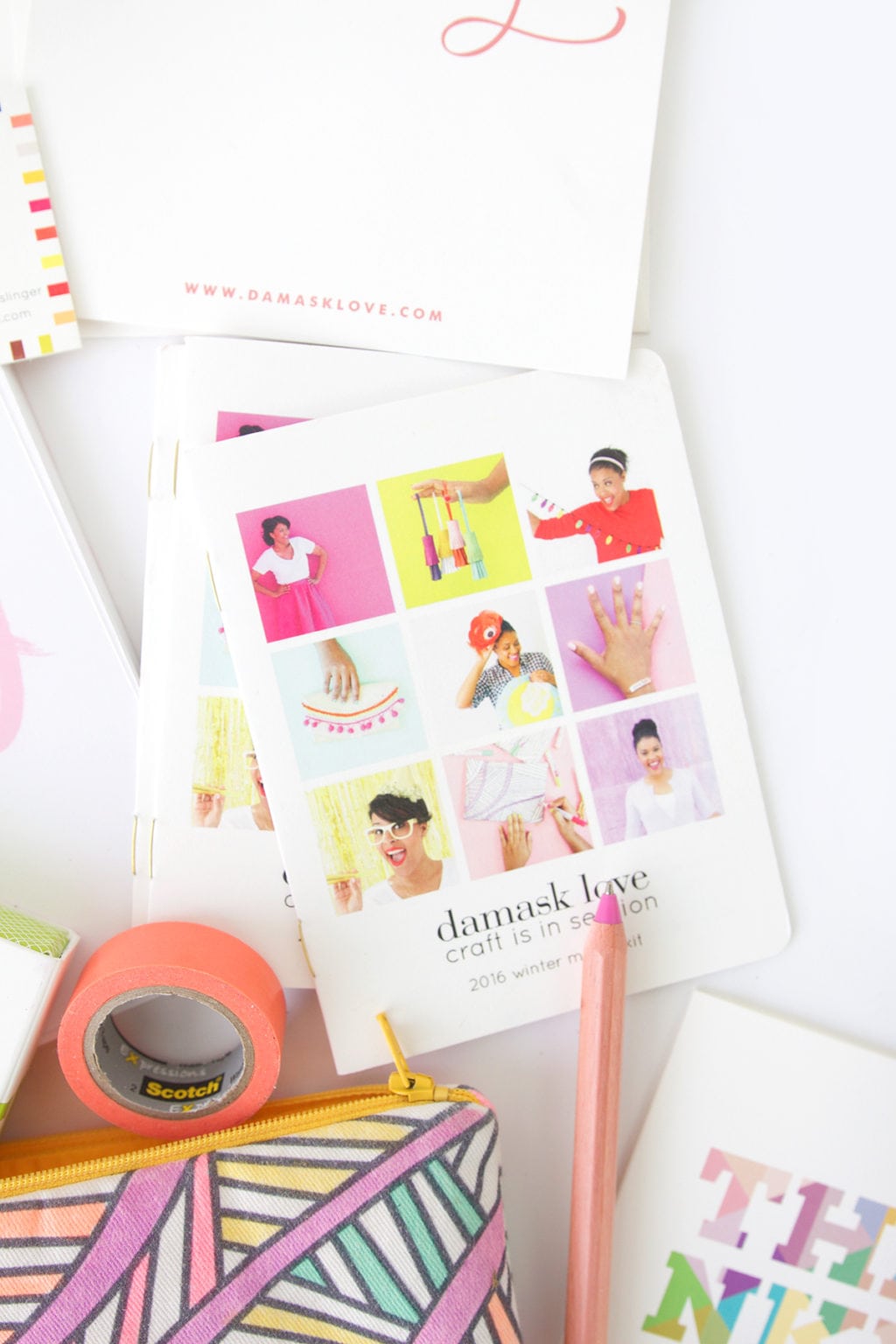 THE ALMIGHTY MEDIA KIT
Now this step is not necessary but it will take you far. Your media kit is a great way to give potential clients, partners and collaborators a snapshot of what you're all about. It should include tidbits about you and your blog. Generally, I send my media kit over email but when I'm networking in person it's so nice to have a physical media kit with me. That's where Minted came in. Their MiniBook and Booklet cards are the perfect way to package up your media kit. The small booklet is easy to carry and it's so memorable. Instead of directing people to your blog, you can have a few images right there to share with them. Your media kit should include your purpose/mission statement, information about your audience, statistics and examples of your work and past features and collaborations…and of course your contact info! For my media kit I used this booklet design and I customized each page to really reflect the Damask Love brand.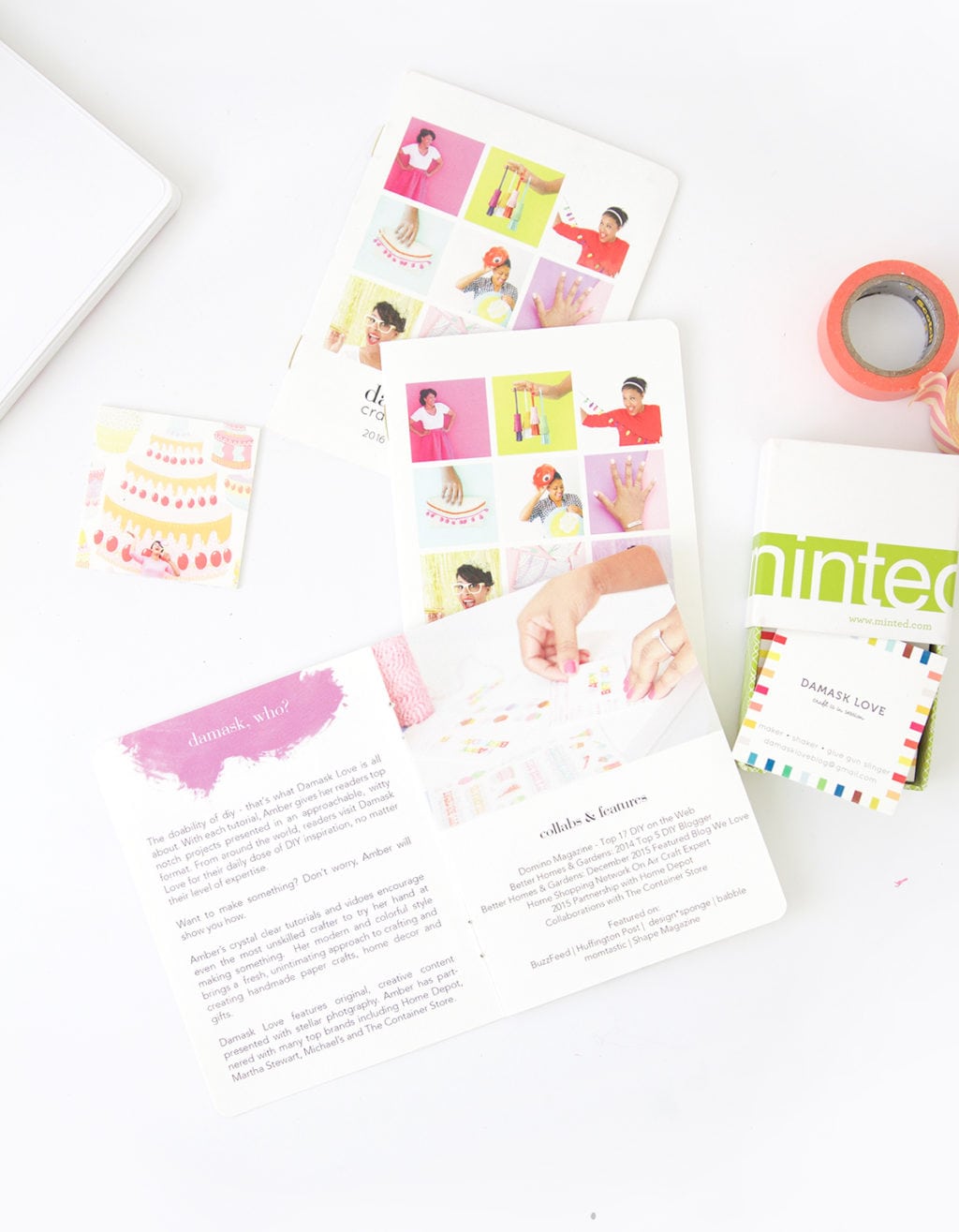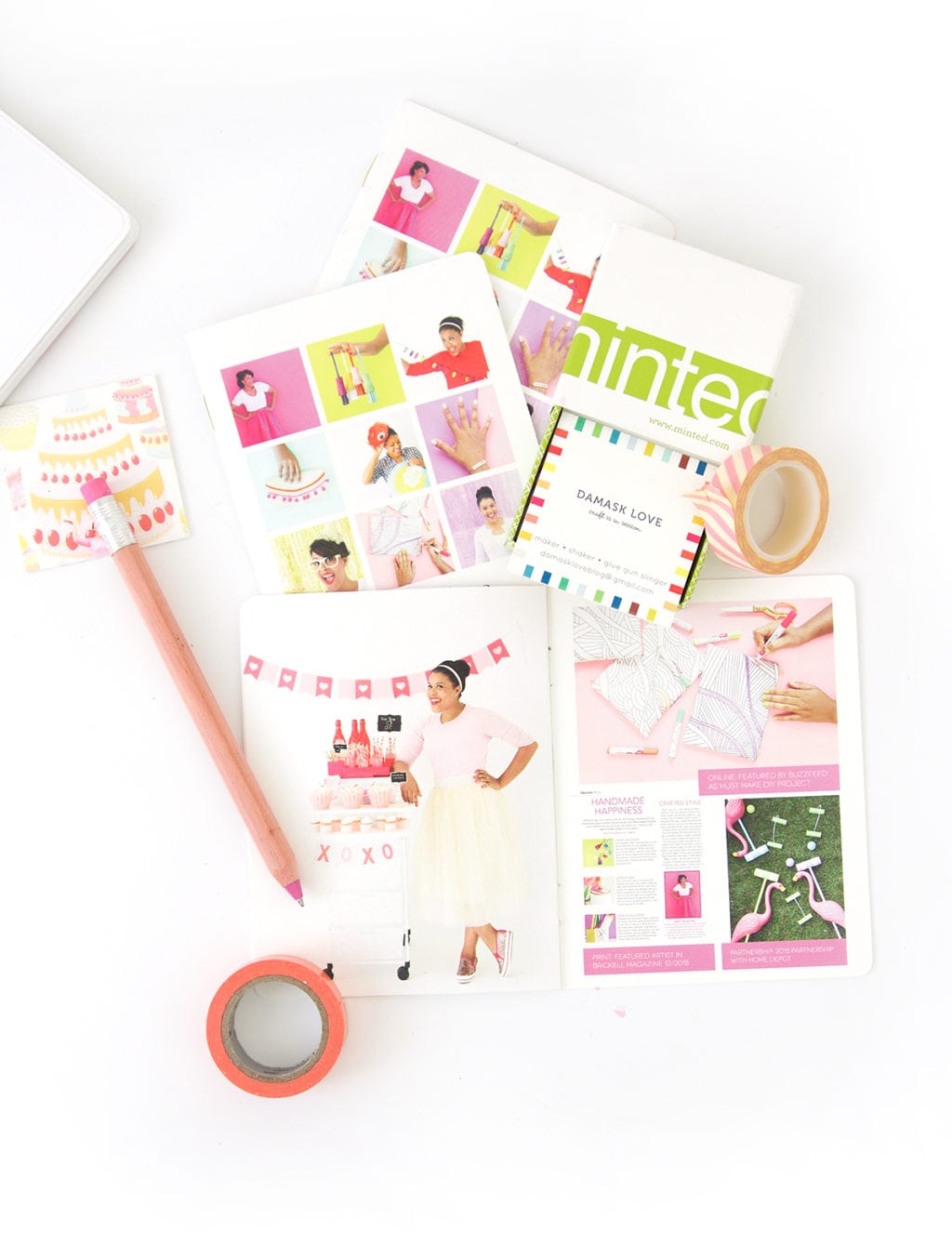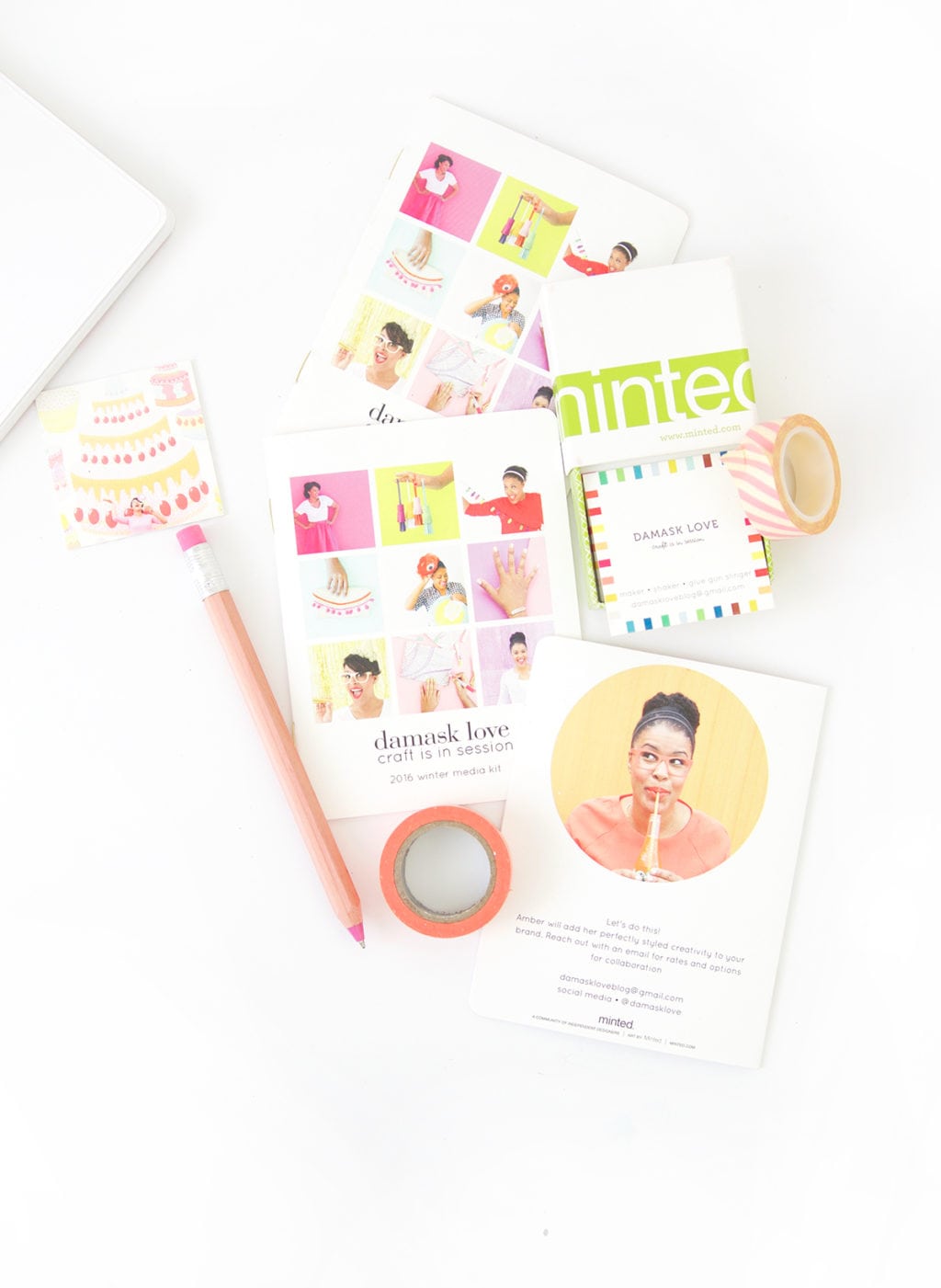 FOLLOW-UP
Now that you've made connections and taken over the world one business card at a time, it's time to do the real work – the follow up. Grab your notebook full of business cards and start reaching out to all your new friends. If you set specific goals for the networking event, be sure to follow up with those who will help you bring those goals to life. Also – follow up with all those cool people who you just thought were fun and who might want to get together for a craft date. Whatever you do, don't let the momentum fizzle! Email will often be the quickest way to follow up, but there are times when a handwritten note is a nice gesture, especially for those people who left a lasting impression with you. I have several pieces of Damask Love stationery like this Hello, Darling notecard and this Thank You card. And when you're writing that thank you card, here's a quick tip: Never start your Thank You note with the words "Thank You." Don't do it. Start with another memorable moment or fun tidbit. Once you begin a card with Thank You, there just isn't anywere else to go and it sounds too sterile and forced. Trust me, it's a great habit to develop.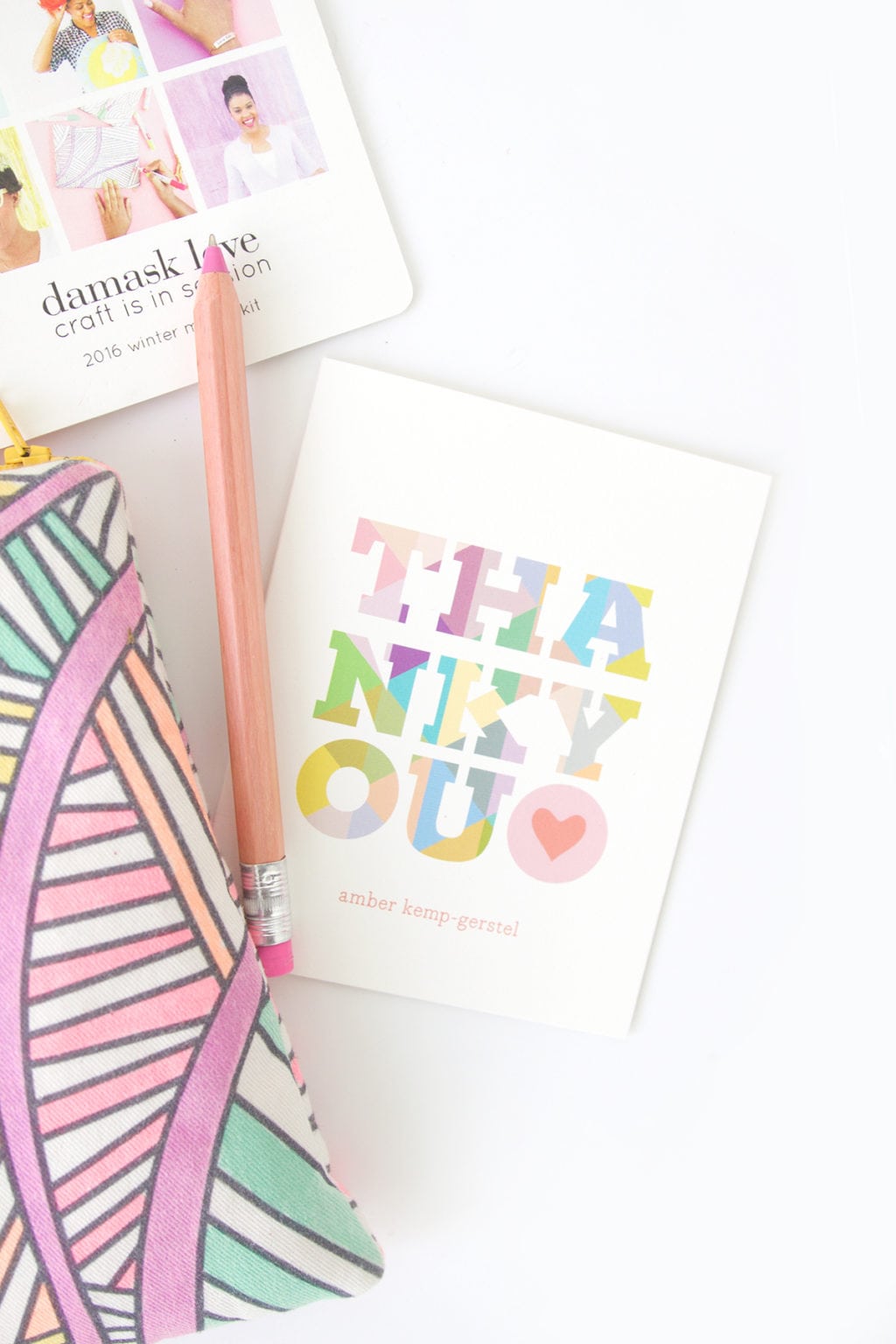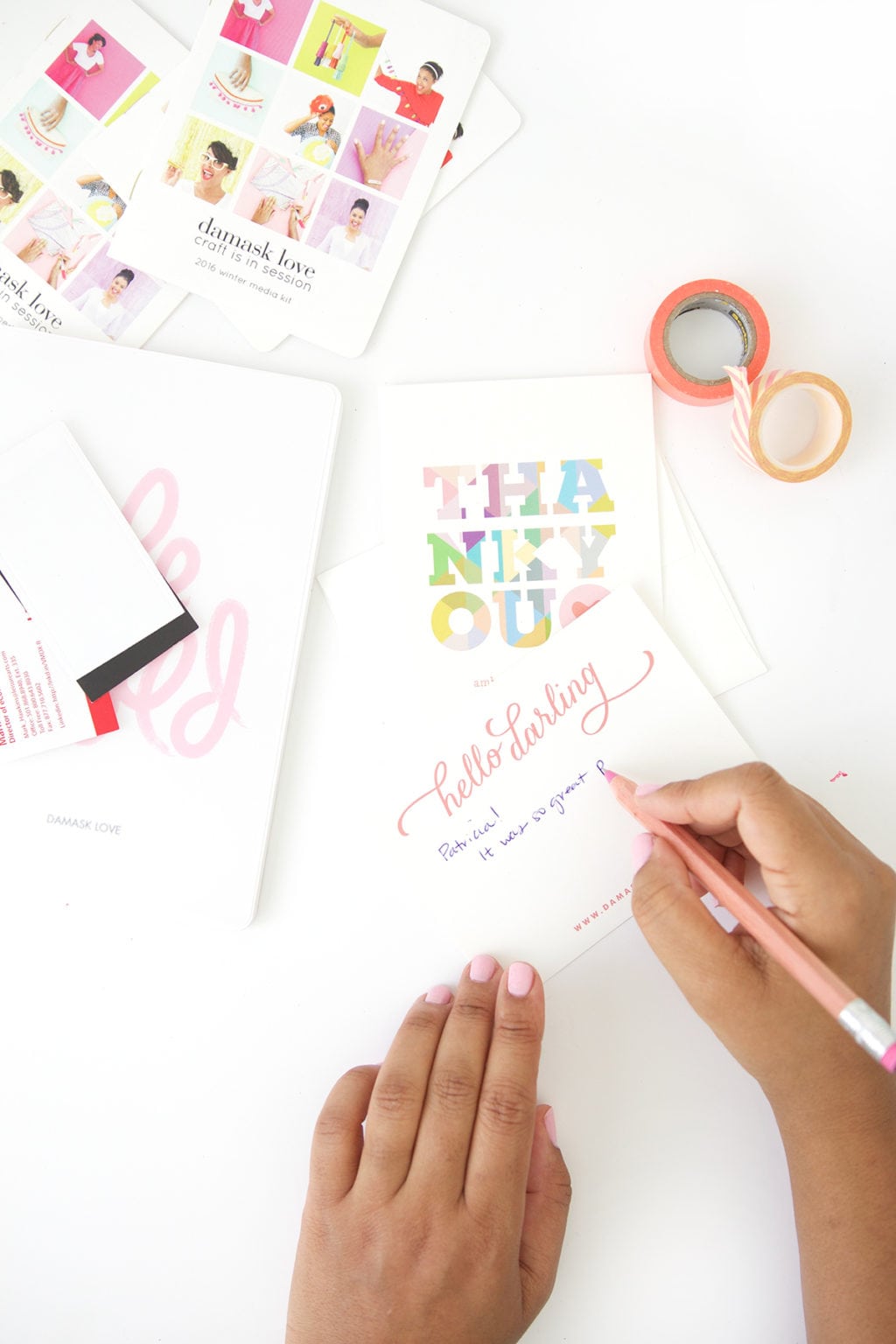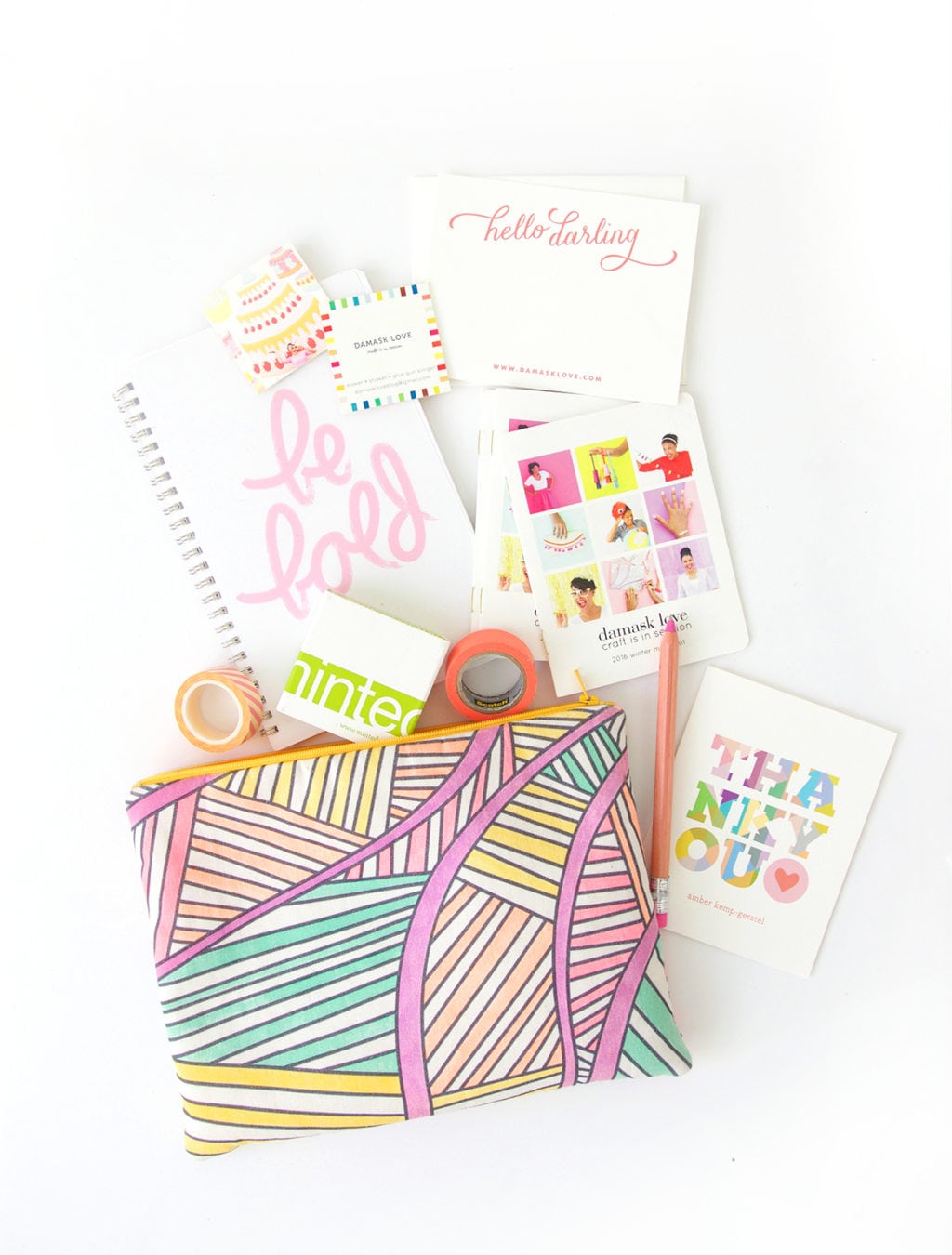 Now, I'd love to hear your thoughts and questions about making the most of networking events! Tell me what's worked for you…or what's failed miserably!
Thanks to Minted for providing all the paper prettiness for this blog post. All opinions, ideas and wacky stores are all mine, mine, mine!