This week has been a whirlwind of card making at Casa de la Damask Love!
I sent some cards into the Paper Crafts Magazine Stamping Royalty contest – but somehow one card was left behind:-(
This sad little loner missed being shipped out and I just don't have the energy to go back to the post office!
So instead – I'll share it here!
I must say, it is a bit fortuitous that this card was left out of the Stamping Royalty batch.
Having reached 100 followers, I am hugely thankful to all those crafty crafters out there who read (and presumably enjoy) my blog – and even leave the occasional comment! The comments on my blog are such a great motivation to keep on crafting and coming up with fun, creative ideas to share!
So—here's a clean & simple thank you card for everyone who's added a little Damask Love to their life!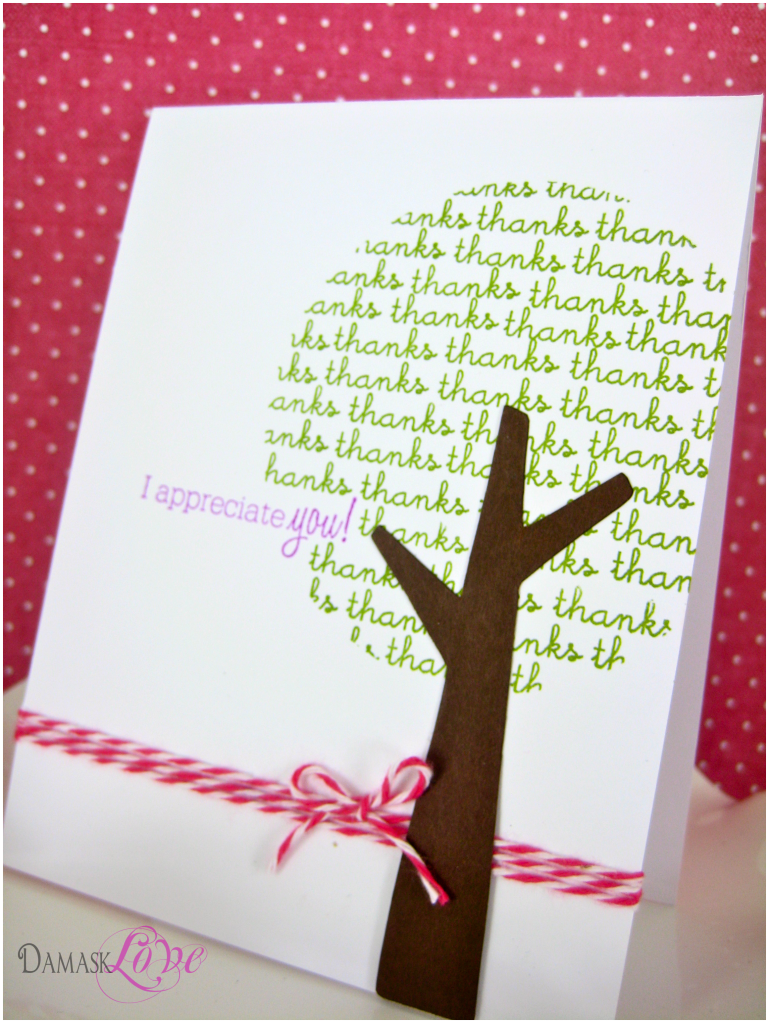 I did some creative masking to create the "leaves" of this tree – such a simple technique for a wonderfully clean look.
Thanks for your time and your comments!
Now go out and have a Damask Lovely Day!
Supplies (All Papertrey Ink unless otherwise noted)
Stamps: Mega Mixed Messages, Flower Fusion #2
Paper: Stamper's Select, Dark Chocolate
Ink: Vivid Dye Ink (Fuchsia), Clear & Simple Stamps (Green with Envy)