Do you ever struggle with being creative? Let me rephrase.
Do you ever struggle with thinking outside the box? Trying not to replicate what you've already seen in the oh-so-vast land of crafting blogs?
I try my very hardest to come up with ideas that are unique, but in all honesty – it would be naive of me to think that anything is truly original. After all, my inspiration came from somewhere, right?!
My attempts at originality often means that I avoid purchasing newly released stamp sets, since it seems like the newest sets are the ones you see the most of, making it tough to come up with something unique and different.
Even with this in mind, I caved and purchased Papertrey Ink's newly released set called The Sweet Life…mainly because I am one of those people who will never have enough floral stamp sets!
For today's card, I used The Sweet Life set, in a not-so-original way, but gave it a unique twist by simply adding a stamp from another company, Hero Arts. I love combining images across companies – such a good way to stretch what you've got!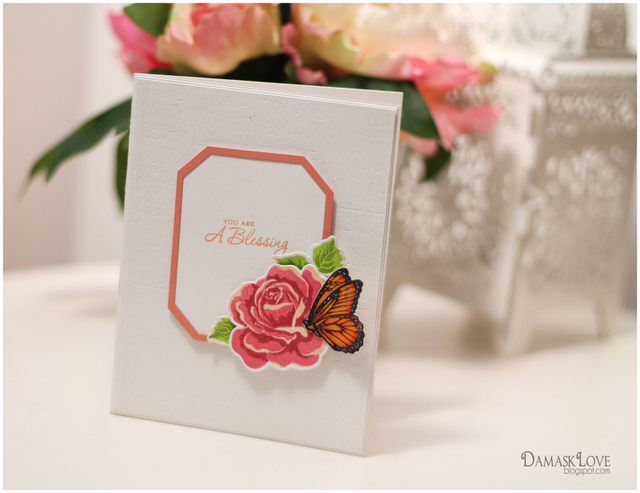 The butterfly image is from Hero Art's Antique Engravings and I love the way it pairs with the rose image. Looks like something straight out of a beautiful garden!
Now, a quick word to the wise about The Sweet Life stamp set. I didn't have any difficulty lining up the images but I did have some frustration with color combos! Since most of us don't own every ink color under the sun, it can be difficult to find a trio of inks in the same color family. For this particular rose, I did happen to have three shades that worked well together, but for other colors, I found that the "stamping off" technique worked great for creating a softer shade. Simply ink up your stamp, then stamp once on a piece of scrap paper. Then stamp the residual ink onto the rose image, creating a lighter tone. Then you can use the same color for your next layer, without stamping off. Make sense? Just email me if you have questions!
Thanks for stopping by today – have a good one!
Supplies:
Stamps: Papertrey Ink (The Sweet Life, Gracious Vases); Hero Arts (Antique Engravings)
Ink: Impress Fresh Ink (Ginger); Clear and Simple Stamps (You're a Natural Darling, Paint the Town Pink, Haute Red Couture, Green With Envy, Kraft Like a Rockstar Green)
Cardstock: Papertrey Ink (Rustic White, Melon Berry)
Other: Papertrey Ink (Canvas/Linen Impression Plate, Angled Labels Die Collection)