By now you know how much I love to stretch my stamps and use them for lots of non-card projects. Home decor items are a great way to jazz up your space – and stamps are perfect to personalizing your project.
Today I've got a project that is perfect for serving up those yummy summertime cocktails by simply adding some nautical pizzazz to your coffee table.  The Nautical Knots background stamp provides an awesome backdrop for my DIY beverage tray and you are going to flip when you see how fun and easy it is to personalize a set of cocktail napkins.
You'd better get started planning your next cocktail party, because this project is going to put you in the mood to entertain!
Until Later Loverlies,
Amber KG
 It's a lot easier than you might think to go from frame to fabulous!
Before I share the "how-to" – here's a quick look at the finished product!
The inspiration for this project started as I wandered the aisles of my local Michael's. They had a huge section of frames on sale so I picked one up for only $5.00. I chose a shadow box frame which ended up being absolutely perfect for this project.
To transform your frame into a tray, here are the supplies you will need:
Glossy spray paint in the color of your choice. Of course, if the frame is already in a color that you like, you won't need to spray paint it!
Sand paper to help the paint adhere to the frame surface
Drawer pulls. You can find these at Target or at Home Depot. They have a wide selection of styles to fit your personal preference.
Stamping Supplies! Of course, you'll want to customize your tray and that is where your stamping supplies come in handy! Keep scrolling and I'll show you how I gave my tray some nautical pizzazz.
For the inside of my tray, I used the backing of the frame as my tray surface. I stamped four panels of cardstock with Clear and Simple Stamp's Nautical Knots Background and placed it on the frame back along with  a Spellbinder's circle die which I used to trace, then die cut the corners of each panel.
Next, I mounted each panel onto Dare to be a Diva Red cardstock and added a die cut circle to the center of my design.
Once this part of my design was complete, I moved on to the power tools portion of this project!!!
I drilled two holes into the frame, so that I could place the drawer pulls.
With that complete, I simply put them in place to make sure it was a good fit. The last step was to spray paint the frame with a glossy white spray paint.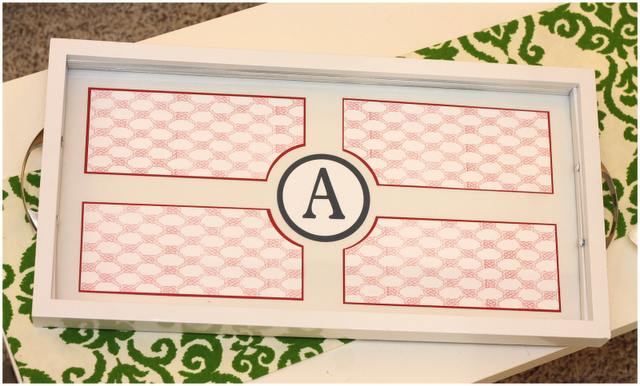 Here's a photo of the finished product! I used my Cricut to cut out my initial and placed it in the center of the tray.
As you can see here, the shadowbox frame worked perfectly for this project, since there is some depth to the tray making it great for serving drinks!
And remember those drawer pulls? They look like they've been there all the time once I screwed them into place!
If you're planning to serve up cocktails on this tray, why not use your stamps to create customized cocktail napkins!!! It is truly the easiest thing ever and they turn out wonderfully!
I was a little worried that the ink would bleed on the napkins, but the resulting images were very crisp and clear. The Clear and Simple Stamps Hybrid Ink worked like a charm on these napkins!
Thanks for joining me for another Style Watch installment! I hope today's project has inspired you. Please feel free to contact me with questions!
Have a great day!