Today is the day, folks. Voting is open and you can go HERE to vote for your favorite transformation in the Cricut Design Space Start Finals. If you missed the full reveal of my transformed space, check it out HERE. I'm hoping you will send your vote my way, but I'm not here just to recruit you …I've got some behind-the-scenes details about the Playroom in the Sky project. I received a ton of comments and emails from you and there were several questions…so I'm here to give you the answers you want as well as a few tips.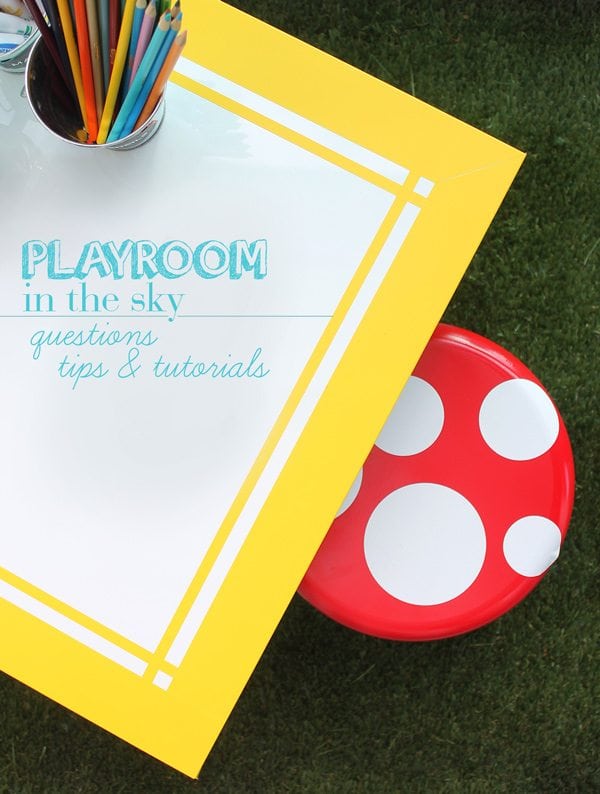 Tackling this project with a newborn was no easy feat…I'm not gonna lie. It took a whole lot of strategizing and a ton of support from my mom and husband. Here are a few tips I learned along the way – in case you ever find yourself needing to design a playroom while caring for a newborn baby:
3:30am is a great time for spray painting. You will have just finished nursing the babe, so you're already awake. Alert your hubs that you'll be out of the house for about fifteen minutes so that he keeps and eye on little one. Then, you can scurry out to the garage and spray paint the stools, fence and frame that will be a part of your project.
5:30am is a great time to go back out to the garage to pick up your now dry spray painting projects.
You can assemble paper flowers in half the time with a hot glue gun. I will never use anything else again. Ever.
If you want to construct a plywood bench, get your measurements together and have the people at Home Depot cut it the pieces for you. It saves so much time.
When it comes time to build said plywood bench, you'll have to assemble it in the middle of your condo living room because you need to keep an eye on the baby during naptime. Nothing is more attractive than a huge wooden bench…that resembles a coffin… in the middle of your living room. Nothing.
Luckily, babies aren't bothered by the sound of a drill – so feel free to build that bench during naptime. Babies love power tools.
If you need to go to Ikea, do a little research ahead of time. Go online to find the exact aisle and bin number of the items you need. This way you can run in and out while your mom sits in the car with the baby…praying that he doesn't wake up from his nap.
The Cricut Explore is a new mom's best friend. For reals. You can design your project on the computer whenever you have a free minute and then you can click "Go" and walk away. You don't have to stand over the project to get it done. If you need to load a new mat, the machine will wait until you have a sec to walk over and do it. No rush. The Explore makes me feel so productive as a crafter even when I'm not actually sitting in the craft room making something.

When I started brainstorming for the Playroom in the Sky, I knew I wanted to use and many materials as I could to show the range of the Cricut Explore. Here's the rundown of what materials I cut in my playroom project:
Cardstock
Patterned Paper
Thick Chipboard
Fabric
Fabric Iron On Interfacing
The "window" frame project used the most materials in one place and the magnetic shapes combines several materials all at once. Here's a look at how to assemble your own: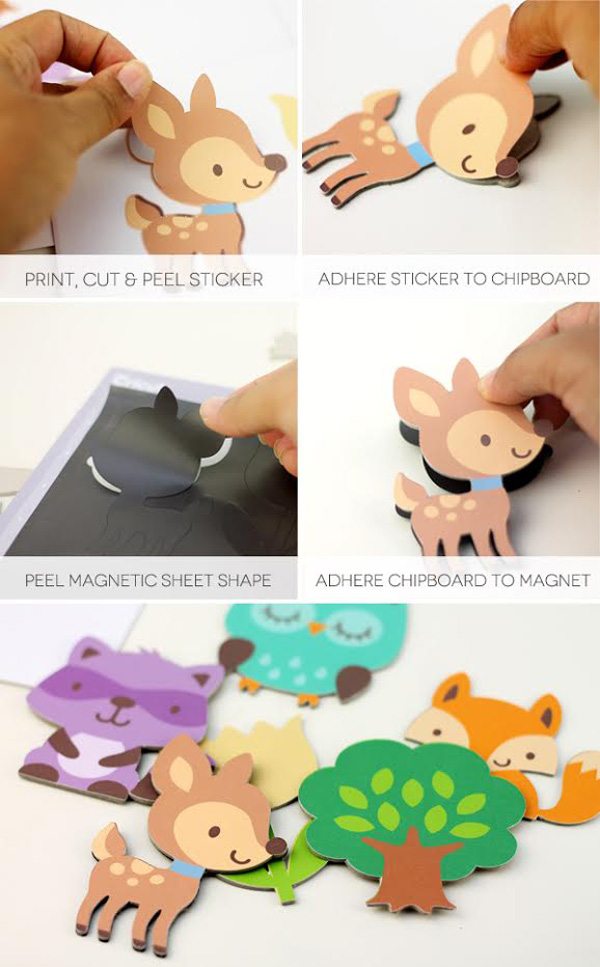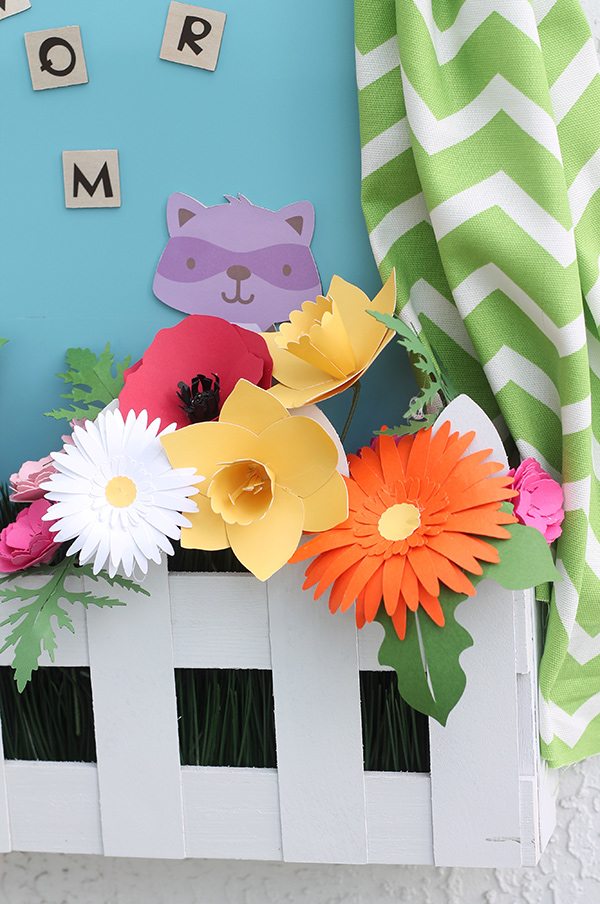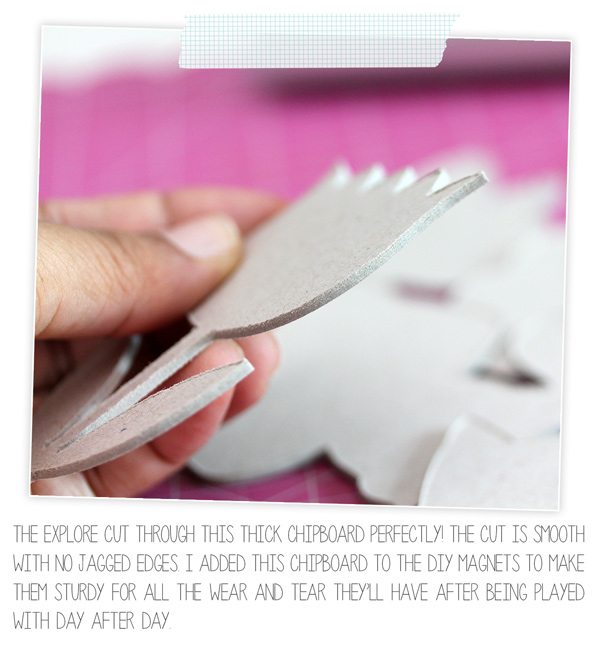 I love the easy stamps I was able to create by cutting  fun foam Explore. Here's a look at how I put them together: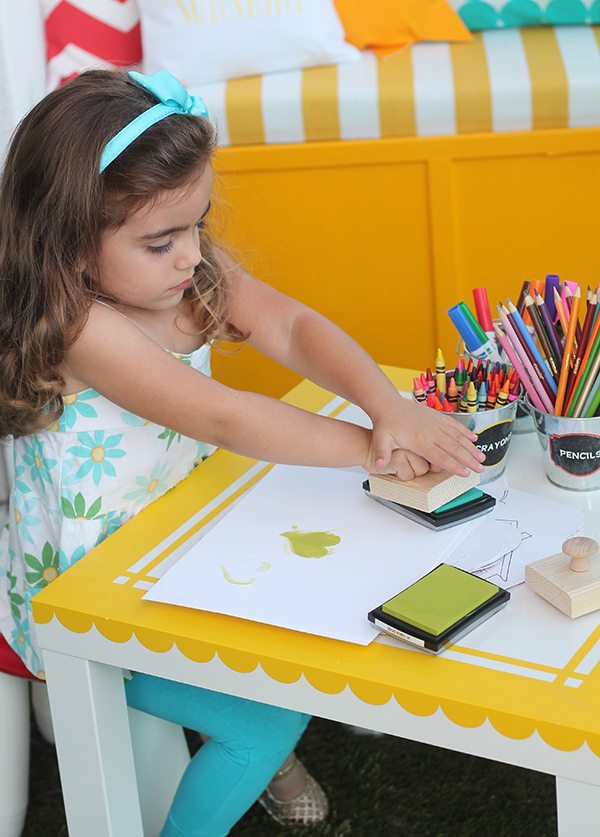 I don't know about you , but I am the most indecisive paint chooser ever. I spend entirely too much time at the paint counter. It's ridiculous. Finally, I decided on Saffrom Thread by Behr for the plywood bench I constructed. It's a slightly deeper shade of yellow, but still very bright and cheery!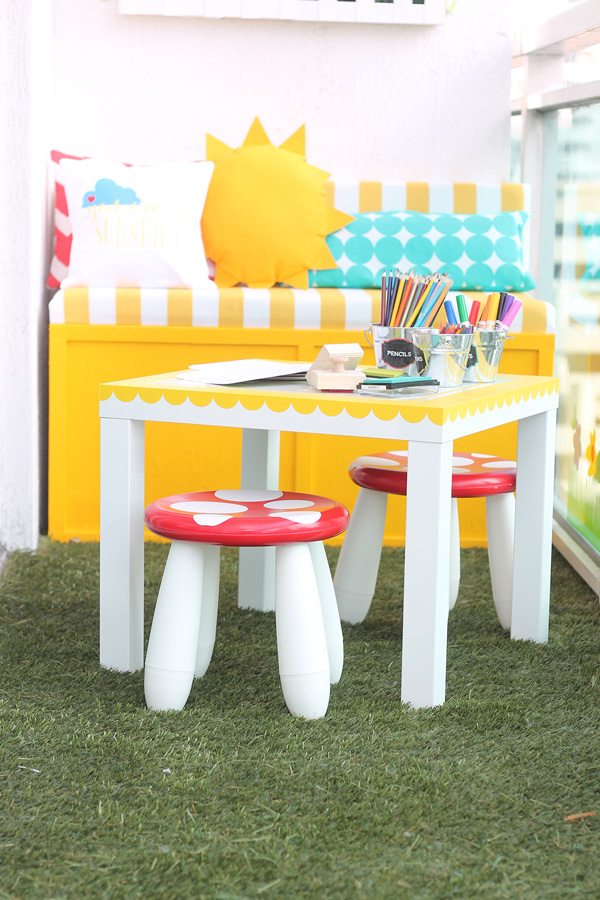 I've got great friends…who have really cute kids. Many of your were curious about the cutie pie who was featured in the Playroom post. Her name is Gabby and she was the best little model I could ask for. Here are a few tidbits that will give you an idea of my day with Gabby:
When you photograph children, don't wait to get the shot – just keep taking photos. Eventually, you'll end up with the one you need.
Have your iPad at the ready with Spotify open, ready to play whatever Disney song they want to hear. In my case, Gabby requested the soundtrack of Beauty and the Beast and she pretended she was Belle. Good choice, Gabs.
Glitter is a completely acceptable form of payment for child models. You'll notice that in several of the photos, Gabby is painting with glitter. That is because crayons are just not that cool. Glitter, however? Gabby loves glitter more than  Kanye loves Kanye…and I can't really blame her. Glitter is awesome.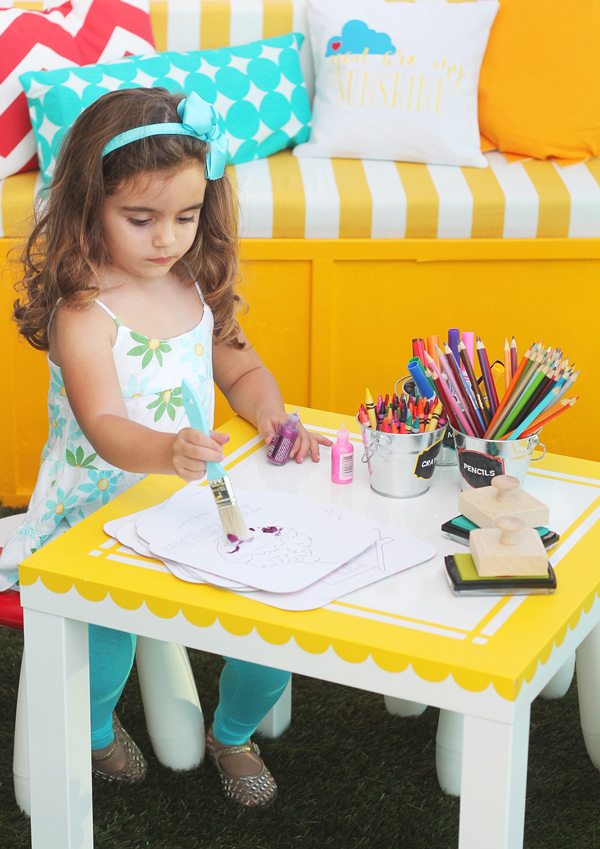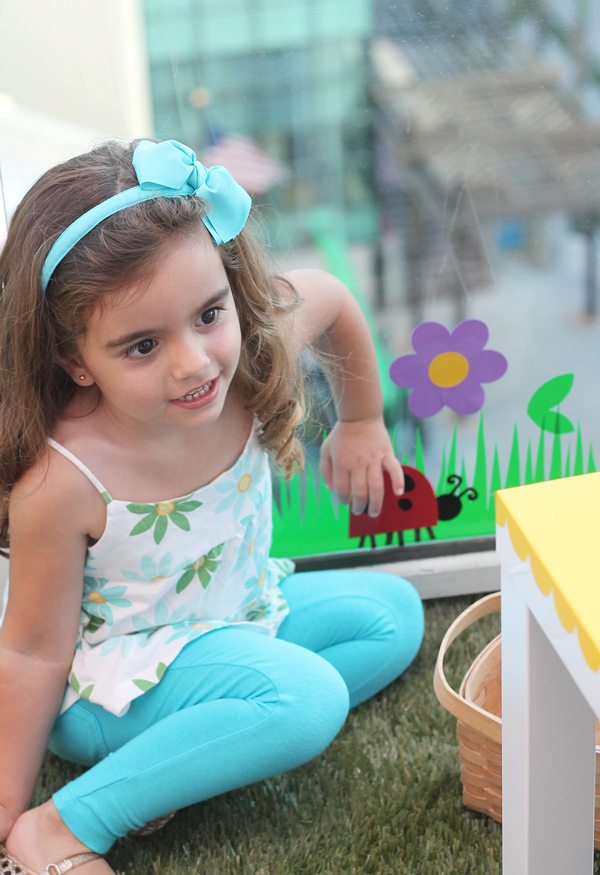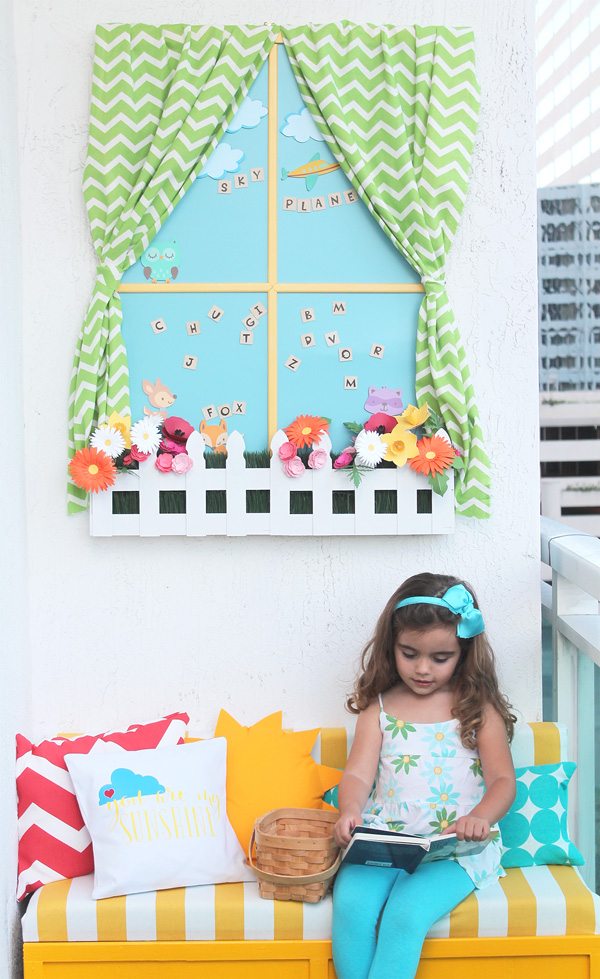 Downtown Miami is the land of balconies. Here, real estate is vertical and pretty much everyone lives in a condo or apartment which is why I used our balcony as an outdoor playroom. The upside is that it provides a really cute and unique setting for playing. Keep in mind, though, you'll want adult supervision at all times to make sure the kiddos are safe. Thankfully, my handmade bench is perfectly sized for adult-sized butts to sit comfortably and hang out.
If you don't have a balcony or would prefer to bring this playroom indoors where ongoing supervision is less necessary, you can totally use any of these ideas on the inside of your home. Use the window cling garden on any window in your home – or even along a wall. Add felt to the bottom of the floor tiles and create an indoor hopscotch. The magnetic learning board can be placed anywhere and I'm sure you can come up with lots of variations to work with any theme.
Now it's time to vote!  HERE is the link you need. The voting starts today, Monday, February 3 and closes on Saturday, February 7. I'd love for you to vote for me and if the spirit moves you, be sure so share with your friends! The competition is tough and I need all the support I can get. Have I mentioned that $10,000 is on the line!! Here's one more look at the before and after shot of this project – in case you need a bit more convincing.