Remember that time we had a wood bead painting party? Well…it wasn't an actual party. It was more of a virtual shindig. If you missed it, the party is still going strong right here. Personally, I'm partial to the ombre and fruit ones. What about you?
As much fun as it is to paint wooden beads, there comes a point when you wonder…what the heck should I do with these?! For quite some time, I kept mine in a bowl on my desk. Sort of like little treasures. I still have a heaping bowl of them but I was compelled to come up with another crafty way to display these pretties…enter the Painted Wood Bead Manzanita Branch. I snagged this branch from West Elm on sale and gave it a Damask Love makeover (i.e. lots and lots of bright colors).
So, grab your glue gun, some wooden beads and steal a branch from your neighbor's tree. Craft is in session.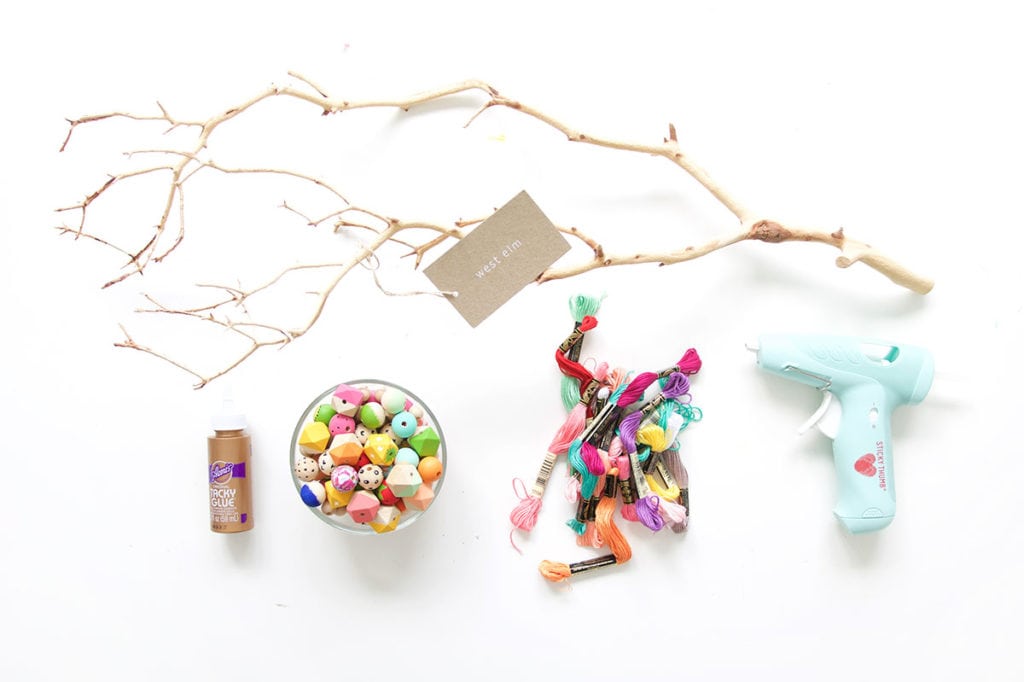 You'll need:
a twiggy branch like this manzanita branch. I'm not sure that "twiggy" is an actual term for branches but basically you need a branch with lots of little arms and twigs.
painted wooden beads
craft glue
embroidery floss
a glue gun
Painted Wood Bead Manzanita Branch
Thread a bead onto the embroidery floss // place a bead of hot glue onto on of the tips of the branch (not pictured) // place the bead onto the branch tip // wrap the embroidery floss around the branch tip and when you've reached the end of the floss, use craft glue to smooth the end into place.