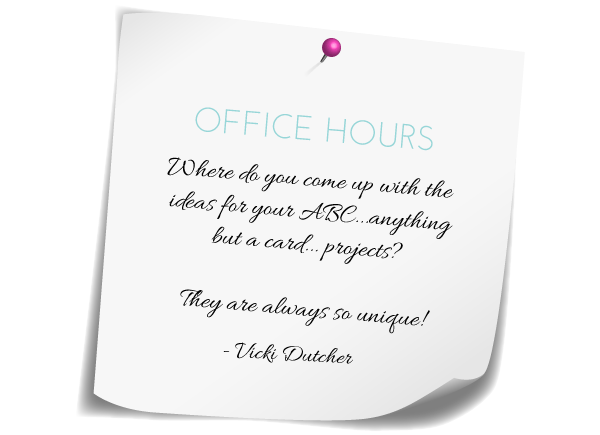 We took a week away from Office Hours for this post for the Clear & Simple Stamps Review week, but I'm back today to answer a question from Vicki Dutcher.
First, I have to  say "thanks" to Vicki for helping me get hip to the lingo…I had never heard of "ABC" projects before receiving her email!
Now, the answer to Vicki's question is simple. Everywhere. I get ideas from everywhere. Fabric patterns, billboards, architecture. I find inspiration in it all. That said, there are certain strategies I use to translate my inspiration to paper, and I have a project to share with you to give you an idea of what I mean.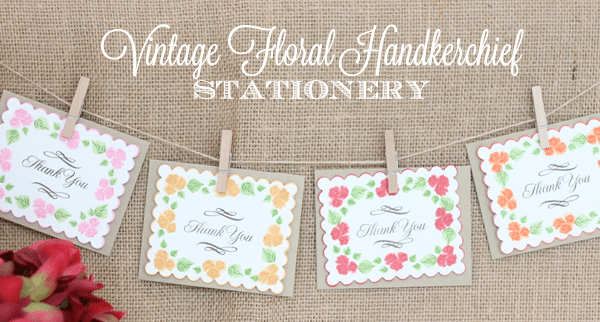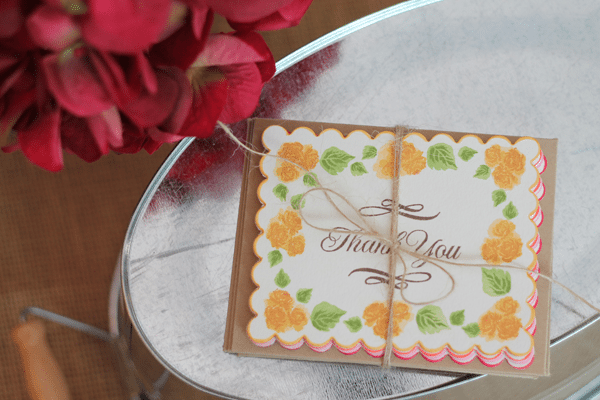 I am particularly in love with this card set. It's simple, but so pretty! It's so ladylike, right? Well – there's a reason for that. While reading through some of my favorite blogs, I came across the line of  custom floral handkerchiefs by Lucky Luxe and I immediately thought to myself …how can I make that? I guess you could say I have a "Make That Mentality."  I am bound and determined to figure out a way to handmake everything. My thought is: someone else had to make it…so what's stopping me? Here are a few things I consider when I turn inspiration into handmade creation..

Anything that inspires you draws you in for some reason. I try to figure out what that is – and ignore the rest. Whatever it is that I love is that part that  I want to mirror in my own design. For the vintage handkerchief cards, I loved the vintage florals on the border and the scalloped edges. I was not a big fan of all the text included on the original handkerchiefs, so I kept my design simpler. I also scrapped the square shape and chose a rectangle for my cards. Challenge yourself to hone in on the elements that are most inspiring and use those in your design.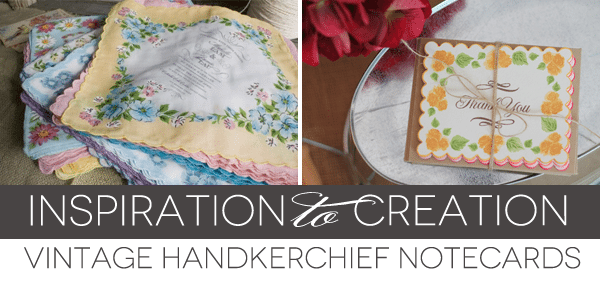 IMAGE CREDIT: LUCKY LUXE (left) DAMASK LOVE (right)

I love to study designs. Break them down into their components and figure out how I can reimagine them for my own creations. For one of the calendars that I recently posted, I was inspired by the modern leaf pattern on a coffee mug. The pattern includes simple leaf shapes and straight lines as the leaf veins. That's pretty much it. Once I broke it into those pieces, I started looking through my stamps to find supplies that could mimic those elements of the pattern. Since it's unlikely that you will own exact replicas of any inspiration item, it's helpful to break it down into pieces and build from there.
IMAGE CREDIT: RUCHE (left) DAMASK LOVE (right)

No matter how much you love an inspiration item, you may not want to copy the design exactly. I strive to add my own spin on each design, unless I am making something like a simple gift box – in which case,  it's usually the technique that's unique rather than the look of the finished product. In the case of the modern leaf print above, I added my own spin by injecting a bold color palette into the pattern, which is something that is definitely my style. If your style is more rustic or vintage, think of ways you can show that by altering the inspiration design.
My DIY Market Tote project is another example of taking an inspiration piece and making it my own. I was initially inspired by a market tote bag that I saw at Williams-Sonoma (I'm obsessed with that place)! The bag was a little to muted for my taste, so I decided to use my own supplies to create something similar – but more true to my own style and preferences!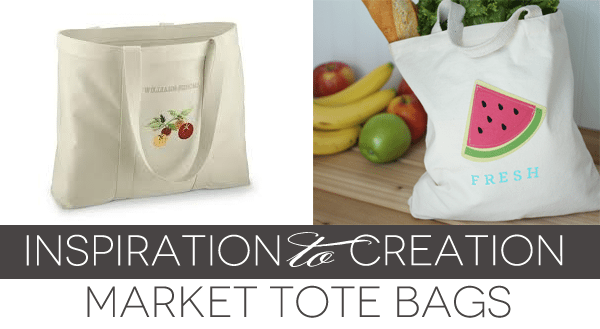 IMAGE CREDIT: WILLIAMS-SONOMA (left) DAMASK LOVE (right)

My true "Make It Mentality" comes out when I start creating non-card projects. Often, I see a product – usually some sort of gift packaging and I think "How can I make that with what I have?" From there, I study it and break it down into it's components and start playing with my supplies to see what I can come up with. In the case of these petal envelopes, I'd seen the product before and decided to give them  shot. I broke the design down into it's components: four half circles with a square in the middle. That's doable, right? Turns out it's totally doable and with a few easy steps, you can customize them for any color scheme or occasion!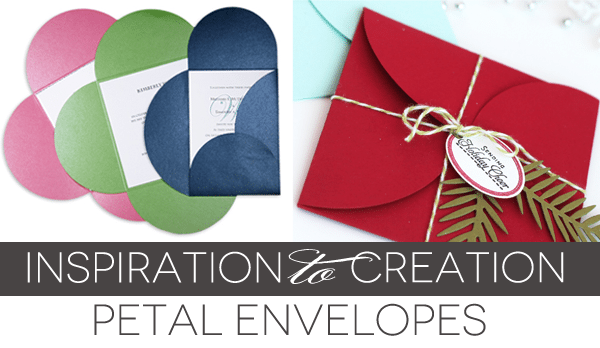 IMAGE CREDIT: LCI PAPER (left) DAMASK LOVE (right)

No one likes a unitasker…which is why I was very excited to discover I could make cupcakes in my waffle iron! The same goes for crafting supplies. No one wants a one-trick tool in the craftroom, right? Which is why I force myself to come up with at least three projects for any supply before I purchase it! Not only does this help me stretch my dollar, but it also stretches my creativity, like with these two crayon box projects! The designs are almost identical but their function is totally different! Yay for multitasking!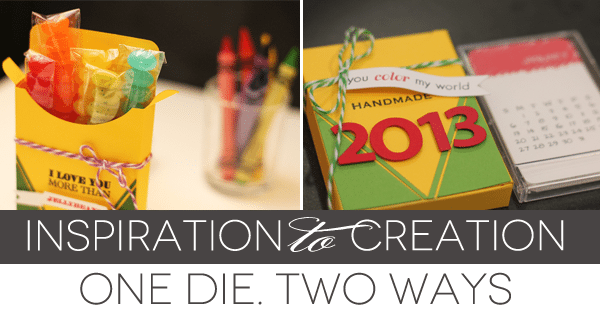 IMAGE CREDIT: DAMASK LOVE (left) DAMASK LOVE (right)
So, do you have a Make It Mentality? Are you constantly coming up with ways to replicate designs with your own supplies?!
Thanks for stopping by for another session of Office Hours! If you have a question that you'd like answered here on the blog, send me an email!