I've been waiting patiently to start this year's DIY calendar series – and unlike last year's calendar posts, I'm doing this year's series with plenty of time for you to make them as gifts!
To start this calendar party off right, I'm sharing three tabloid sized templates that you can download for free! Two of the templates have plenty of room on the top for you to stamp until your heart's content. The other design has a column down the middle, which is a fun little departure from typical calendar layouts.

MIDDLE COLUMN 11×17 TABLOID CALENDAR
My preference is to print these templates onto 130lb cardstock to get a really professional finish. 130lb cardstock is available in packages of 25 from Paper Presentation. If you choose to print these yourself, head over to your local print shop where the printers can handle large sized paper and print on their 11×17 cardstock, which is likely much more lightweight (e.g. 80lb). 
No matter which way you go, your finished product will be a showstopper! For my calendars, I went with three designs, two of which I'll showcase here:
For the Traditional Calendar design, I went with a vintage rose garden theme using Papertrey Ink Life is Sweet Stamp Set. For the year numbers, I used Clear and Simple Stamps Engraved Alphabet and framed it with Papertrey Ink's Fillable Frames #10 Mini Stamp Set.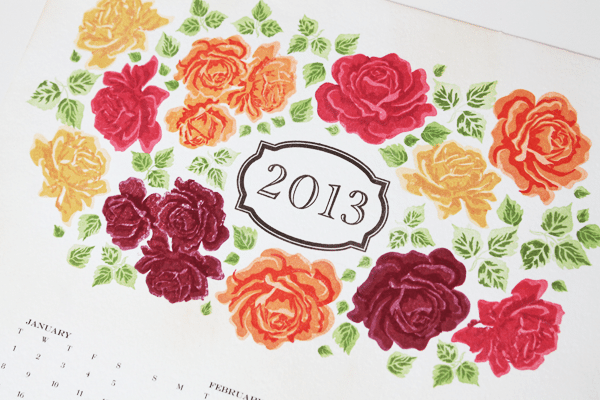 With the Modern Calendar Template, I created a really fun & modern leaf print by rethinking a couple of my stamps.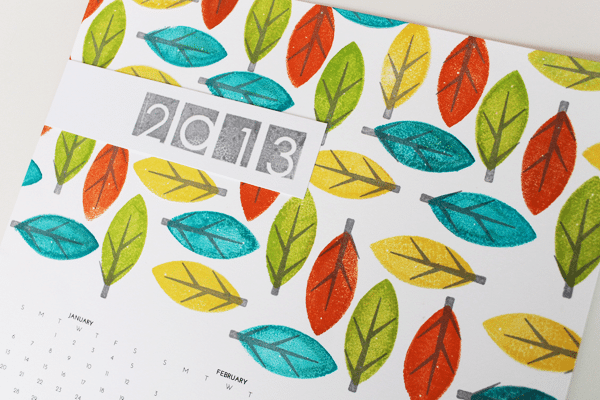 For more details on the method behind this design, click through to the full photo tutorial…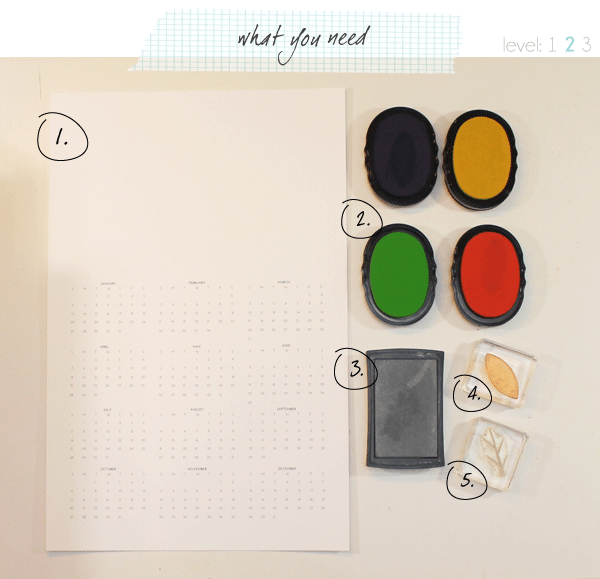 1. Printout of the Modern 11×17 Tabloid Calendar Template. I printed mine on 130lb cardstock from Paper Presentation and the final product is durable and oh so professional!
2. Clear and Simple Stamps Hybrid Ink in: Green with Envy, Say Yellow to Your Fans, Orange You Fabulous & Party Teal Dawn.
3. Impress Fresh Ink Pigment Ink in Slate
4. Papertrey Ink Sending You Stamp Set; large leaf image. Tip: Flip the stamp over and use the "wrong" side to get a solid leaf image when you stamp.
5. Papertrey Ink Tree Tops Stamp Set; tree trunk image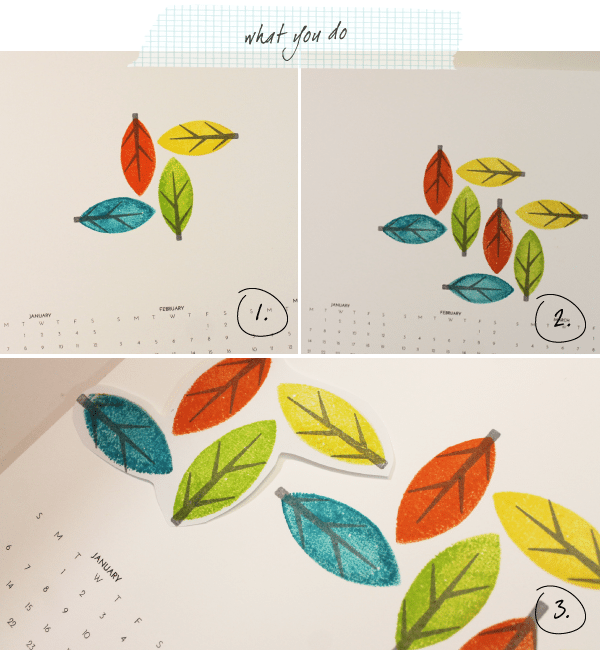 1. Start stamping the pattern in the middle of your paper. This will help make sure that the finished pattern is well centered on the paper.
2. Once you've established the arrangement on the pattern, repeat it.
3. To help with proper placement and alignment of the pattern, stamp it onto a piece of scrap paper, cut it out and use it as a guide for continuing the pattern all over the top of your calendar template.
4. (not shown) Select numbers and stamp the year to complete the calendar. For my calendar, I stamped Papertrey Ink's Alpha-Blocks onto a strip of white paper, then adhered it to the calendar.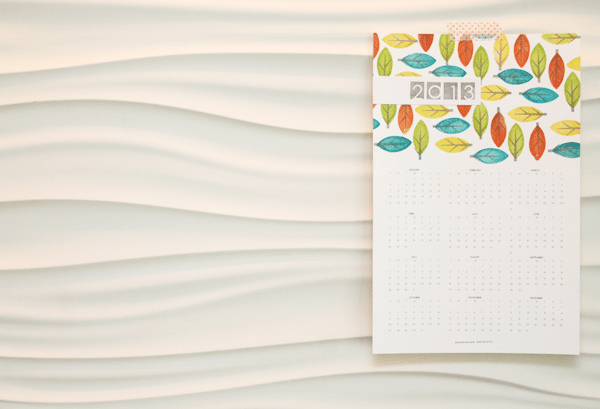 Will you be making calendars this year?