Today's calendar may just be my favorite EVER! I'm not sure how this thing evolved in my brain, but I am really happy that it did. I'm calling this my year-round wreath calendar, and it's based on a circular calendar template that you can download and print…for free, of course!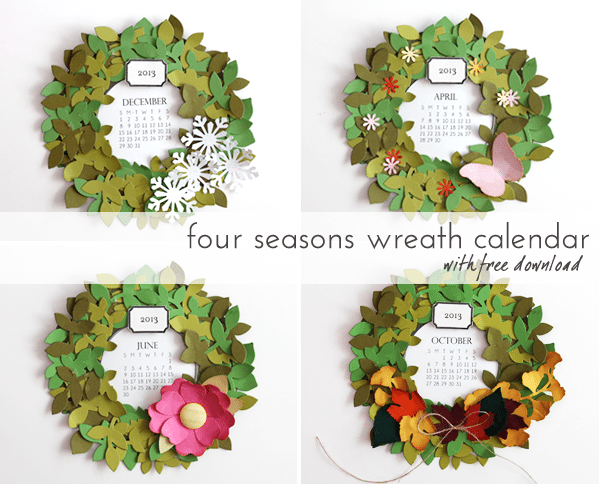 Year Round Wreath Calendar Template
The idea for this calendar is that you'll create a wreath with die cut leaves…lots of die cut leaves, then decorate it four times a year to coordinate with the season! It's a fun way to bring the outside in…AND it's a fun way to keep your calendar creativity going year round.  Let's take a look on how to make it!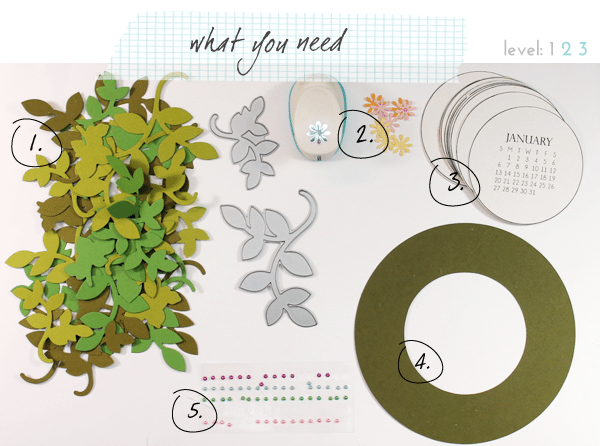 I'm calling this calendar a Level 2/3 project since you'll need to have some knowledge of die cutting to complete it .
1) Approximately 35-40 leaves die cut from Papertrey Ink's Turning a New Leaf dies. I chose to cut the leaves from three shades of green cardstock (Simply Chartreuse, New Leaf, Ripe Avocado)
2) Flower Punch (for decorating the wreath in a spring motif…more on this coming up)
3) Cutouts of the Year-round Wreath  Calendar Template. You can cut these out by hand OR using dies.
4) A paper "donut" for mounting leaves. This one measures 6″ with a 3 1/4″ circle cut out of the middle. I cut it out using my Cricut Electronic Die Cutting Machine. You could also create it by simply cutting by hand. It will be hidden, so it doesn't need to be perfect.
5) Adhesive pearl embellishments (for decorating wreath in a springtime motif).
6) Papertrey Ink Little Labels stamp and die set, for mounting Calendar year (Not pictured)
7)  Papertrey Ink Calendar Basics stamp set for stamping the year of the calendar (Not Pictured)
8) Mini clothespin (Not Pictured)
Project Specs:
Finished Dimensions: 7 x 7 inches
Time to complete: approx 60 minutes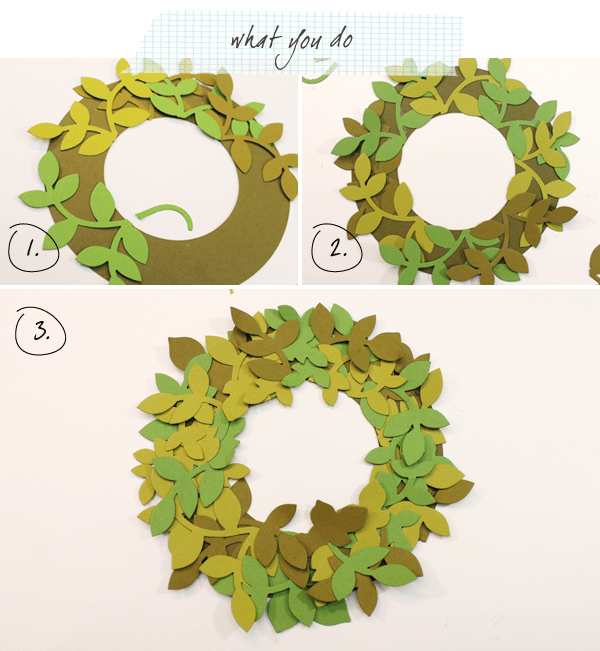 1) Adhere the leaves to the "paper donut." You may need to trim away pieces of the leaf diecuts to ensure a clean edge along the inner part of the wreath.
2) Work your way around the wreath placing large leaf die cuts.
3) Fill in the gaps with smaller leaf die cuts until your wreath is complete.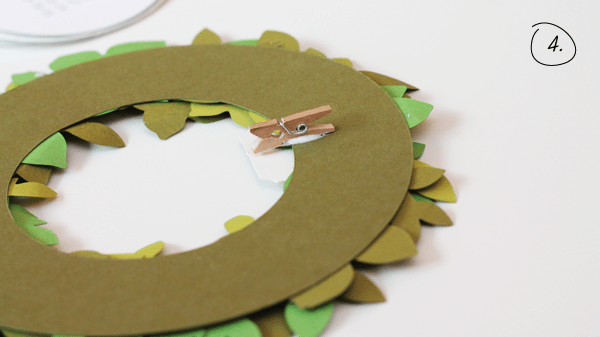 4) Adhere a mini clothespin to the back of your wreath – this is how the circle calendar will stay in place!
(Not pictured) – On the front of the wreath, adhere the Little Labels die cut, which you've stamped with the year, "2013." This will hide the mini clothespin so you that you can't see it from the front of the wreath.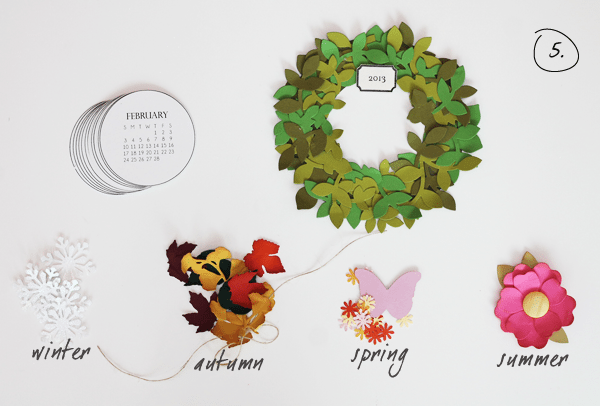 5) With the basic wreath complete, you'll want to grab some dies or punches that you can use for decorating your wreath for each season! Here' what I used:
WINTER: Martha Stewart Snowflake Punch
AUTUMN: Clear and Simple Stamps Leaflet Dies, Papertrey Ink Harvest Berry Dies, Papertrey Ink Cardstock (Harvest Gold, Terracotta Tile, Scarlet Jewel, Pinefeather), Tim Holtz Distress Ink in Tea Dye
SPRING: Recollections mini flower punch (Similar HERE), Papertrey Ink Butterfly Die, Recollections adhesive pearl accents (Similar HERE), PapertreyInk Cardstock (Lavender Moon, Sweet Blush, Orange Zest, Lemon Tart)
SUMMER: Papertrey Ink Bloom Builders #2 Dies, Papertrey Ink Sending You Dies (for leaves on flower), Fabric covered button (tutorial and example HERE), Papertrey Ink Cardstock (Spring Moss, Raspberry Fizz)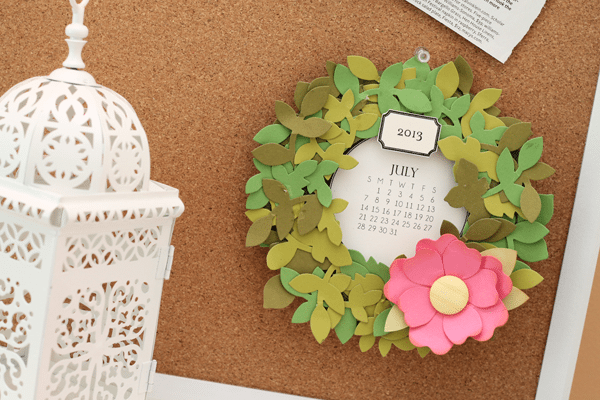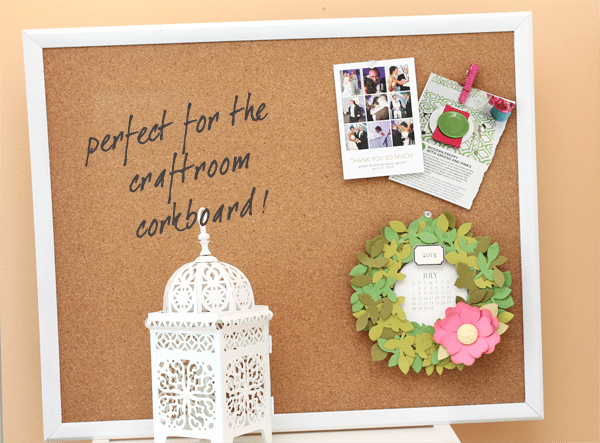 Now – onto other crafty topics! Have you started following Damask Love on Facebook & Twitter? Yesterday, I shared a peek of today's calendar! Today, I'm linking to a few of my favorite free downloadable Halloween projects from around the web! Come join us!