I'm a little pissed. There is nowhere to get a good donut in Miami. This is ridiculous…and yes, this  is the kind of important life-changing issue get me worked up. Donuts. Because that's really matters in life. Donuts…and a good pair of black pumps.
I'm no stranger to donuts on this blog. We've made so many donuts up in here that I could probably open up shop, but something tells me that paper donuts aren't big sellers. There were THESE …and then there were THESE…and today I've got another way to make donuts. Who knew there were so many ways?!
Today's batch is about as simple as it gets. If you need a simpler way to create a paper donut, well I don't know what to tell you. Maybe you should just go buy some. Let's go.
My three beloved paper punches are all you need for this project – and of course a few sheets of cardstock.
The 2.5″ Martha Stewart Circle Punch is one that I use all the time.
A scalloped circle punch is another must have. I used it HERE to make daisies  and HERE to make cupcakes. So, it's super versatile!
Then there's the essential 1″ circle punch. I use it for tags, polka dots and you should probably have one. Just trust me.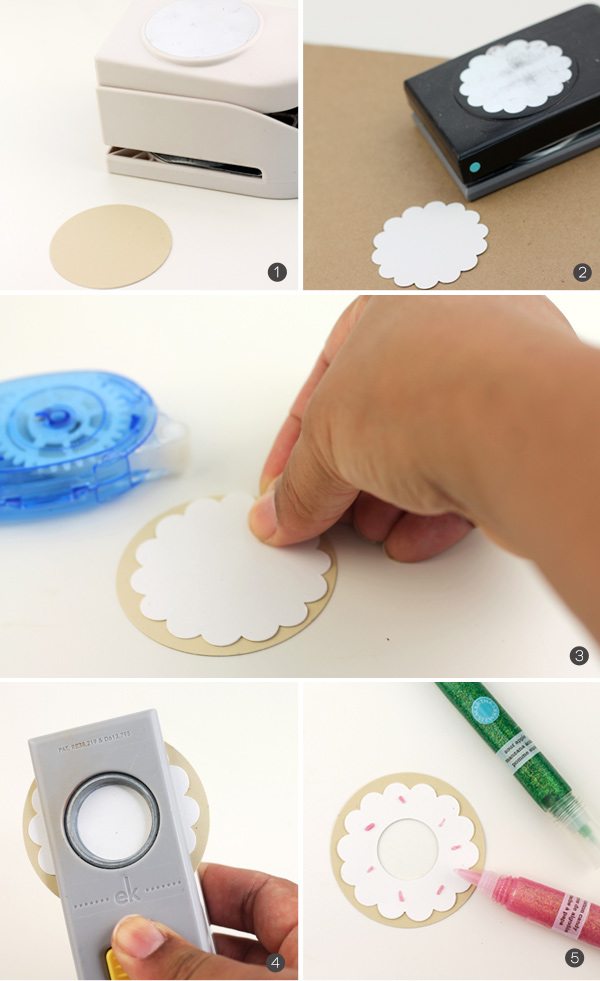 Punch a 2.5″ circle from beige cardstock
Punch a scalloped circle from white cardstock
Adhere as shown
Punch a 1″ circle in the center of both
Use glitter glue to add sprinkles. As always, I suggest the Martha Stewart Iridescent Glitter Glues – they are the best.
Once you add some Christmassy sprinkles, these little tags are ready for adding some sweetness to your holiday packaging. Of course, these can be used year round as well. Donuts, after all, are always a good idea, right?