I've never been one to look at a piece of abstract art and say "oh, I could totally do that" – that is until recently when I saw an awesome abstract floral poster print. It was bold, colorful and just simple enough to replicate as a craft project. My favorite part of the design was that I could have Markus help out in the process!
As the summer drags on  continues, moms like you and me (and dads too!) are still working to keep the kids busy. You might have already seen my low-mess solution for getting Markus crafting – and today, I've got something a bit more sophisticated that can get the entire family involved. While, I love (love, LOVE!) the craft kits from Kid Made Modern, I also have a particular penchant for their craft supplies! Please tell me I'm not the only one who loves a brand new roll of paintbrushes!
With a few of my favorite Kid Made Modern craft supplies – I took inspiration from that poster print and created a trio of wall art that you can create with your kiddos…or you can even create it yourself over a nice evening of Netflix and red wine. I won't tell! I mean, just because it says "Kid Made Modern" on the packaging, doesn't mean us grown-ups can't enjoy a little creativity of our own, right?!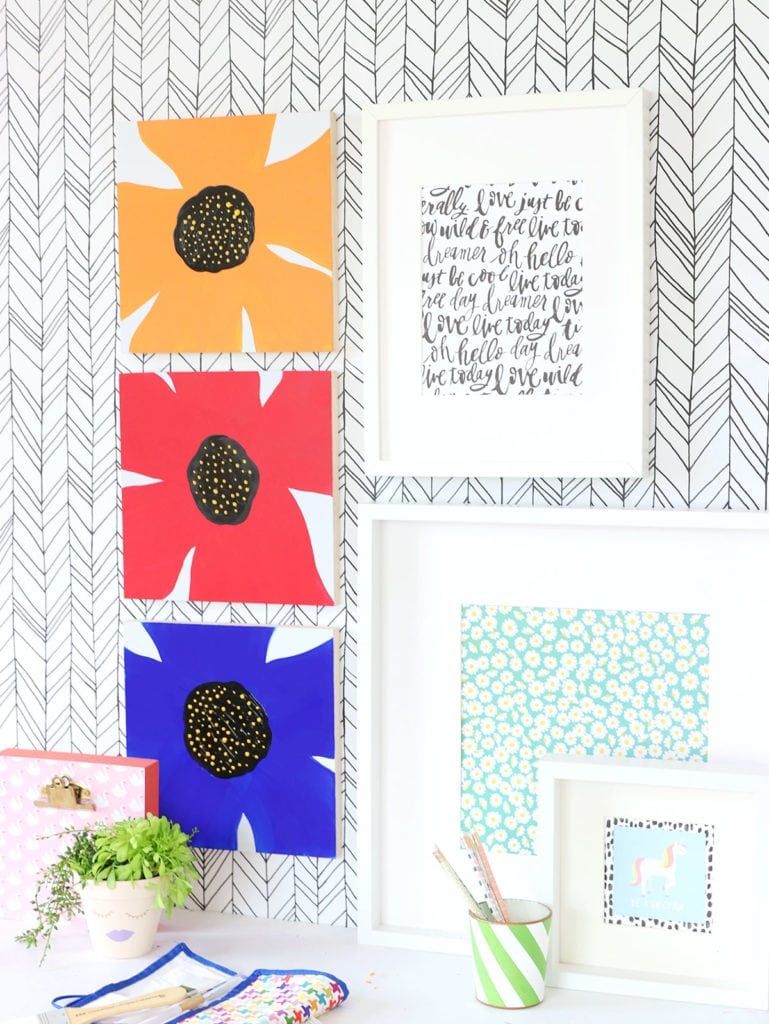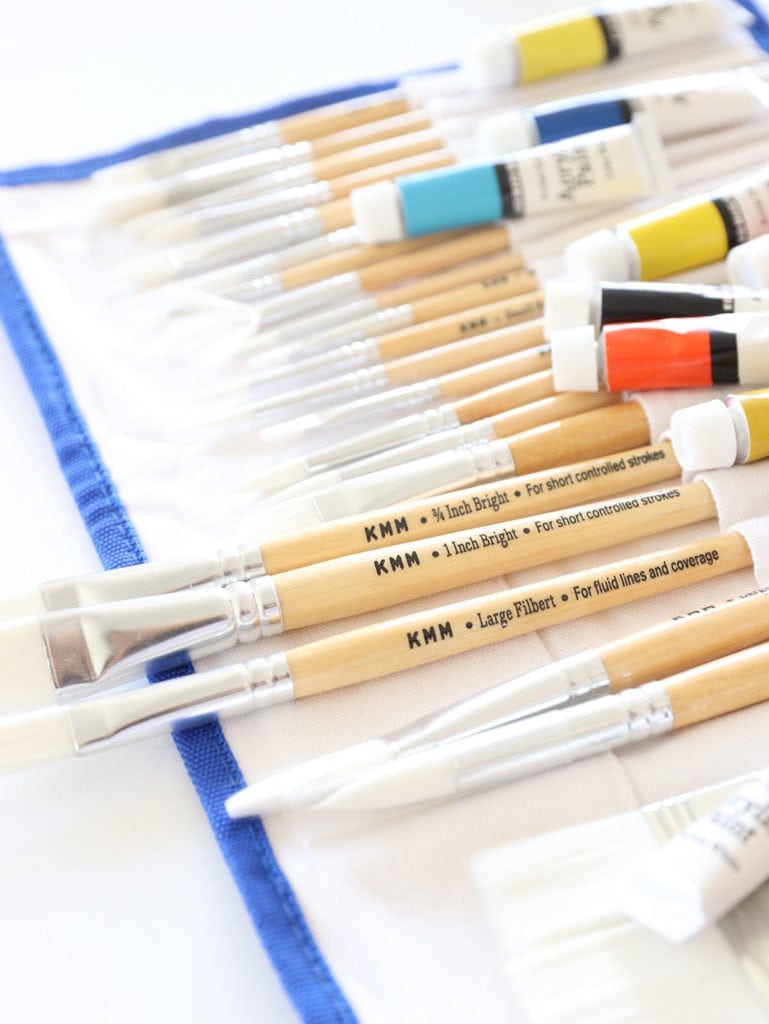 To create my trio of abstract floral wall art, I started with Kid Made Modern Acrylic Paints, Brush Library and Artist Boards – which you can purchase together as a complete painting set (at a discount, YAY)!
The Brush Library comes with every brush you need to create art with your family – all packaged up in a super colorful fabric roll that will keep your brushes clean and organized. I especially love that each brush includes the name along with a description for how to use it. Perfect for the novice artist! The Artist Boards are incredibly well designed and chic! The smooth Masonite surface is fun to paint – and the exposed wood frame makes for a really modern look. Way cooler that your average artist canvas.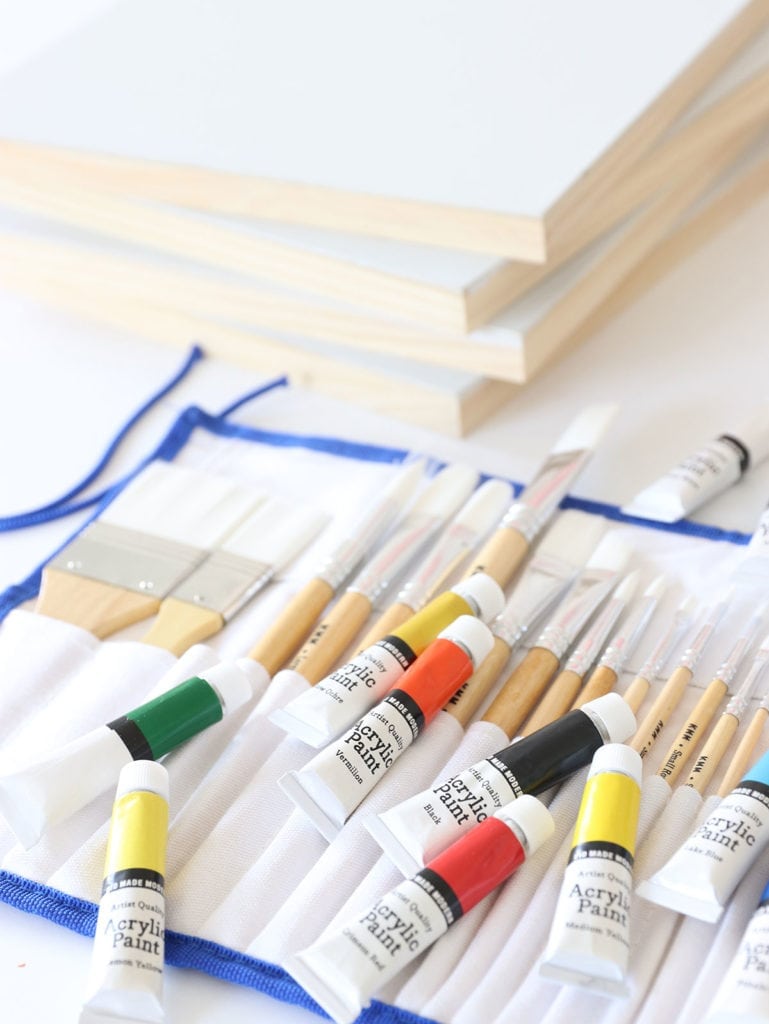 When it comes time to create your abstract flowers, the process could not be easier! Simply freehand a large flower shape, allowing the giant petals to fall off the edge of the Artist Boards. Then, create a big black circle in the center of the flower. Last, use a round brush to create little yellow dots in the center. Done and done! Keep going until you have a trio that is perfect for your wall!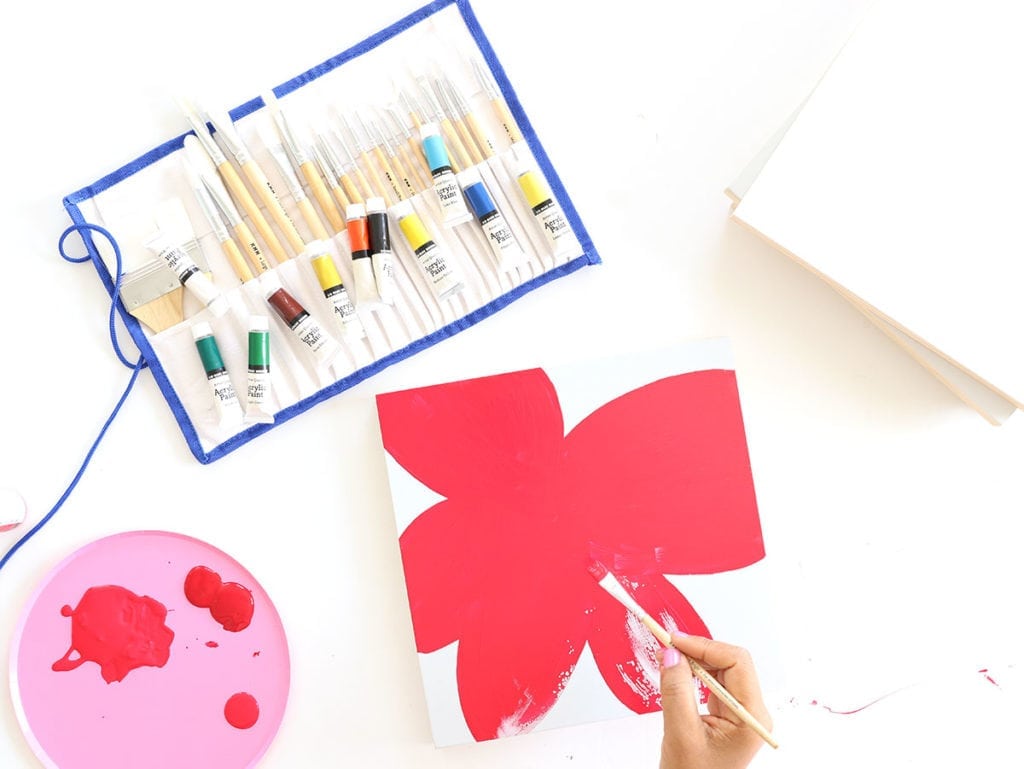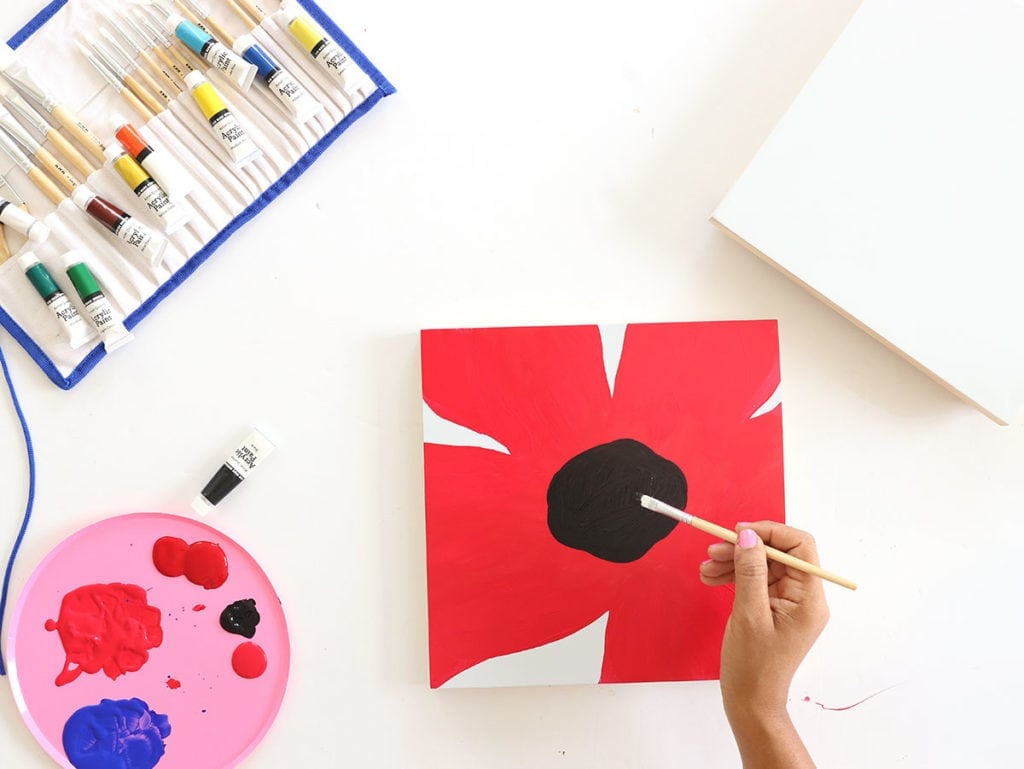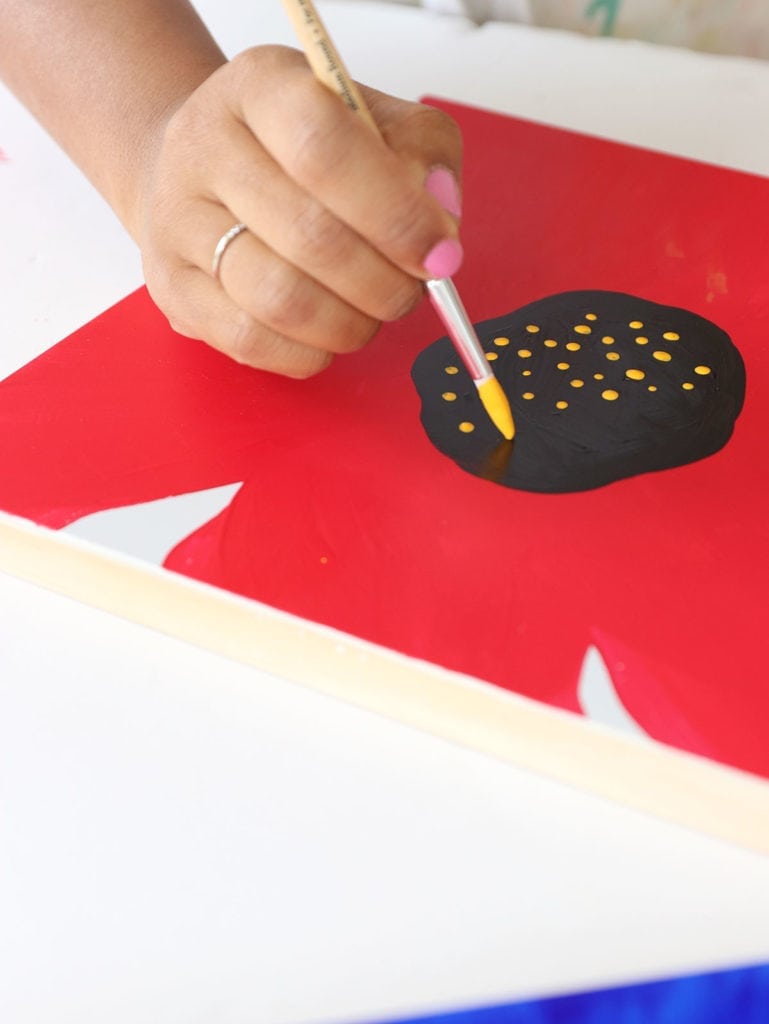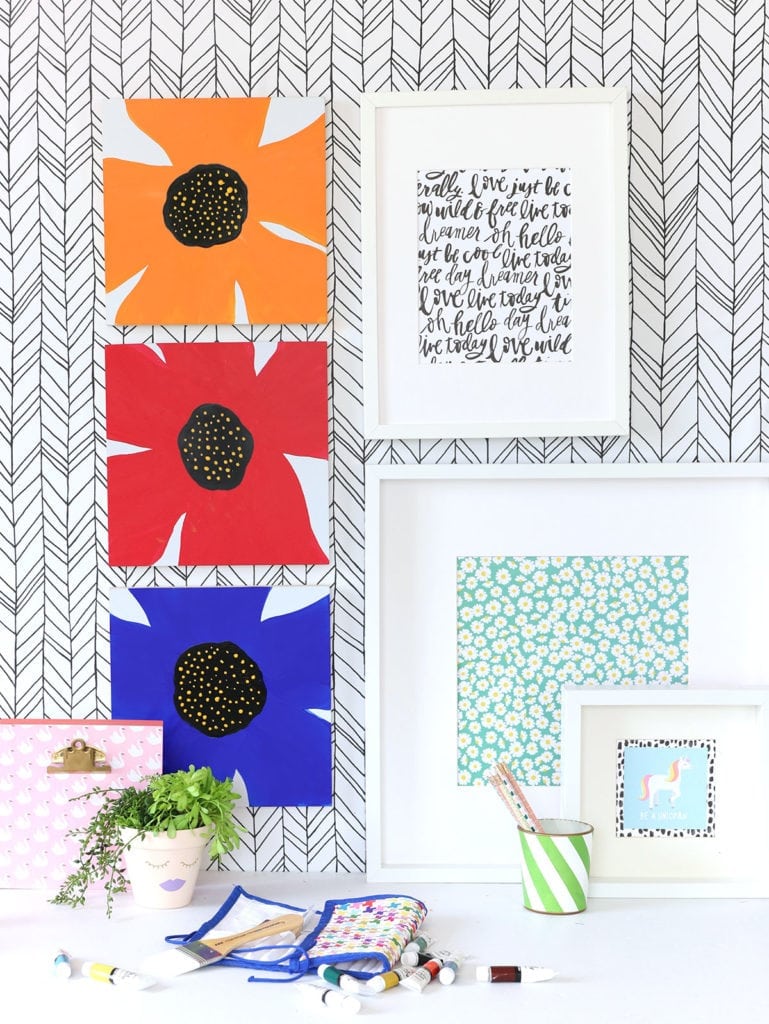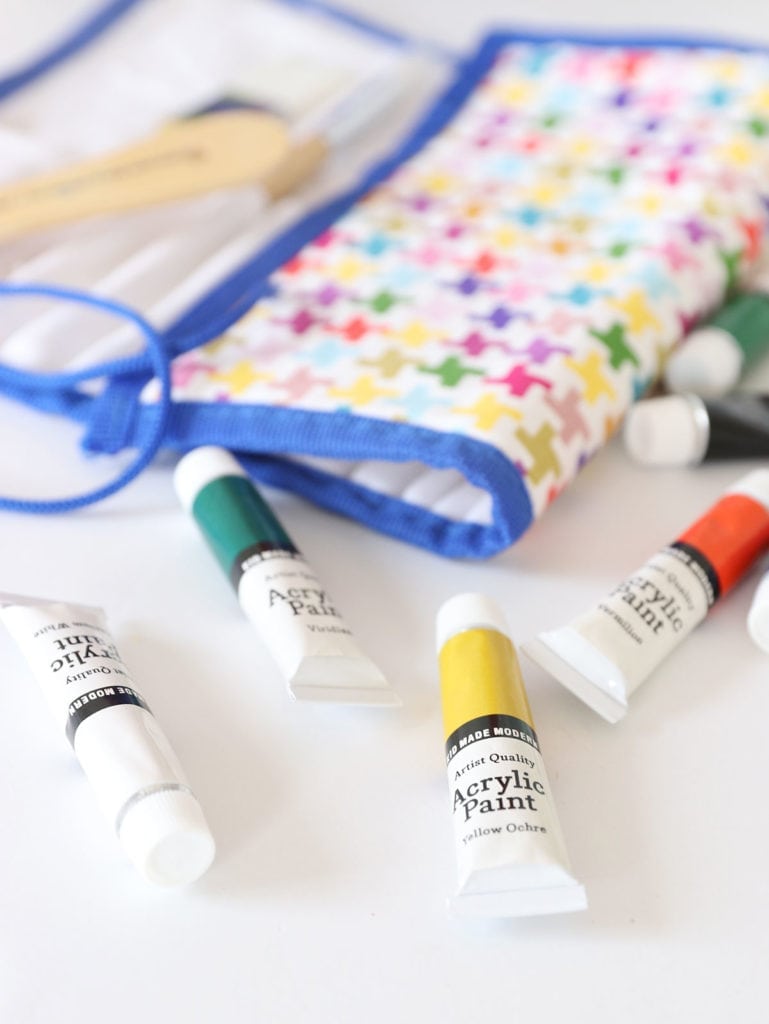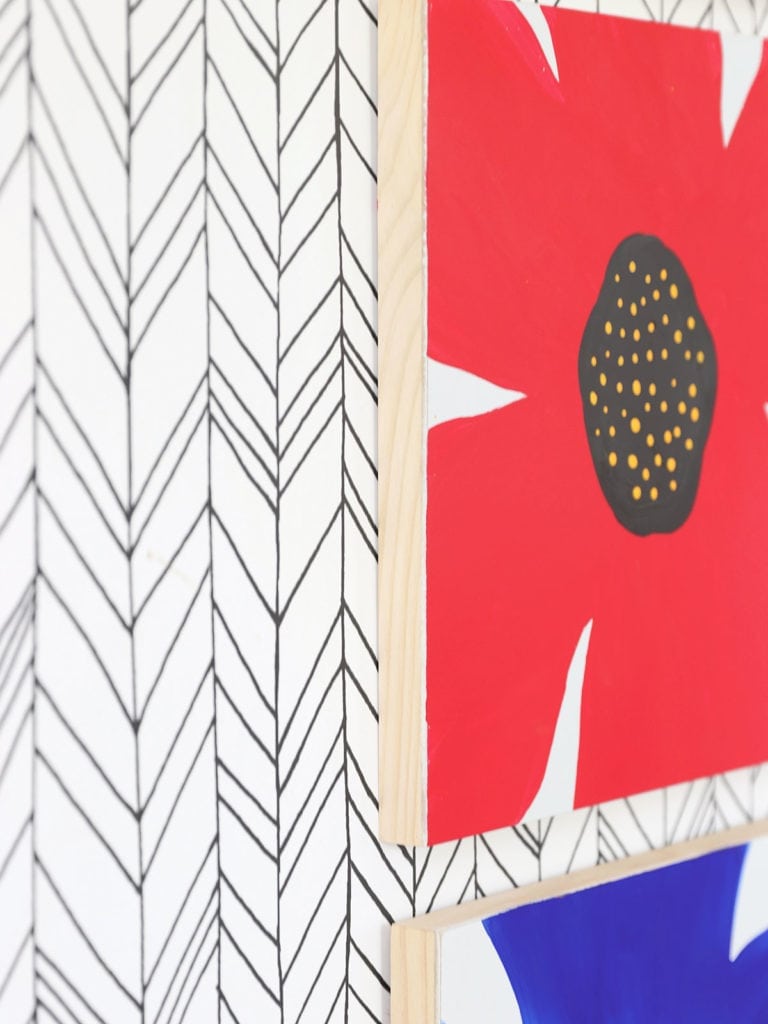 Whether you're looking for a summer activity for the kids or an evening-time activity for your sanity – this project is easy and satisfying. You'll be so proud to display this colorful, modern art on your walls! Head over to Kid Made Modern to see more awesome ideas for crafting for the whole family!
This project was completed in partnership with Kid Made Modern. All projects, photos and opinions are mine, mine, mine! Thanks for supporting the collaborations that keep the lights on in this joint!