On Thursdays we Minc. Not really, but today we shall Minc like we mean it. I've been on a Minc run these days. I've been Minc-ing notebooks, I've been Minc-ing banners and today we're doing a little Minc-ing and a little painting…all to create a really cute desk calendar.
The idea for this desk calendar all started with I got some power tools. A circular saw to be exact. Ever since I got it, I've been sawing all the things. On one particular day, Andrew was sitting on the couch watching "fill-in-the-blank-sports-show" or Game of Thrones. That's pretty much all he watches. Anyway, he was watching television, the baby was napping and I waltzed through the living room with ear plugs, protective glasses and my circular saw. He asked "what are you doing?" I said…"cutting a clipboard in half." He thought it was overkill. I thought it was totally necessary. And it was. How else are you going to create a perfectly square clipboard, people. How?! So I sawed that clipboard in half – and it worked. And so this project was born.
What you need:
gold spray paint
Hot Glue Gun (I like this one)
Americana Maxx Gloss paint (yo- this stuff is the best. It's the highest gloss paint available and it finally let's you create that high gloss smooth finish. I love it).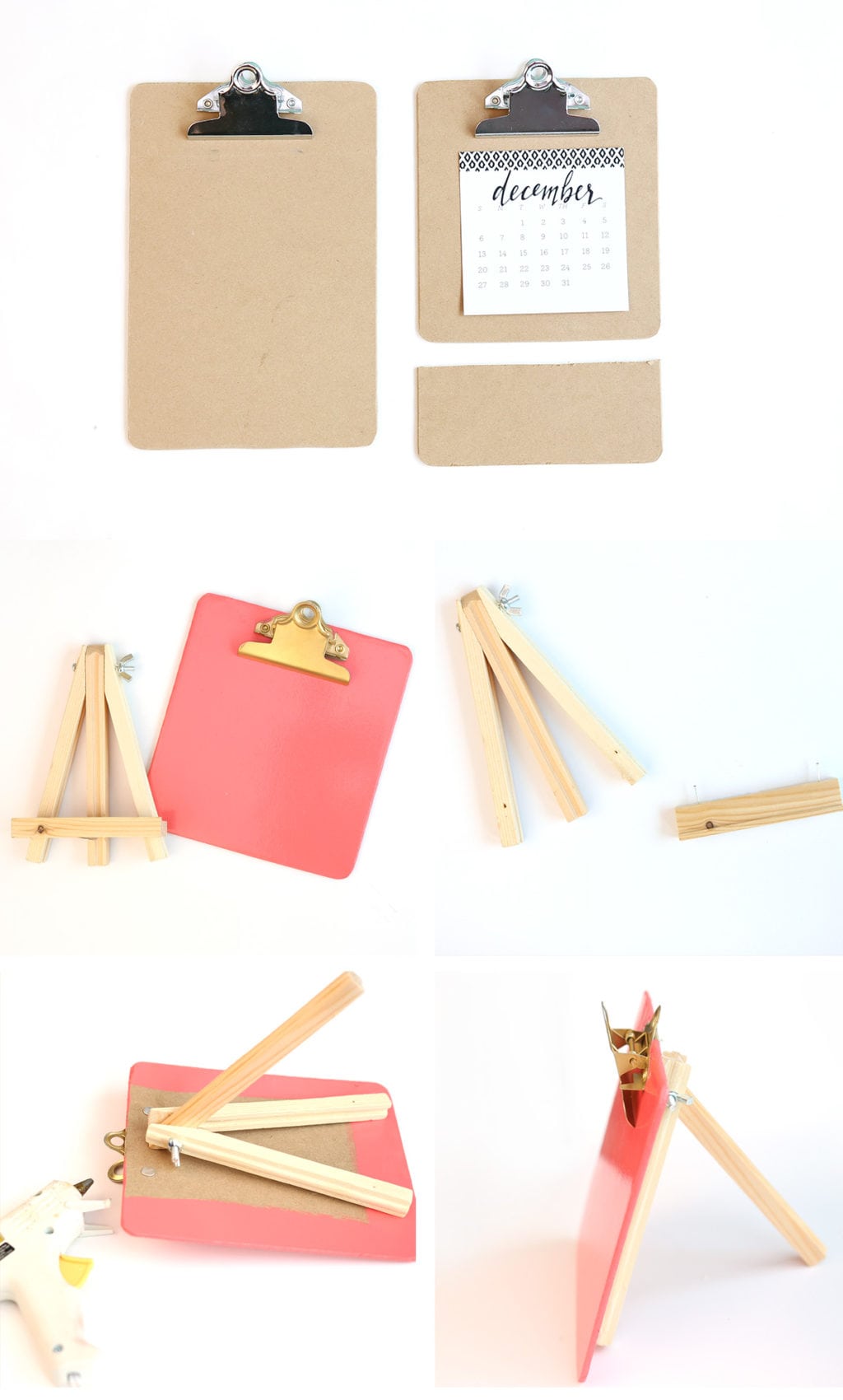 What you do:
Saw that sucker until you've created a square clipboard
Spray paint the metal portion of the clipboard and paint the clipboard with Maxx Gloss paint (TIP: Use ribbon or twine to tie the clipboard clamp into the open position. This makes painting much easier!)
Remove the ledge of the wooden easel and discard
Use a glue gun to adhere the easel to the back of the clipboard – use lots of glue!
Your easel is ready for a Minc-ed calendar! To create the Minc calendar cards, run the calendars through the machine with your choice of foil color. Since the Minc calendar cards are only foiled on the very top, you can stagger the cards on the foil to avoid any unused portions of foil.