The verdict is in.
Damask Love readers are the most awesome readers in all the land.
It's a fact. A fact that I didn't even know about until my recent siesta from blog town. You guys checked in on me to make sure I hadn't defied all laws of gravity and fallen off the earth's surface. You messaged me, emailed me and even snail mailed me. Who knew you all were such loyal and sweet readers!?
Well today, I'm getting back to it after a much, much, much needed break. What was it much needed? Well, there's been lots going on 'round these parts. Howsabout I update you on a few of the more noteworthy happenings. Let's go.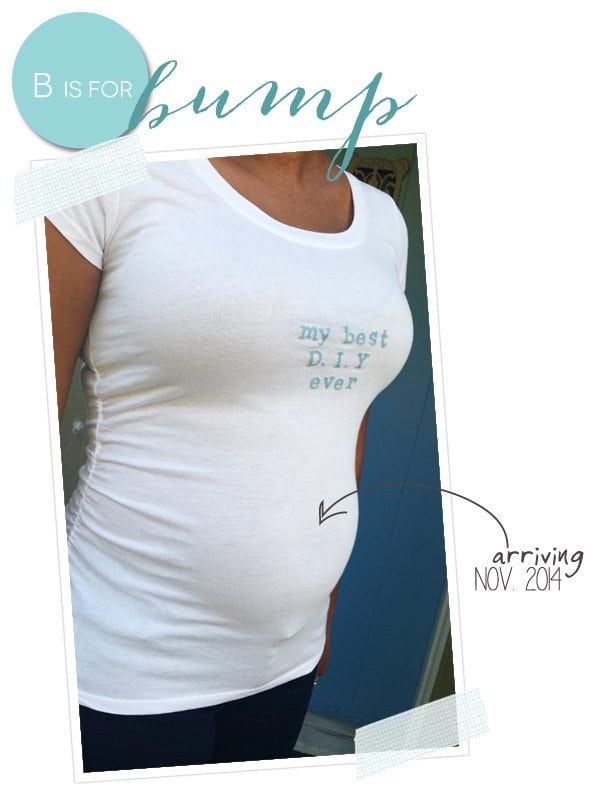 It may look like I've had one too many slices of deep dish, but that's no food baby. That's a baby baby.
Hands down my best DIY ever.
Well – I guess it's not really a DIY. More of a DIO (ourselves) because this was…um…uh…a team effort. I'll spare you a full tutorial on this particular project. Google it.
For the last few months, I've been in a haze of excitement, overwhelm, exhaustion, occasional queasiness and all too frequent trips to the store for a watermelon fix.  (I'm currently eating about two watermelons a week). With our first little one on the way, Andrew and I could not be more happy. Seriously. We are so excited…but I'm gonna be honest: pregnant is weird. Weird in the best, most unexpected ways possible:
Like when you go to the grocery store (for the aforementioned watermelon fix) and a 40-something-year-old man looks at you…then looks are your protruding baby bump…then looks back at you and says "Hey, boo." Seriously, dude? I'm pregnant. Why are you hitting on me right now?!
Or when your mother tells you that she doesn't want to be called Grandma because it makes her feel old, so I say "Well, what do you want our kids to call you?" Her response? "Gladys" The woman wants to be called "Gladys." Really, mom? Really? Gladys? Note: my mother's name is NOT Gladys. Never has been. Never will be. I have no clue where she came up with the name Gladys, but I quickly vetoed that one. Most days I'm a fan of ridiculous, but even this idea was overboard for me.
Chances are that the stories will keep coming as this bump gets bigger and bigger. Chances are I'll be sharing those stories with you here on the blog. I hope you won't mind. Of course, there will still be your regularly scheduled crafting – but let's be honest. Crafting is way better when there's a hilarious pregnancy story to accompany it. Right?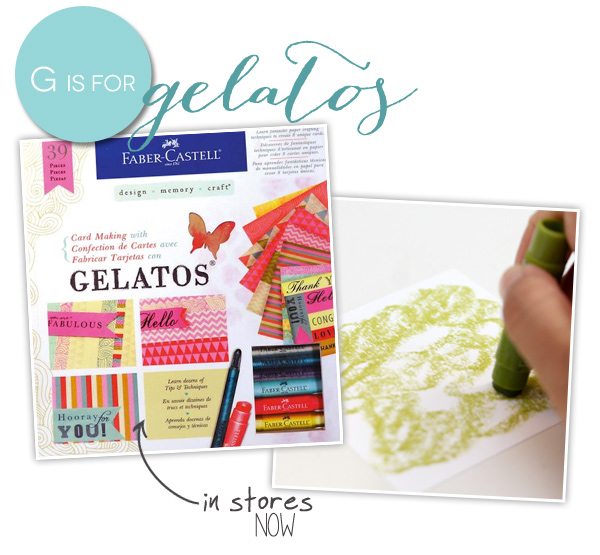 It's no secret that I'm mildly obsessed with gelatos. I used them HERE, HERE and HERE – and now you can find more of my gelato love all packaged up in a kit that I helped design! How crazy is that?!
I partnered up with the friendly folks at Faber-Castell to design the cards and content included in the Card Making Gelatos Kit. You'll find it nestled in the paper crafting aisle at your local Michael's Craft Store and when you open it up, you'll find a photo and profile of your's truly! I may or may not have purchased a ton of these kits already to give out to my family! Don't worry though – I left a few on the shelves just for you!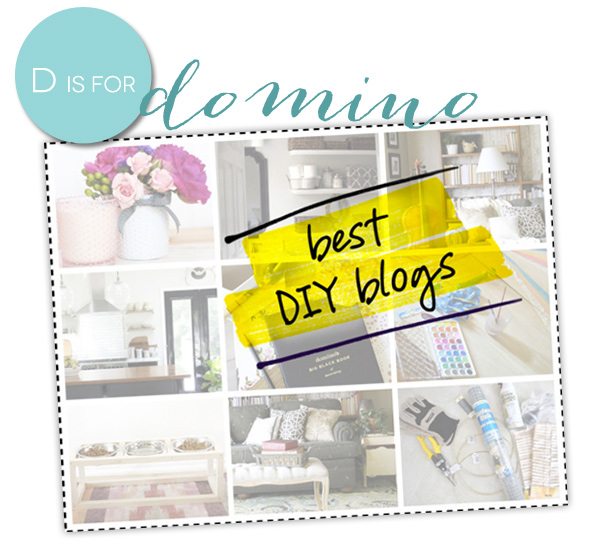 This latest development is one that I had to share in today's update post.
Ever since Domino Magazine came onto the scene – I've been a fan. So you can imagine how I reacted when they named Damask Love one of the 17 Best DIY Blogs out there! Excited would be an understatement. You can check out the full line-up of blogger HERE.
So – there you have it: a quick look at what I've been up to…well at least the most exciting bits of news. This week, I'm off to Salt Lake City where I'll be speaking at Altitude Summit and hobnobbing with all the awesome creative bloggers who will be in attendance. Be sure to check in with me on Instagram to see what I'm up to! In the meantime, I'll be posting all your beloved craft & DIY tutorials right here – so come on back tomorrow so we can get this party…restarted!