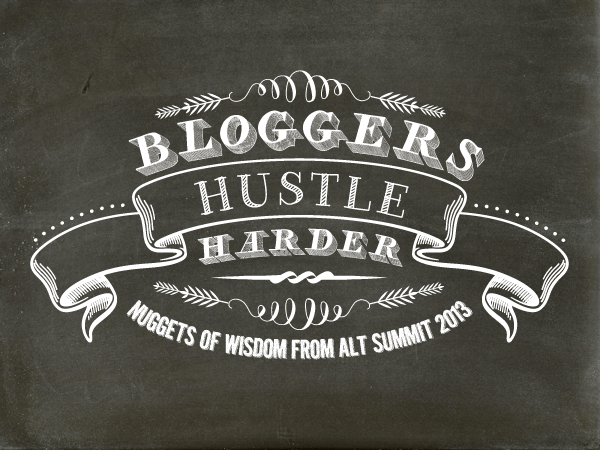 Six months ago I found ALT and in a nutshell, they gave me permission to turn my blog into something bigger.  Alone, the dream of growing my blog into a successful brand seemed frightening, but ALT lit a fire under my tail and gave me a hefty dose of go-get-em attitude. I started Damask Love as a virtual journal of my creations, but now I've got much bigger goals in sight…and you'll be hard pressed to find anyone more motivated as yours truly!
Now there's a chance that Altitude Summit (aka ALT) is new to you, so I let you in on the low down. ALT is a resource for creative bloggers to expand their blog into a successful business, both online and offline. ALT offers classes, articles and conferences where bloggers and brands congregate to learn how to collaborate and connect with each other. The goal for most bloggers at ALT is do the work they are passionate about, while simultaneously generating income. Here's an example… HP might have a new product that they want to market to creatives. Bloggers are a great avenue for reaching creative consumers so HP might say, "Hey you, Miss Awesome Blogger lady! We want you to feature our product and share your opinion with your readers." Now, Miss Awesome Blogger Lady might say, "Hmmmm, I'll pass – I don't think my readers will be very interested in learning about this product," or Miss Awesome Blogger Lady might say, "That sounds great! My readers would love to see your product in action and how they can use it in their own creative projects!" In either scenario, HP sees value in the blogging community and wants to collaborate with bloggers in order to share their products.
During my time at the ALT SLC conference, I soaked up all sorts of information, made connections, wore fun outfits and danced until my feet were numb…the makings of an awesome (albeit exhausting) week.
Today, I'm here to share a few of the "nuggets of wisdom" that stuck with me. I'd love to hear your thoughts and reactions.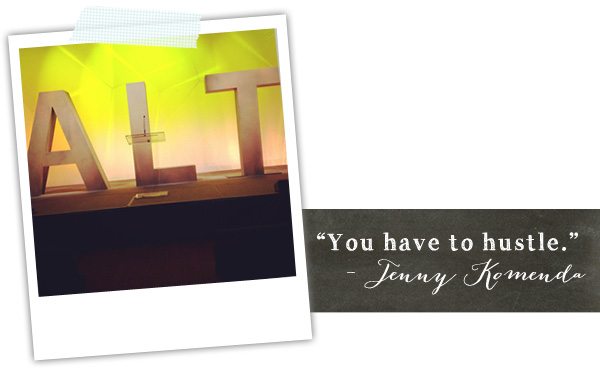 Perhaps the best quote from the entire conference came from Jenny Komenda of Little Green Notebook. She kept it real. She was honest and I loved it. When I asked how Jenny and the other panelists how they had reached their levels of success and notoriety, Jenny was honest. "You have to hustle."

You have to reach out to brands. You have to put yourself out there. You have to work. Hard. Of course, there are times when opportunities fall into your lap, but more often then not, you've gotta make it happen for yourself. Now, for the sake of clarity, I'll give you an example. A few months ago, I assembled the Start Your Stash series here on Damask Love. It was a labor of love…emphasis on the word "labor!" I reached out to tons of brands and assembled a strong pitch each time. I looked for brands that worked well with my own brand identity. In each email,  I included my blog stats, a clear description of my plan along with examples of my work. I'm not gonna lie – it was scary as  H-E-double hockey sticks, because I didn't know what to expect. I got plenty of "nos" but I also got a ton of "yesses" from companies who were excited to collaborate with my blog & my brand. In the end, I was able to assemble an awesome series that you guys enjoyed. It had to hustle hard to get it done – but that's the way it goes. You have to hustle. Thank you, Jenny for putting that out there.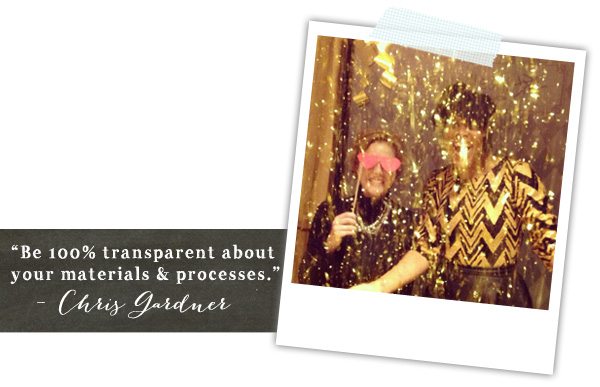 Man, oh man – when Chris Gardner of Curbly said this it resonated with me in so many ways. Chris was saying this in relation to DIY projects. His point being that DIY bloggers need to be clear and forthright about all the materials and steps in a project. AMEN! (Interpretation: No one wants to read a post about your awesome recipe for apple pie, only to find out that it's a family secret that you won't be revealing! That is helpful to absolutely zero people!)

That said, I think Chris' statement also rings true for the business side of blogging. Back to my example of the HP desktop. If you come to Damask Love and see a post where I am featuring an HP desktop, you'd better believe I am going to tell you straight up that the post is sponsored by HP. That doesn't make the information any less important or useful, but it does make me a trustworthy blogger. Transparency, people! Tell your readers what they are reading. If it's a sponsored post, call it that.  If you received free product, say it. People don't like to be mislead, and you can bet your sweet tuchus that if they feel mislead, they will drop you faster than third period French.
**If any ALT attendees remember the source of the integrated content quote, please let me know! I didn't have it in my notes and I would like to give credit.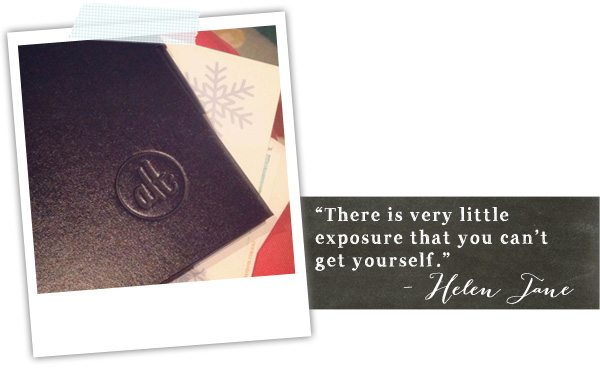 Ok. Breath this one in. I had a tough time believing what Helen Jane said. I'm excited to hear your thoughts. Here are my two cents.
There is a strong need to get your name out there. I've felt it. I still feel it. I think this is particularly true in the paper crafting community where the design team structure rules the roost. Design teams offer the unique opportunity to work with larger brands by creating projects with their product. In many ways, design teams are great! There is a sense of community amongst the team and you can use the status of the company to enhance your own notoriety. On the flip side though, designing for others may compromise the strength of your own content. The exposure you get, may actually be a bigger benefit to the company rather than you. As Helen said:

Personally, I love working with others and collaborating. I do strive to do it in an efficient way, though. For example, any projects that I create for another company or blog are extremely representative of my aesthetic and style. This way, people know what I'm about when they see it – and if they like what they see, they may just take a trip over to Damask Love to see more. Also, whenever I do a guest post, I also do a "Part Two Post" on my own blog. When I did a guest post for TomKat Studios, for example, I provided content for her to use on her blog, but then created a coordinating post on Damask Love which featured additional images, tutorials and tips. This gives TomKat readers a reason to come see me, and hopefully stay a while! For me, this strategy allows me to collaborate with other and gain exposure without diluting the quality of content that I provide on my own blog.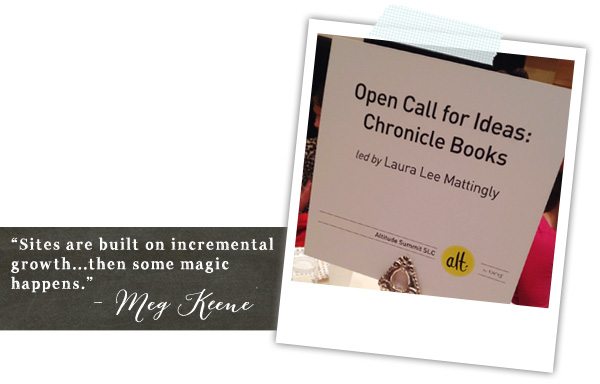 Hold up. You mean to tell me that my blog isn't going to blow up over night? Good to know.
Perhaps the best session of ALT Summit SLC was the talk led by Meg Keene of A Practical Wedding. Meg was honest and forthright. She shared a screen shot of her own blog statistics, showing the slow incremental growth of a blog over time. As Sara Urquhart put it:

Blogs  grow slowly and steadily. If you continue to put out high quality, original content, your blog will grow. People will find you. Your readers will share your work with others.
Sometimes, magic will happen and this can also help growth. For Meg Keene, the birth of Pinterest and the publication of her book A Practical Wedding were the "magic."  In the course of a year  Meg's blog traffic spiked dramatically as readers pinned her posts and as she toured the country on a book tour. Realistically, though we cannot all be authors to a bestseller, but we can work toward making magic happen, right? For me,  Meg's story taught me the importance of working online as well as offline to build my blog and my brand. Whether it be a book , speaking engagements, teaching classes, or magazine publication, I believe in my ability to make magic happen…even if it's itty bitty magic! In the end, it will benefit my brand and grow by blog.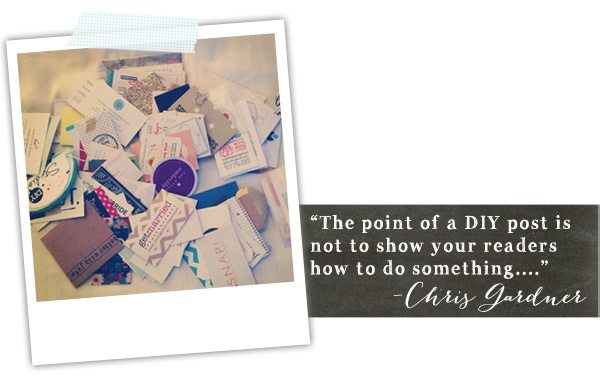 …it's to show your readers that it's possible to do something.
Don't you just love that!? Don't get me wrong, nothing makes me happier than seeing a reader make one of the projects she's seen on Damask Love. There is nothing better than that. But it would be totally unrealistic for me to expect that each project on my blog is replicated by a reader. It is reasonable, however, to expect that my blog can inspire others to make SOMETHING and remind them that is is POSSIBLE to make something. I've told you before that I want to recruit everyone into the brethren of paper crafting , and this quote will go a long way toward reminding me how that can be achieved!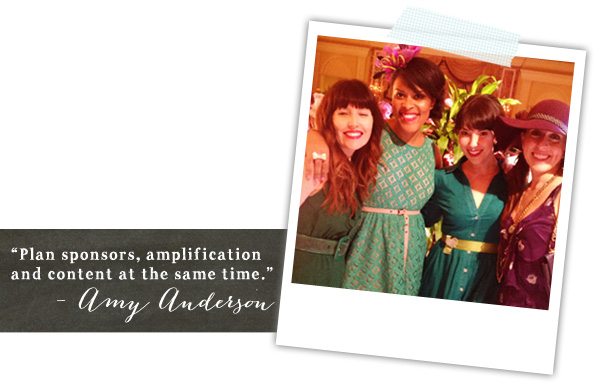 No one ever said hustlin' was easy, but bloggers hustle harder. It's a scientifically proven fact. Amy Anderson  of Parker Etc. (which btw, is a blog you should definitely go read)  offered some pretty awesome advice for making the most of your blog content. By coordinating these three elements, you can get the most out of your posts and reach as many people as possible. Since I love examples, howsabout we go back to the HP scenario. Let's say HP is going to sponsor a post….YAY!  For the post, I'll be working with one of their printers. It would behoove me to take a gander at my blog calendar and see how I can best schedule that post to work with other content on my blog. Maybe the day before my HP post, I'll share a post on how I organize my office. This will create some continuity for the readers and keep people engaged. As for amplification, this just refers to how to spread the word. Amy suggests thinking about how you might use social media to reach as many people as possible with your posts. In this case, I might use Facebook to do a giveaway related to HP.
This approach certainly requires a fair amount of organization and planning but it can be worth it in the end. After all, if you're going to put tons of work into your blog content, dont you want it to reach as many people as possible?!
And so ends today's round up of Alt Summit! Please contribute your thoughts to this post. Let's have a conversation about these things! Feel free to disagree…I won't cry into my cornflakes, I promise.  (I don't even like cornflakes!)