Happy Monday Damask Lovers!
If you are here looking for the Reject Blog Hop – it's still going on and it's going strong!!! — we are making rejection look goooooood!
Head on over to check out all the amazing projects that didn't make the cut.
Also, thank you so much to all those who have participated, left comments and linked to the hop from their own blog. I am so happy to see that this Blog Hop is a hit!
Now for today's project: Birthday in a Box
I came up with the idea for Birthday in a Box when I was brainstorming ideas for my cousin's upcoming birthday. She is a freshman in college and I wanted to mail her some cupcakes, since dorm living isn't terribly conducive to baking.
That idea quickly flew the coop – since mailing cupcakes seems like the messiest thing ever – right up there with mailing a Jello mold!
Anyway, I came up with a crafty way to mail the cupcakes without creating a nasty blob of icing all over the box.
Then I got to thinking — Why not include all the things she would need for a fun little birthday party in her dorm!?
Voila!  
Birthday in a Box!!
Since I just graduated from college last year (**LIE**), I have vivid memories of the fun times we'd have in the dorm.  Late nights of talking and being silly.
What better way to be silly than with a box full of old-school party supplies, reminiscent of when you turned 7 years-old and still thought cone shaped party hats were cool (although – I still think cone shaped party hats are cool)!
The first Birthday in a Box feat was to figure out how to mail cupcakes…the solution is pretty simple.
I baked the cupcakes (Red Velvet – yummm) and left them un-frosted. 
Then I placed the frosting in plastic piping bag and secured the top with a rubber band and some ribbon. 
I left the tip of the piping bag closed so that she can open it and frost the cupcakes when they arrive.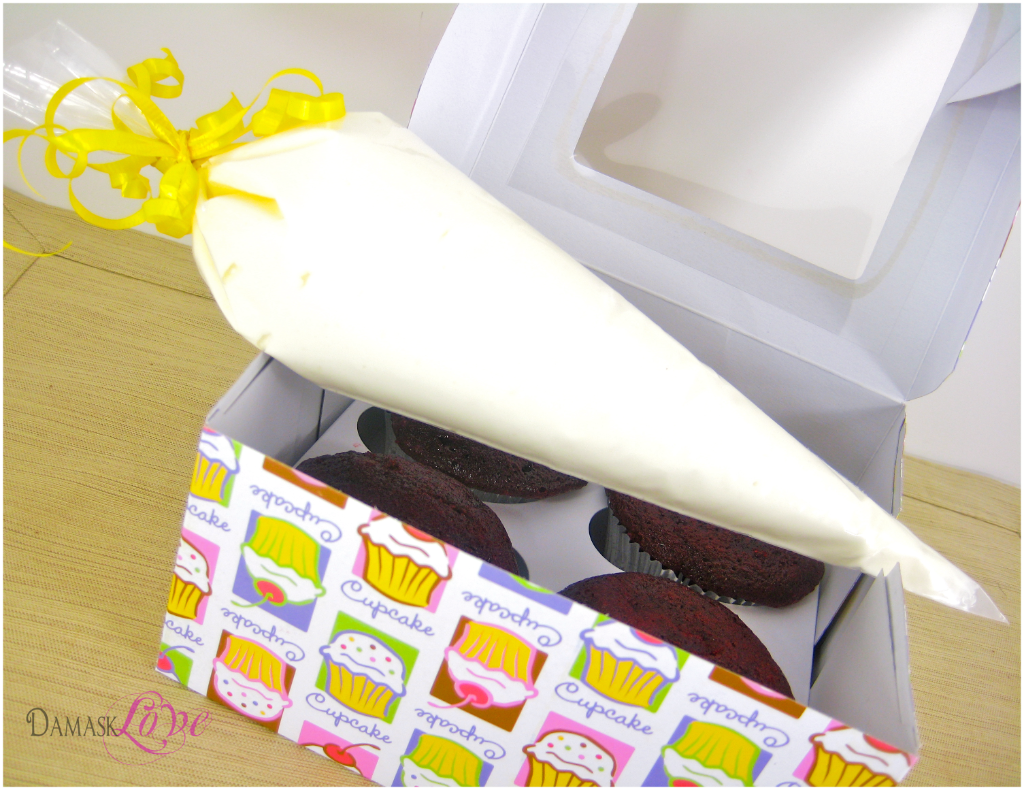 Now for the rest of the birthday fun!
Howsabout some candles for the cupcakes?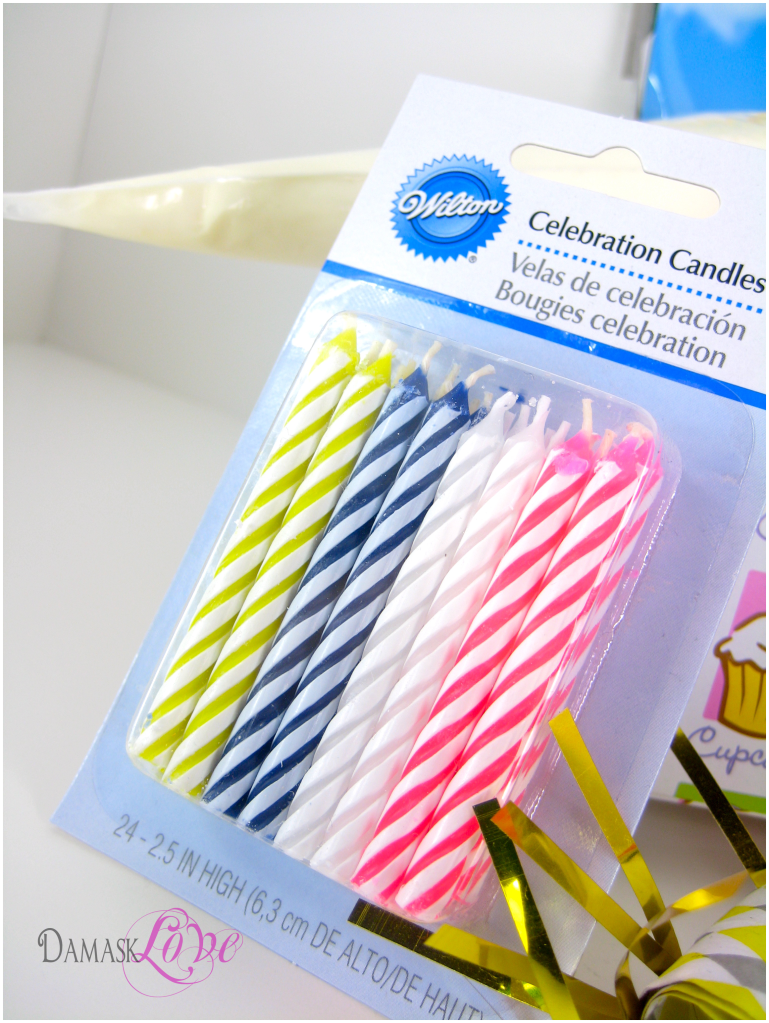 And a rousing game of Pin the Tail on the Donkey?!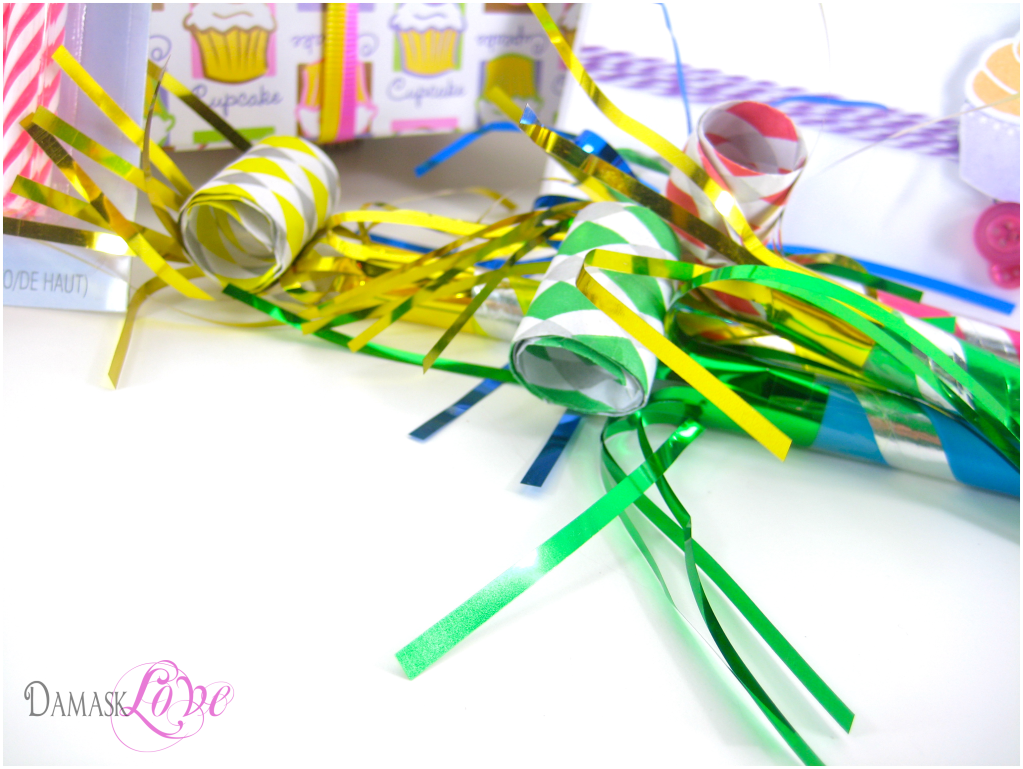 Gotta have those beloved party hats along with some Birthday Loot bags for her "guests" !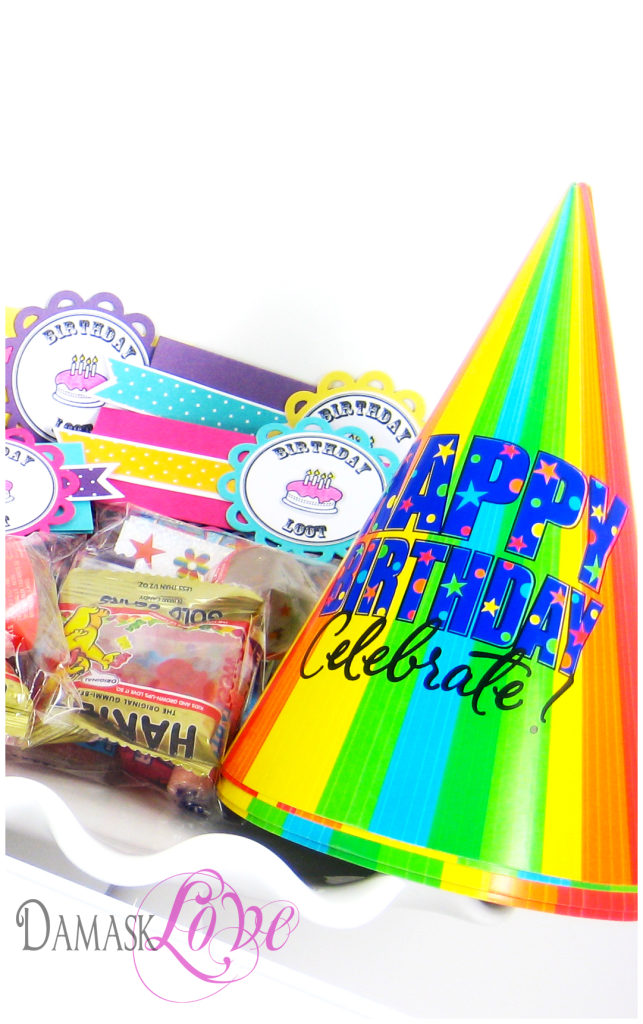 Here's a close up of the Loot bags: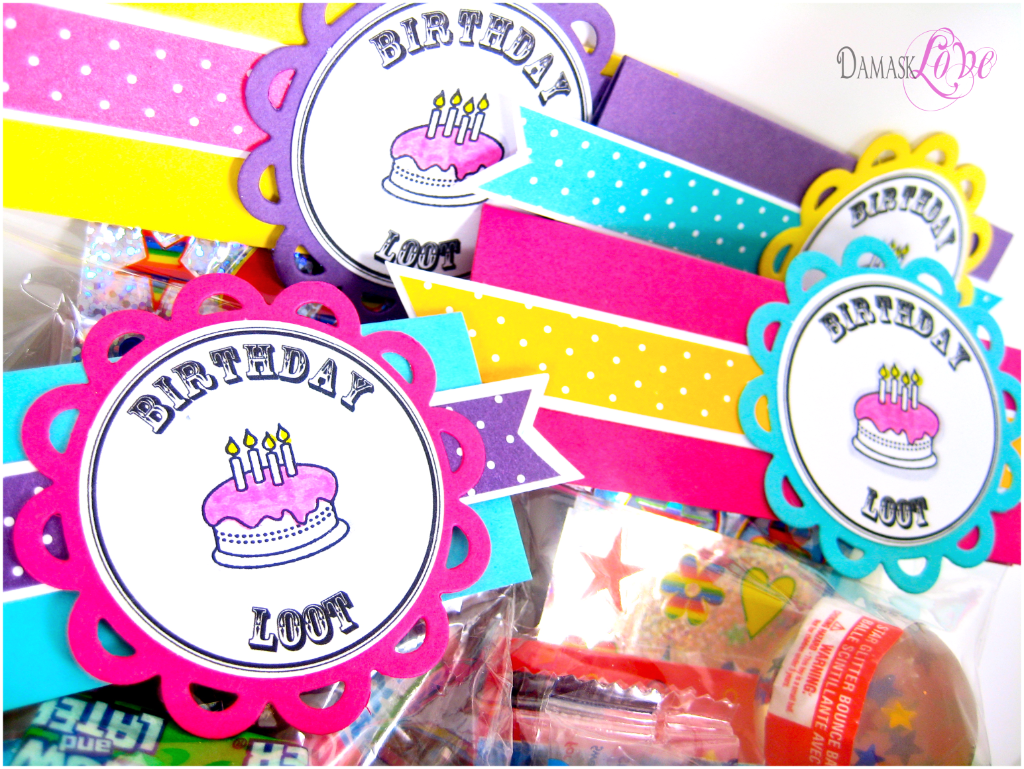 And of course a simple, sweet birthday card!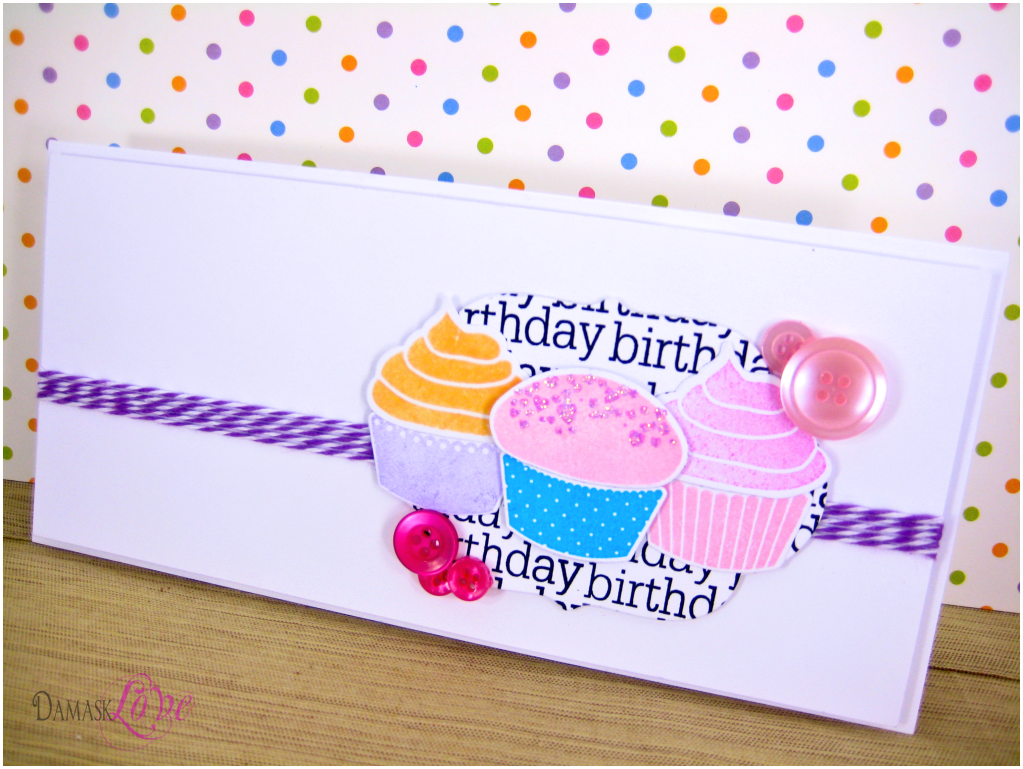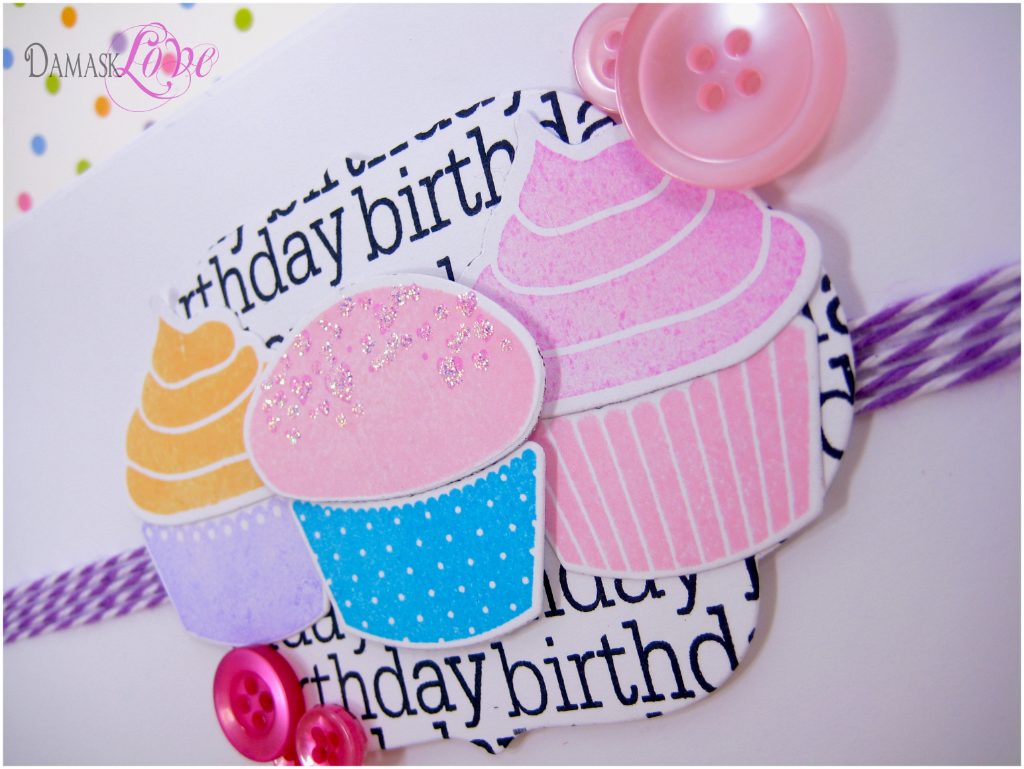 Here's the Birthday in a Box ensemble – ready to be sent!
Update: I got all of this to fit into a USPS Medium Sized Flat Rate Box!!!!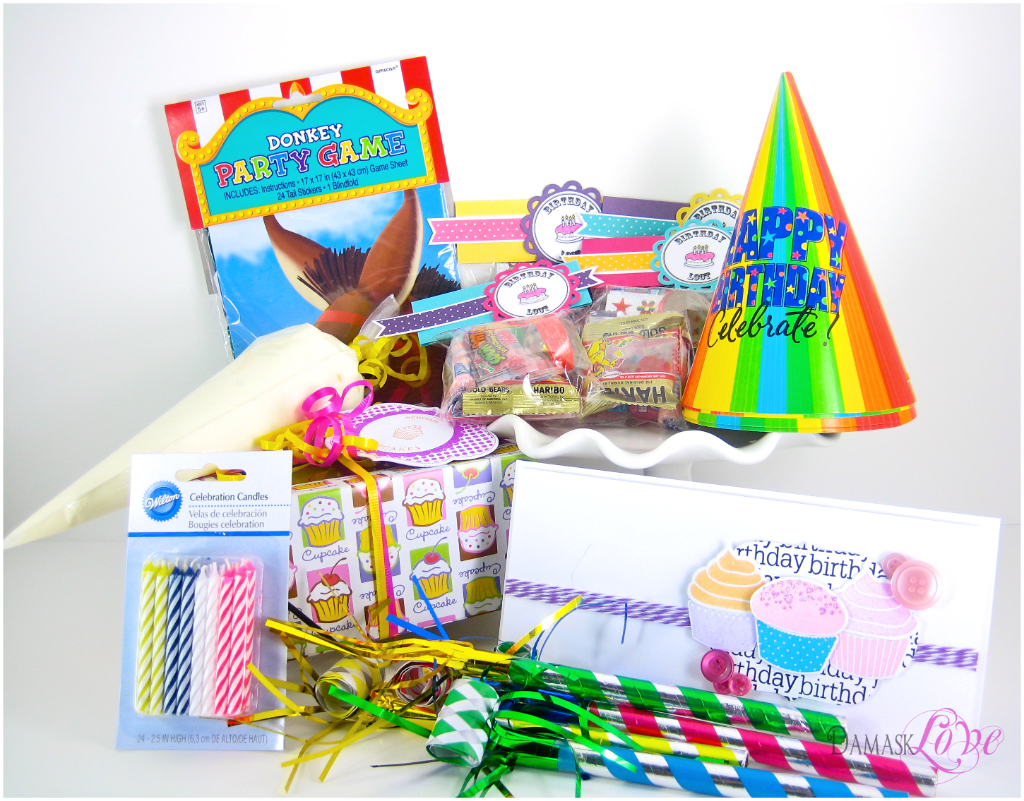 I just love this project!
It would be great for anyone, but especially kids/teens who are away at school or even Summer camp.
Please feel free to email me with any questions about this project.
Until next time, have a wonderful day and thanks for stopping by for some Damask Love!