I will never complain about busy. In my book, busy is blessed…and the next few weeks are going to be super busy! For the last few days, I have been happily occupied with my assignment as guest design for Avery Elle. This company is a relatively new kid on the block, but their stamps are seriously awesome. The quality is top notch and the designs are extremely versatile. On top of all that, their pricing is very reasonable, which I love.
Today, I'm working with the rest of the design team to create samples for the newly released set, Lots of Love. Even though Valentine's Day seems eons away, this set definitely got me thinking about it. I've created two simple cards that pack a fair amount of colorful punch! Here we go!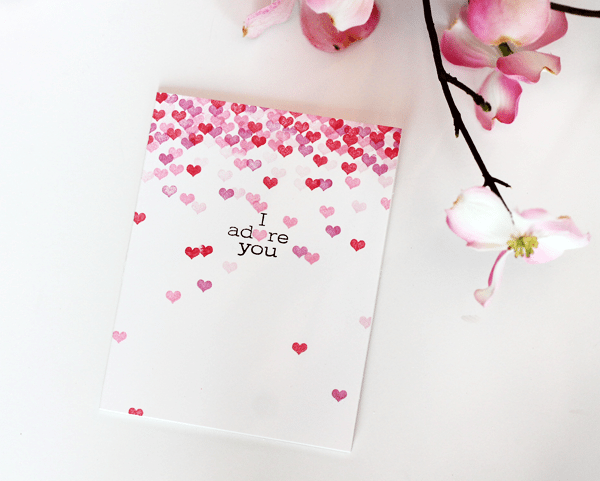 The design of cascading images is one of my favorites! For this card, I repeatedly stamped the small heart image in shades of pink. I strategically placed one heart in the center of the card, then stamped the sentiment around it. I may need to hang onto this card for a while, I really like it!
TIP: To achieve the look of falling images on your card, choose a small image and start by stamping a very dense bunch of images across the top of the card,  allowing some to hang off the edges. Then stamp just 3 or 4, sparsely across on the bottom. From there, fill in the middle. This will help create a cohesive flow on the whole card.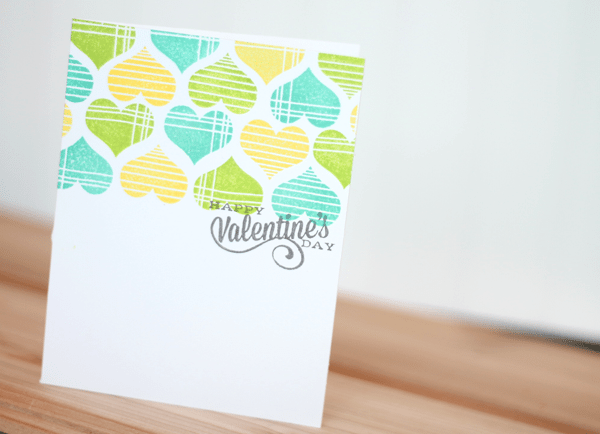 Valentine's Day definitely evokes thoughts of pink and red, but it's also fun to play with other combinations, right? Here, I created a simple pattern with blues & greens.
TIP: When stamping simple patterns like this one, I like to overlap the sentiment slighty rather than placing it directly in it's own white space. To me, this makes the design more cohesive and creates a nice focal area.
After weeks of long posts, this one seems super short! But alas, we've reached the end of this post! Be sure to visit the Avery Elle Blog for more inspiration with this stamp set.

Have you checked out the mother of all giveaways? You probably should. Trust me!
If you entered the Start Your Stash daily blog & Facebook giveaways, keep scrolling! The winners are up!
I'll be back tomorrow with my weekly Style Watch post along with another Avery Elle project. See you then!