I've never been a big fan of the whole "kill two birds…" saying, it seems so gross and gruesome…but I suppose you could say that's what I'm doing today, minus the blood and guts! This little card serves two purposes, with one post.
Today is my last day as a guest designer for Avery Elle. I combined two of the newly released sets: Lots of Love & All Occasions Tags to create this simple accordion card…again…two birds. See where I'm going with this?
I'm also participating in a really fun blog hop being hosted by Damask Love sponsor, Pretty Pink Posh! Twelve of us are getting together to launch this month's special 10 Minute Craft Dash! You are challenged to create a card that includes the color red…and you have 10 minutes to do it! Can you handle that? I think you can!
For my card, I used just a single bit of deep red for the front of this accordion card. I wanted to keep things somewhat masculine, and I think this did the trick. The rest of the color scheme is muted with black, white and grey…including the photos I included on the inside.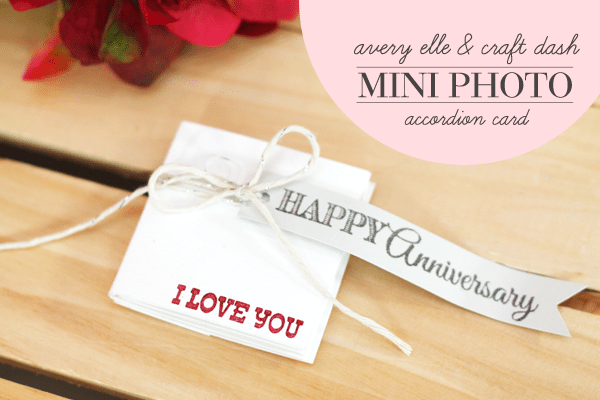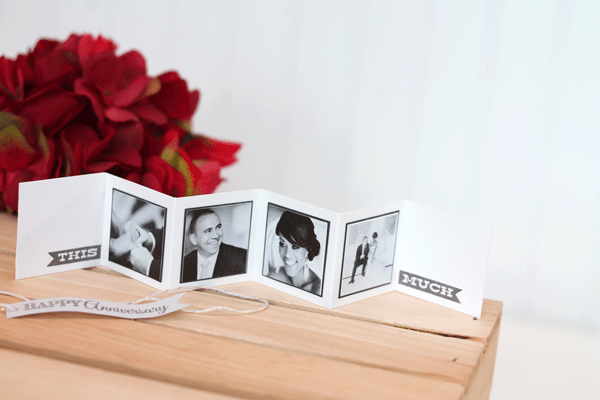 Now, even though it's not our anniversary yet, I thought this little card would be a perfect little gift for that occasion. And, if I were the type of wife who sneaks little treats into her husband's briefcase – I would totally do that with this card. Instead, I just gave it to him after dinner. He loved it. Everyone's happy.
I stamped the "This Much" sentiment in two pieces on opposite ends of the accordion – sort of reminds me of the open arm gesture you use when someone asks "How much do you love me?"
Now for my time…this card is seriously quick & easy! Printing the photos is the most timely part of the project!  8: 42 people! That's 1:18 for you to twiddle your thumbs and snack on jelly beans!

Time for more Craft Dash projects! Head over to Pretty. Pink. Posh to check out the rest of the "team" and what they've created!
See you tomorrow for the first installment of "Craftroom Crush" – I think you're gonna like my pick!