Have you ever taken so long to finish a project that by the end the only suitable purpose for it is a spot in the Smithsonian? Anything less would be unacceptable…a downright insult. That's how I feel about fussy cutting. Unless you are going to pay me one billion schekels for my time – I'm not doing it. Takes too long and my thumb is usually numb by the end. The Cricut Explore will save your sanity and your thumbs. Hallelujah. The CutSmart blade is super precise and swivels as it cuts, which means no more snaggle-tooth edges on even the most intricate designs. The people at Cricut even had the machine tested and compared to the Silhouette to see which machine performed better with a variety of materials and cut sizes. Guess who came out on top? The Cricut Explore, of course! Take a look at the results for yourself! As for me, just last week, I cut out a ton of Anna Griffin floral images that were incredibly detailed and they turned out beautifully. If I'd tackled that project with scissors, it would have taken me seven lifetimes and enough curse words to make a sailor blush. With the Cricut Explore, I was done with all the images in about 25 minutes – which is only half an episode of Scandal. Not even enough time for Olivia's bottom lip to start quivering.

It's not that my handwriting is particularly chicken-scratch-esque.. It just that anytime I try to handwrite a name tag – I go through at least three versions. First version is off-center. Second version in is slanted. Third version is still imperfect, but by that point I don't really give a damn and I leave it be. The Explore takes the pressure off. You can insert a pen into the machine and it will write for you – just like I did in THIS post. The writing feature is particularly useful for personalized tags and gifts – especially for those friends of yours with slightly off the wall names. You know the people I'm talking about: that girl Oprah…or your co-worker Beyonce. Have fun trying to find their names on any pre-made products.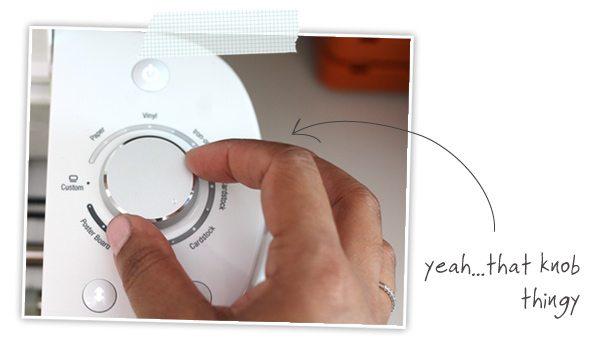 I'm all about the technical terms, people. That knob thingy makes all the difference in the world. I remember when I had my old Cricut and had to make all sorts of guestimations about pressure and speed. It was a royal pain in my tuchus, which is why I never used the machine. The knob thingy on the Explore makes it really easy to get the right speed and pressure for every material. If you are using a special material like thick chipboard or leather, you can place the knob on "Custom" and then choose from a drop down menu of materials and select the one you're using. You really can't screw it up. The knob thingy is the best.

When you're a blogger, it's sometimes hard to justify work as "work" since it often appears that you're just playin' around the the ol interweb. Thankfully, with all the time I spend staring at my beloved computer screen, I have plenty of opportunity to maximize my internet time by hanging out in the Cricut Design Space. Back in the day, when Cricut was all about cartridges, you had to refer to each cartridge to find the image you want and work directly with the machine to complete the project. No mas! Now, I can work in Design Space and create my project – then all I have to do is come back to my machine and hit "Go." I love being able to set up projects in Design Space and browse images no matter where I am – it's such a great way for me to be efficient with my time!

I know I am not the only one burning the midnight oil. We crafters are like the zombies, right? We drift around in the middle of the night making things until our fingers just won't work any more. While the rest of the house is asleep, we try to keep quiet but try as we might, sometimes our tools are a little too loud. Welp, you can cross the Explore off your list of noisy crafting machinery. This thing is amazingly quiet.

How many times has this happened to you: you think up a really cool project you want to make, but it requires a particular tool or a particular stamp set that you don't own. You have to place and order – and because you are impatient and can't wait to get started, you pay a little extra for expedited shipping. Please tell me I'm not the only one. I don't even want to think about how much I've forked over in FedEx shipping costs. Surely enough to purchase a few hundred servings of delicious fresh-cut french fries from the new burger joint down the street (oops, I think my pregnancy cravings took over for a sec there). With the Explore, you have access to so many images that there is no need to shell out a ton of dinero on overnight shipping. Need to make a treat bag? There are about a hundred different designs available. Need a vintage butterfly image for a birthday card. Yep – they've got that too. Envisioning a gold scrollwork frame to place around a photo – yeah, that's available too. With the Cricut image library, you have access to a ton of images that take only seconds upload and use. Sayonara, Fed Ex Overnight shipping, sayonara old friend.

Here lies Amber. She spent all her money on fonts.
Yeah – that's what my tombstone will read. I have a serious font problem and I have no intentions of doing anything about it…except downloading more fonts. Pretty sure that when Luther sang "Never Too Much" – he was singing about fonts.
Used to be that the Cricut machines would only allow you to cut out the cartridge fonts but those days is over my friends! Get pumped. Now you can use your Explore to cut any font that you own on your computer – which in my case is somewhere between too many and way too many. I've put this feature to use HERE and HERE. The Explore is such a font enabler! It gives you yet another way to make the most of your font library.

What is it about crafting that turns you into a completely crazy and indecisive person? Last year, I was in the market for wool felt. I found a shop that offered the stuff in every color imaginable. I sat there looking at all the shades, completely incapacitated and unable to decide between the Cherry and the Rouge. They were so similar – it was insane…yet there I sat, like a madwomen deciding her life's fate. In the end, what did I decide – just buy them all. Buy up one of every color and figure it out later. Yeah. Cause that makes sense.
Something tells me that you may have had your own moment of felt binging. Maybe it wasn't actually felt – maybe it was all that pretty colorful leather…or those beautiful metallic foil sheets that no one knows what the hell to do with. Whatever it was, you bought them all – and now what?
You'll be happy to know that the Explore will cut them. It will cut pretty much anything and everything. It will cut thick leather like THIS. It will cut thick chipboard like THIS. It'll cut wood, metal – and of course papers of all thicknesses. So maybe now, I can put a dent in all that felt I bought.

"Procraftination" – it's a real thing, friends. It's when you wait until the day before to make gifts – even though you've known for weeks…no months…that the projects needed to get finished. It's a sickness and I am, perhaps, the guiltiest procraftinator of them all. The Make It Now feature in Cricut Design Space has been a rehab of sorts for my procraftination disorder. Just browse the project, find something pretty and click "Make it Now." Done. No planning, no work, no selecting sizes colors or materials. It's been done for you…you just need to load in the cutting mat when the program tells you to. The Make It Now library is constantly being updated with seasonal as well as year round projects. Even if you're still on the fence about owning an Explore, you can take a peek at the Design Space page and see how it might work for you. It's a great way to get a feel for how you might use your machine.

Here's the thing. When it comes to new products, I'm a pretty big cynic. When the Cricut Explore was launched, I had my doubts about it… and as new features have been rolled out – like the Print Then Cut capability – I've expected to be disappointed. When I owned a Cricut Expression (the previous Cricut model) I never used it and ended up selling it on eBay. When I received my new Explore, it sat on the shelf for about a week before I made myself dive in.
All this to say: it is definitely not in my nature to hype up a $250 machine to you unless it is particularly awesome. That's a lot of money and for that amount of money, it had better be good. Damn good. Here's the good news: it is.
I use my Cricut Explore every. single. day. No joke. I come up with ideas and immediately go to my Explore because it is the quickest and easiest way for me to turn my brain child into something real. I don't have to dig through my collection of dies to find just the right shape. I don't have to dig through stamps hoping that I have just the right image. I have yet to dream up a project that I can't create with my Explore. Sounds like an infomercial, I know – but it's the truth. The machine allows me to multitask since I can press "Go" and let it do the work while I attend to something else. Design Space let's me draft up projects that I want to cut later. The Explore makes it easy to mass produce projects without doing any additional work. I've been nothing but happy with this machine. Even when I've encountered the occasional snag (i.e. program won't update or machine isn't being recognized) the Cricut customer service has been right there to help. I once had a customer service rep call me on a Sunday afternoon to troubleshoot a problem. That sort of service goes a long way in my book. I've got a hunch that you'd agree.
So, if you're thinking of what to add to your wishlist this holiday season – go ahead and put the Cricut Explore on there. When it comes to products I love, I turn into a pusher. A craft pusher on a mission to get everyone else on board. So just consider me your neighborhood Cricut pusher. And as your pusher, I'm gonna give you your first hit for free…well sort of…
And if you just can't wait to grab your Explore (and I can't say I blame you) – I'd recommend purchasing from HERE. Typically, I go to Amazon for these types of purchases but the prices are much better on the Cricut site. The Ultimate Starter Bundle is a great value for all the tools your receive and the bundle includes everything you need in order to take advantage of all the Explore's capabilities. This way you can get right to it when you open up the box! OH! And did I mention how easy this this is to set up? Just open the box, plug it in, follow the three step instructions that are adhered directly to the machine and you're done. So easy. And I love easy.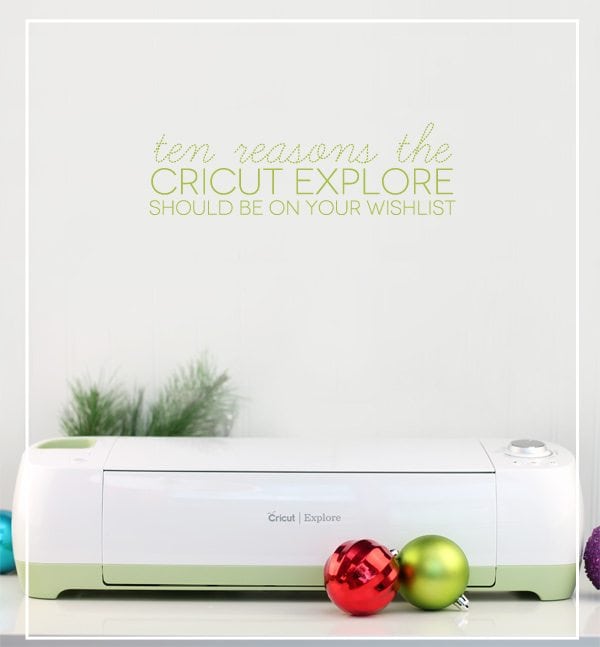 This giveaway will run until November 28th giving you plenty of time to enter and invite friends to enter as well. You have three opportunities to enter this Rafflecopter which can increase your chances.
Contest will close on November 28th, 2014, 11:59pm
Winner will be announced on November 29th, 11:59pm
Contest is open to North America entrants