Well, you know from yesterday's post that I am a lover of banners. So pretty and elegant! I also love a nice one-layer card.
Today I am combining these two loves with a technique that I came up with while sitting at my desk. It's amazing how creative you can be while reading journal articles and proofreading manuscripts!
First up – take a look at the cards I created with this technique:
Here is a photo tutorial of each step…
Simple right?!
With the basic technique in mind, you can play around with the shape of your banner. Since clear stamps are easy to bend and manipulate, it's super simple to create a curved or S-shaped banner.
For an upward curve in your banner, stamp the center portion of the banner below the ends…
For a downward curve, stamp the center portion above the ends.
And now that you've seen the how-to, here's one more look at the cards I created.
For this bright and cherry card, I reached for Clear and Simple Stamps Flower Buds set and added a  little bee for some additional cuteness.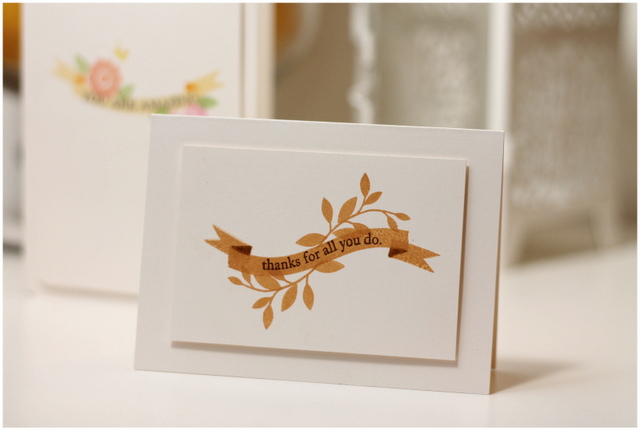 My next design was a bit more elegant, focusing on the beauty of monochromatic brown tones. This would be a great card for a guy!
Hope this technique inspires you to create some one layer banners of your own!
Supplies:


You are Amazing:
Stamps: Clear and Simple Stamps (Flower Buds, Favor Flags, Favor Flags Fillers)
Ink: Impress Fresh Ink (Chamomile, Pink Lemonade, Basil, Mango)
Cardstock: Clear and Simple Stamps (Catwalk Cream)




Thanks for all you do:
Stamps: Clear and Simple Stamps (Favor Flags Fillers); PTI (Turning a New Leaf)
Ink: Impress Fresh Ink (Harvest, Chocolate)
Cardstock: Clear and Simple Stamps (Catwalk Cream)