Sometimes, when I make a card that I don't like – I have a miniature panic attack..it's pretty unreasonable really, but it happens nonetheless. I think to myself…"Welp, that's it – I'm out of ideas. I'm closing up shop. I've lost any talent I ever had for cardmaking."
This is exactly what happened this weekend when I sat down to play with my stamps.
I reached for Papertrey Ink's Delightful Doilies set and the coordinating dies,  both of which I haven't used in months. Then, things started to get a little iffy.
I was bound and determined to use those doilies to create a folk-artsy card. My first attempt was …well…uh…not so cute. Funny thing is – I thought it was down right fabulous until I photographed it, walked away, then came back to edit the pictures. Then I saw it for what it really was – a hot mess that was unappealing to me and NOT what I wanted.
Against all better judgement, I'm gonna show you version one of my Delightful Doilies card, because I've gotta be an honest blogger and ugly cards are just part of the territory when you a crafty person.
All those layers were just too much for me and the surrounding florals are too spaced apart to create a cohesive design. All in all – I'm not a fan
This is when the panic set in. I took a break and came back, with a new plan in mind: Keep it simple. Forget the layers and die cuts…and for heaven's sake get rid of that button.
Here's the second version: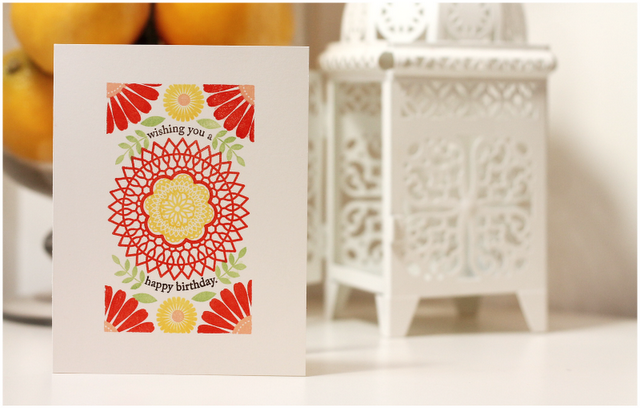 This card gave me a huge sense of relief!! I was finally able to get my idea onto paper. I love the way this turned out and I love the combination of florals with the doilies.
For this one layer design, I masked off the edge of the cardbase with painter's tape, then stamped away.
Have you ever had a time when you thought you'd "lost" your cardmaking talent?
Thanks for stopping by today! Have a great one.
Stamps: PTI (Rosie Posie, Sending You, Delightful Doilies)
Ink: Versafine (Habanero), Impress Fresh Ink (Basil, Mango, Ginger)
Cardstock: PTI (Vintage Cream)