Brace yourself.
Welcome to a rather long blog post only rivaled by and even longer tutorial video, which I've also including for your viewing pleasure – I'm apologizing in advance!
Today's project is an involved one with several steps. I was inspired by all the mini albums that were included in the recent Papertrey Ink Stamp-a-Faire. Mini-albums and mini-scrapbooks have never been my thing…which is why I have a huge pile of untouched scrapbookable items sitting in a box in my craft room closet!
I love the look of mini-albums though, so I decided to design something with a similar look…but a different function!
This month's photo gave me all the color inspiration I needed to create a summery notecard book along with coordinating gift packaging.
Before I get into the details of how I created these projects, how about some photos of the finished product…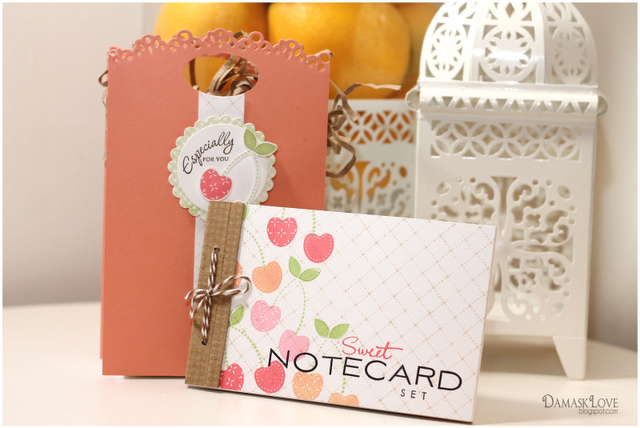 I combined all sorts of stamp sets for this cute ensemble and even used a little McGuyvering to create the gift packaging.
The notecards inside the book are perforated, making it easy to tear each one out and write a quick note.  For more information on my sewing machine perforation technique, take a look at
THIS
post.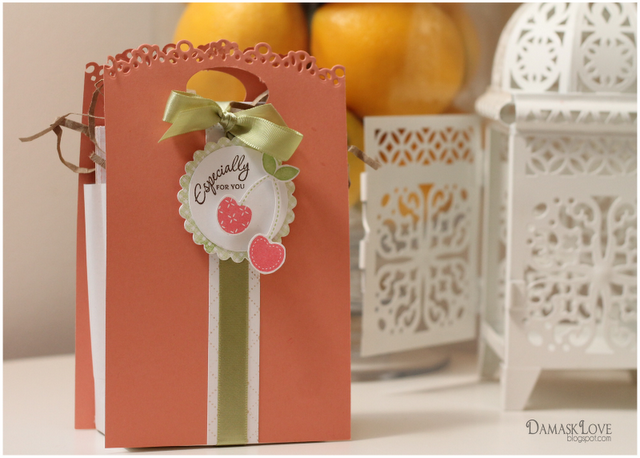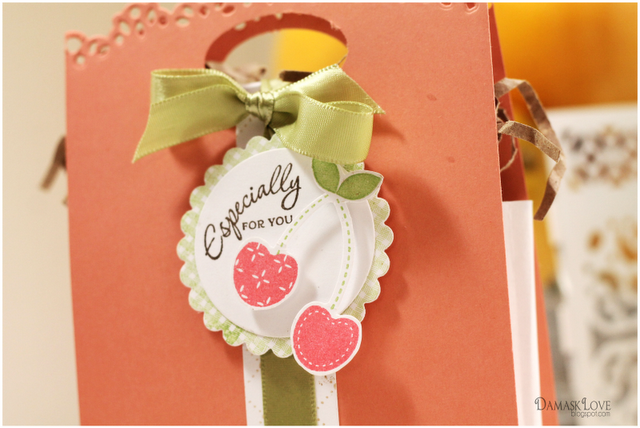 Instead of taking photos of each step, I decided to record a video of the process – but it's a long one…30ish minutes, actually. So, if you're interested and up for a little crafting television time, watch and learn how this came together.
First, though – here is a list of the supplies you'll need for this particular project, just in case you want to create as you watch. Of course, you can always just use this project as inspiration and get creative with whatever supplies you already have on hand.
Stamps (all PTI):
Background Basics: Gingham
Background Basics: Tin Types
Gracious Vases
Fruit Fusion: Cherries Mini Stamp Set
Fruit Fusion: Berries Mini Stamp Set
Fruit Fusion: Grapes Mini Stamp Set
Fruit Fusion: Melon Mini Stamp Set
Cardstock & Paper:
Notecard Book:
(12) 5 1/2″ x 3 1/2″ pieces of Stamper's Select Cardstock
(1) 3 1/2″ x 10 3/4″ piece of Stamper's Select Cardstock
(1) 3 1/2″ x 1 3/4″ piece of chipboard
Gift Bag:
(2) 4 1/4″ x 7″ pieces of Melon Berry Cardstock
(1) 1″ strip of Stamper's Select Cardstock
Scraps of white cardstock for die cutting the bag label
Ink:
Papertrey Ink Classic Kraft Dye Ink
Impress Fresh Ink in Ginger, Strawberry, Basil, Sugar, Fuchsia, Chamomile, Chocolate & French Lavender, Black (if you don't have Impress Fresh Ink, you'll simply need ink in the following shades: green, red, coral/light orange, hot pink, pale yellow, purple/lavender, brown, black)
Dies:
Papertrey Ink Edgers #2 "B" Die
Papertrey Ink Limitless Layers 1 3/4″ – scalloped edge circle and plain circle
Punch:
Large Oval Punch (I used one from Marvy)
Ribbon & Twine:
Spring Moss Satin Ribbon
Twinery baker's twine in Cappucino threaded through a large needle (any brown baker's twine would work – or choose another color!)
Other: 
(1) Small White Paper Bag
Scor-Tape or other adhesive
Crop-a-Dile or other hole punch
Scoreboard (I use Martha Stewart's Scoreboard but any will work)
And before I go – more photos of this fun & fruity gift set!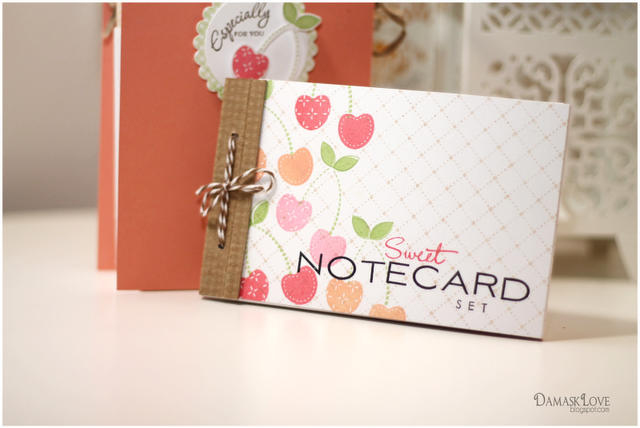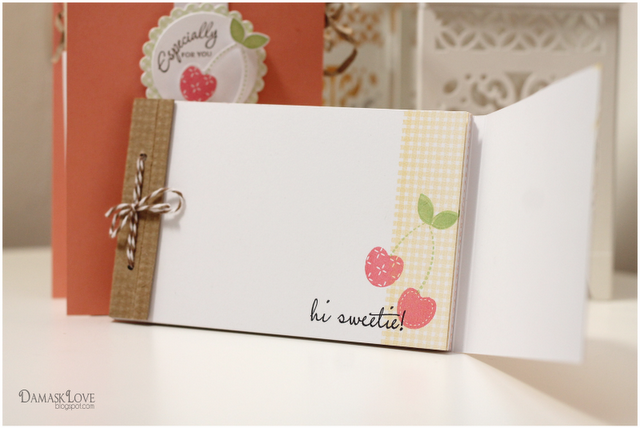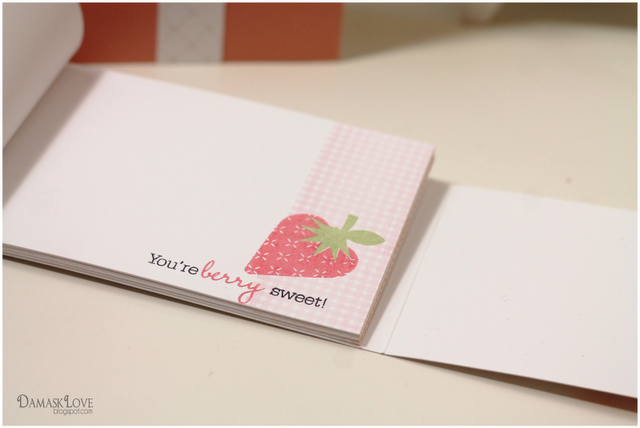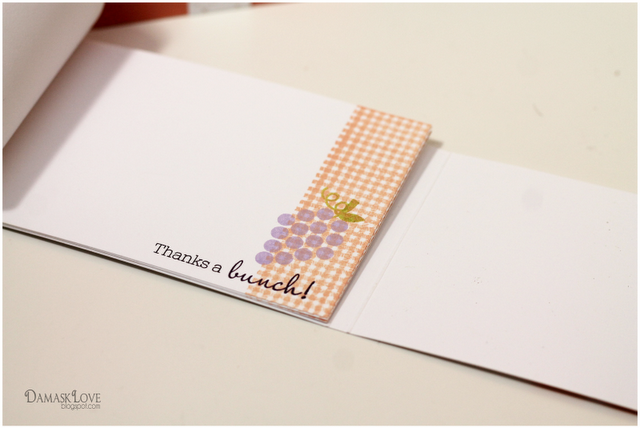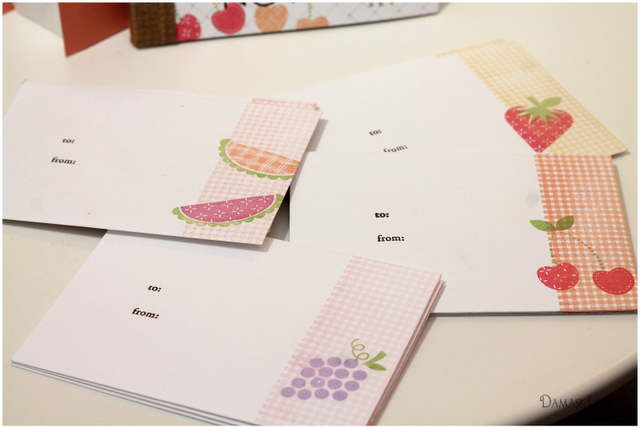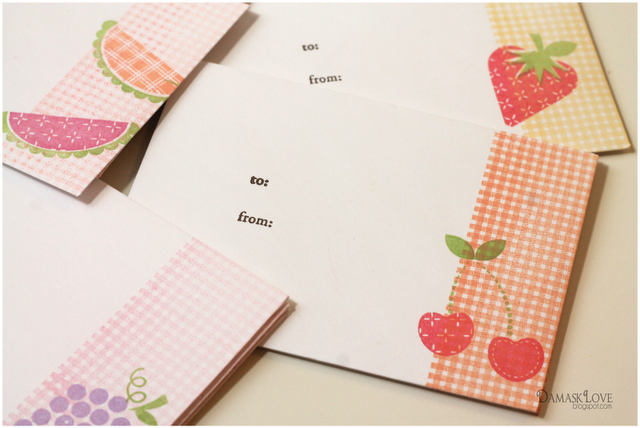 Thanks for stopping by and for those who braved that video – Congratulations & Thank You! You get a million love bucks to spend in whatever way you choose:-)
See you later gators.