I'm really pushing it by posting another Christmas project today! But – I'm gonna do it anyway.  Matter of fact, I'm gonna do it twice, since I have two holiday projects for you!
First up is a tag that I made for the Papertrey Ink Make It Monday Challenge #46. The challenge is to create folded tags with any die.
It just so happened that I needed to create a tag for a last minute gift – so this challenge provided the perfect opportunity to create a unique gift tag.
After I wrapped the gift, using my very, very, very best Martha Stewart gift wrapping skills, I designed a fun tag using coordinating colors.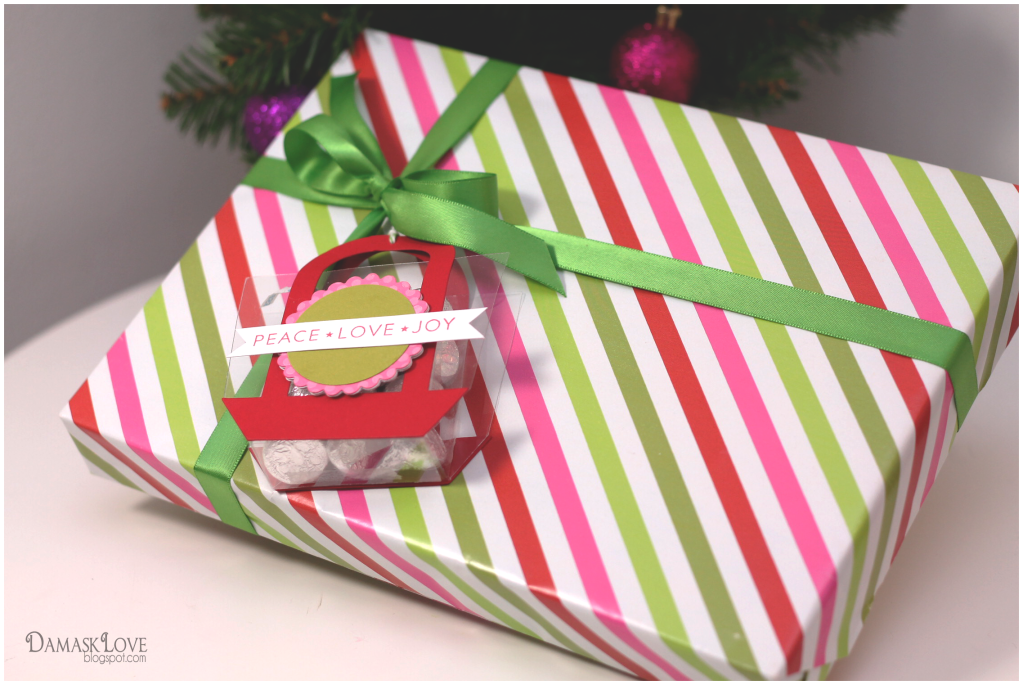 The tag actually has a few parts!
First I created a little treat holder using the Favor It Box 4 die. I die cut the main portion of the favor bag with Clearly Cardstock then attached red handles. I filled it up with chocolates to add a sweet surprise to the gift wrapping.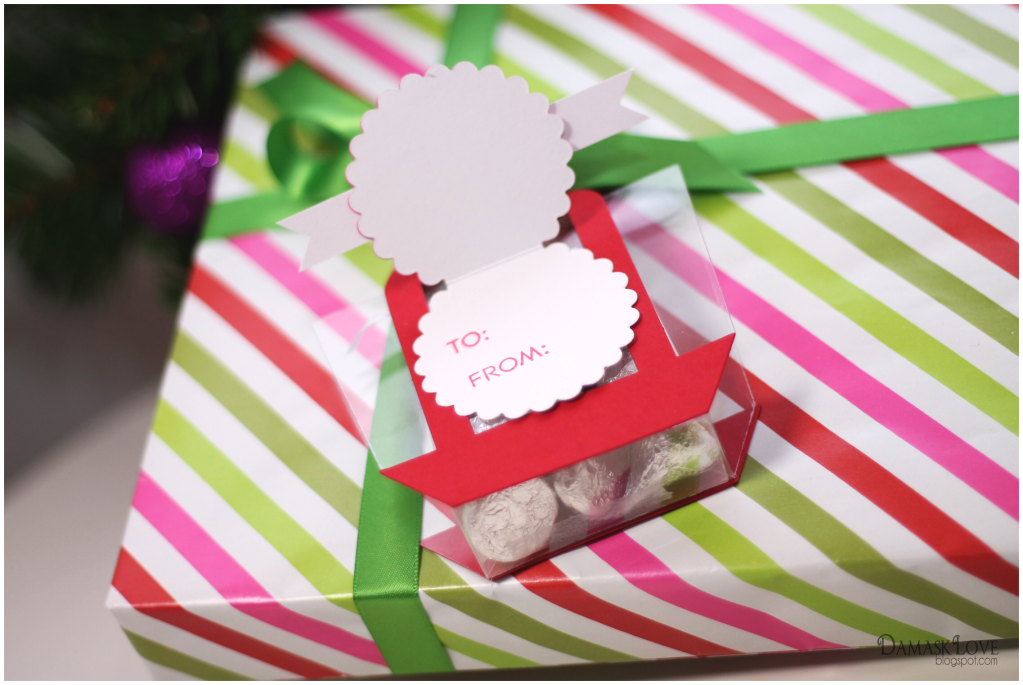 The circle on top of the bag is not only fun and decorative, but opens to offer space for writing the names of the recipient and giver.
I gave this package to my Secret Santa at work and she absolutely loved it! It's always nice when you can make someone smile with a homemade treat.
Now for my second project…
While I played around with my PTI dies for this challenge, I came up with an idea that makes me PRETTY. DARN. EXCITED.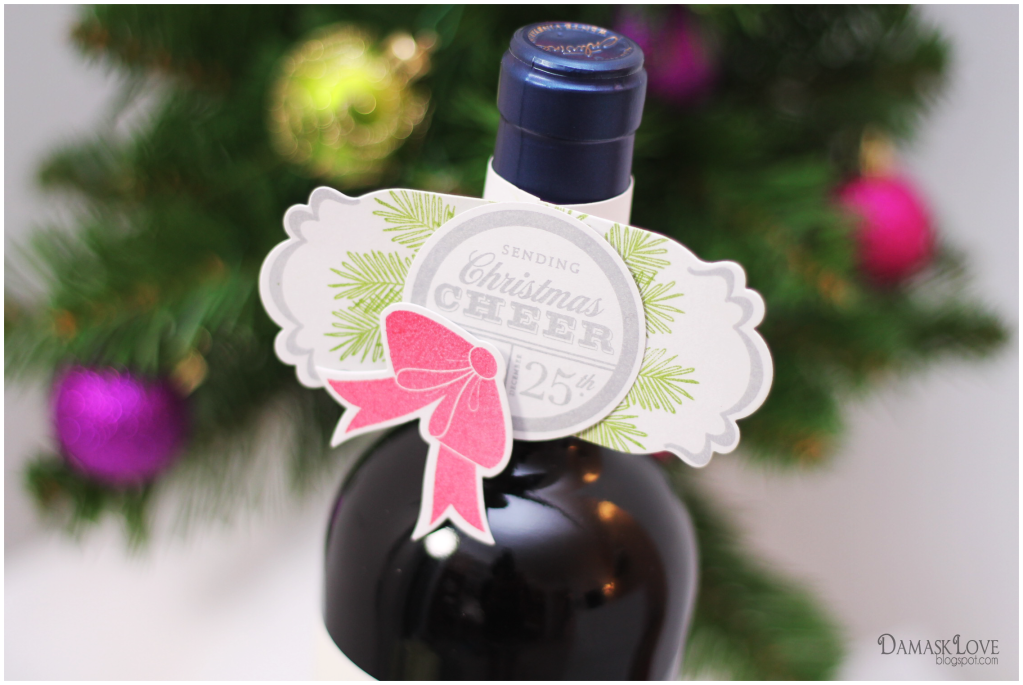 I fiddled around with my PTI Half & Half dies and created this super fun and festive wine bottle tag!
Here's how it came together (it's super easy!)
Use the die to cut both ends of a strip of paper. The finished length of the die cut should be approximately 8.5″
Wrap the die cut around the neck of the wine bottle and cut slits where the paper meets in the front. The slits should go in opposite directions and be a little longer than half the width of the die cut…make sense? I hope so – if not – just email me!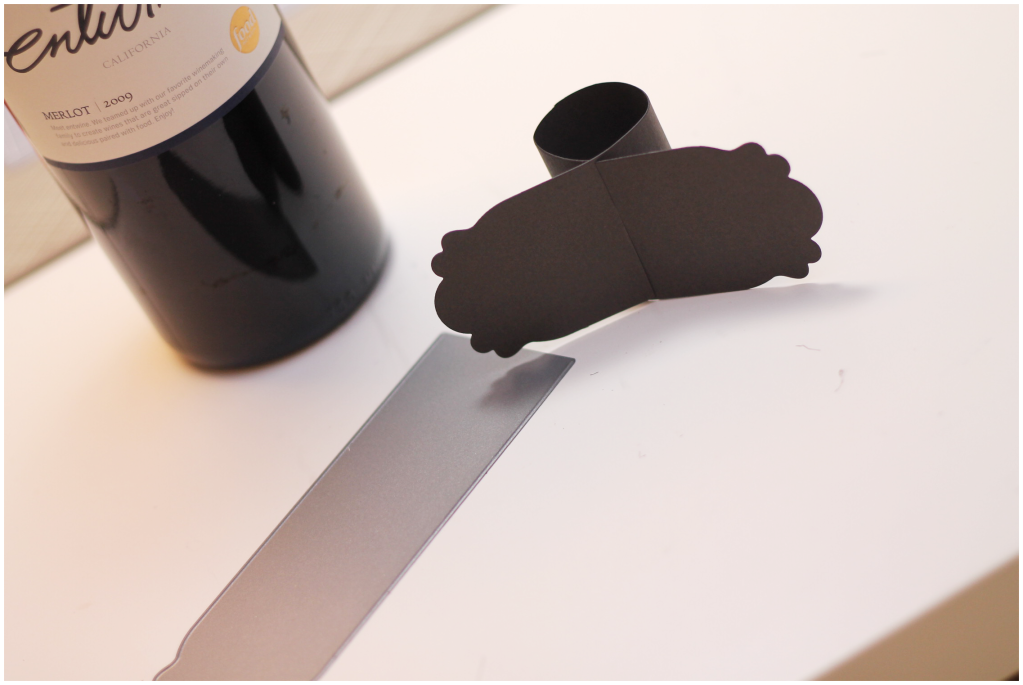 Last step is to loop the die around and secure the slits together. Then decorate and slip over the bottle neck!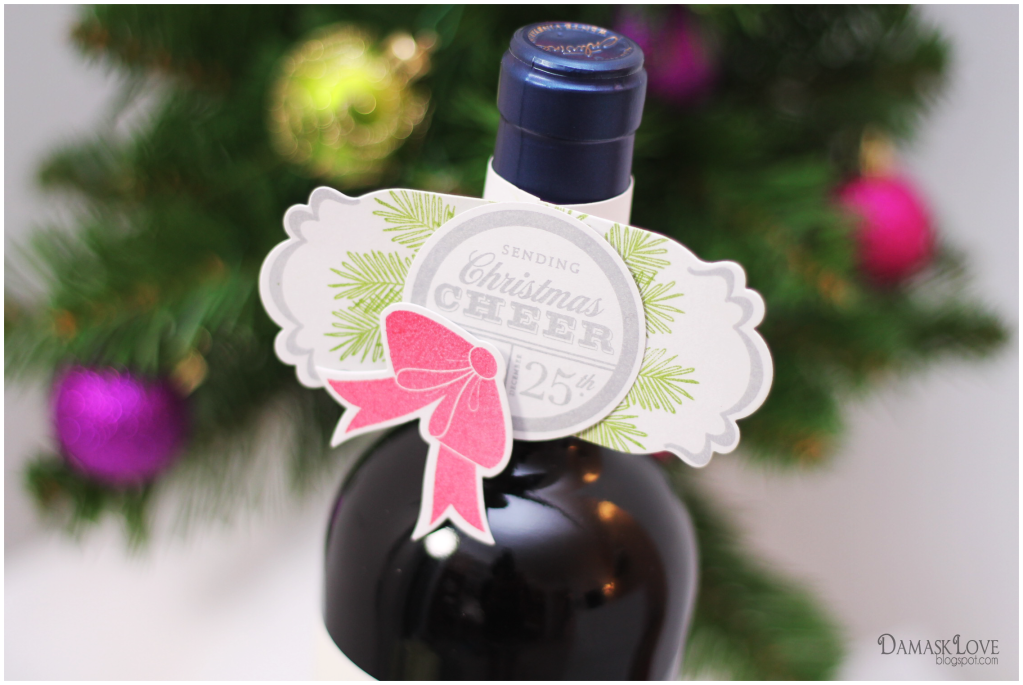 For my bottleneck tag, I stamped the edges with the Half & Half stamp set, then stamped holly leaves using Bells & Boughs. For the focal image/sentiment, I used Holiday Photo Finishers and hid the word "photo" with a dangling bow.
This technique could totally be used year-round for a hostess gift or for a New Year's Eve party! Just change up the stamps!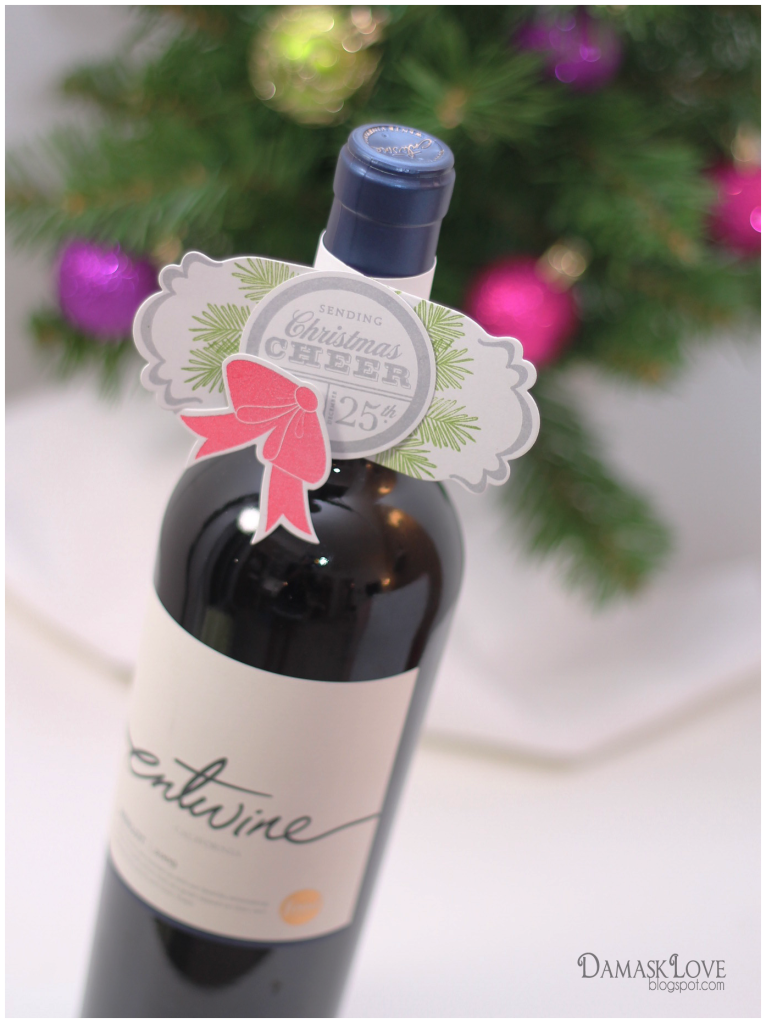 And with that, I'm all done with holiday themed projects! (I think…)
Thanks for stopping by!!
Supplies:


Favor Bag Tag:
Stamps: PTI (Polka Dot Basics {for pink portion of tag}, Stylish Sentiments, Bells & Boughs {for the to and from sentiments inside the tag}
Ink: PTI (Fresh Snow), Impress Ink (Red Currant)
Cardstock: PTI (Clearly Cardstock, Simply Chartreuse, Hibiscus Burst, white, Pure Poppy)
Other: PTI (Simply Chartreuse satin ribbon, Limitless Layers 1.75″ die collection, Favor It 4 Die) green baker's twine, Target (striped wrapping paper)


Wine Bottle Neck Tag:
Stamps: PTI (Holiday Photo Finishers, Bells and Boughs, Half and Half)
Ink: Impress Ink (Provencial Grey, Basil, Red Currant)
Cardstock: PTI (Soft Stone)
Other: PTI (Half & Half die)