Brevity has never been my thing…and today's post is a testament to that! As promised, today I've got all the details for making your own
card set envelope
with just a scoring board (I used Martha Stewart's) and some scissors!
I've also got another card set that I came up with a while ago!  So keep scrolling for lots a photos and hopefully a little inspiration, too!
First up is the card set – it's something a little different than your typical set of cards. These are one-sided perforated note cards than can be torn off one at a time as you send them off to friends!
I got the idea for these while at a souvenir shop that sold strips of perforated post cards!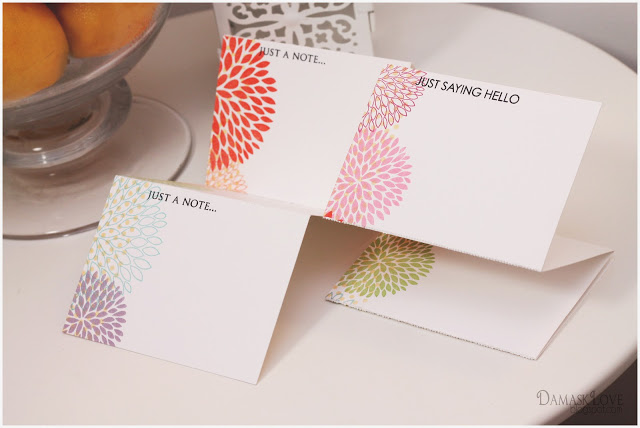 To make these cards, you'll likely need to add one thing to your crafting arsenal – large cardstock. To make a long strip of these, you'll need cardstock that is a bit longer than your typical 8 1/2 x 11 sheet.
I used an 11×17 sheet of 130lb cardstock that I purchased from
Paper Presentation
, which is one of my favorite places to purchase paper and envelopes. They have a huge selection of colors, sizes and even carry 110lb and 130lb weights!
Now for the step-by-step on making these: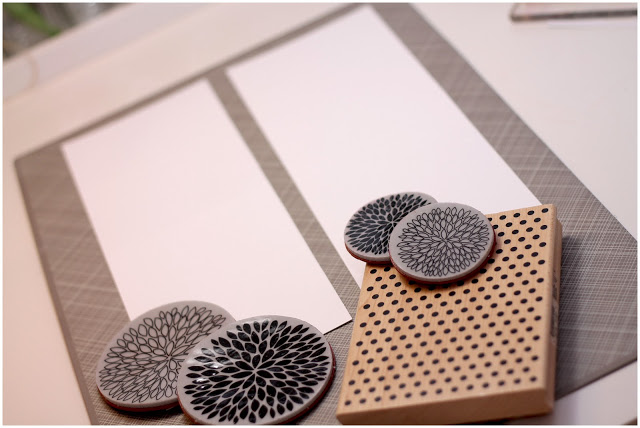 I started with two lengths of cardstock trimmed to 4 5/8″ x 14″ and scored at 3.5″, 7″ and 10.5″. This creates 4 A1-sized cards per strip.
I selected a few stamps to create the pattern along the edge. I wanted something bold and colorful!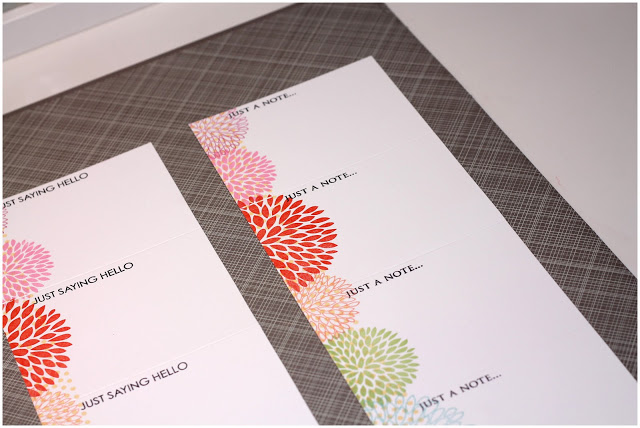 I layered the floral bursts over a yellow polka dot background, then stamped a simple sentiment on the top of each card.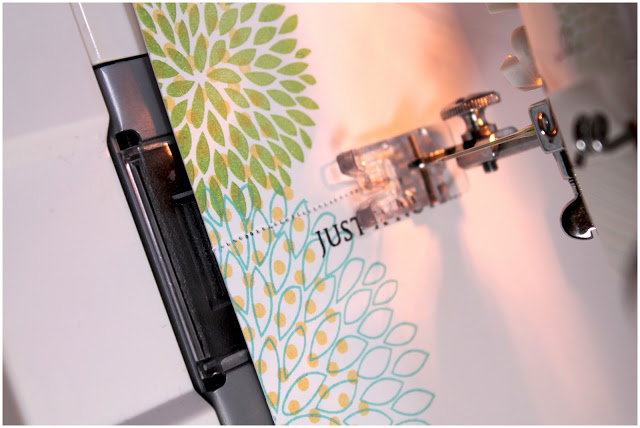 Now for the perfortating!  Using my sewing machine, I removed all thread from the bobbin and the needle and stitched along each scoring line. I set the machine to a smaller stitch to make sure the cards could easily be torn apart.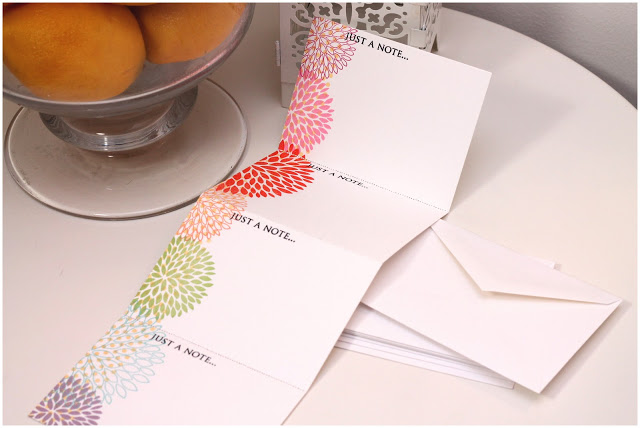 And in the spirit of today's gift envelope tutorial – I create a A1-sized card set envelope (instructions below):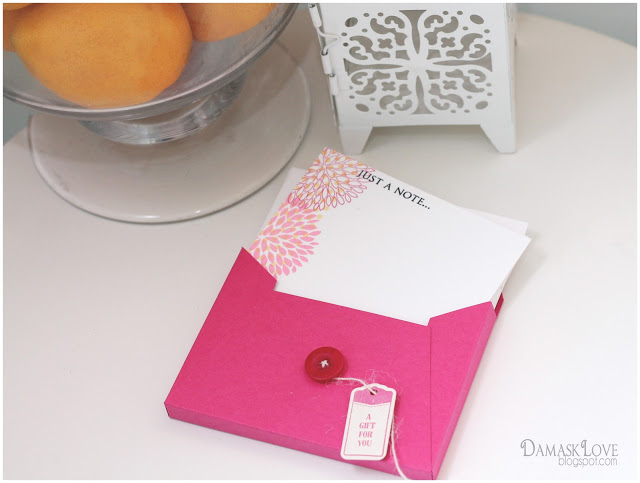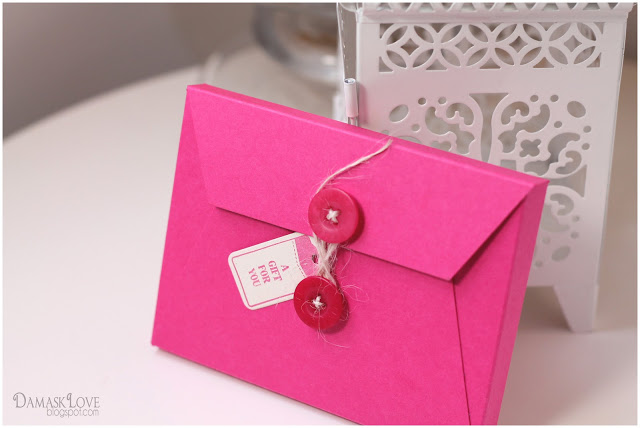 Now for the tutorial.
I went back and forth about the best way to do this, and decided that instructions were better than a printable template. Just grab your scoring tool and  a pair of scissors and you can create one of these in minutes!
This is the basic template for cutting and scoring a gift set envie…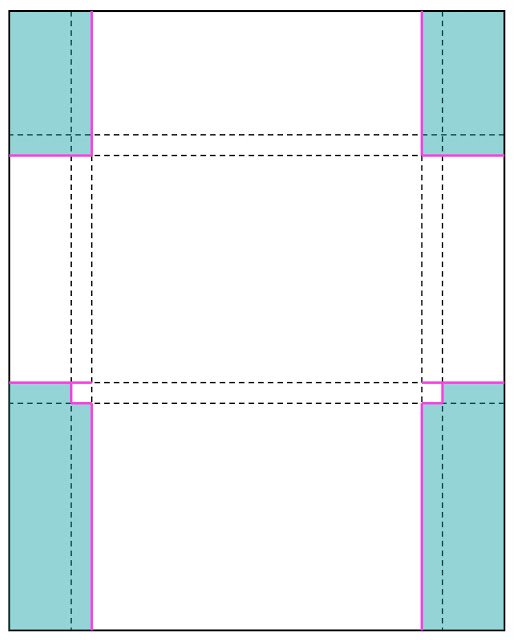 Instructions for A2 – size card set:
Start with 8 1/2 x 11 sheet of cardstock.
Along the 8 1/2″ edge, score at  .75″ , 1.25″, 7.25″ and 7.75″
Along the 11″ edge score at 2″ , 2.5″ 7″ and 7.5″
Cut along

pink

edges.

Turquoise

shaded areas represent pieces of cardstock that you will cut off completely.
Assemble as shown below…
**Updated: I corrected the measurements for this template! I am so sorry about the incorrect measurement! Everything should be correct now and I hope you'll forgive my slip up!**
Adhere the small notches to the inside of the envelope. 
Then adhere the larger bottom flap to the side flaps.
Instructions for A1 – size card set:
Start with 8 1/4″ x 9 1/4″ sheet of cardstock.
Along the 8 1/4″ edge, score at  1″ , 1.5″, 6.75″ and 7.25″
Along the 9 1/4″" edge score at 1.5″ , 2″ , 6″ and 6.5″
Cut along

pink

edges.

Turquoise

shaded areas represent pieces of cardstock that you will cut off completely.
Assemble.
TIPS:
To create the twine closure for the envelope, punch two .75″ circles from cardstock and attach using a grommet.
You can also use buttons for the twine closure. When sewing the buttons into place, place an extra piece of cardstock or felt on the back of the cardstock to help stabilze the button and the stitching.
OK! That is it for today! I hope you've enjoyed some or all of this post! If you have any questions – leave a comment or send me an email and I'll make sure you answer you!
Thanks for stopping by!
Supplies for perforated card set:
Stamps: Hero Arts (Large Solid Flower, Large Open Flower, Small Solid Flower, Small Open Flower,  Woodblock Polka Dot Background, Everyday Messages)
Ink: Impress Ink (Chamomile, Fuchsia, Pink Lemonade, Peach,  Mojito, Island, Silver Lilac) Versafine (Habanero)
Cardstock: Paper Presentation (white 130lb 11×17 cardstock)