I cannot begin to tell you how excited I am about today's post! You see – Paper Crafts Magazine recently came out with their newest book: Party Ensembles and I am so excited about it. I haven't managed to snag a copy just yet, but I've seen a few of the projects and I am in love!
I absolutely love to combine papercrafting and party planning – if I could make a career of it I totally would! For now, though, I'm going to share a little papercrafted party ensemble that created for the current Paper Crafts Magazine Party Ensemble Challenge!
Since I haven't seen the book yet, I can't be sure that it doesn't contain an ensemble similar to the one I'm going to share today. Even if it does – I'm super excited to show you what I created!
So with the sentiment as inspiration, I started creating this….
For this fun party ensemble I let myself go "Pop" crazy! From popcorn to soda pop to cake pops to the cutest little invitation you've ever seen – this party stays in theme from beginning to end! Here's a closer look at each of the elements:
Any good party has got to start off with a cute invitation, right?  For this invitation, I created a belly band to fit perfectly around a mini bag of popcorn! Then, for a bit more punniness, I created an image with kernels popping from the baby carriage!
On the back, I used Party Elements: Baby to leave space for all the party details.
Now for the food. I don't know about you, but I am all about the food at a party! I was so excited to find that the Mini Popcorn Template that I designed last year was the perfect fit for a standard size cupcake!! And these aren't just any cupcakes – these are popcorn cupcakes! I sprinkled mini marshmallows atop the frosted cupcake to create an adorable "bucket o' popcorn."
My party ensemble would be incomplete without a popcorn buffet, so I filled three vases with a variety of popcorn, and added tags with I created with the main image from Bucket o' Popcorn along with the label die from Mini Trifold 1.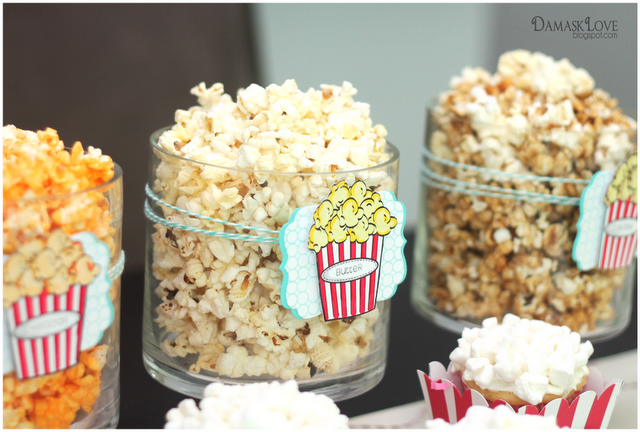 Here's a few individual shots of the popcorn buffet. I had such a great time coloring each label to coordinate with the type of popcorn in the vase.
Being a Californian, I've never been one to refer to any beverage as "Pop" – but I am well aware of the strong contingency of North Americans who do just that! So, as a little shout out to all you "pop" lovin' Americans I dressed up a few "pop" bottles for this party!
The Clear and Simple Stamps Alpha Bold stamp set was the perfect font for creating these labels!
And of course, I needed straws with cute little flags…
And last but not least, how about some cake "pops" – such a fun addition to the theme! Using the same layout as on the bottles, I created a label for these pops and nestled them into the rectangular portion of the Clear and Simple Stamps Party Favor 4 die cut combo.
I hope you've had fun taking a tour of this ensemble. I had a blast making it!
Thanks for "popping" by!
Feel free to email me for details on this project!