Necessity is the mother of invention.
And, wedding planning is the mother of necessity.
With only a month or so until our wedding, I've had to dial back my crafting spending to, well, zero…and it's killing me! It seems that with this spending restriction, my wishlist has grown ten-fold with no hopes of being filled – that's where the "invention" part comes in!
You see, today is the day that Papertrey Ink releases new product and there are oh so many things I'd like to purchase – and at the top of my wishlist is their new set of Card Base-ics dies. (If you haven't seen them, just take a trip to Nichole Heady's blog where she's posted all the new product).
Anywho, as soon as I saw these dies during their release, I knew I needed them! Of course, I am using the term "need" very loosely here, since I need more crafting supplies about as much as I need another pair of shoes or a hole in my head! Whether I need them or not though, it's not gonna happen, so I got inventive and created my own Card Base-ics – which worked out swimmingly if I do say so myself!
Using the partial-die cutting technique that I shared in THIS post a couple of days ago, it was quite easy to recreate the look of this die – and quite frankly, I think that the DIY version is far more versatile…but you can be the judge.
First I'll share with you my strategy for creating this die:
The main technique is the same as in the other partial die cutting project I did. You'll want to let your die hang off the edge of the cutting plate with only the part you want cut resting between the plates of your manual die cutting machine.
For this card though, you'll need to be sure that the die cuts are evenly spaced so that a smaller card can fit between. For my purposes, I knew I wanted to have a little gift card nestled in the flaps.
 
First, I created a mini card that was perfectly sized for a gift card. The dimensions of the mini card are 3.5″ x 2.5″.  Then, with the mini card done, I took my card base and drew lines on either side to show where I'd like the die cuts to go.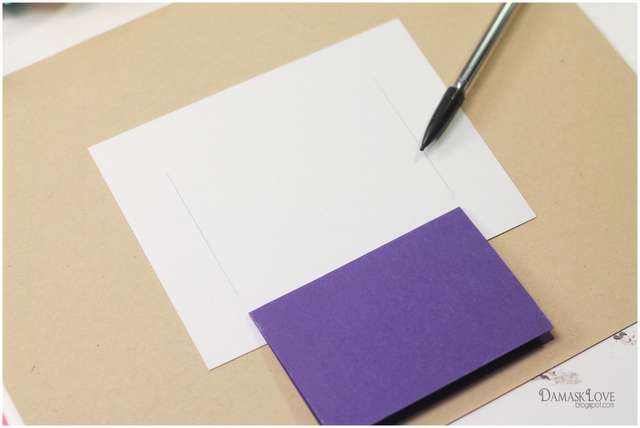 These lines served as my guide for where the cut should stop. So, when I placed the card base in the die cutting machine, with the die on top, everything below the line hung off the edge of the plate and therefore did not get cut.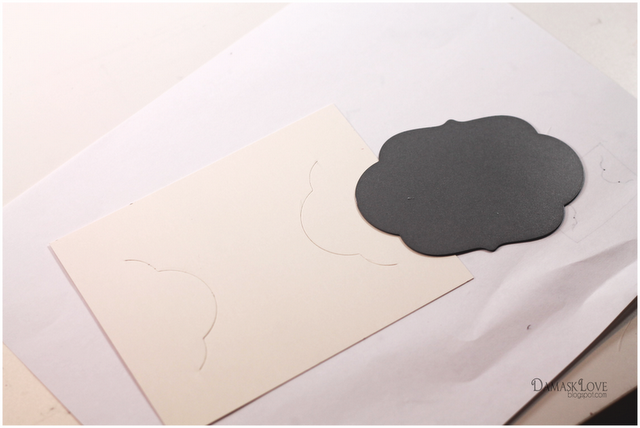 The finished product contains two die cuts within the cardstock that are perfectly spaced for placing a card in between!
I hope this instructions make sense – but if not, perhaps it will help to see the projects I created with this technique!
First up is a bottle tag project I made using the Papertrey Ink Half & Half dies for creating the flaps.
It's always appropriate to bring a gift when you're invited to dinner with this design, you can include a little gift card for the hostess, too!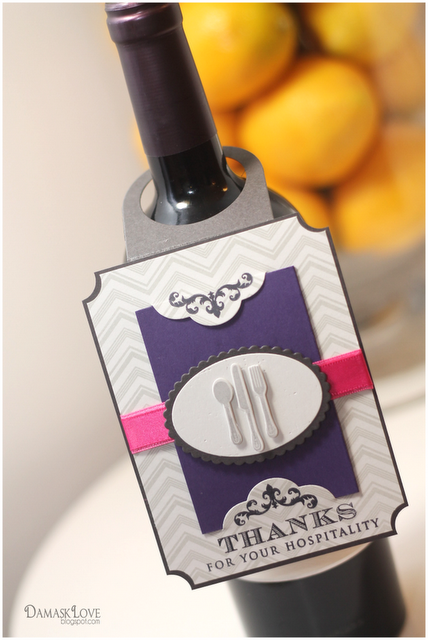 After designing the card, I used Papertrey Ink's Sending You die to make it into a bottle holder. I simply cut the Sending You die then punched a circle so that it would fit around the neck of a wine bottle!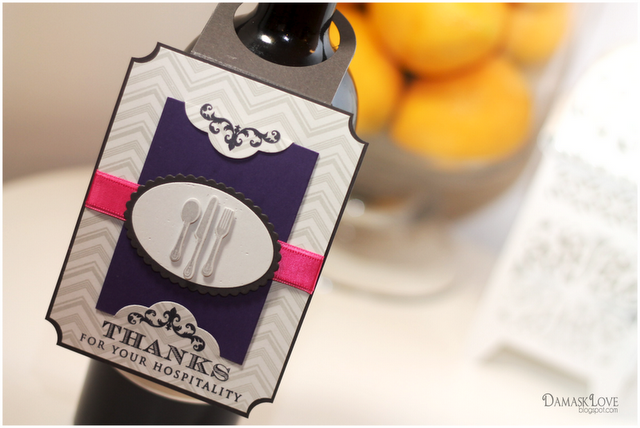 For my second DIY Card Base-ics project, I used Papertrey's Mat Stack 5 Die.
The cool thing about this DIY project, is that you can use whatever dies you'd like for creating the flaps. This means that you can also use the coordinating stamp sets to decorate you card.
In this case, I used Mat Stack 5 for the flaps, then used the Mat Stack 5 Stamp Collection to stamp the card. The fit is perfect and the possibilities are endless when creating your own Card Base-ics.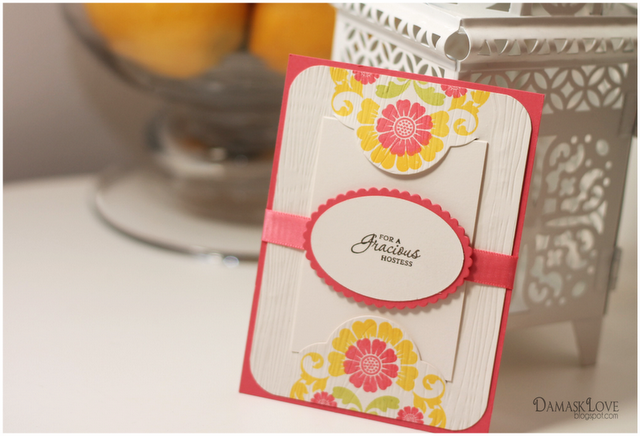 I went with a bright color scheme here and kept things simple. As you can see, the images from the Mat Stack 5 Collection offer the perfect solution for stamping this card.
To complete this card, I stamped an envelope liner to coordinate – I love the results!!!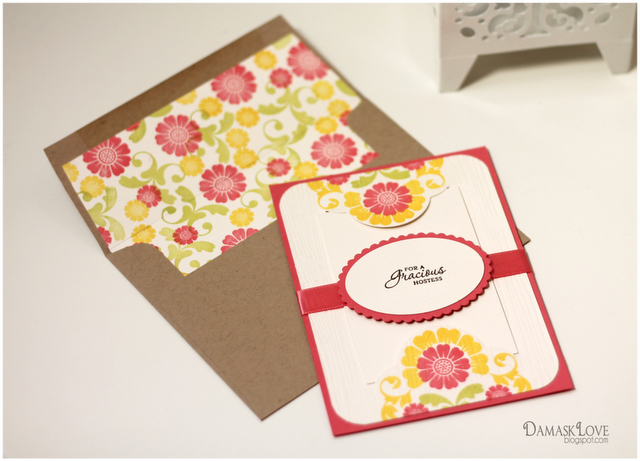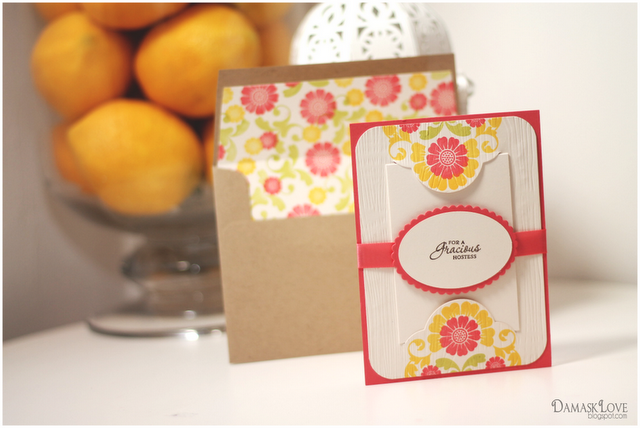 I'm so happy I was able to replicate the look of Card Base-ics with my supplies and I'm excited about the options this technique provides!
So – for any of you other folks out there who may be experiencing a craft spending freeze – I hope these projects give you some options for creating a fun new look without spending any money!
Thanks for stopping by!
Supplies:
Wine Bottle Tag:
Stamps: Papertrey Ink (Background Basics: Chevron Stripes,  Mat Stack 1 Stamp Collection, Table Service)
Ink: Impress Fresh Ink (Slate, Provencial Gray, Black)
Cardstock: Papertrey Ink (Soft Stone, Smokey Shadow)
Other: Papertrey Ink (Oval dies, Table Service Die collection, Raspberry Fizz satin ribbon, Half & Half Die collection)
Bright Flower card:
Stamps: Papertrey Ink (Mat Stack 5 Collection, Gracious Vases)
Ink: Impress Ink (Celery, Mango, Strawberry, Chocolate)
Cardstock: Papertrey Ink (Berry Sorbet, Vintage Cream)
Other: Papertrey Ink (Woodgrain impression plate, berry sorbet satin ribbon, Oval die collection, Mat Stack 5 Die)