Of all the questions I get on the blog, this one is the most frequent:
"What do you use to get your colorful backdrops for photos?"
Well, friends – I'm about to answer that very question and you should prepare yourself to be slightly underwhelmed by just how easy and not fancy it is…
Paint and wood.
That's it.
I used to use solid colored wrapping paper but found that it gets wrinkly and warped resulting in a pretty unattractive background. Painted wood on the other hand stands up to wear and tear …and when you get sick of the color, just paint over it.
So, today, before we head into the weekend, I'm sharing a few of my favorite paint tips for all you crafters, creatives and bloggers like me. Aaaaand, instead of showing you how I paint my solid color backdrops (which would be a sad, sad one-step tutorial…as in Step 1: Paint the wood…Step 2: there is no Step 2.), I'm painting my own oversized mural that you'll be seeing more of in upcoming posts.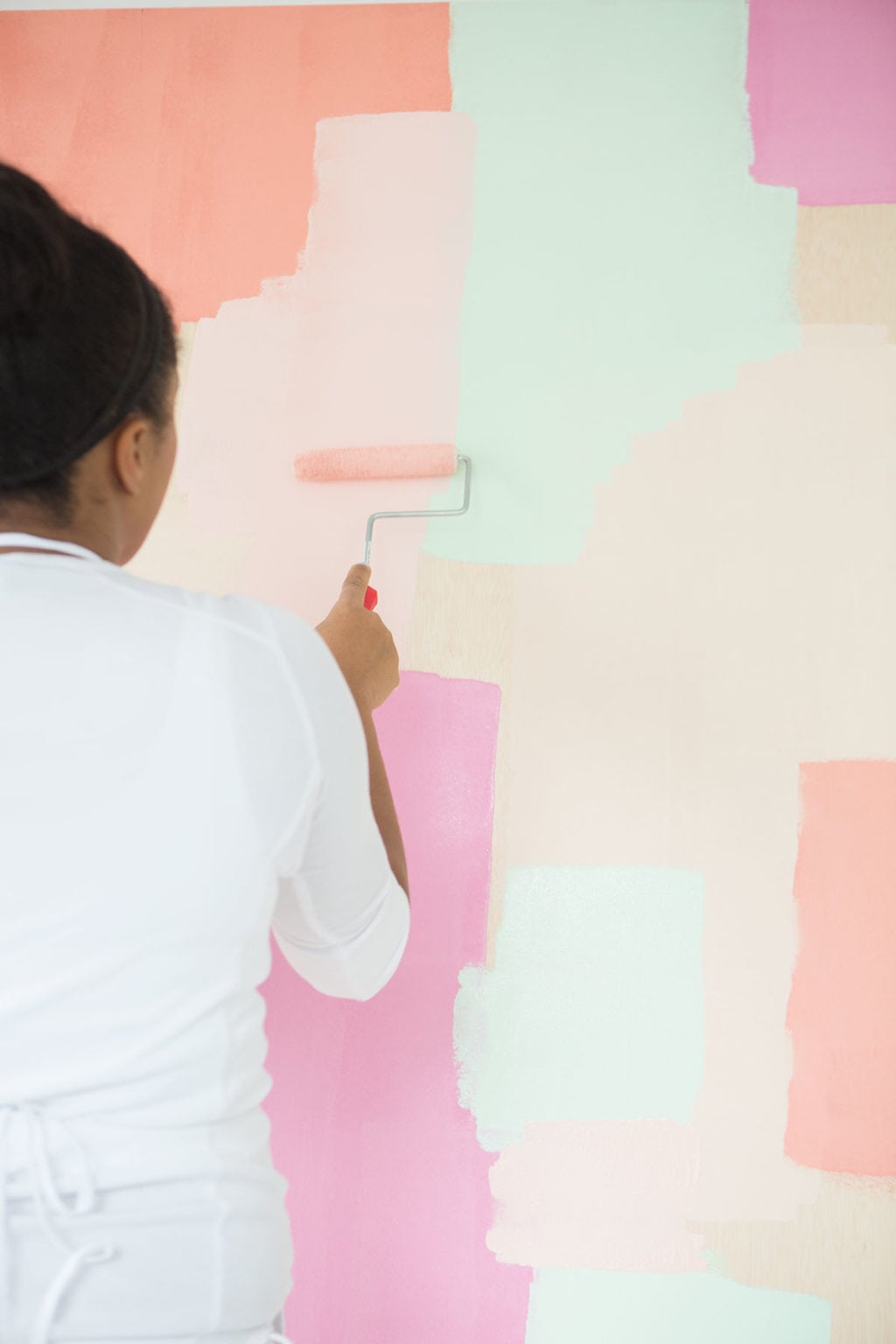 If there is one thing we bloggers love, it's a good mural. We can stand in front of it, take a million photos and post them on Instagram. Afterall, Instagram is the meaning of life. Fact.
Well – if you don't live in a mural-ridden city, you may want make your own.
TIPS FOR PAINTING YOUR OWN BACKDROP
What will you be photographing on it?! If you'll be shooting small projects a 24×24" piece of ¼" thick plywood will do the job! If you'll be shooting larger projects, opt for something bigger – 36"x48". If you want a life size mural – grab a 4ft x 8ft piece of ½" plywood. That's what I used for this mural
Use sample cans. They are affordable and if you don't love the color, you've only lost a small investment.
For this project and my other photo backdrops, I use Behr Premium Plus Ultra.The sample cans are inexpensive (only $3 at The Home Depot) and the coverage is great. You see all those random abstract sections of my mural? Each one is just a single coat and I layered them easily without any show-through.
If you're making a mural – stick with abstract strokes…that way there's no pressure to be perfect!
Use a combination of paint brushes and paint rollers. The change in texture makes your mural more interesting
Use a flat paint! It won't give you any weird glare or reflection in your photos and it dries quickly , which is perfect for impatient crafters like me.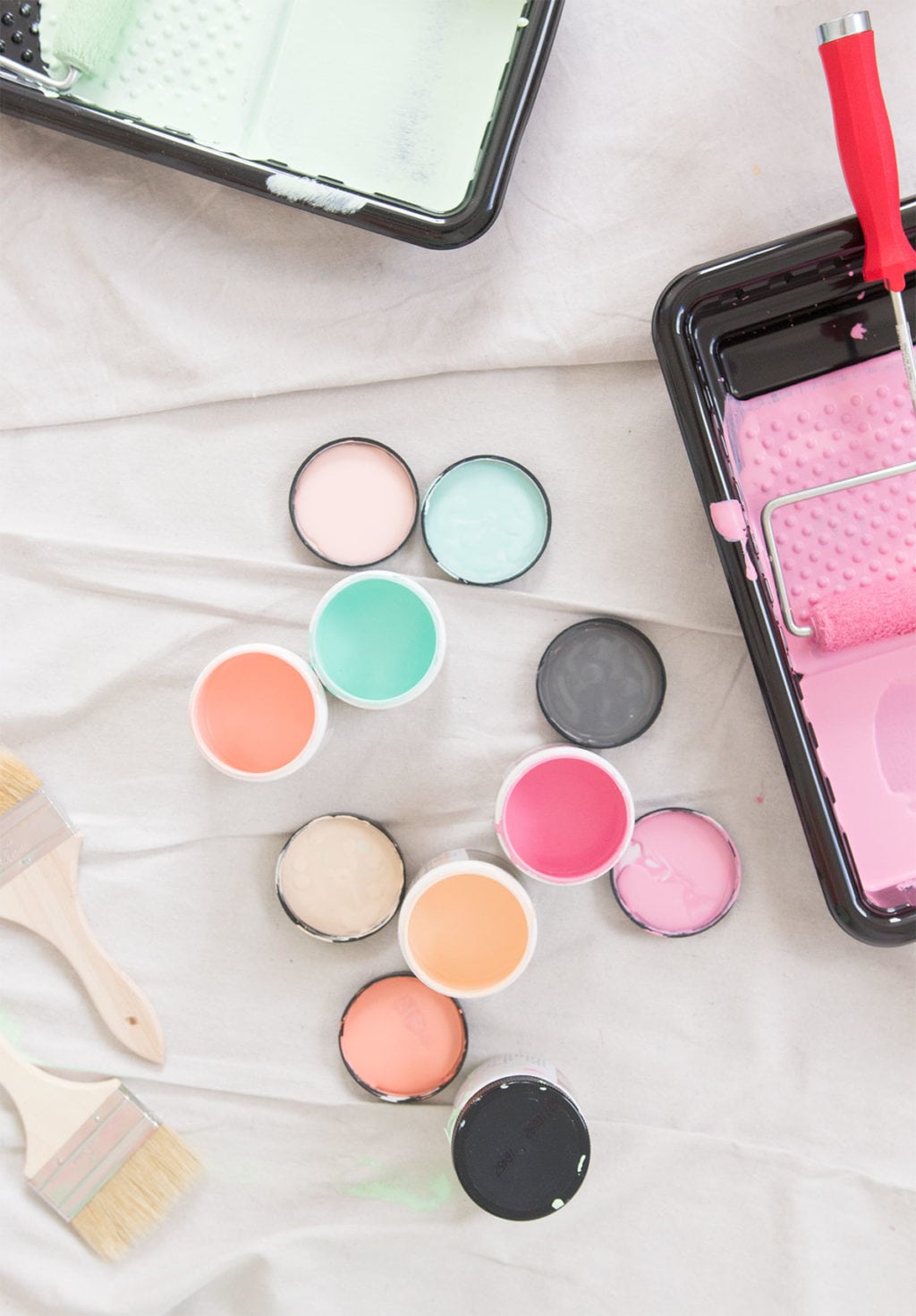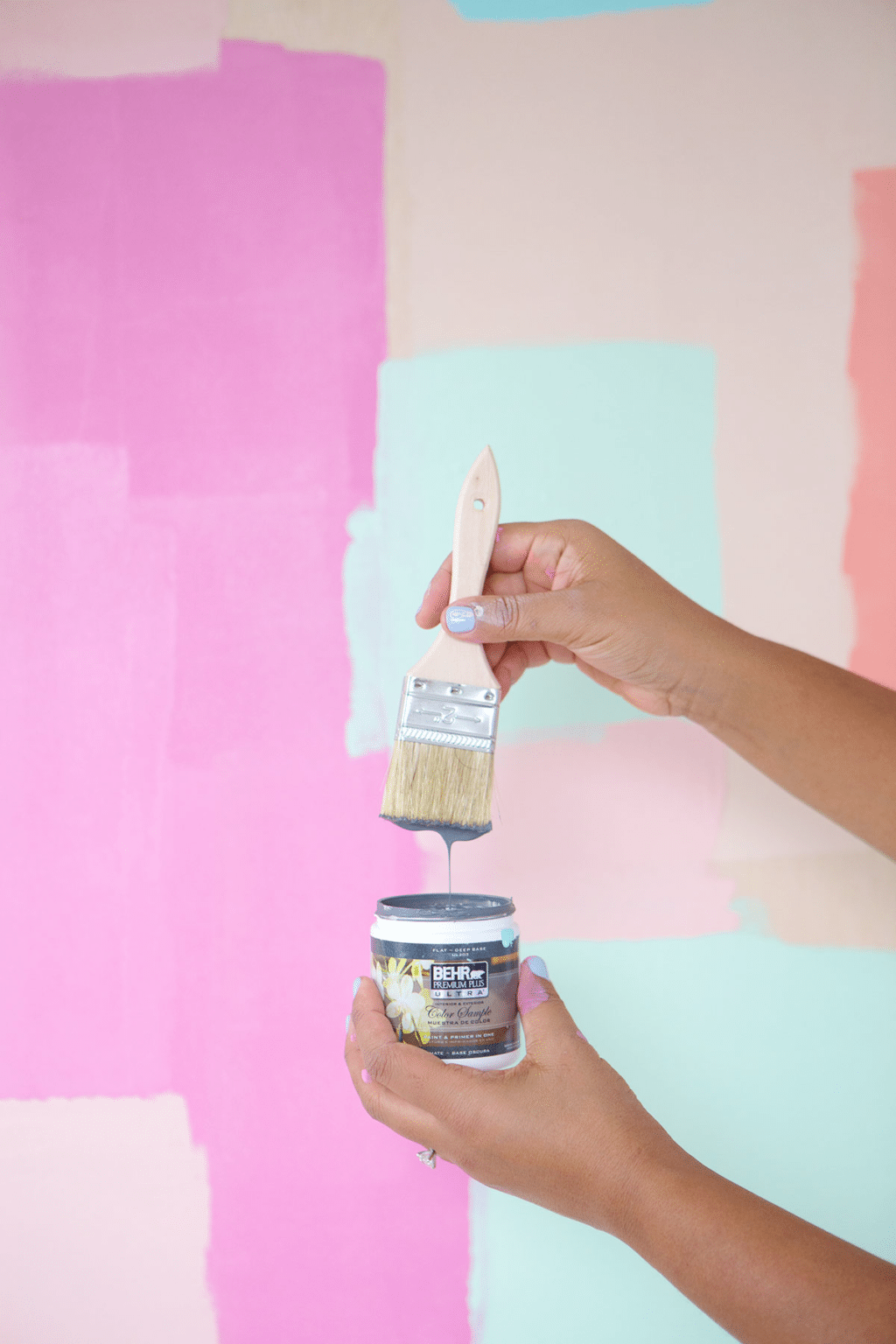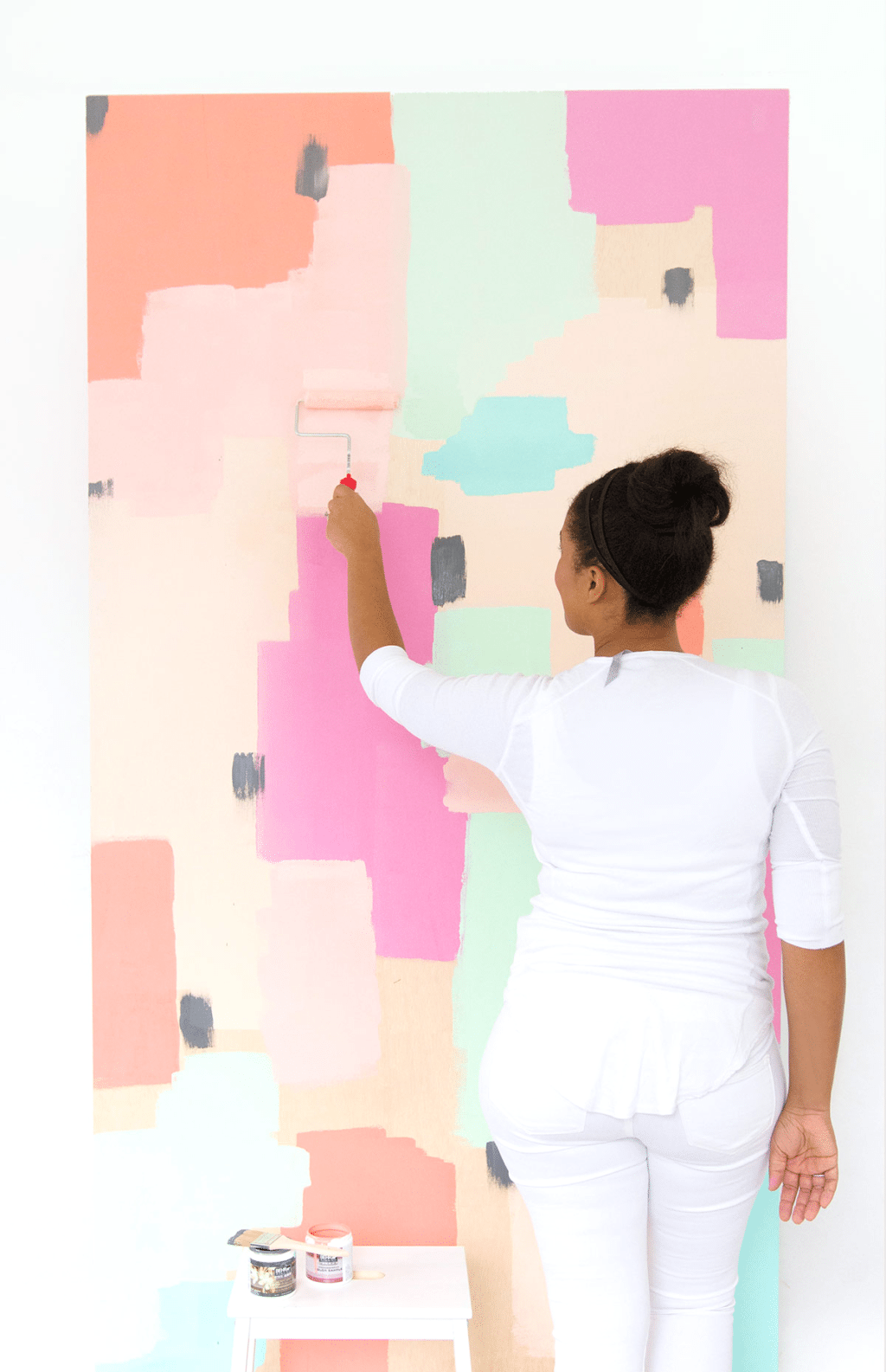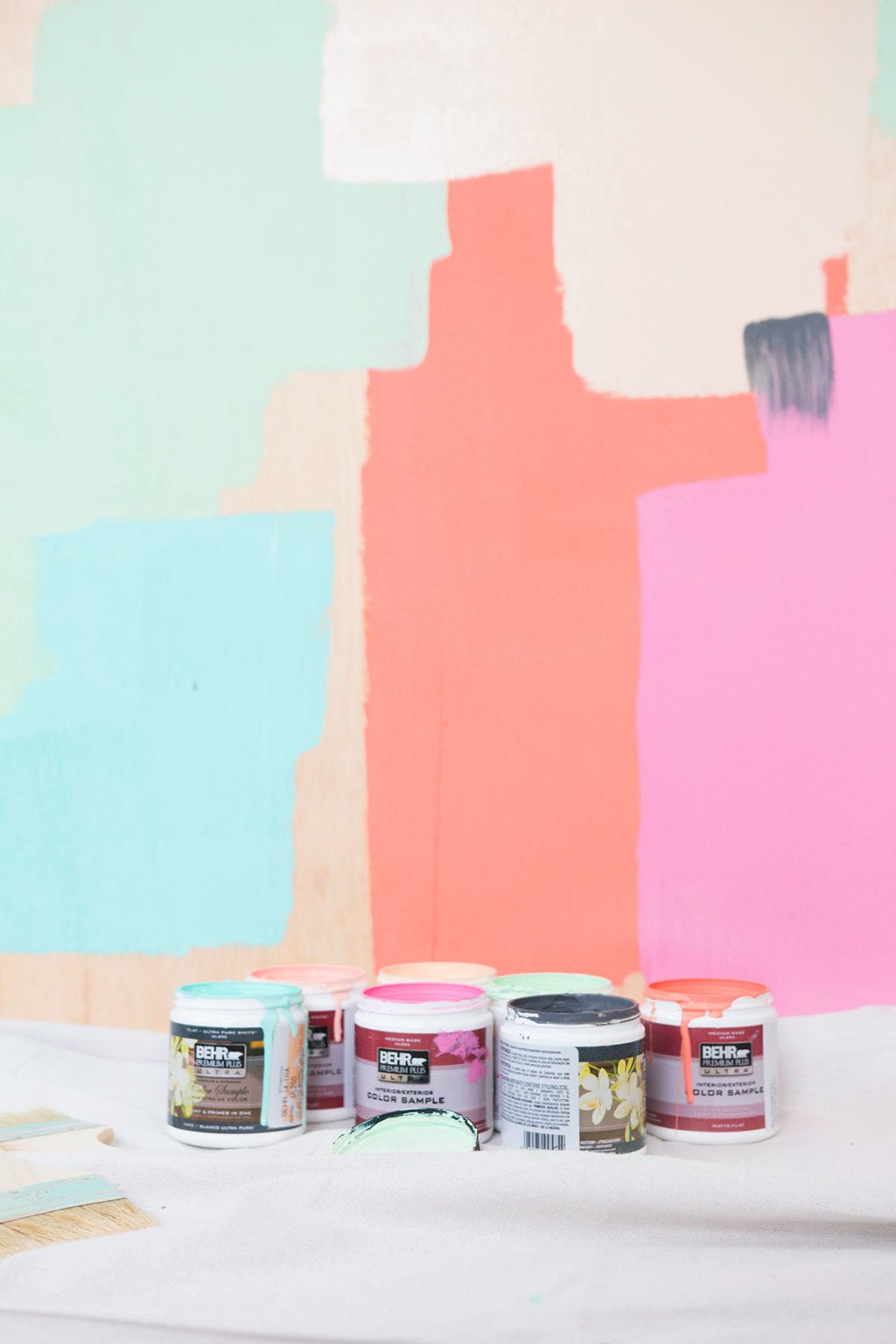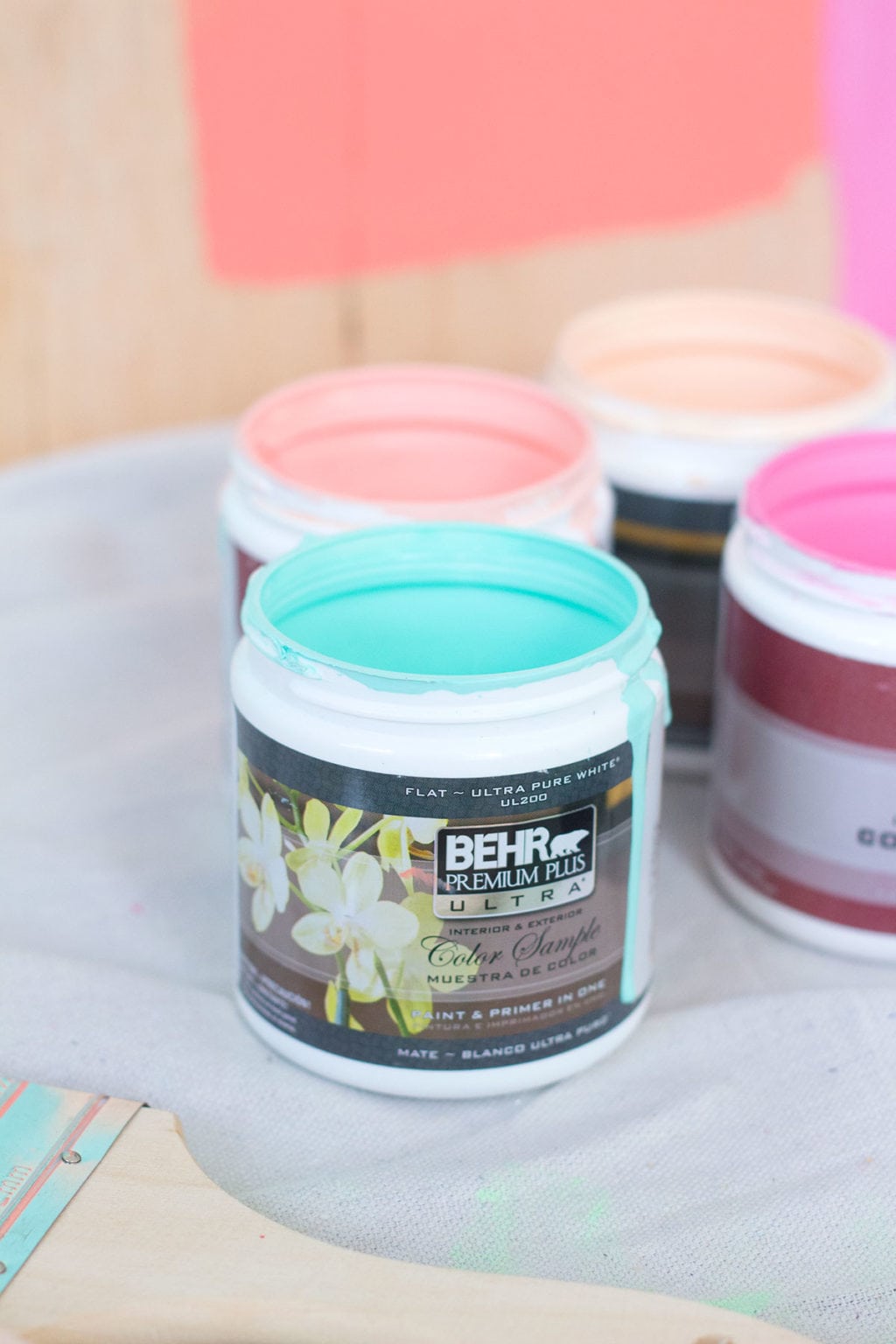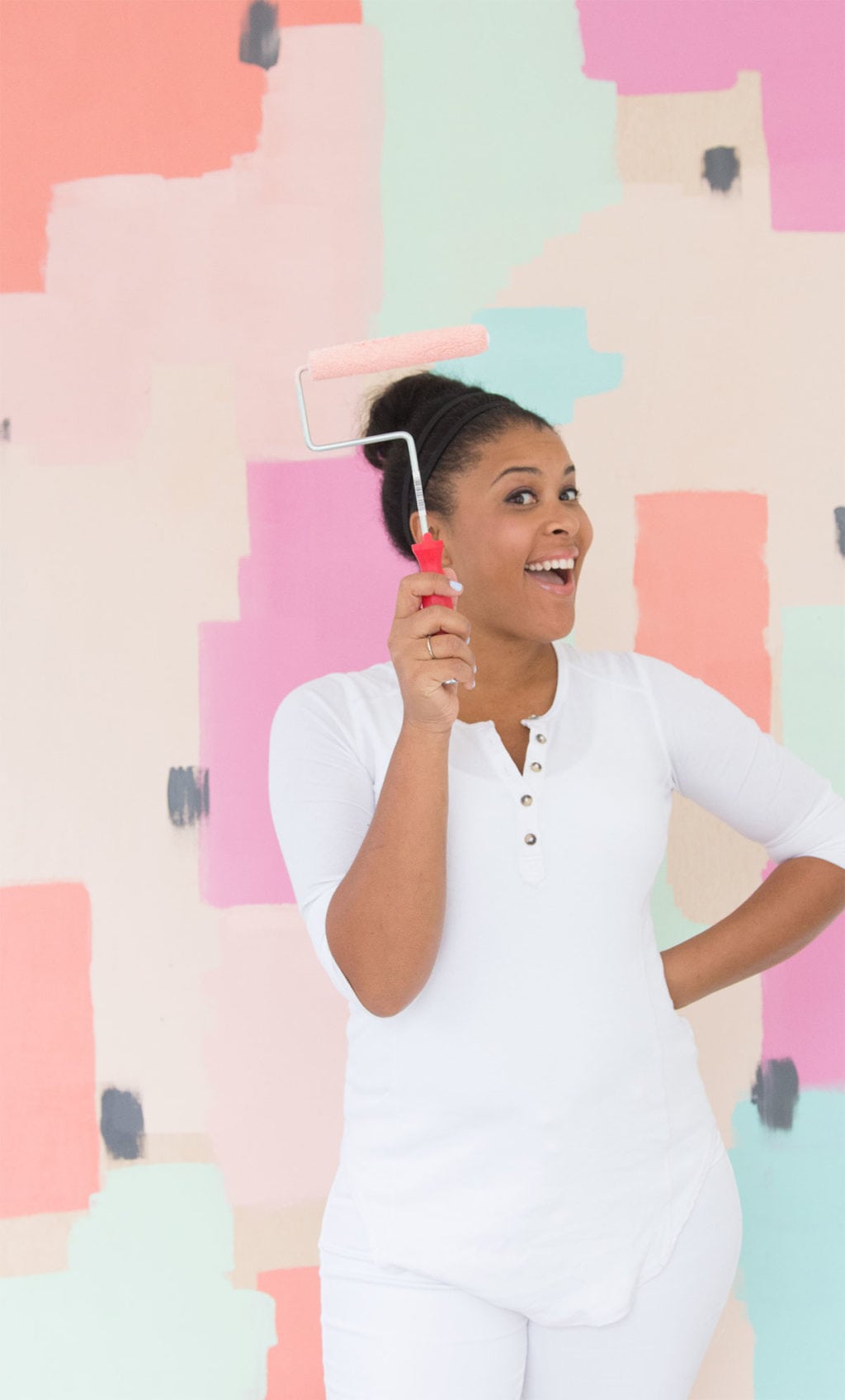 Last step – Pose! With a large 4ft x 8ft piece of plywood, you can create a large mural that is perfect for selfies!
My mural colors: Behr Premium Plus Ultra  in Chilled Mint, Guava Jelly, It's a Girl, Sherbet Fruit and Pumpkin Essence (clearly I have a thing for paint with food names!) Head over to BEHR.com to check out these and the other five bajillion BEHR colors.
I'm so excited to have partnered with Behr to bring you these fun and easy paint tips. Now, get up and go make your own mural! I can't wait to see it!