I think I'm running out of arrangements of the alphabet. When I was making this collection of monogrammed cards, I found myself stamping things like "AED," KFC" and "JFK" – oh the struggles of blogging about crafts. I'm sure you feel so sad for me.
So, yesterday I gave you the rundown of some of my favorite alphabet dies so it only makes sense that today we'd cover some of my favorite alphabet stamps. I'm sure some of these stamp sets are familiar to many of you, so hopefully these projects inspire you to pull them out and create some personalized stationery. These projects span all styles from cutesy to elegant…here's hoping there's something you love.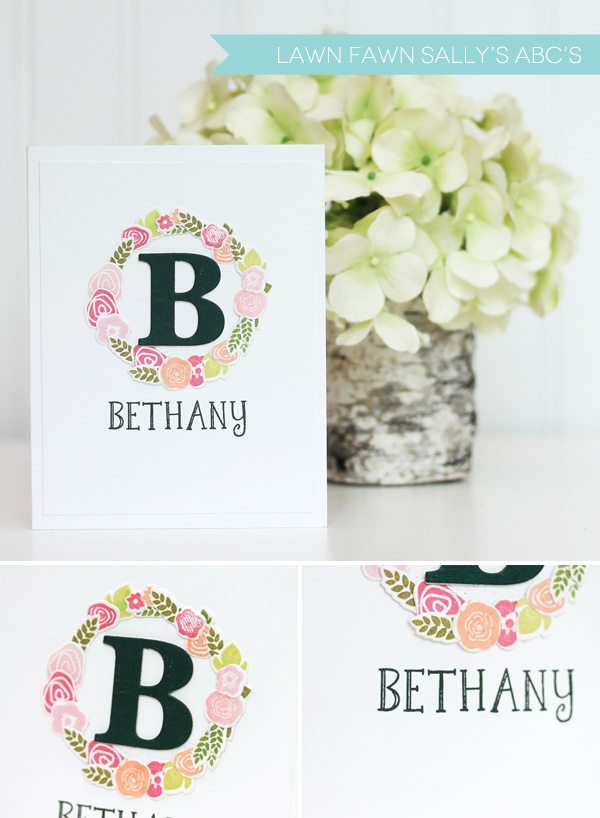 Okay. So whoever is running the show at Lawn Fawn knows that the heck they are doing when it comes to alphabet stamps. These things stamp like butter. Hold up. That makes no sense. Um…they stamp like…uh…really great & easy to use stamps. They line up perfectly and give you such profesh results. Love that. Thanks Lawn Fawn people.
I also love how these fonts can go from elegant to fun, like I did here with a pretty, floral wreath card and then a cute flat notecard that would be great for little ones. For the child-friendly flat card, I went with a larger size (5 " x 7 1/2″) – which I think works well for little hands that usually have larger handwriting than us old folks.
SUPPLIES:
Floral Card: Memory Box Large Classic Alphabet Dies | Papertrey Ink Mini Blooms Stamp Set & Die Collection | Lawn Fawn Sally's ABC's stamp set. Bicycle Notecard: Lawn Fawn Sally's ABC's | Lawn Fawn Cruising Through Life stamp set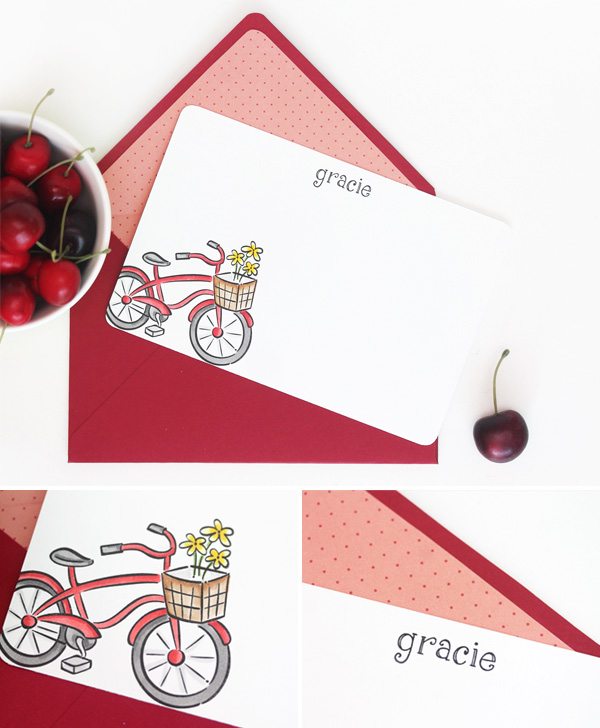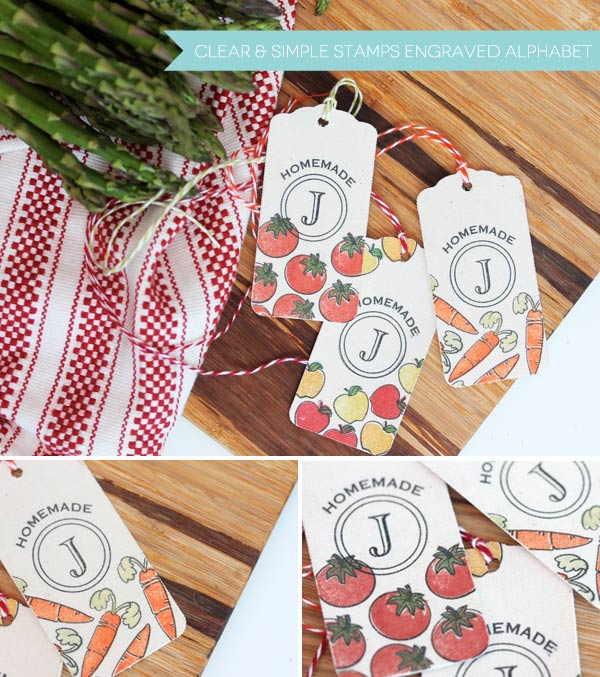 The traditional look of this stamp set makes it super versatile. I took the road less traveled and created fabric covered kitchen tags. I love how they turned out! Ever since I learned how easy it is to stamp on fabric with CSS Hybrid Ink – I just can't be stopped. Watch out, I may start stamping my clothes next. That'd be hot…
SUPPLIES:
Clear & Simple Stamps Engraved Alpha | Clear & Simple Stamps Well Preserved Large | Clear & Simple Stamps Mini Circles | Clear & Simple Stamps Perfect Harvest Too | Hybrid Ink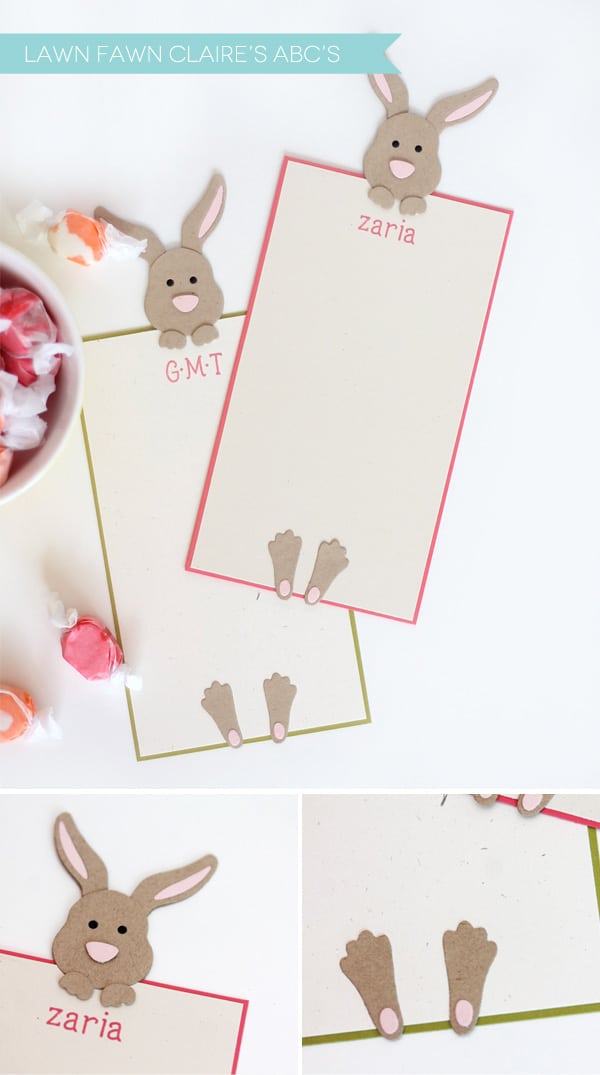 Those of you that know me, know that I avoid images and die cuts that have eyeballs. It's not like I'm afraid of them, or think they are looking into my soul…I mean, I'm not crazy. Actually. Not true. I am cray. Just not that cray. Truth is, I just don't know what to do them. So, you won't see me crafting with too many images of animals, people …or…uh…cyclops.
And after saying all that, I totally broke my "no eyeballs" rule with this bunny notecard design, because it's just so dog-gone cute. I mean, seriously? A little bunny peeking out from this is just too much. If I weren't 30-cough years old, I would most definitely send these out in lieu of my boring work letterhead.
Yet again, Lawn Fawn's alphabet stamps provide the perfect pairing with this cute design. Love it.
SUPPLIES:
Lawn Fawn Claire's ABC's | Lifestyle Crafts Bunny Die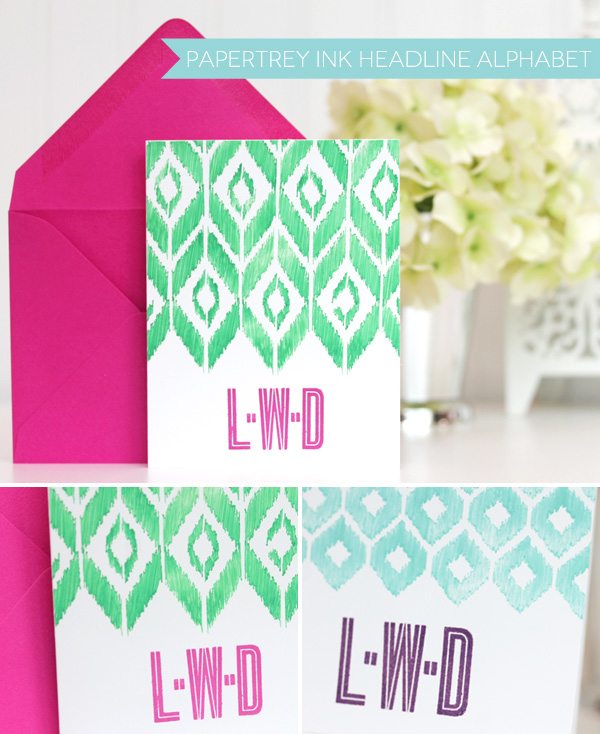 If modern is your go to look, then the Headline Alphabet stamp set will be right up your alley. I love it and it is certainly my style. I'm really digging the look of the square between each letter.
SUPPLIES:
Papertrey Ink Headline Alphabet Stamp Set | Papertrey Ink Irresistibly Ikat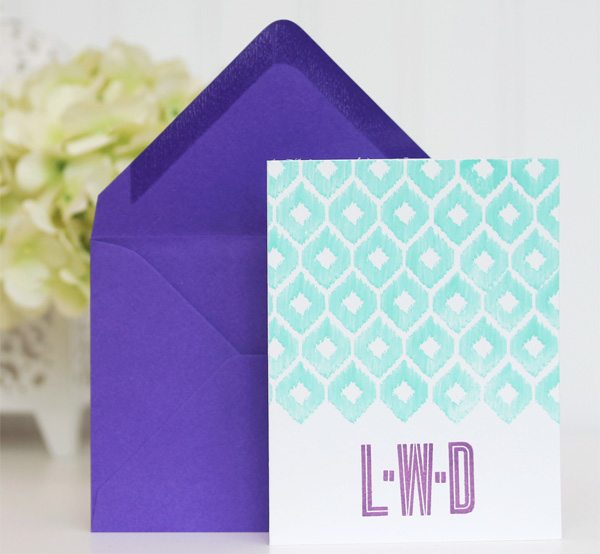 Welp – I'm all monogrammed out (for today!)