Hello again!
It's been so long since I had a chance to sit down and do some non-wedding related crafting! This past weekend, though, I was able to hang out in my craft room and make a few things.
After weeks of being away, though, I had a tough time coming up with ideas! To get my mojo going, I decided to C.A.S.E. a few projects that I saw on Pinterest.
I was inspired by this beautiful piece of stationery that I found on Pinterest – I just love love love the floral border and I was able to recreate it by combining a few of my Papertrey Ink stamp sets.
For my version, I went with a long and linear note card shape, which is a little different than usual. My inspiration for this shape came from a set of envelopes that I recently purchased from Paper Presentation.
Something about their top-open 4.25″ x 9.5″ envelopes spoke to me …so I ordered three sets in white, cream and kraft.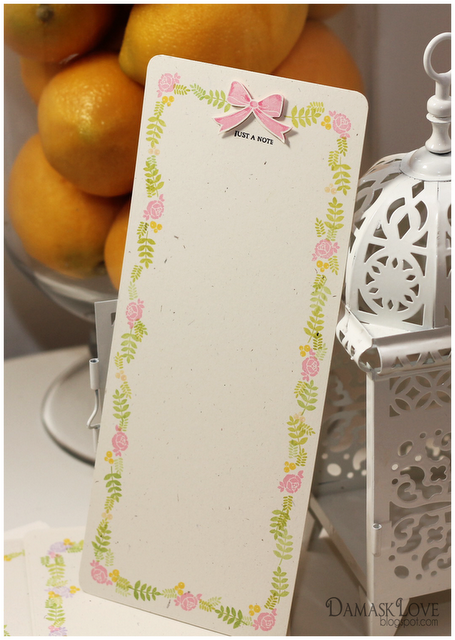 As a bit of a departure from the original, I created this note card in three colorways…
…and added a simple sentiment to the top as well as a popped up bow which I colored with pencils, using the same technique as I used here.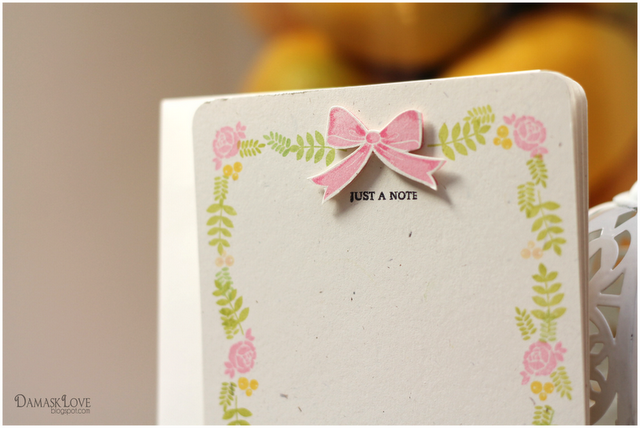 Once I was back in my crafting groove, I decided to create a gift set with these note cards.
I stamped a few more bows in coordinating colors then ran them through my Xyron to create envelope seals for the set.
Then, I pulled out my Mat Stack 5 Collection stamp set to create a simple label. As an accent for the label, I die cut a flower and leaves from Autumn Rose and Simple Chatreuse felt and secured it all with a Sweet Blush button.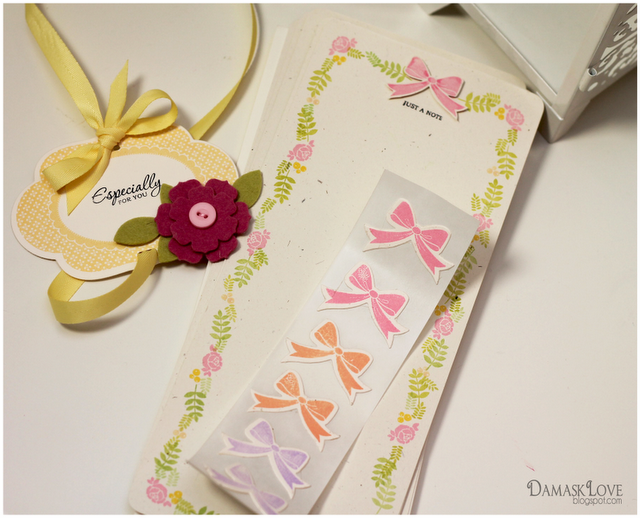 To add a bit of functionality to that felt flower, a secured a paper clip on the back a and slid in into the label. This way, it's not only decorative, but a keepsake for the recipient!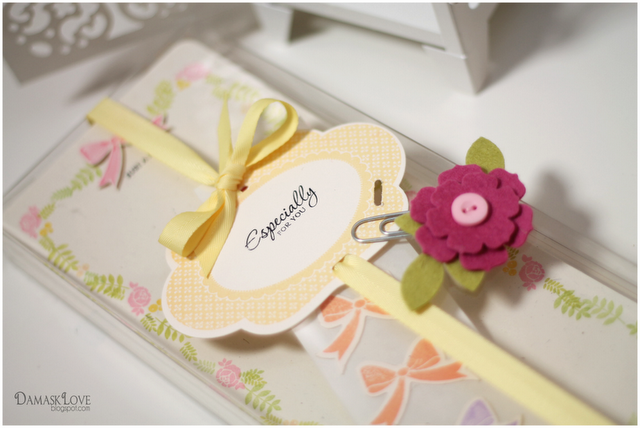 I love how it looks all packaged up and ready to give away! I'm thinking this will be a great little Easter gift – the colors just scream Springtime!!!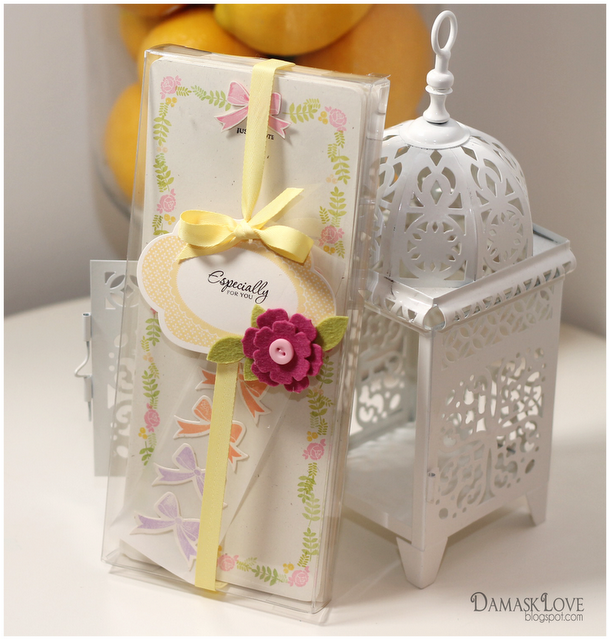 Thanks for stopping by today! Have a great day!
Supplies:
Stamps: Papertrey Ink (Simple Jane {small flower image}, Take a Bough {small leaf image}, Turning a New Leaf {small leaf image}, Bells and Boughs {bow image and berries image}, Mat Stack 5 Collection, Gracious Vases {sentiments}
Ink: Impress Fresh Ink (Basil, Mojito, Celery, Tuscan Olive, Pink Lemonade, Peach, French Lavender, Chamomile, Mango, Black)
Cardstock: Papertrey Ink (Rustic Cream, Vintage Cream)
Other: Papertrey Ink Bells & Boughs die collection {bow die cut, Papertrey Ink Lemon Tart Twill ribbon Paper Presentation Top Open envelopes