I've been biting my tongue for the last few weeks, and today I get to share some fun news!
I was invited to be the June Guest Designer for Denami Designs!!!!! (and of course, I accepted!!!)
Denami offers a HUGE selection of rubber, wood-mounted stamps. The images are adorable and perhaps my favorite thing about them is that I don't have to search around for my acrylic blocks to use them! (I am a notoriously messy crafter, so those acrylic blocks could be anywhere!)
For the month of June, I will be sharing lots of Denami cards and other creations…so let's get this whole Guest Designer thing going with a little project! And when I say little…I really do mean "little!" Let me explain.
There is an old saying that you've likely heard before:
The three certainties in life are:
1) Death
2) Taxes
3) Everything's cuter when it's miniature sized.
Sliders are better than a regular cheeseburger.
People sign up on waiting lists for miniature sized dogs.
Mini cupcakes are way more fun than normal sized cupcakes
I rest my case. Mini is better (with the exception of mini paychecks).
So, it stands to reason that miniature cards would be super cute too, right?! Well it turns out they are!
For today's project, I used a few of my Denami stamps to create some cute, miniature lunch box note cards that are perfectly sized for tucking away in a briefcase, lunch box or purse.
These little cards measure 2.25″ square and for comparison's sake, I created a quicky 4.25″ square to show just how mini these minis are!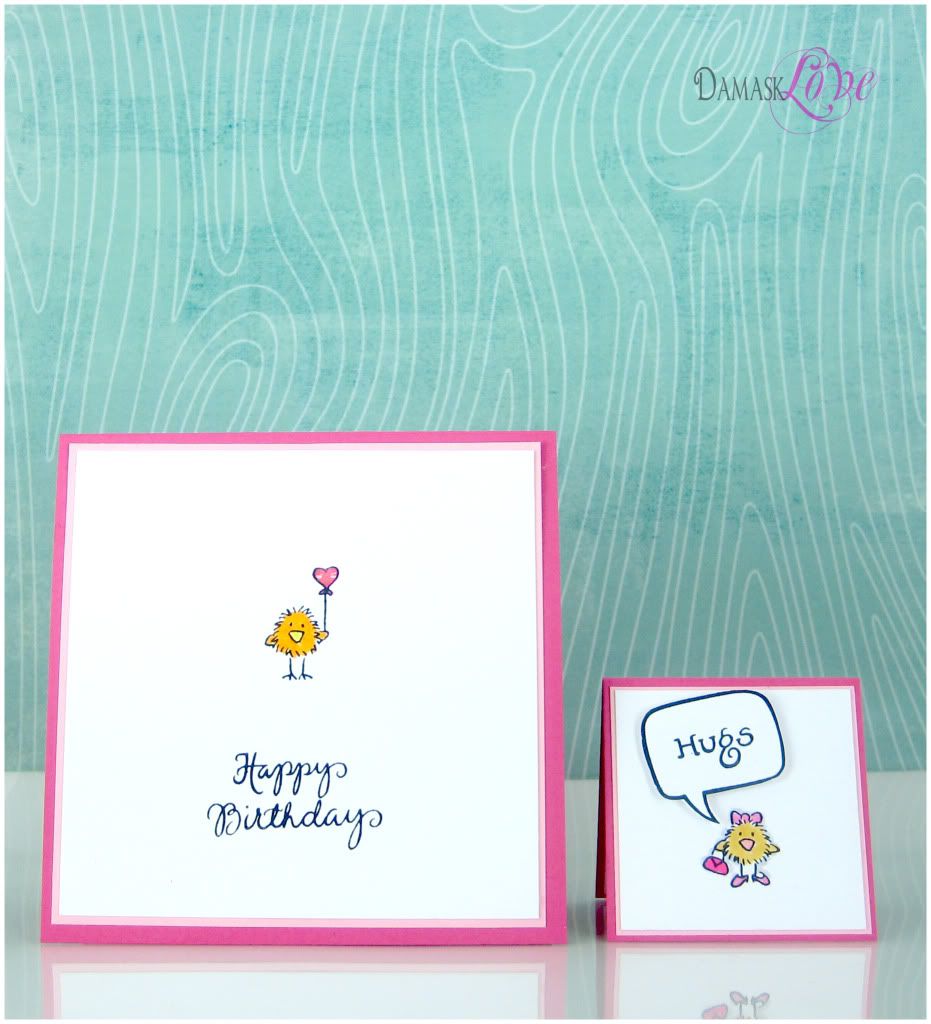 Now these aren't just any mini note cards!
The little boxes are perfect for holding a few treats as a sweet accompaniment to the note!
For the "Hugs" mini-card, how about a little box of Hershey's Hugs candies?!
Just slip the note inside for the perfect lunch box treat.
These are so easy to make that I pumped out a couple more.
A box full of chocolate covered raisins is a great snack! Enjoy!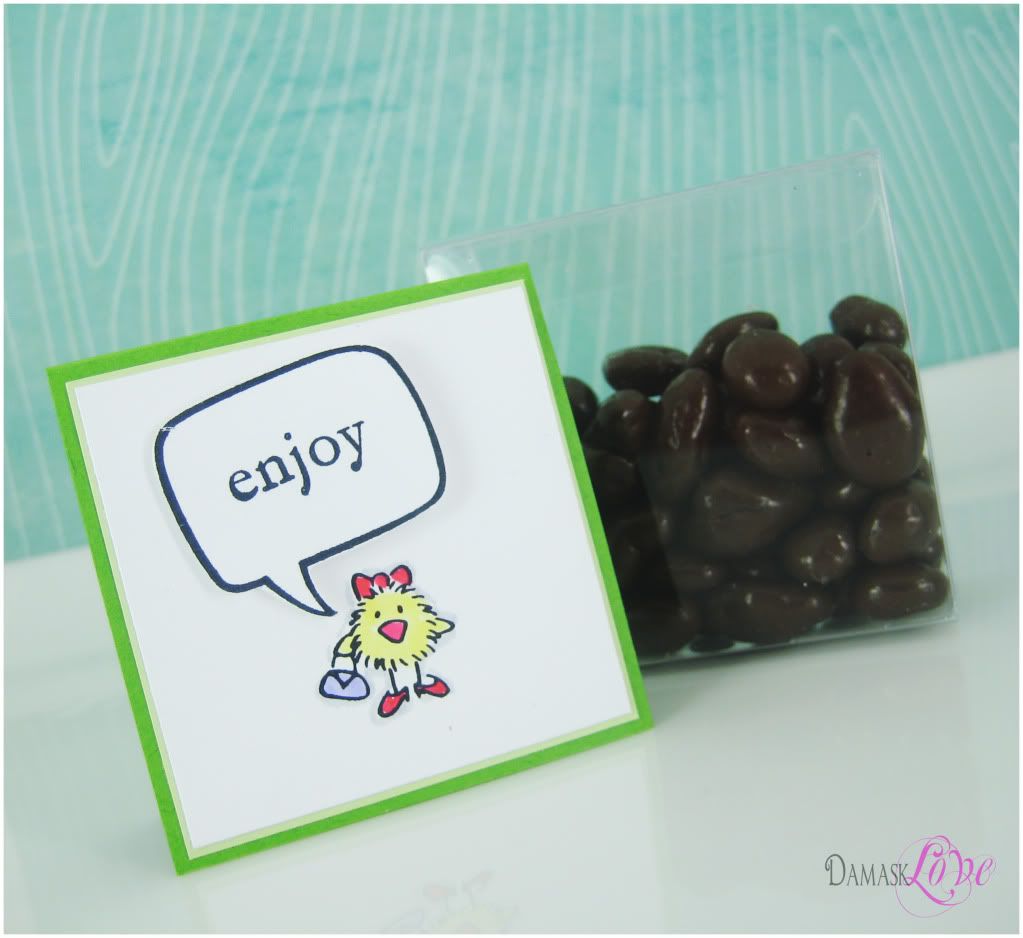 And for the last card, a sweet little note from the boy chick to his favorite girl!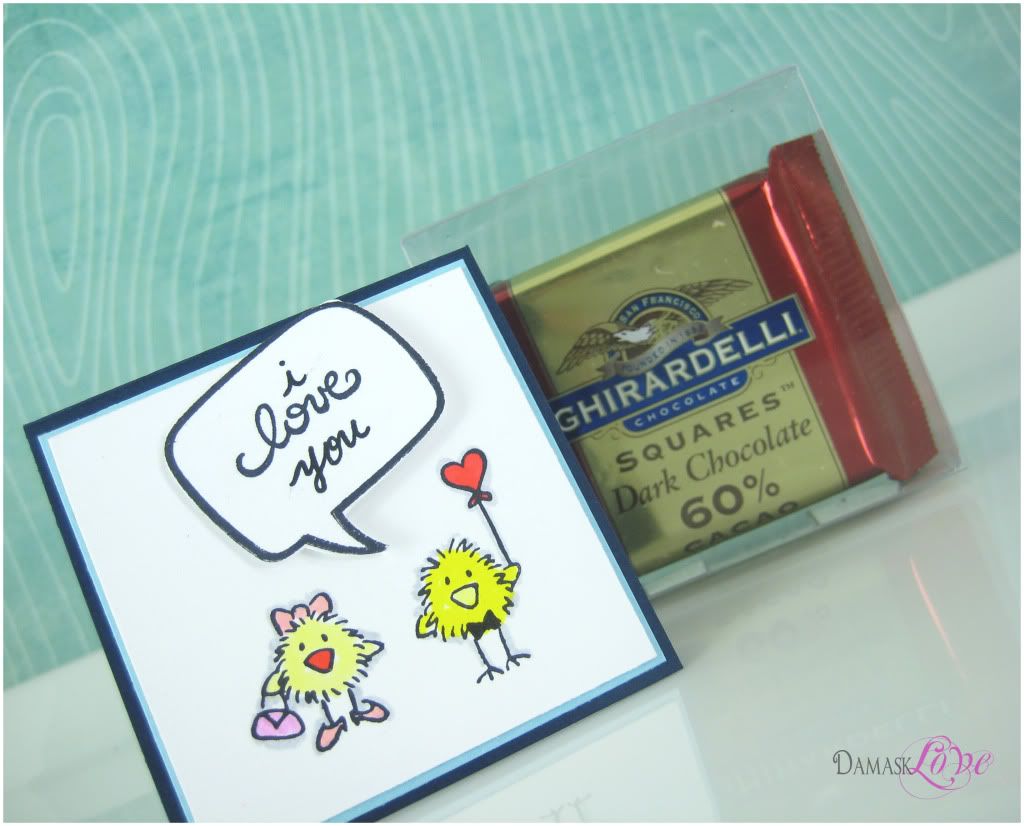 Tip #1:  For this card I stamped the "love" sentiment, then used my very best copycat handwriting to mimic the style and fill in the rest of the sentiment
Tip #2: I added a cute little bowtie to the boy chickie – now he's ready for a night out
Tip #3: The CB200 Boutique Boxes are the PERFECT size for a few Ghiradelli squares. I'm filing this idea away for Valentine's Day!
That's it for my first post at Guest Designer. I can't wait to share more projects this month!
Thanks for stopping by for some Damask Love!


Supplies (All Denami Designs unless otherwise noted)
Stamps: D112 Chickie with Heart Balloon, B96 Girl Chickie, E118 Square Word Bubble, PF28 Heartfelt Greetings Stamp Set
Ink: Ranger Archival Jet Black
Paper: Denami Designs (PCS01 Pastel Cardstock Sampler, PCS03 Confetti Cardstock Sampler)
Other: Tombow Watercolor Markers