If you've followed me for the last couple of months you've probably heard me gush over Glowforge. If you've known me for a while, you know that I've been obsessed with this machine for years. Put simply, the Glowforge is a powerhouse that will forever transform the way you think of your creative abilities. You may not be a woodworker or skillful with power tools – but the Glowforge will have you crafting with unfamiliar materials like a pro.
With my new Glowforge comfortable in her new home in the Damask Love studio, I'm excited to bring you colorful crafts and DIY projects that show the capabilties of this machine with a decidedly Damask Love spin.
For this first introduction to Glowforge, I wanted to see how I could add some special touches of color to a fall tablescape – using wood and acrylic – two materials that were previously intimidating to me as a crafter. Not any more friends…not any more.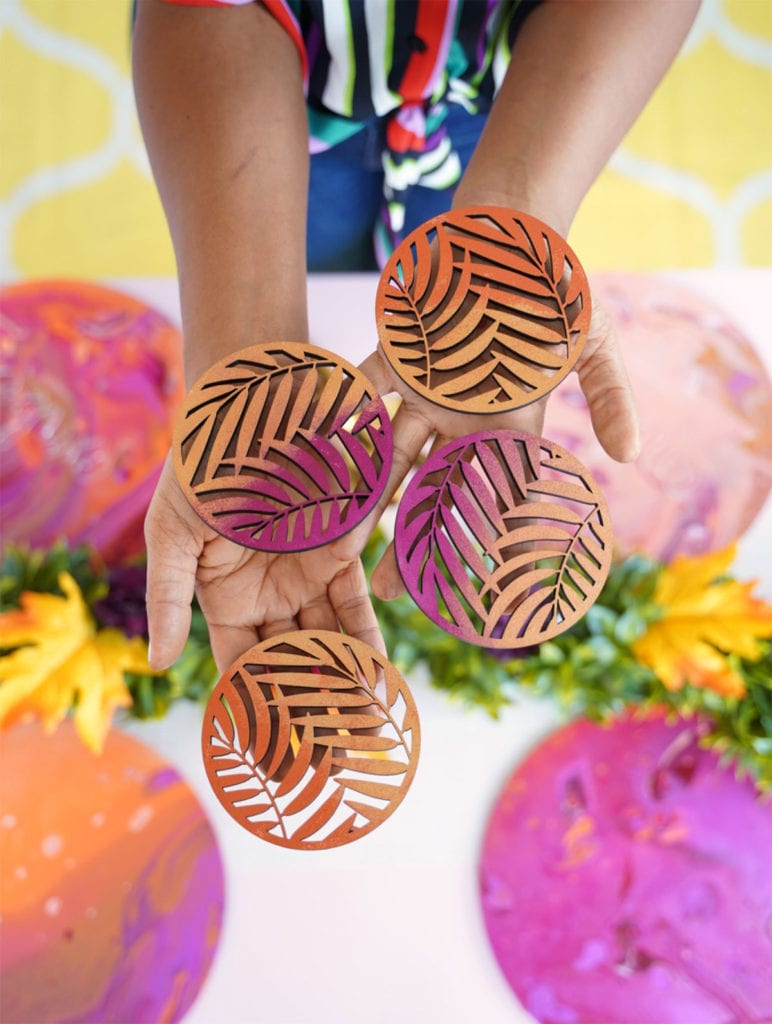 Since this is our first dive into all things Glowforge, I thought we could take this chance to answer some of the most popular questions I receive about the machine.

Fair question. There's a chance you've never heard of the Glowforge – but I'm about to change that! The Glowforge is a wireless laser printer. That means it uses a powerful laser to cut a variety of materials in ways not possible with any other tool. You can create intricate designs from wood, acrylic, leather, cardboard, paper. Even if you're a expert with a craft knife, the Glowforge will still win every time and can cut a whole lot faster than your fingers!
The Glowforge machine works in combination with the Glowforge App where you can access pre-made projects or upload your own svg designs.
In addition to cutting through materials, the Glowforge can also etch and score to create beautiful designs on your projects.
The Glowforge is available in three models, the Basic, the Plus and the Pro.

I have the Basic…and honestly, I think it's the way to go. The Basic can accomodate sheets of material up to 18 x 20″ and the print designs up to 11×19.5″ . For most of us crafters, this space is plenty big for our projects. In my case, I've been more than happy with this model. If you are wanting to print larger projects, you can opt for the Glowforge Plus, since it can feed larger pieces of material.

Like most other cutting machines, the options are endless with Glowforge. It really can tackle most any material. For us crafters, who like guaranteed perfection, your best bet is to use the Proofgrade materials available in the Glowforge shop. These materials are sized and calibrated to work seamlessly with your machine. When you insert a piece of Proofgrade material into your Glowforge machine, the machine will read the QR code sticker on the material and automatically recognize it. You don't have to do anything. The machine will know what you are cutting and use the proper settings.
Some of my favorite Proofgrade materials are the Thick Frosted Acrylic, Thick Draftboard and the Maple Plywood.
If you are the adventurous type, you can experiment with other materials…even food…but you'll need to use the manual settings. My recommendation is to start with Proofgrade and work your way up to other materials once you're more comfortable!
*A word of caution – you do not want to use your Glowforge to cut vinyl. This particular material is not compatible with the machine.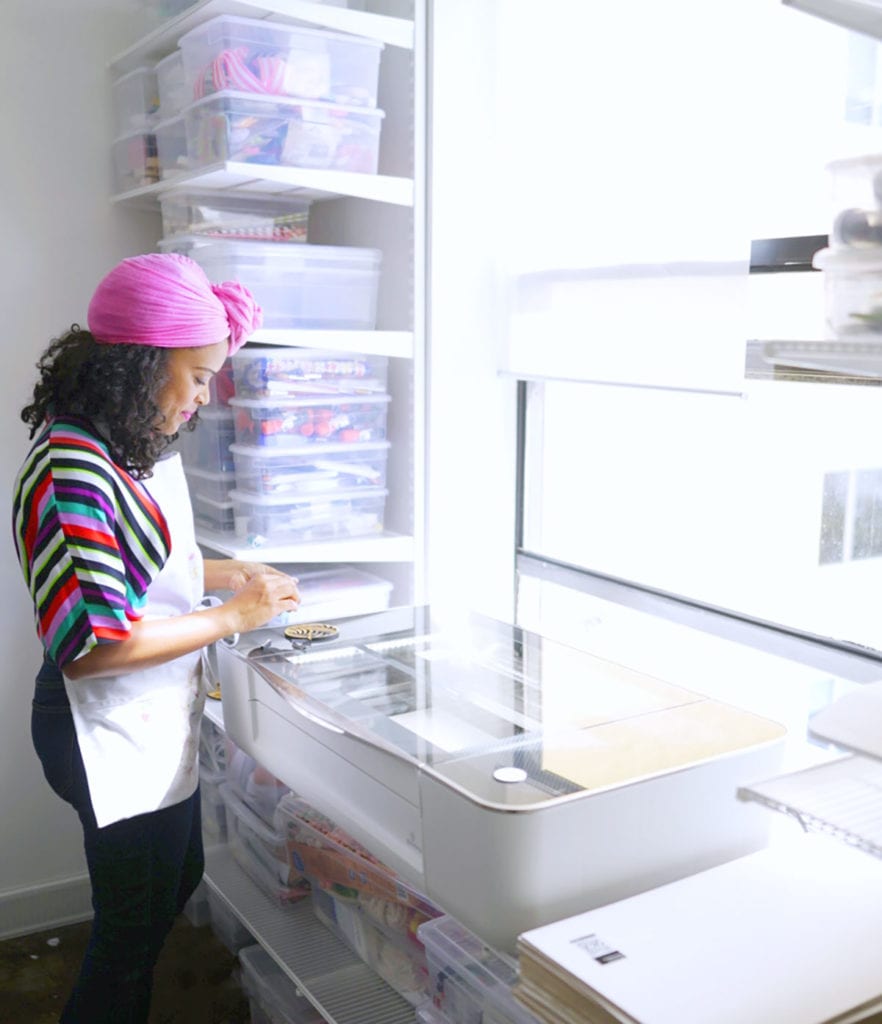 Don't let the word "laser" scare you. This isn't an episode of Star Trek Next Generation or that scene from Entrapment where Catherine Zeta-Jones traversed a room full of red death lasers. This is a home laser printer, meant for your craft room, workshop, studio…heck, put it in your living room if you want! It's designed to be user friendly just like any other crafting tool you use. The laser component of the machine only functions when the lid is completely closed and the machine is designed to recognize the materials placed inside

Ah yes – this is the big question! You already want one, but you need to know how much it is!!! The Glowforge Basic is $2495. The Glowforge Plus is $3995 and the Glowforge Pro is $5995. Yes, those are big numbers but there's good news! There are lots of ways you can get a Glowforge into your home, including financing options available that allow you to pay over time. You can also get creative with how you use your Glowforge! If you are growing a small business or love to do craft fairs, the Glowforge is a great way to create customized products that you can sell! After a few craft fairs, workshops or sponsored posts – you will have paid for the machine! Be sure you're signed up for the Damask Love Newsletter in the sidebar, where I will be sharing more ideas for how you can get creative with how you earn and pay for your Glowforge!

The Glowforge is a powerful crafting machine, which means it's needs a good bit of space to do the job. The footprint of the machine is 38″ wide, 20″ deep and 8″ in height. You'll also want to leave some room in the back of the machine to account for properly ventilating the machine while it's in use. Currently, I have my Glowforge sitting on a wire shelving system in front of a window. The 20″ deep shelf works perfectly as a home for my Glowforge.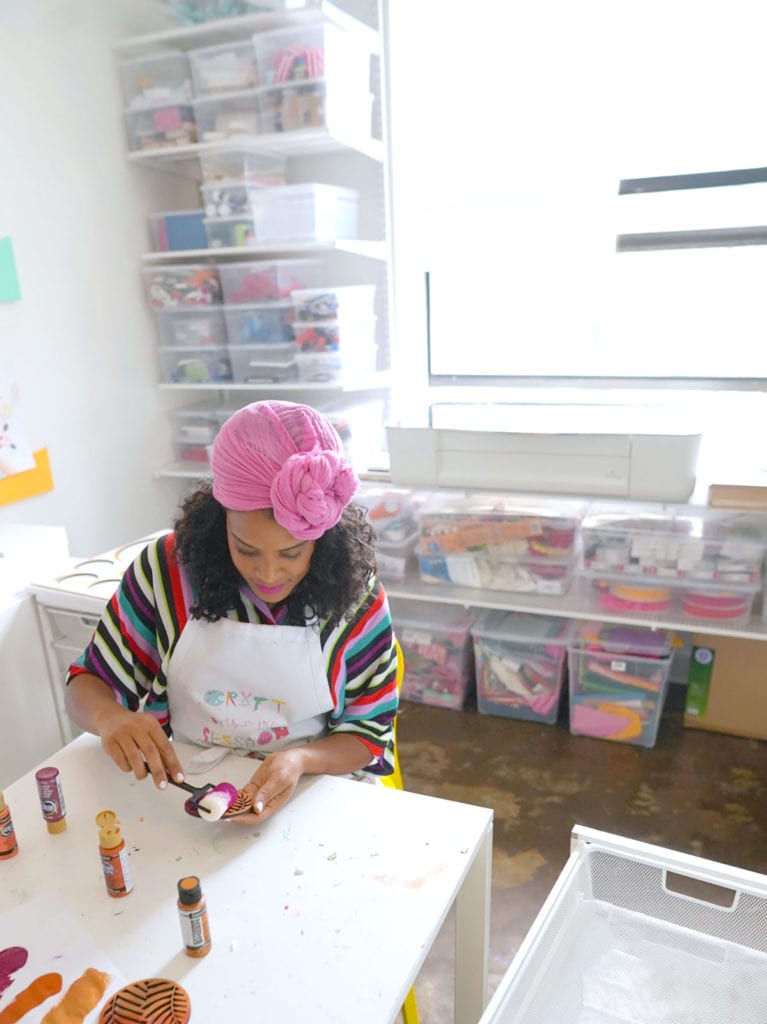 This is my favorite question ever. The answer is yes…sort of.
Let's be honest – you need food. You need water. Sadly, the Glowforge cannot make these for you, so in the most basic sense of the word, you do not "need" the Glowforge…but you also didn't need to order another pair of sassy fall boots, but you did it! When it comes to crafting and creating, I truly think that the Glowforge offers us the ability to make things we never thought possible. I never thought I could create beautiful handpainted coasters with an intricate palm leaf design. I never though I could cut my own name from acrylic. I never thought I could dream up an detailed design and then cut it from maple in minutes. The Glowforge will transform the way you craft, and for that reason I think it's an awesome investment in your passion for making. Considering we're in the middle of the holiday season, I think the Glowforge should be at the top of your wishlist…or maybe you should squirrel away your Christmas dollars and buy one for yourself. However you make it happen, I'd encourage you to think how much more fun and inspiring your crafting will be when you can use a Glowforge!