Ok – buckle in. This is going to be a long post with lots of photos…but if you hang in there, I think you'll like it…it's definitely one of my faves!
Today's Clean and Simple Card Class lesson is all about creating card sets – and if you know me – you know I LOVE making card sets. When I was a kid, I collected stationery and the only thing that has changed is that now I make my own stationery!
In today's lesson, Jen McGuire created the most awesome stationery set! She stamped a beautiful background then left space on the card for the recipient to adhere her choice of sentiment strips, which Jen included in the stationery set! So clever and such a fun way to give stationery!
So….for today's project, I took inspiration from several places. First, I loved the concept behind Jen's stationery set, which I combined with inspiration that I recently found in an issue of House Beautiful magazine.
I saw this bedding and immediately wanted to replicate it with stamps and paper.
Here's a quick peek at the finished project – and then I'll share photos and details about each step.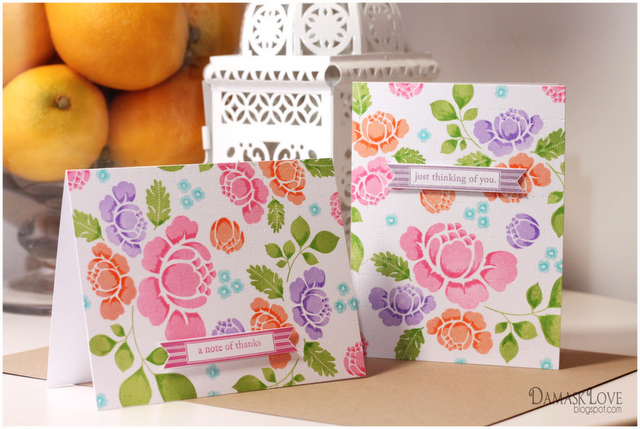 The design here is not quite as clean and simple as you might expect, but I do think the fresh colors and minimal layers keeps things simple even with the busy pattern.
Ok – so here's how these cards came together: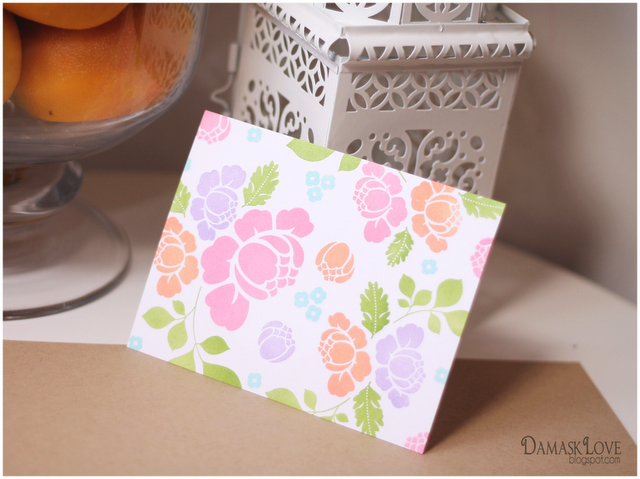 I started by stamping a pattern using Papertrey Ink's Rosie Posie and Turning a New Leaf stamp sets. As you can see, the design is pretty, but a little flat. To add dimension without adding layers, I simply used colored pencils to add shading to each element of the stamped design.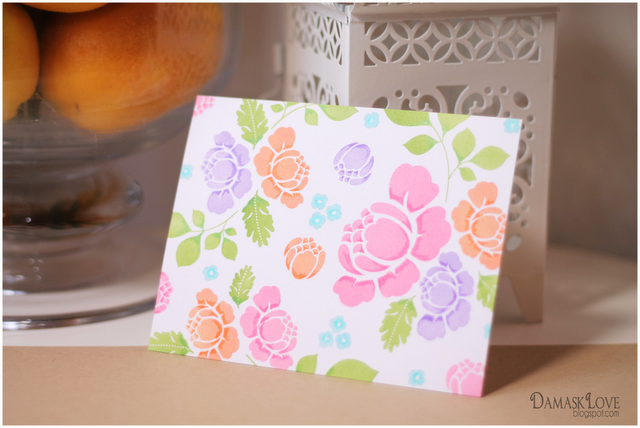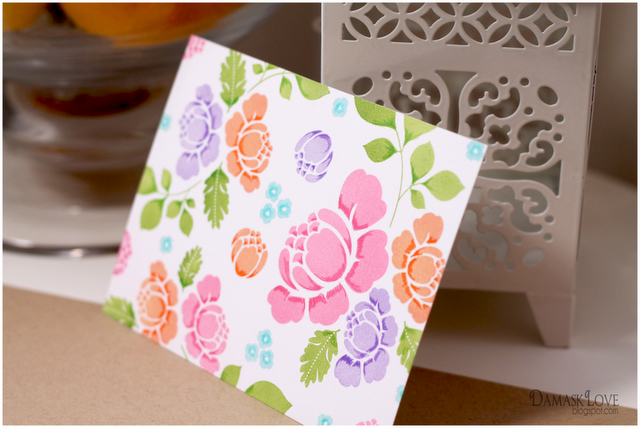 See what a huge difference that makes!? By using colored pencils, I think the design really comes to life and looks a lot more polished and sophisticated.
 Next, I ran the stamped cardstock through my Cuttlebug along with the Papertrey Ink Canvas/Linen Impression plate. Since I was inspired by fabric, I wanted to add the suggestion of fabric to the card.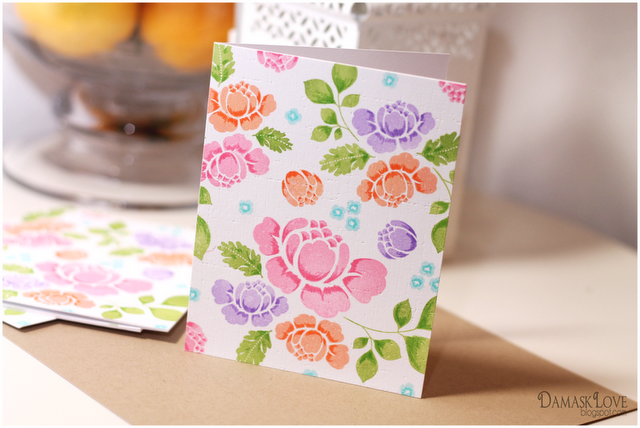 I adhered the impressed cardstock onto a white A2 cardbase. 
Now – you could totally stop right here and have a fabulous all-occasion card featuring this beautiful floral pattern.
Since this is a card set though, I wanted to add the fun element of sentiments that the recipient could choose from when sending a card.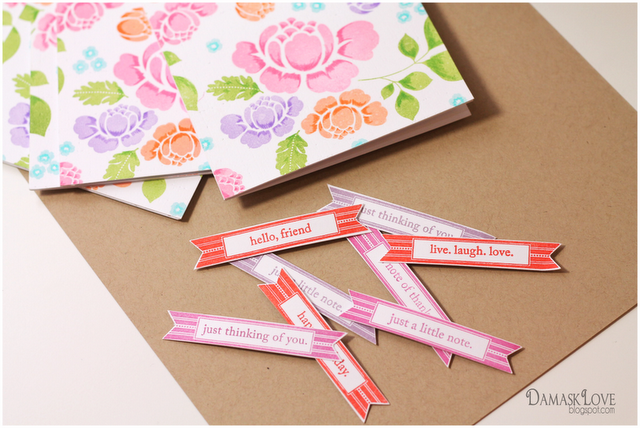 I created a selection of common sentiments using the Papertrey Ink Mat Stack 4 Collection which features a small little banner stamp that has space for a stamped sentiment. I stamped the banners and sentiments in vibrant colors, then cut them out.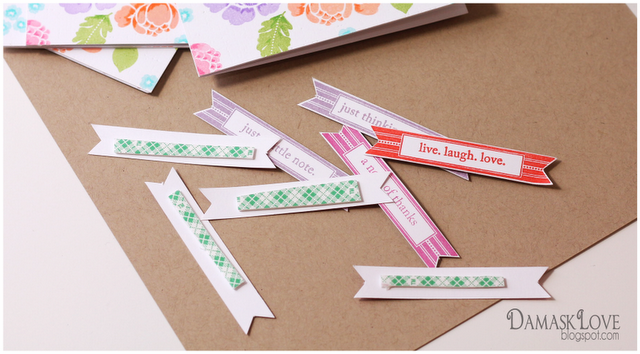 To make sure that the recipient would have no difficulty adhering the sentiments, I added a strip of dimensional adhesive to the back of each one.   
Now of course I had to package these up in a fun way, right?!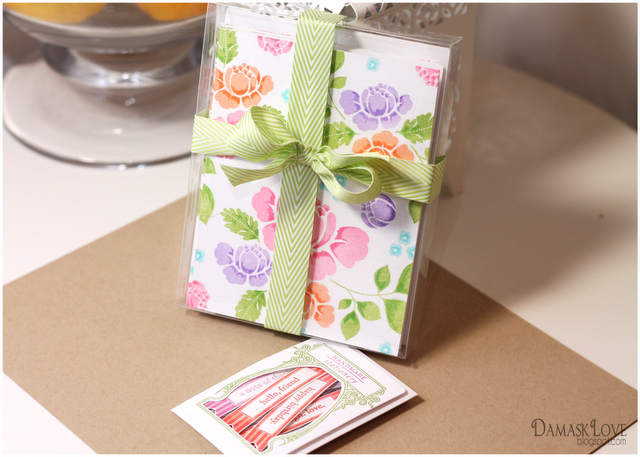 I placed the cards in a clear box then wrapped it with fun green chevron ribbon that I purchased from a seller on Etsy. Don't you LOVE that ribbon?!?!
Then – for the sentiment strips, I thought it would be fun to play off the beautiful floral garden feel of the cards. So I opted to package the strips in a seed packet envelope!
I tied the seed packet onto the ribbon so that everything was packaged up together.
UPDATE: I've received a couple of questions regarding the seed packet die – and I'm glad I did because I completely forgot to include the details on this part of the project! To create the windowed seed packet here's what I did:


1) Die cut the seed packet and frame.
2) Use a rectangle die cut or a craft knife to remove the center portion of the seed packet envelope. Don't remove the entire front of the envelope. Just enough to account for the size of the opening in the seed packet frame.
3) Adhere acetate to the back of the seed packet frame.
4) Adhere the seed packet frame over the opening in the front of the envelope using dimensional adhesive.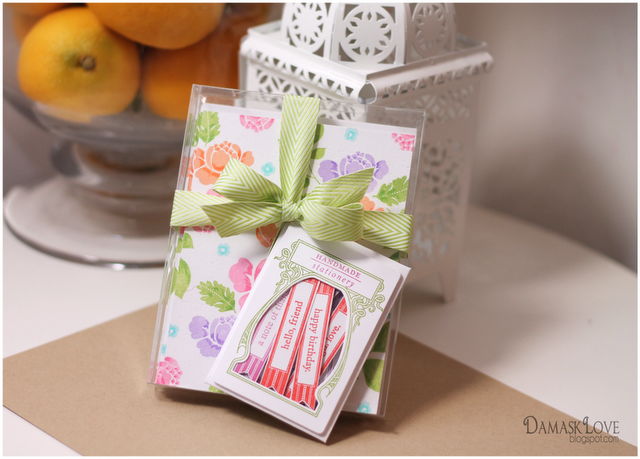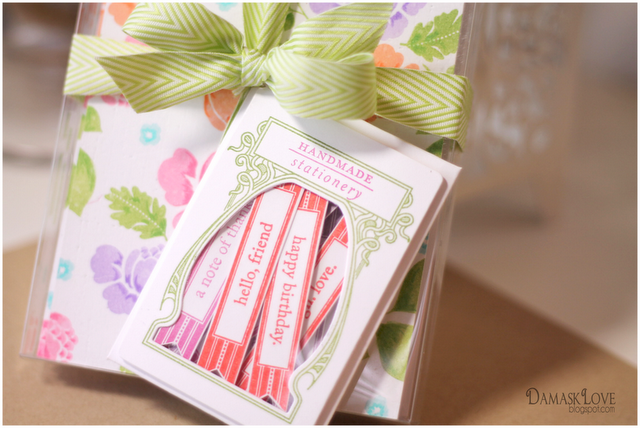 And one of my favorite parts of this card set is that the sentiment can be adhered in any way you'd like. You can orient the card horizontally or vertically and the pattern still works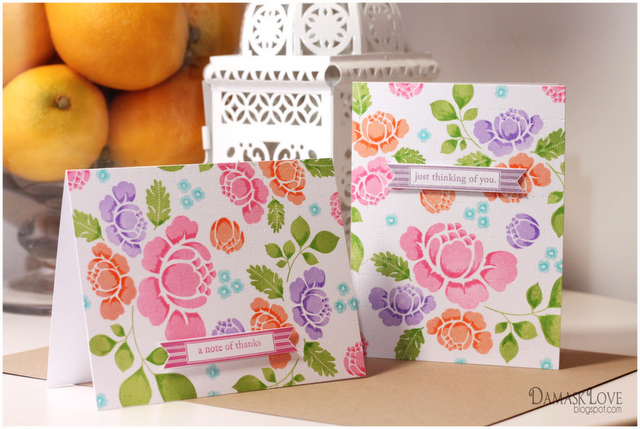 This card set may go down as one of my favorite projects ever! I just love the colorful flowers and the texture of the linen impression! Top it off with assorted sentiments and you just can't lose!
Hope this project inspires you to create some card sets of your own!!
Supplies:
Stamps: Papertrey Ink (Rosie Posie, Turning a New Leaf, Mat Stack 4, Mat Stack 1, Garden Variety, Simple Stationery)
Ink: Impress Fresh Ink (Pink Lemonade, Silver Lilac, French Lavender, Mojito, Tuscan Olive, Peach) ; Versafine Ink (Habanero)
Cardstock: Papertrey Ink (white)
Other: Prismacolor Colored Pencils (Parma Violet, Pink, Apple Green, Orange, Light Aqua); Papertrey Ink (Canvas/Linen Impression Plate, Seed Packet Die, Seed Packet Frame Die, A2 Card Set Clear Box)