Here's the thing: it doesn't take much to work me up. I'm the type of person that operates at a pretty moderate level of anxiety at all times. Most days, I'm around a 4 out of 10 on the frantic-o-meter…then I got the email, and I quickly went up to a 9. The email was from Martha Stewart Living asking if I'd like to partner with them and Home Depot to deck my halls with boughs of awesome. Well…that's not exactly what the email said, but that was the gist. Of course I said yes…because, well…how do you turn down a opportunity like that!?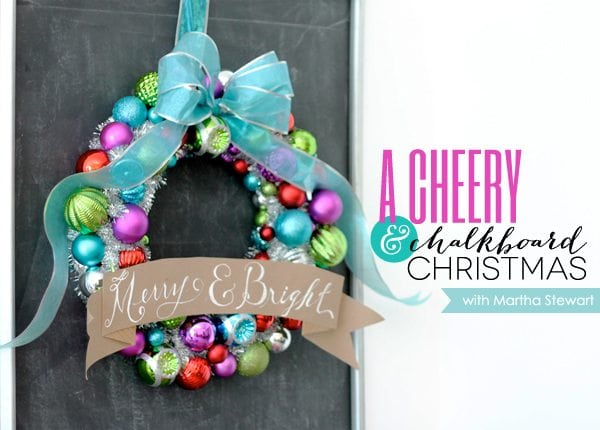 Then the freak out started. When I think of Martha Stewart holiday decor photos, I think of sprawling entryways, beautiful wood flooring, roaring fireplaces and a formal sitting room housing a 9-foot-tall tree flanked by two canapes and a one of a kind coffee table.
Now, me? I live in a medium-ish apartment in the middle of Miami. We don't have a huge sprawling entryway. We don't have freshly lacquered wood floors. No fireplace. And we most certainly do not have a formal sitting room…although we do have a one-of-a-kind coffee table. I got it from the "As Is" section at Ikea for $7. Then revamped it with some batting, fabric and tufting buttons. All this considered, I was completely intimidated by the idea of doing justice to the Martha Stewart Holiday Decor Collection in our home. Enter: Freak Out Mode.
After hours of planning, decorating, crafting and photographing, I'm excited to share the results. Our house is all decked out for the holidays and I love every bit of it. The bright colors in the Jingle Bright Collection are exactly my style and the chalkboard accents gave me an excuse to add a few touches of handcrafted goodness. So if you're still with me, let's do this. It's gonna be a long post.

We don't have a fireplace in our apartment and quite frankly, with these Miami temps, a fireplace would make exactly zero sense. To create a fireplace-inspired feature, I used the buffet as a centerpiece for our cheery, chalkboard Christmas decorations. I've also had the pleasure of having several wreaths stolen right off my front door, so by keeping this pretty wreath indoors, I thwarted the terrible efforts of all the wreath-snatching Grinches out there.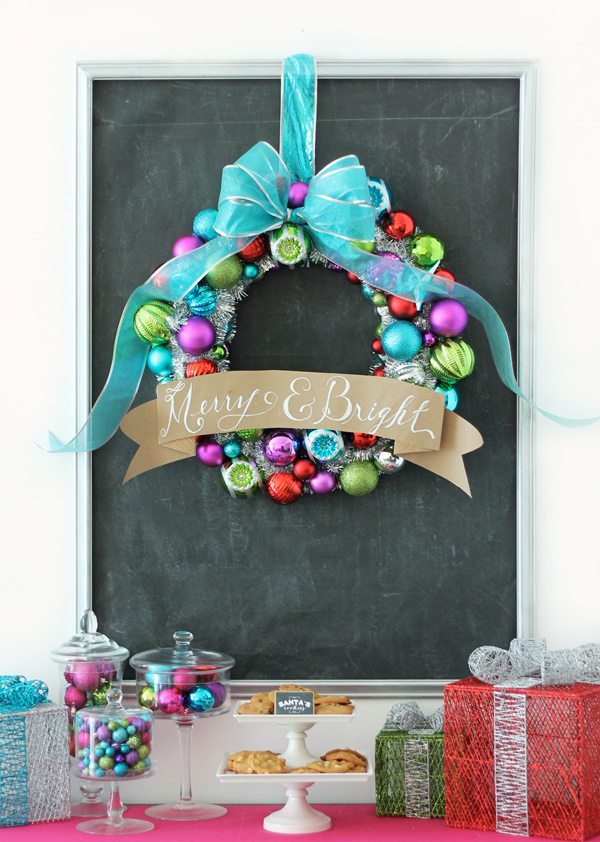 I anchored the Jingle Bright wreath with an oversized frame that I created using supplies from Home Depot, some matte black gift wrapping paper and a little crafty know-how. Here's how it came together: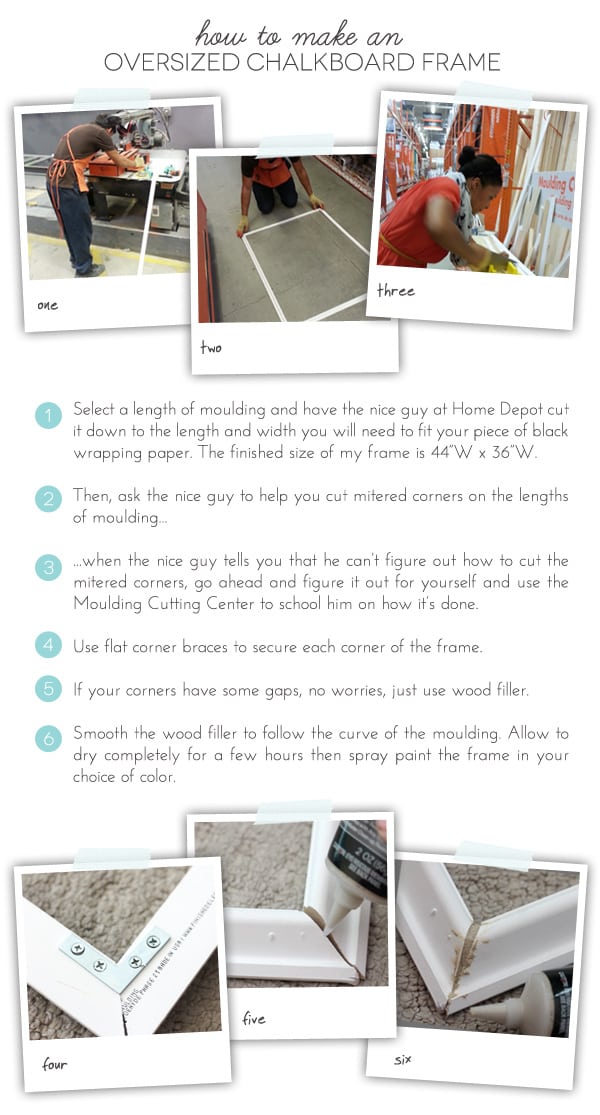 Once you've assembled the frame and the paint has dried, you'll want to mount it around a piece of matte black wrapping paper to create an authentic chalkboard look. To hang up your oversized frame, just use Command Strips. Two or three on each side of the frame should hold it up nicely…and make it easy to take down.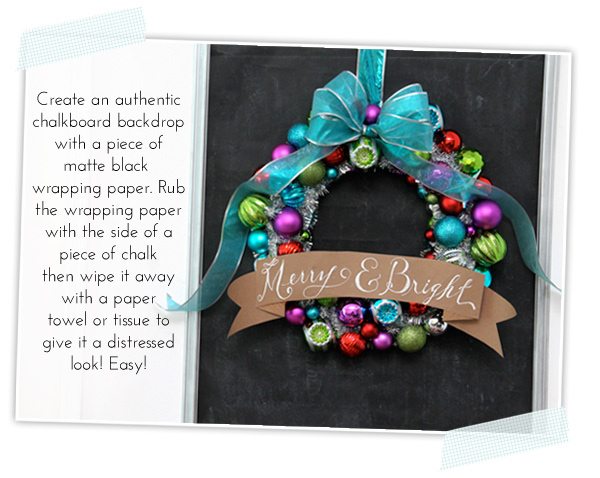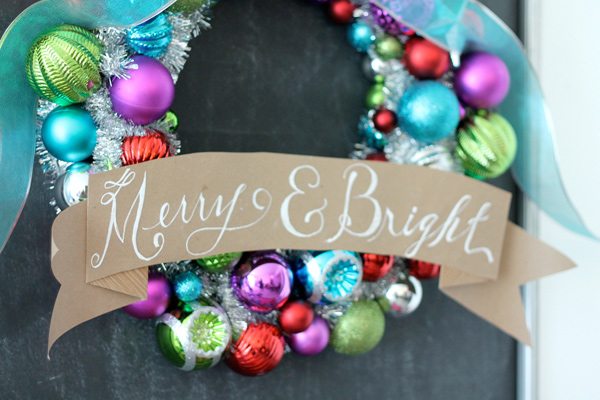 Being the paper crafter that I am, you know I had to incorporate some handmade papercrafty-ness into these decorations. Turns out, Home Depot sells ginormous rolls of kraft paper for only ten bucks! I cut a banner from the paper and used my very best handwriting along with my very favorite white gel pen, to add a pretty Christmas greeting.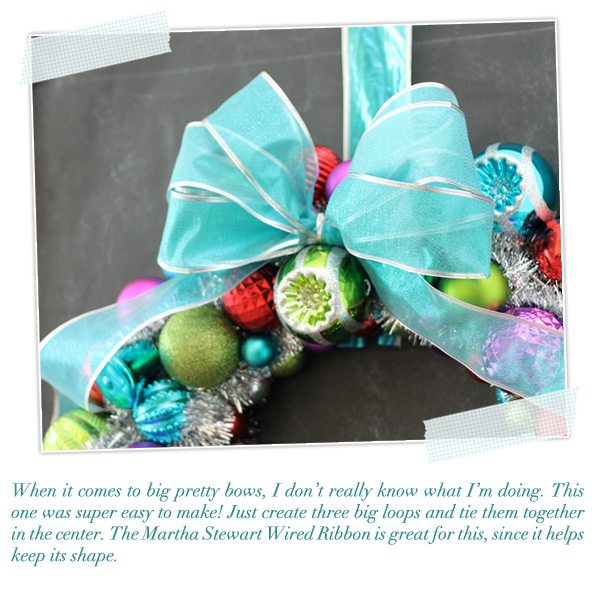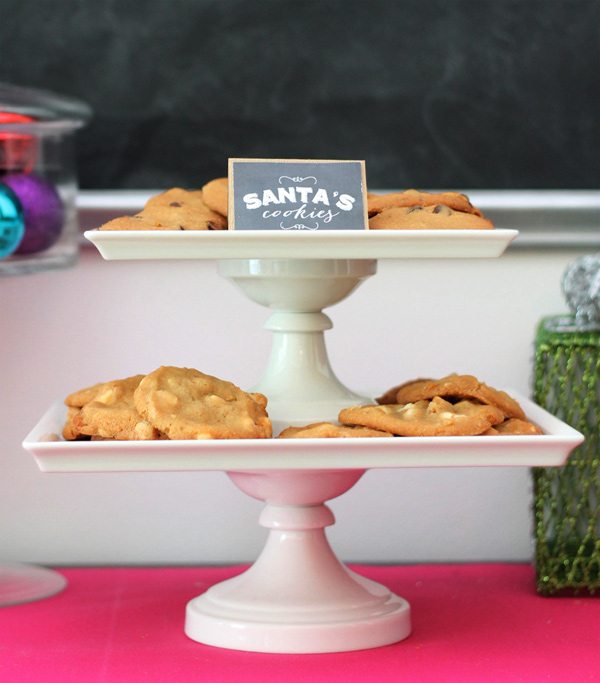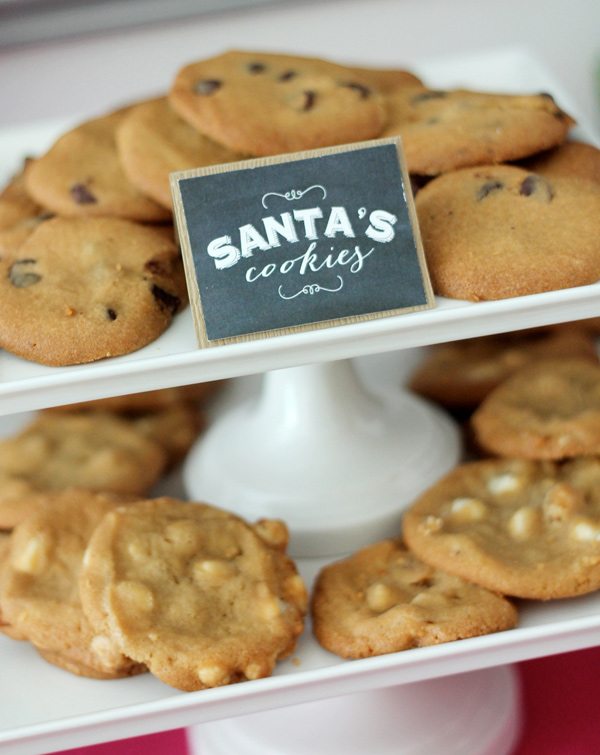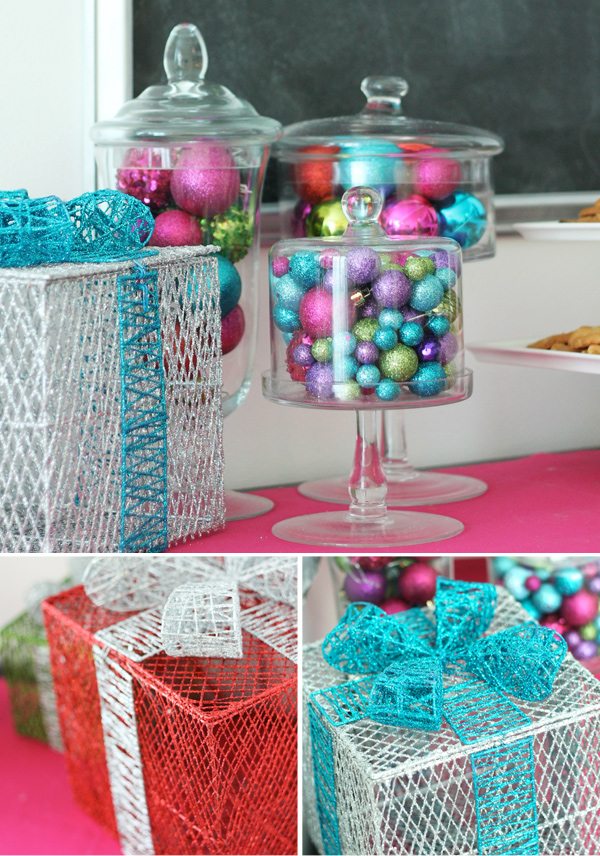 WREATH DECOR SUPPLIES
Jingle Bright Ornament Wreath | Jingle Bright Gift Boxes Decor | White Gel Pen | Kraft Paper | Matte Black Wrapping Paper | Moulding | Metallic Silver Spray Paint | Flat Corner Braces | Wood Filler | Apothecary Jars | Cake Stands

Imagine my excitement when Santa arrived a little early…specifically October 16th, 2013 when THIS baby showed up in the mail! There might have been some excited squeals in the mailroom. Once the helpful guys from the front desk helped me get this behemoth of a tree into our place, I immediately went to work setting it up in the corner of our living room.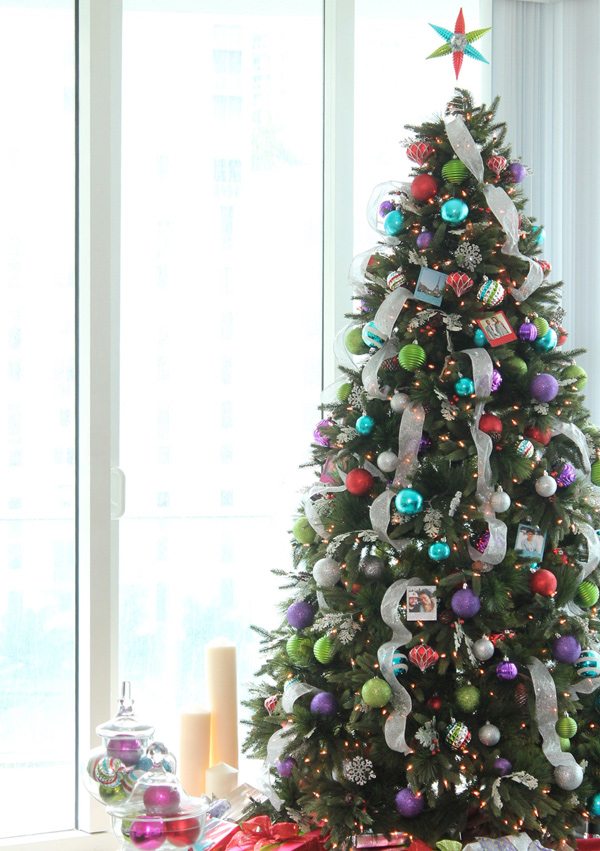 I'm no professional when it comes to decorating a Christmas tree so, I kept it pretty simple by using the Jingle Brights 2″ Ornaments and the 3″ Ornaments with Pattern . A roll of silver wired ribbon was great for making some pretty cascading garlands down the tree.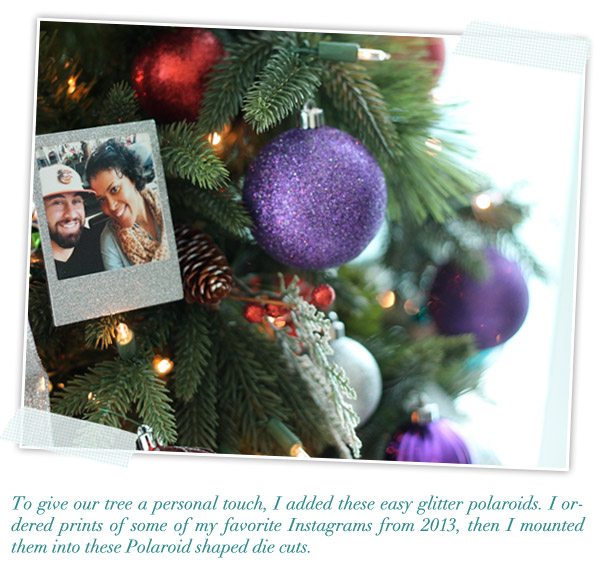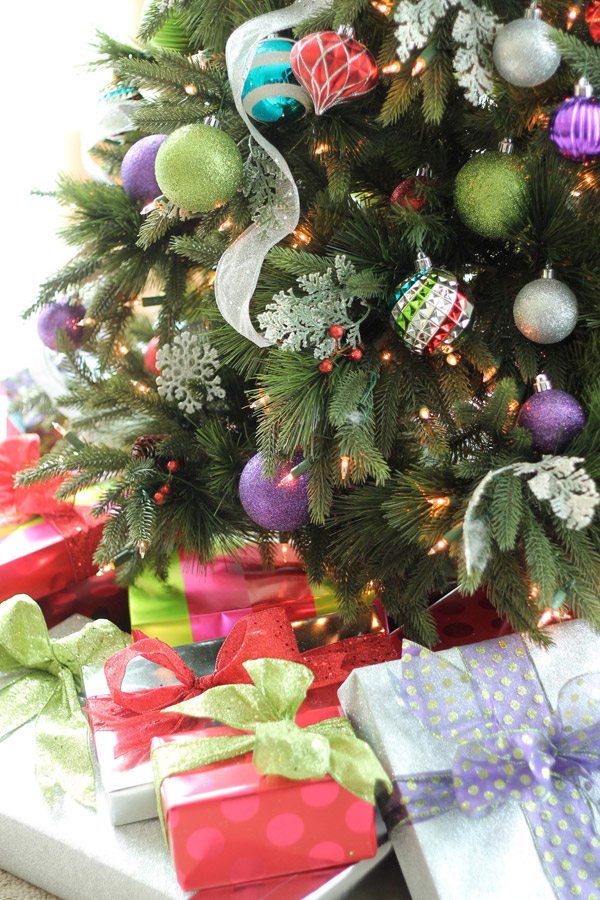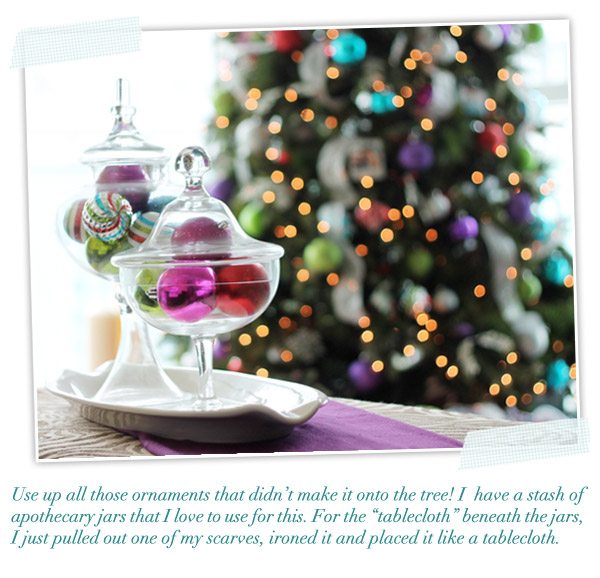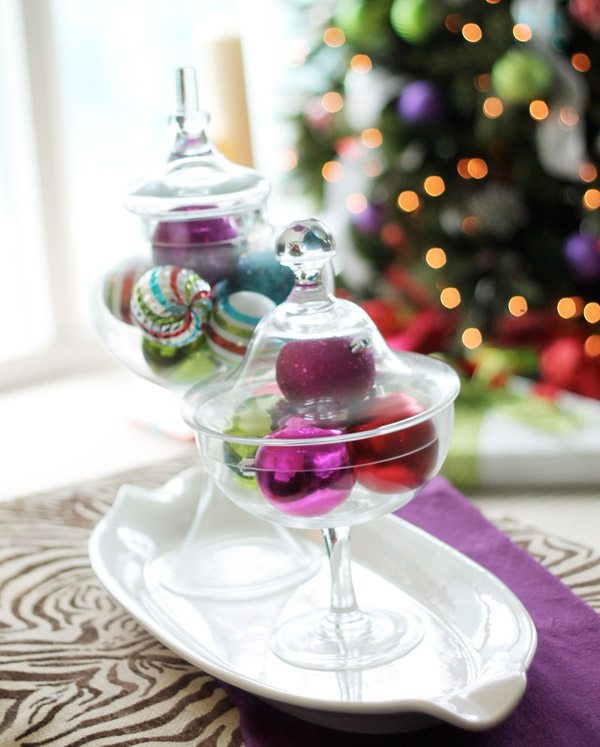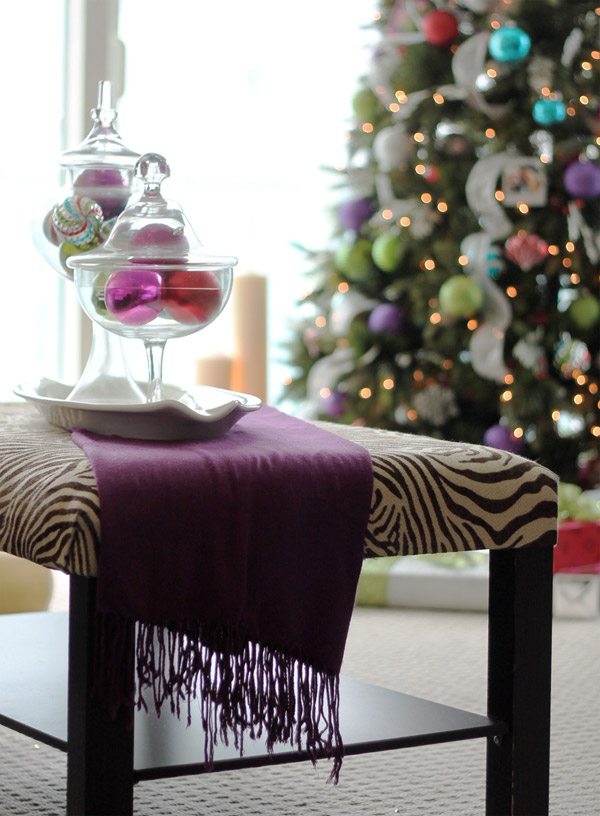 TREE DECOR SUPPLIES
Jingle Brights 2″ Ornaments | Jingle Bright 3″ Ornaments | Clear & Simple Stamps Polaroid Die

The last part of my holiday decor includes our dining table which I jazzed up with easy placesettings. Instead of using the Star Ornaments on the tree, I put them onto the plates as a pretty favors for our guests…you know….the one's who will be showing up in about a month or so!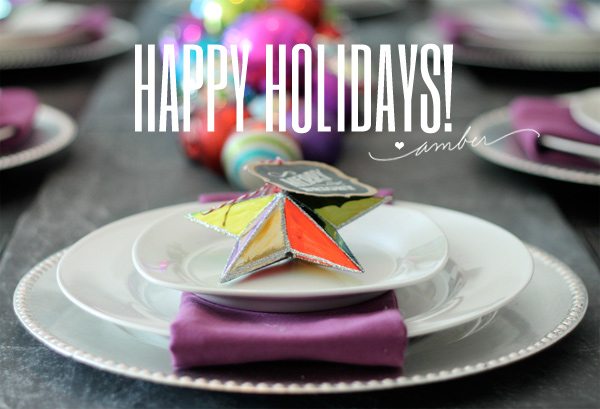 TABLE DECOR SUPPLIES:
All of the holiday decor product featured in this post was provided by the Martha Stewart Living team to celebrate the 'Tis the Season of Doing holiday campaign going on now at The Home Depot. All project ideas and opinions expressed are my own.