I'm not a huge fan of the Academy Awards, but as I've mentioned before, I am a sucker for anything that allows me to decorate or throw a party.
The Academy Awards definitely meets the criteria for a party/decoration-worthy event. 
Today's post features a couple of projects that I dreamed up after reading this article over at Twig & Thistle.  I was inspired to create my own DIY Oscar Party! Be sure to download their Oscar Nomination Ballot – it's super cute and is the perfect finishing touch for an Academy Awards Party.


Now for my take on an Oscar worthy shin-dig.


First you'll need invitation – obviously!


The design in pretty simple. Just some cardstock pieced together for a single sided invitation.   I wanted the invitation to reminiscent of the envelopes at the actual award show. 


I created the "seal" on the outside of the envelope using Microsoft Word. Then I mounted it on Pure Poppy cardstock which I die cut using the Papertrey Ink Limitless Layers dies.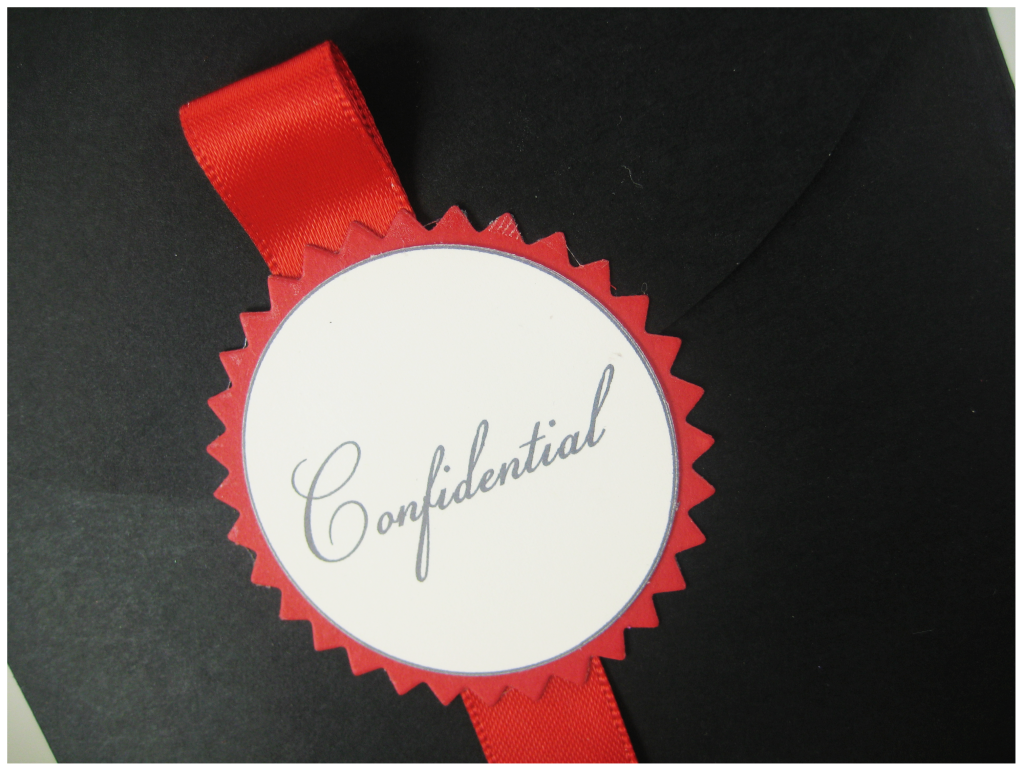 As if receiving this envelope isn't fun enough – just wait until you open it!


I lined the envie in metallic gold to add a bit of Black-Tie-Affair-Flair!
And how about that header?! So perfect for the event.


 And here is the completed invite.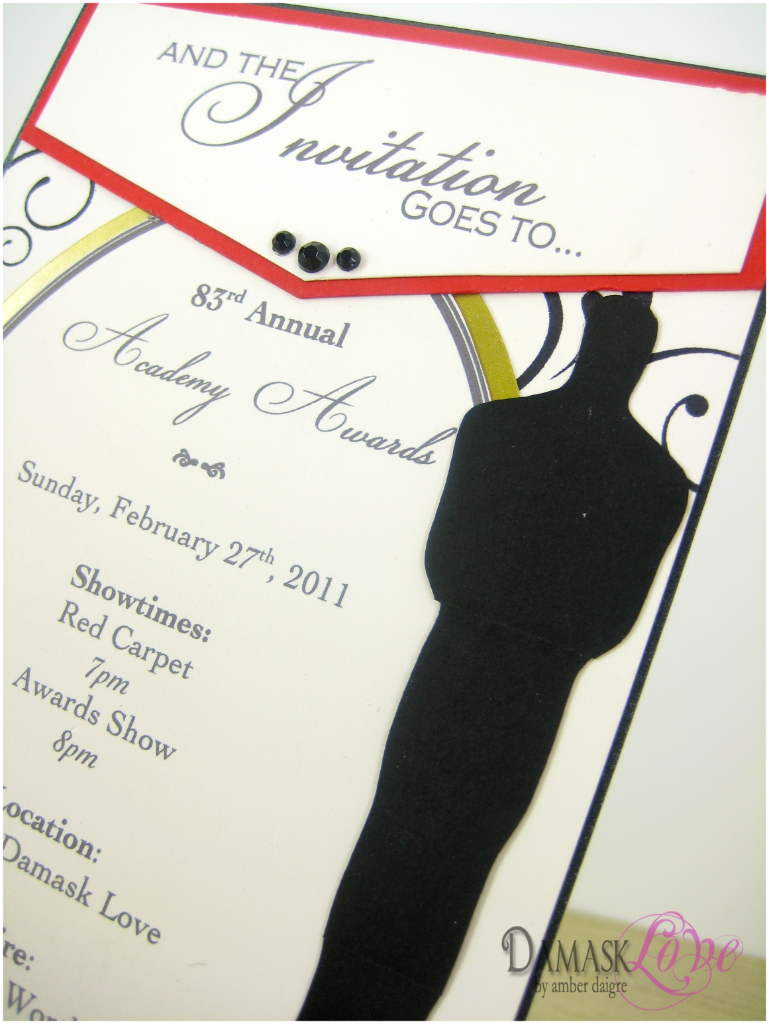 I just LOVE the silhouette of the award. I was able to create a die cut of the award using my Cricut Expression.  If you're interested in purchasing a few of these dies for your own invitations – I am selling them in my Etsy store in packages of ten!


Now on to the next part of this project.


What's a movie party without popcorn! But this is the Oscars, so we can do a little better than regular ol' Orville Redenbacher.


How about a miniature popcorn box?


I created this template so you can create these on your own!


The template contains four panels that you will adhere together. I chose to use four separate panels so that you can create a scalloped edge on each of the pieces and get a more authentic look. 




Before:




After I used a border die to create scalloped edges:




Here is the completed box, which I dressed up with some strips of gold scrapbook paper and red ribbon. The "Popcorn" label is included with the template I designed.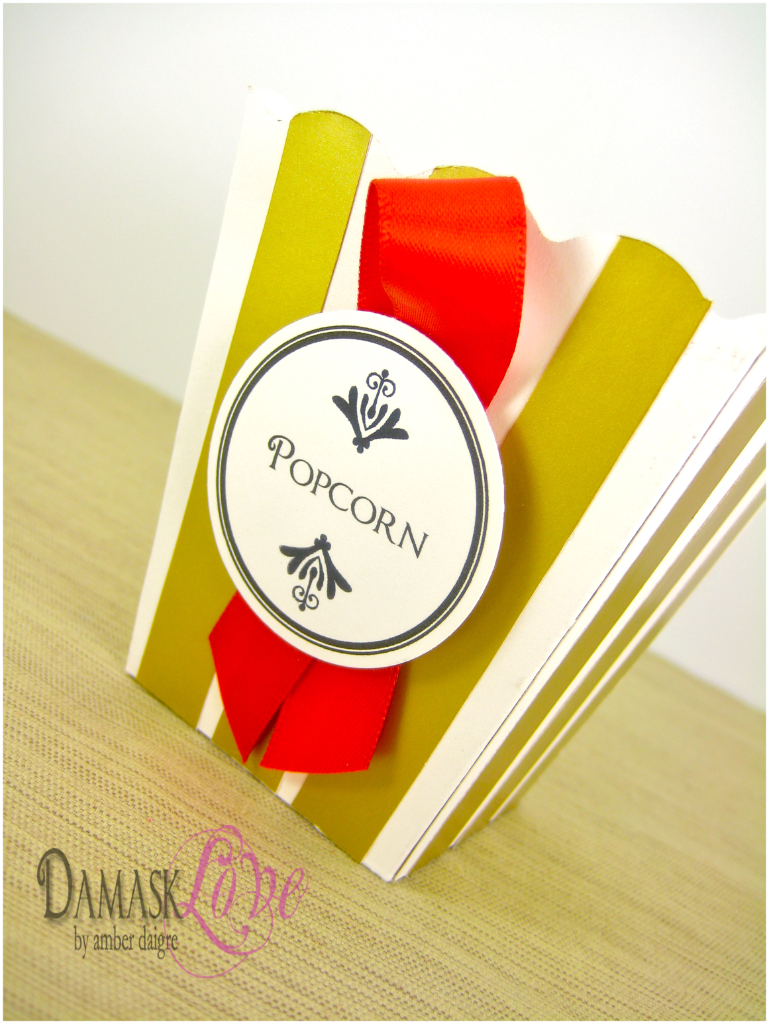 Now,  as cute as the popcorn box is – it's lookin' a little sad with no popcorn in it! Well, that's an easy fix.


I filled these little boxes with homemade Toffee-Dark Chocolate popcorn – and let me tell you – it is DEEEEELISH!


1 bag of Newman's Own Natural Popcorn, popped
1 1/2 cup Heath Toffee Bits
1/4 cup light corn syrup
1/2 cup dark chocolate chips (I like Ghiradelli 60% Cacao)
1/2 cup white chocolate chips
2 tablespoons shortening (divided)
1) Heat oven to 275 degrees and
grease a baking sheet and place popcorn on baking sheet in one layer.
2) In a saucepan, combine toffee bits and corn syrup over medium heat and stir until melted together
3) Pour toffee mixture over popcorn and stir until well-coated
4) Bake for 20 minutes, stirring frequently to achieve good coverage.
5) Spread popcorn over waxed paper and allow to cool.
6) In two separate bowls, combine chocolate chips with 1 level tablespoon of shortening, each.
Microwave at MEDIUM (50%) 1 minute; stir. If necessary, microwave at MEDIUM an additional 10 seconds at a time, stirring after each heating, until chocolate is melted and smooth when stirred. Drizzle melted chocolate over popcorn. Allow drizzle to set up; break into pieces. Store in tightly covered container in cool, dry place. 
If you are interested in purchasing a complete package of materials needed to create these projects, please contact me at [email protected]
Thanks for stopping by today!