Fun fact: After I graduated from college, I worked part-time at a shoe store. I am proud to say that I earned no money. Every single dollar I earned as a sales associate, went right back into buying shoes from the store. You know that saying about a "kid in a candy store?" Yeah, that was me…just replace "candy" with "shoe."
Fact of the matter is this: there are few things I love more than crafting.
My family.
Afternoon naps.
New shoes.
…not always in that order, depending on the day and number of times my 4-year old has whined about eating more gummy bears before dinner.
No matter the day, time, season or occasion, though – shoes are always a top priority for me. I love high heels, flats, casual and dressy…but when I'm working in the studio or running errands – a cute pair of sneakers goes a long way! It helps if the cute sneakers are pink.
In the spirit of staying cute, comfortable this holiday season, I'm breaking out a new pair of pink sneaks along with a new DIY step stool that is great for reaching new heights of holiday decorating.
With the comfort of Easy Spirit and the ease of pre-fab wooden stool, together we can craft our  way through this season in high style…literally.
Let's start by making our step stool, using colors inspired by new Easy Spirit Riky sneakers.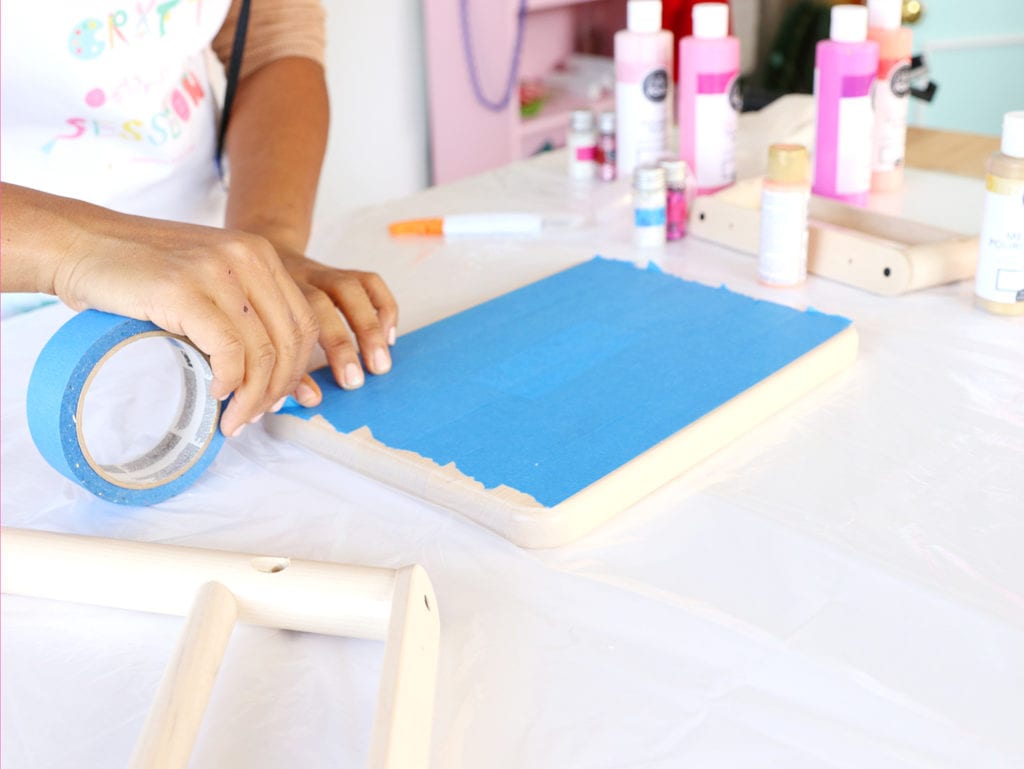 STEP 1:
Use painter's tape to cover the bottom of the stool. I'm using the Vilto stool from Ikea. It's inexpensive and easy to work with for this project.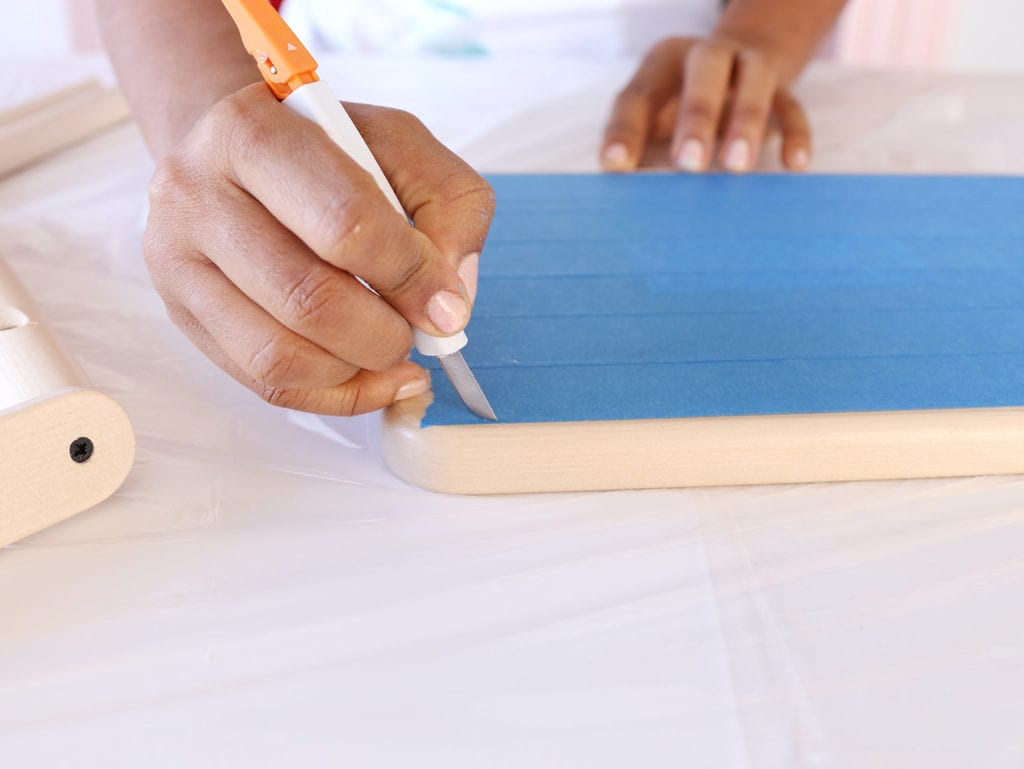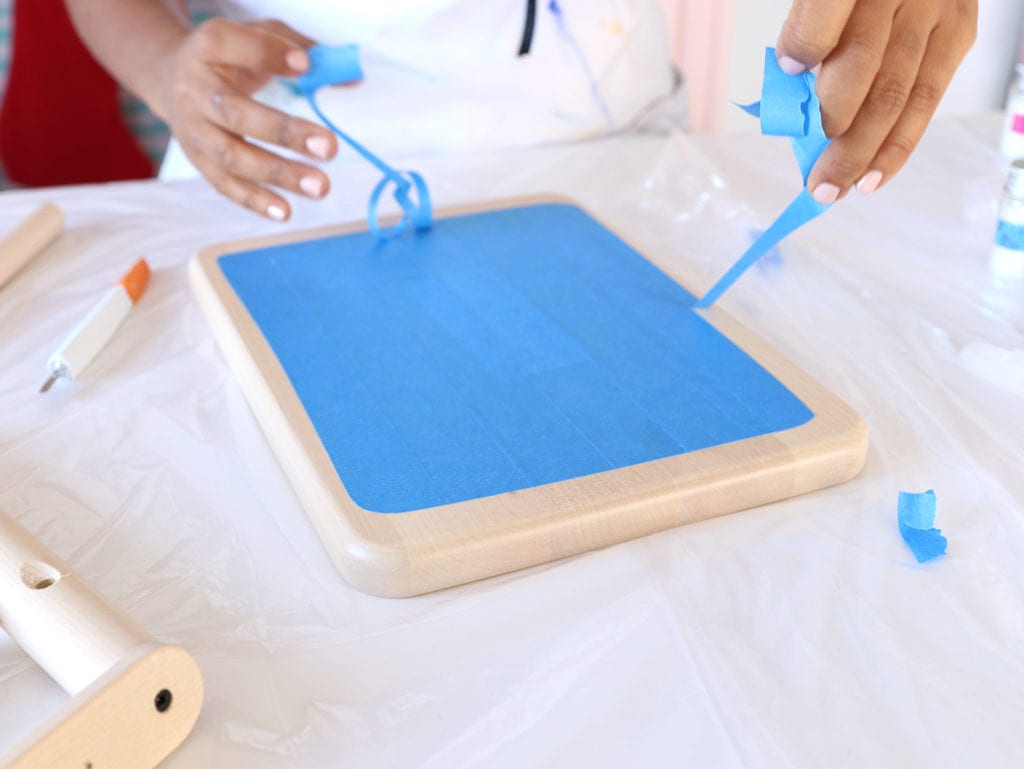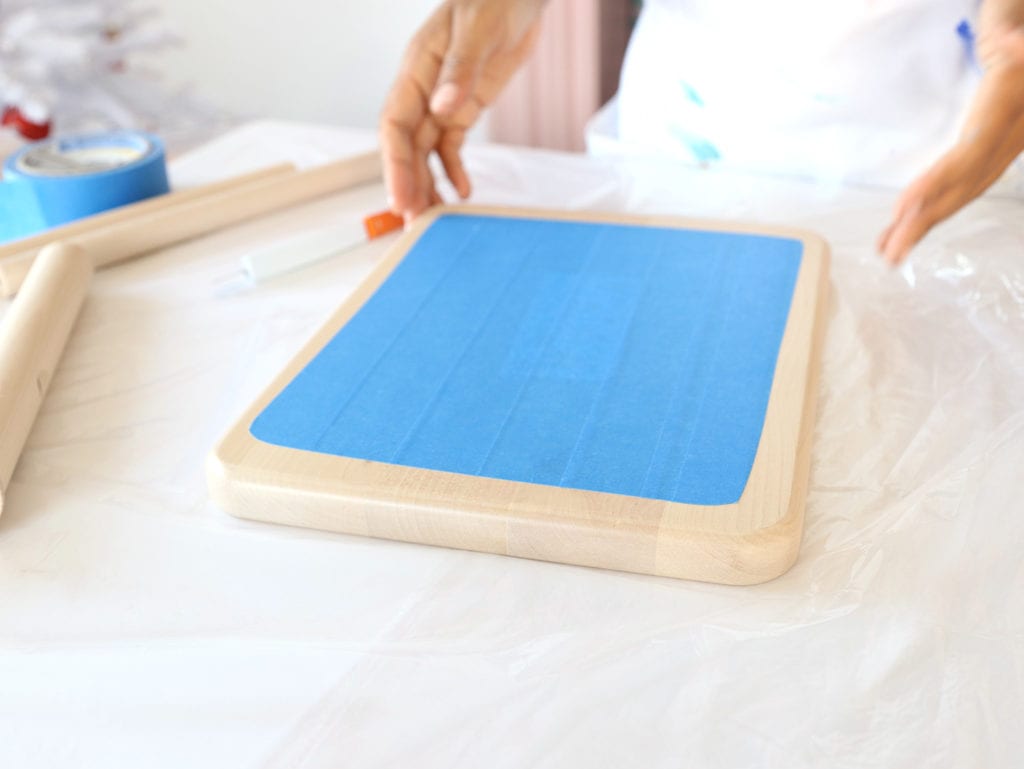 STEP 2:
Once the bottom of the stool is covered, use a craft knife to clean up the edges.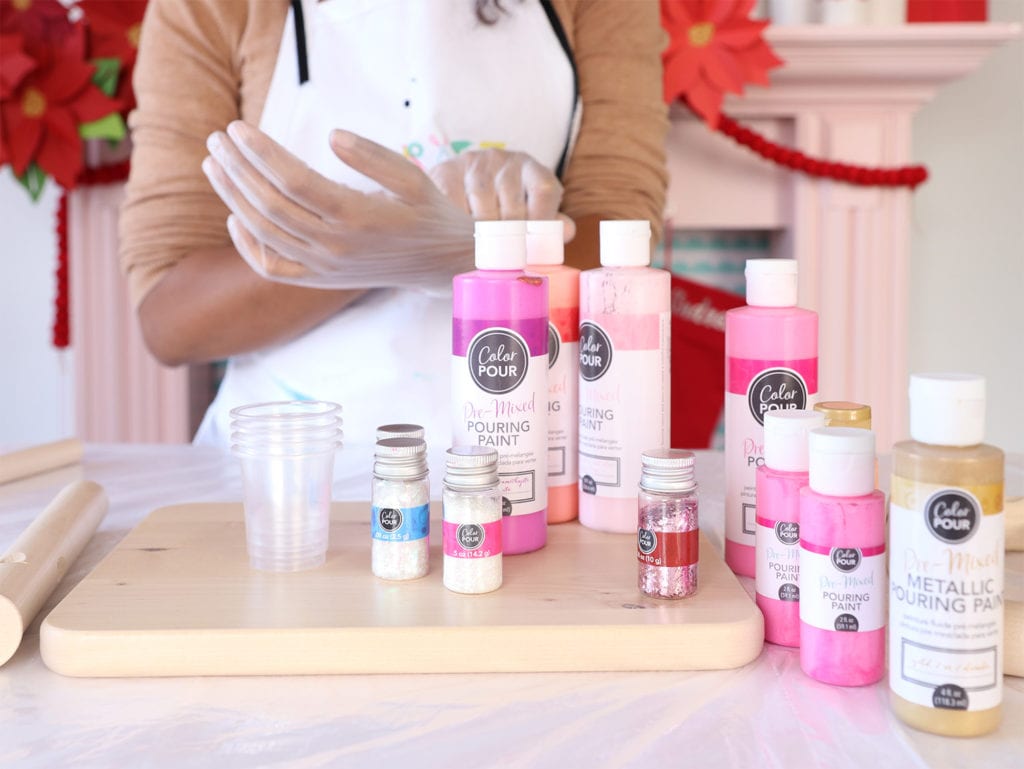 STEP 3:
Gather your paint pouring materials! I'm using: Color Pour paint, rubber gloves (it can get messy), a plastic sheet to protect my work surface, plastic cups…and of course the top of the stool.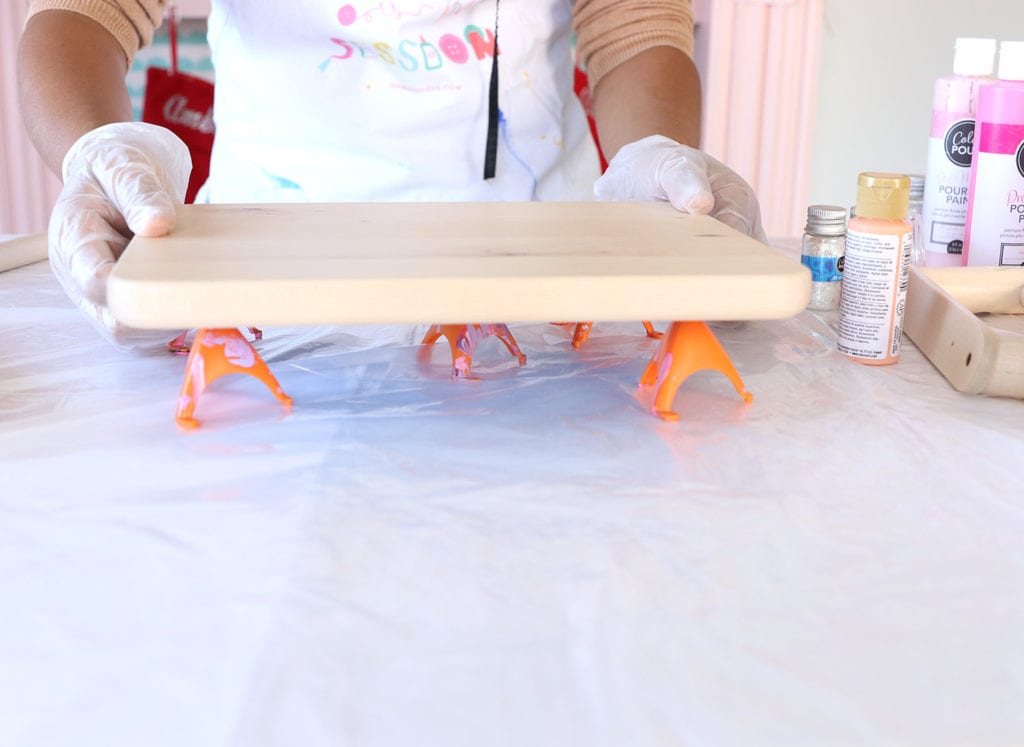 STEP 4:
Set out a few painter's points, and place the stool with the tape side down, directly onto the points.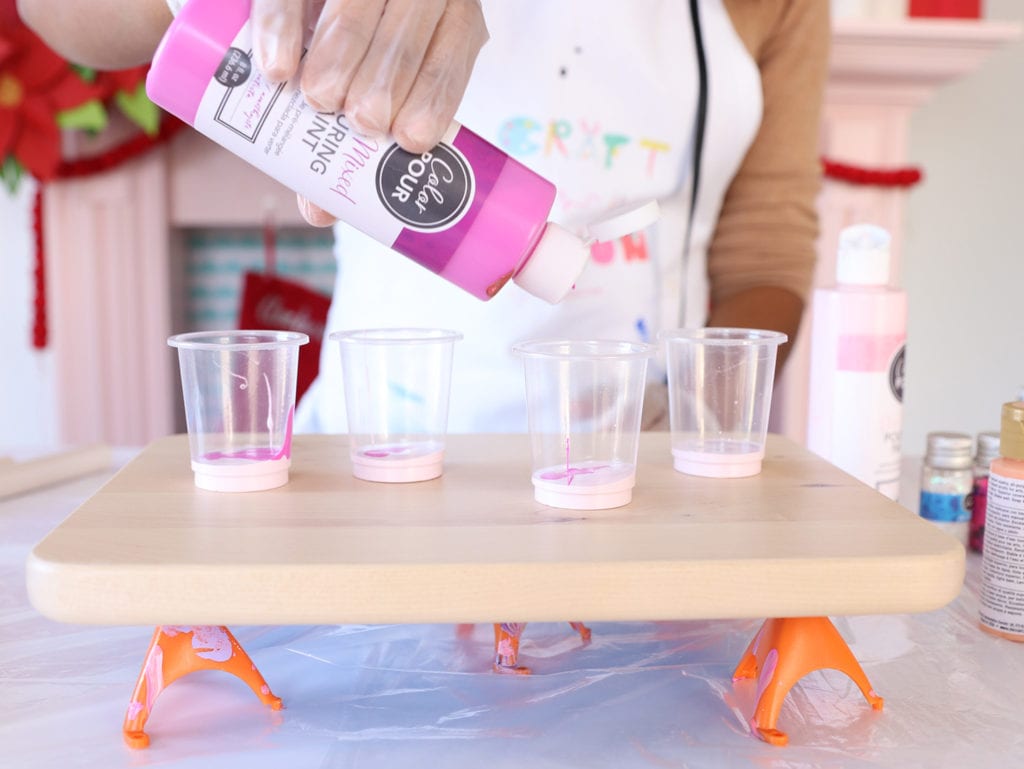 STEP 5:
Working one color at a time, begin squeezing paint into the plastic cups. Continue layer the paints one by one until you have filled each cup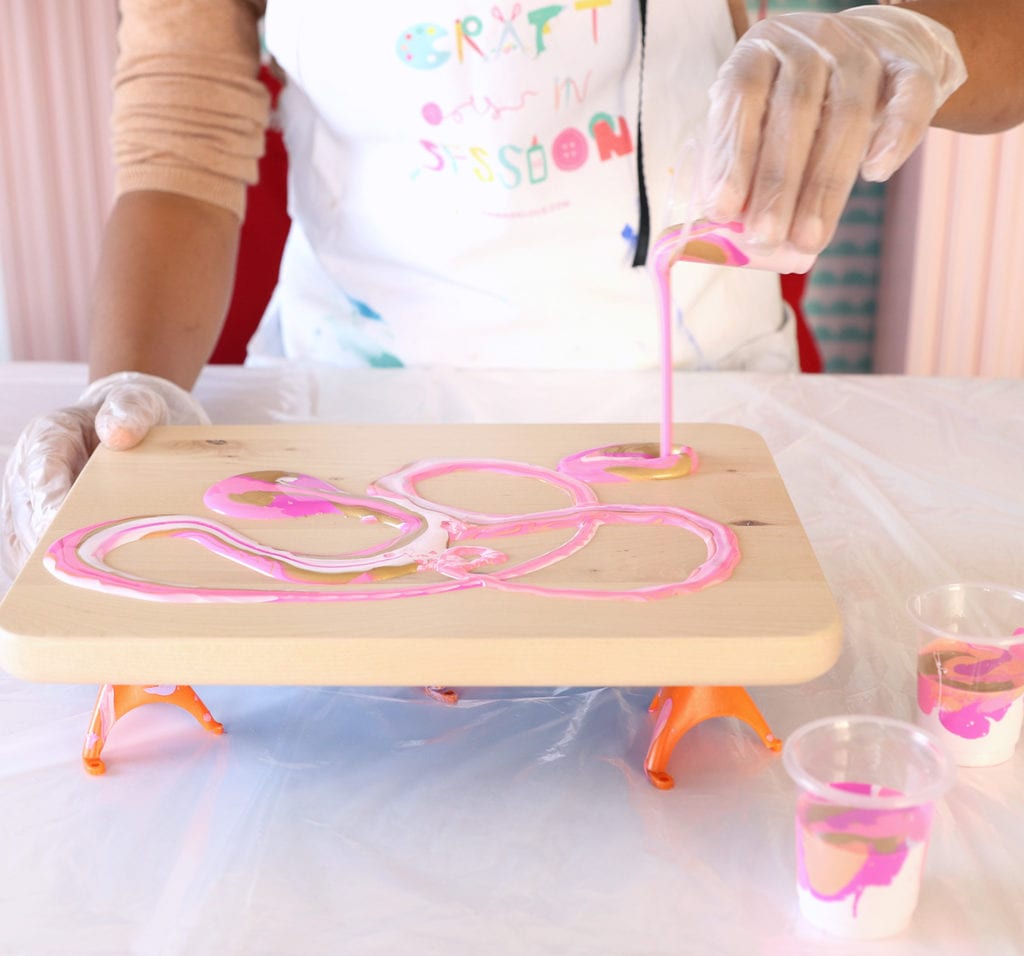 STEP 6:
Now, pour the paint onto the stool in a random pattern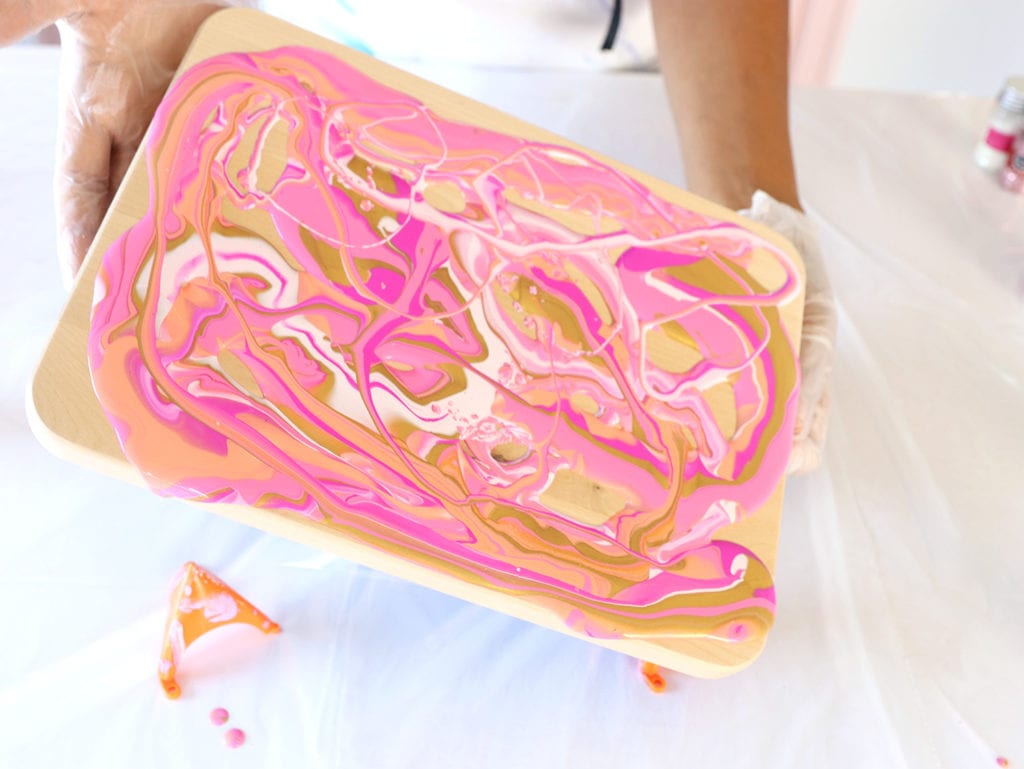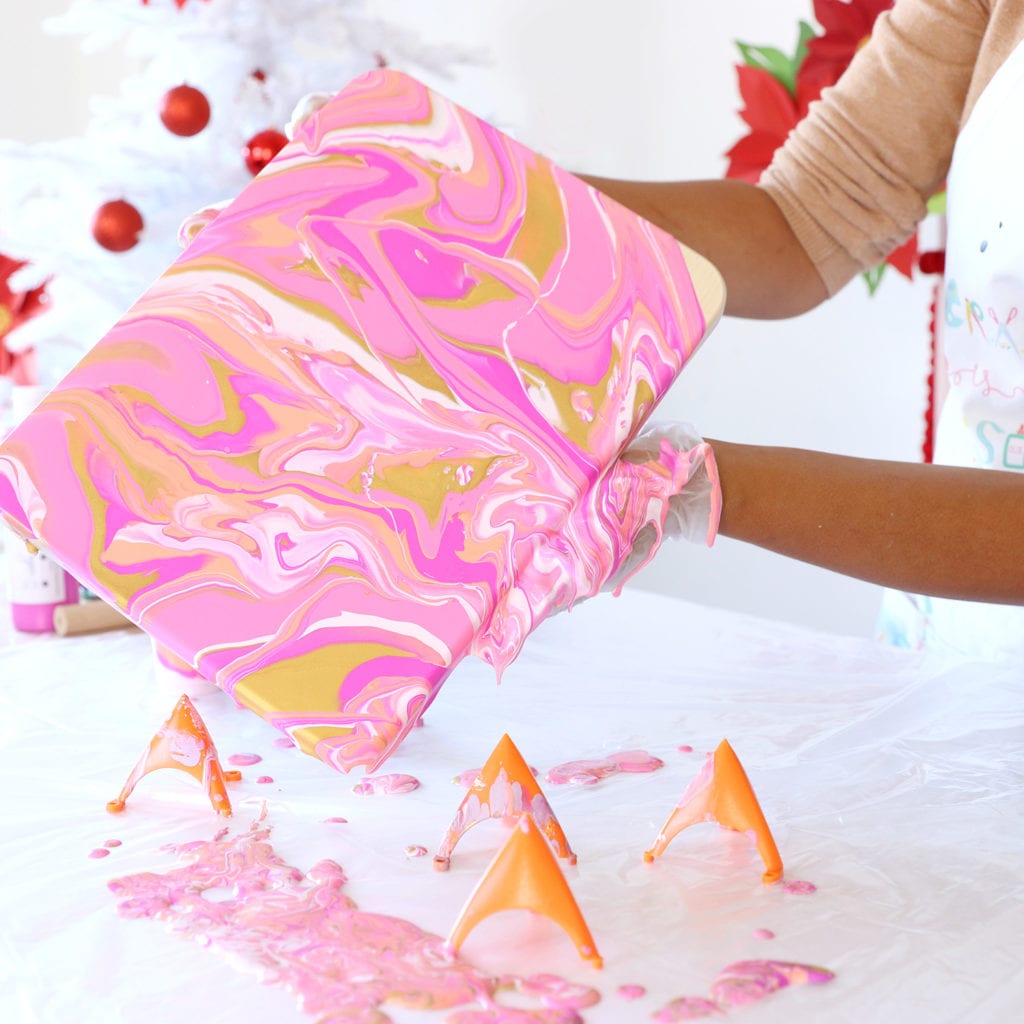 STEP 7:
Once you've emptied all the cup, hold the stool top and begin tilting it to spread the paint and create your marbled paint effect.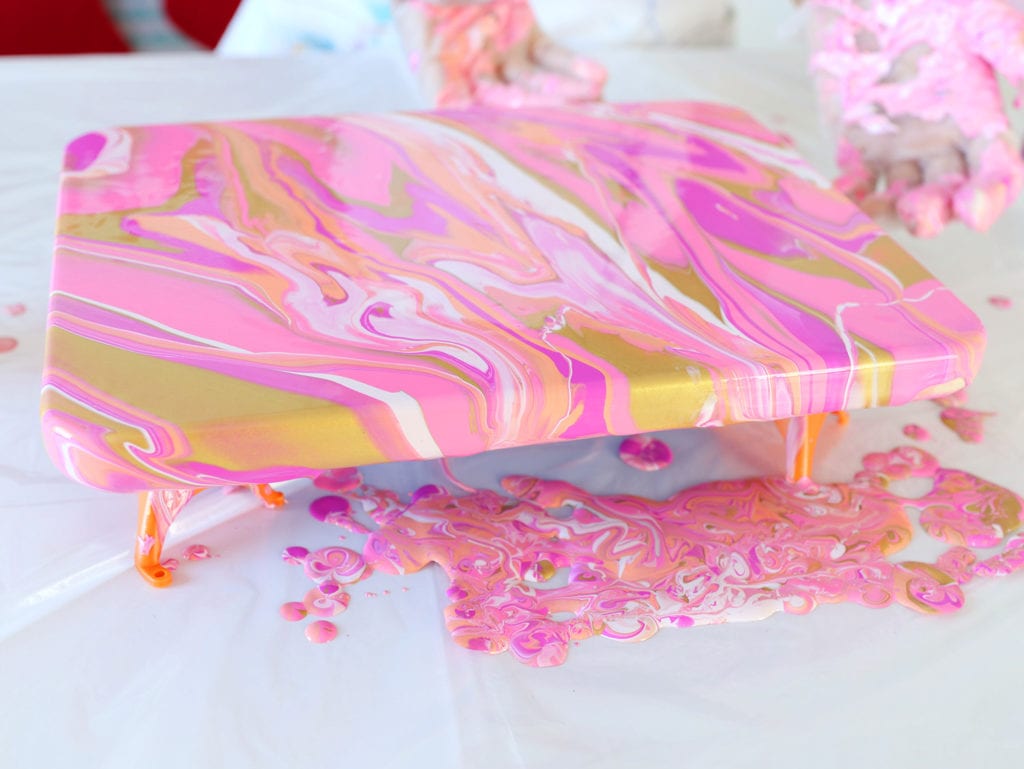 STEP 8:
Set the stool top back on the paint points and allow to dry completely for 24-48 hours.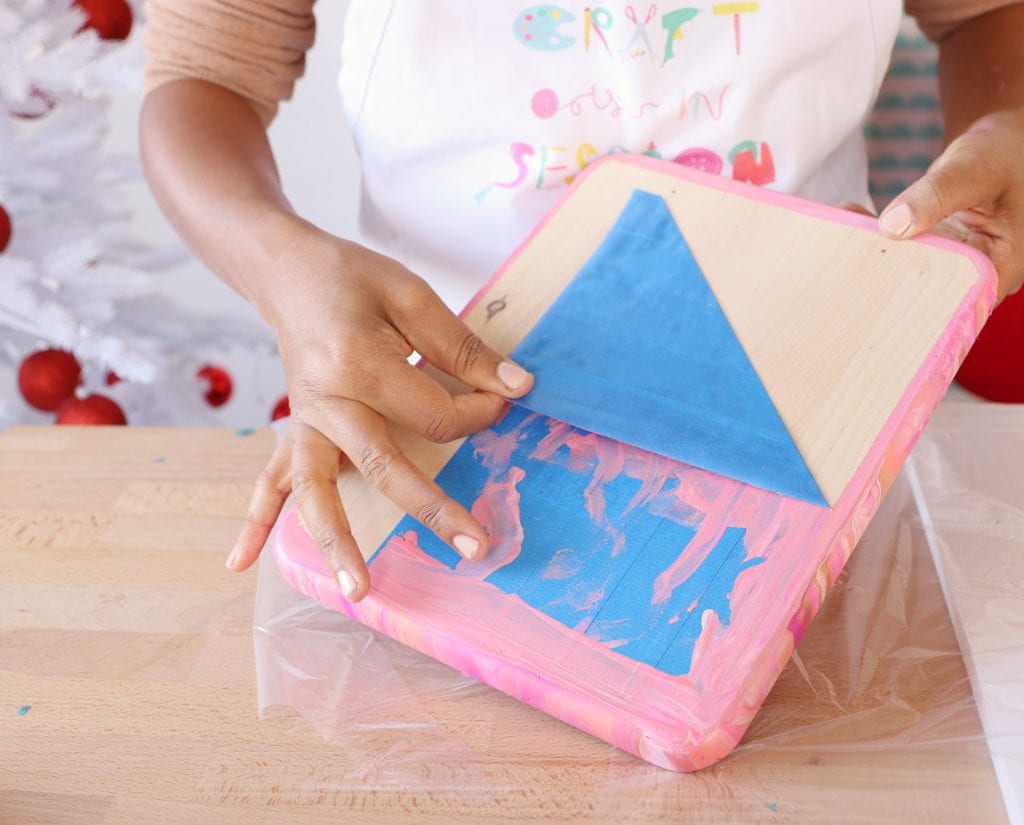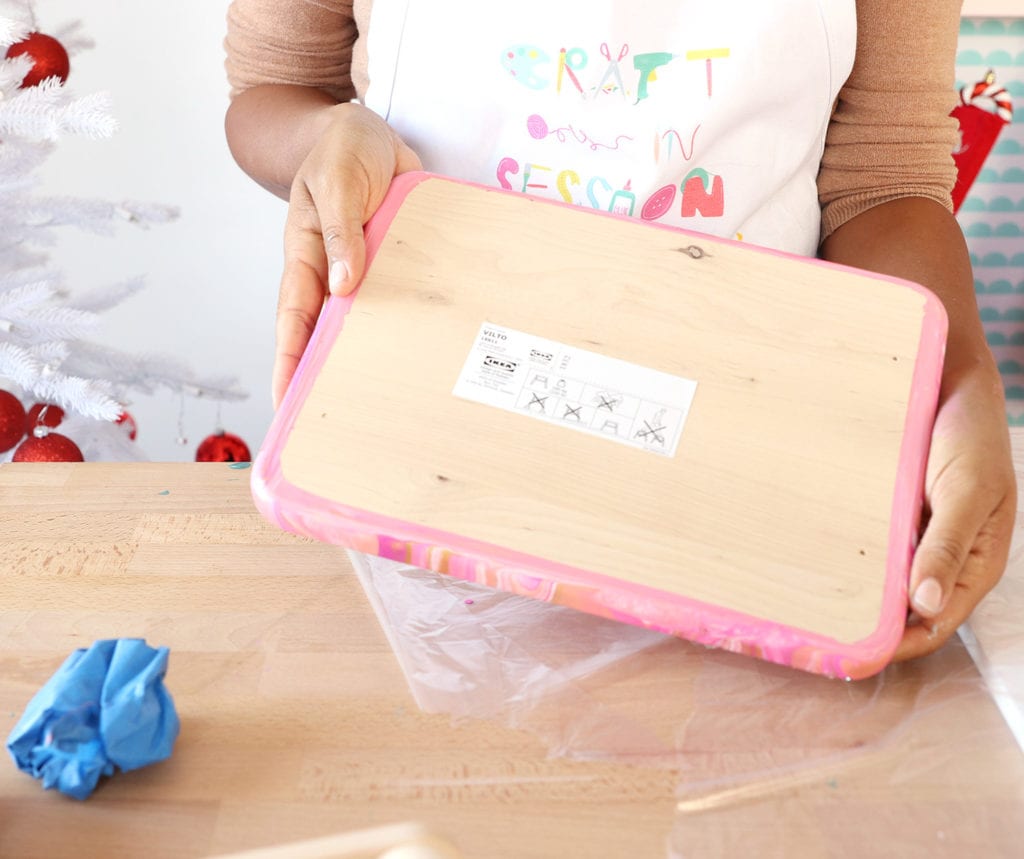 STEP 9:
Remove the painter's tape from the bottom of the stool. This will reveal a clean bottom of the stool! YAY!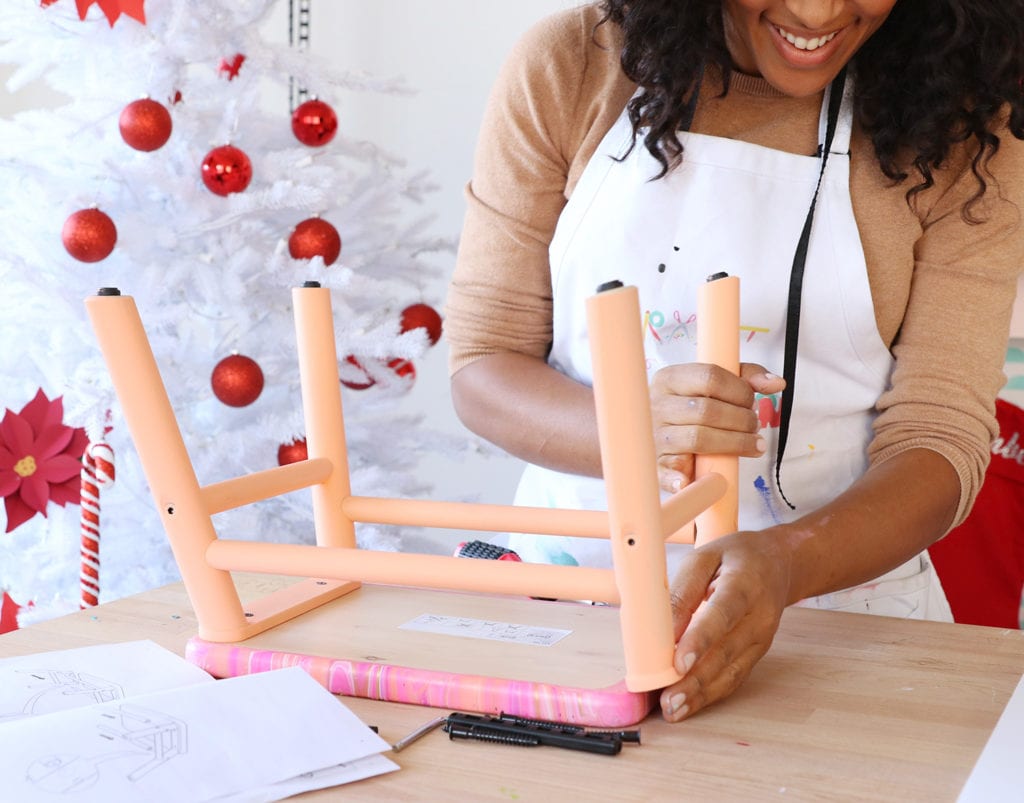 STEP 10:
Assemble the stool according to package instructions.
With our stool complete it's time to step up and start decorating! Lace up those sneakers girlfriend, we've got some crafting to do!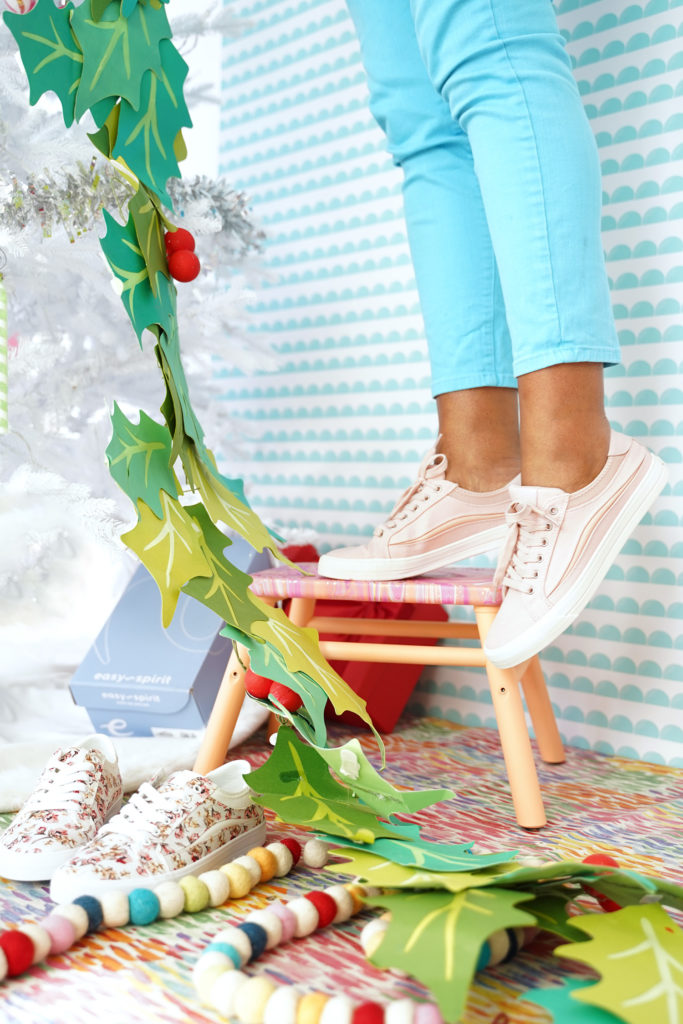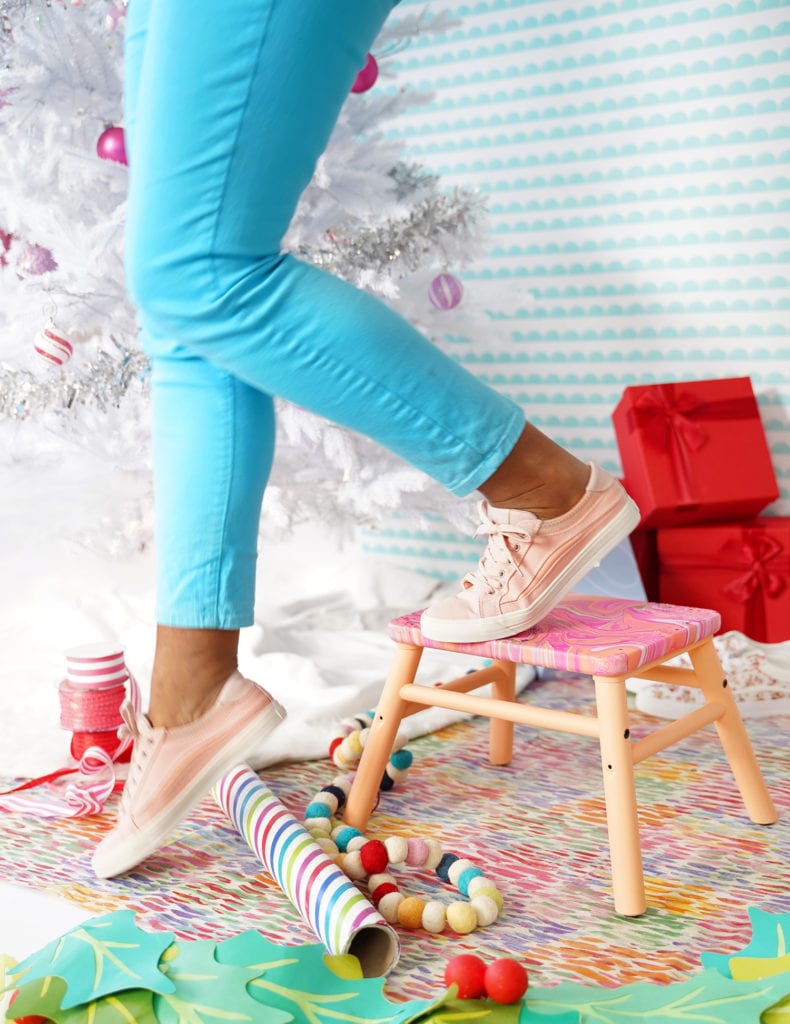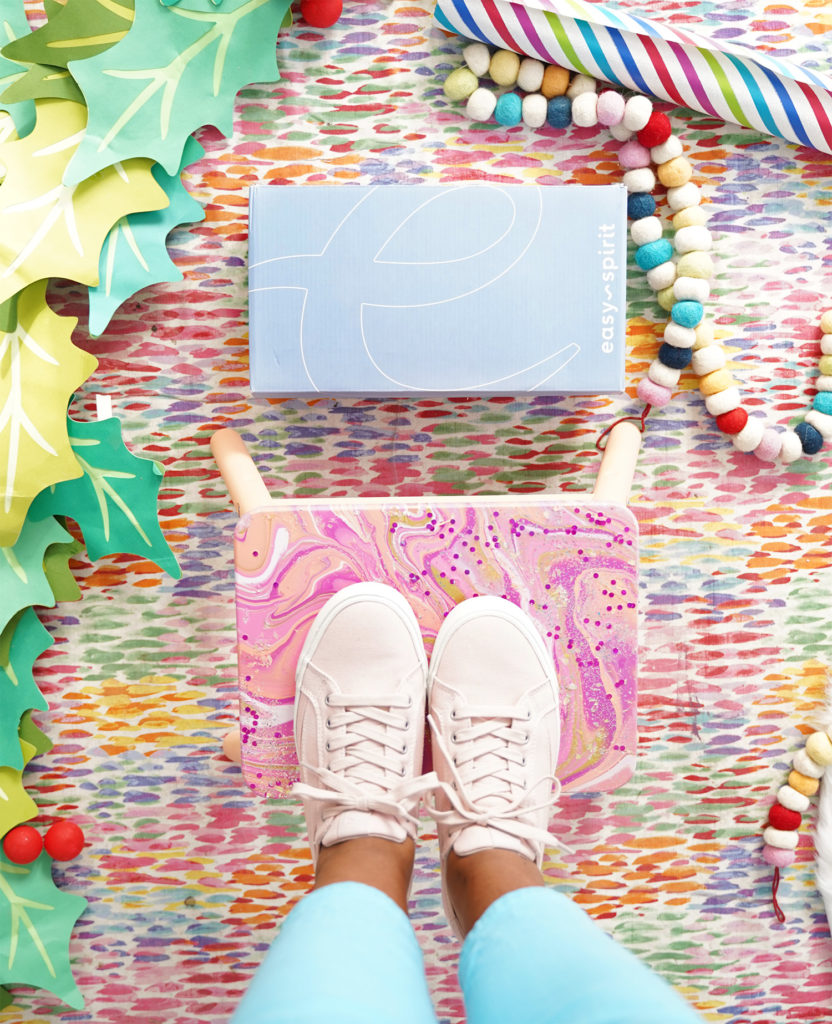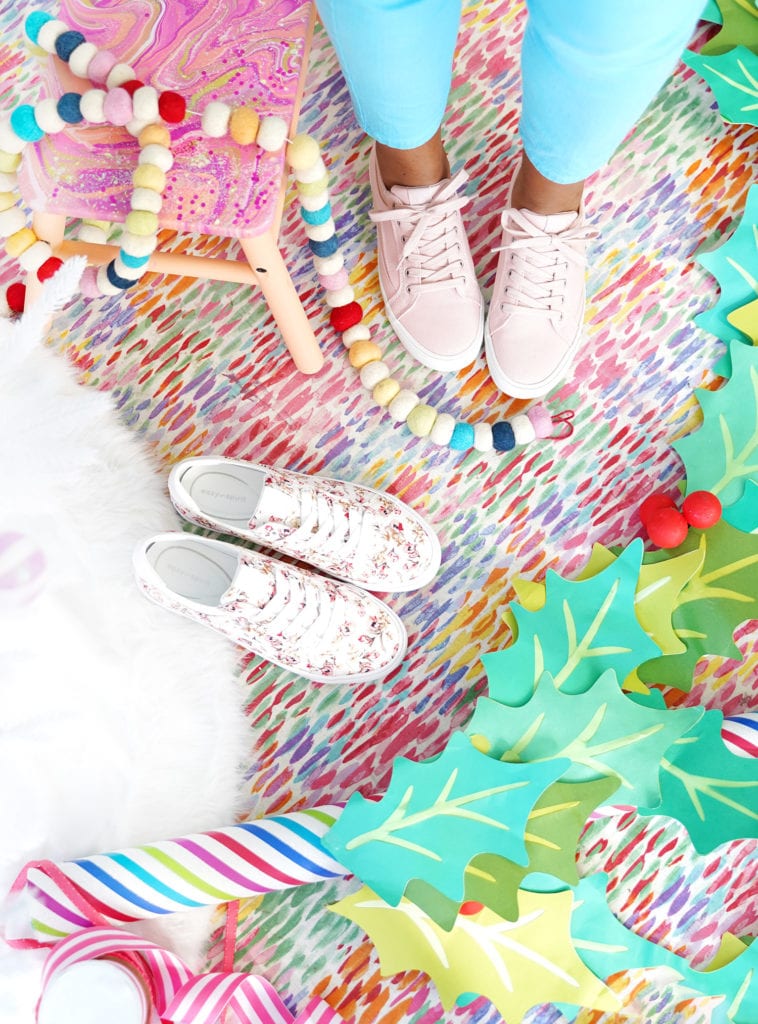 Stay comfortable, colorful, crafty and cute through the holidays with this creative step stool and sneaker combo!
This piece of creative content is brought to you in partnership with Easy Spirit! I have received payment, product or both in exchange for sharing my honest opinions and ideas. Thank you for supporting all the awesome sponsored content that keeps the lights on in this joint!