ONE // The journey was everything.
Maybe I'm the worst competitor on earth. Maybe I had no business agreeing to be on a crafting competition show without bringing the requisite amount of "must-win" spirit, but from the first day we got to the set of NBC'S Making It, I really didn't have my eyes on the prize. I assumed I would not win. When you're surrounded by seven extremely talented makers, each of whom bring their own skillset and perspective, there's no obvious winner in the room. Of course, I knew there was a chance I could win the title of Master Maker – but I also know how to do math, and 1:8 are decent odds, but not great.
Rather than compete with my cast mates, for me, Making It was a competition with myself. A competition to stay true to my aesthetic while also executing the wild challenges they threw at us…I mean, when's the last time YOU had to make a pendant light fixture using only naturally occurring materials. YEESH!
Making It was all about the journey. If I had shown up with the sole purpose of winning, I would have missed out on everything else. This would be my reminder to anyone applying for upcoming seasons of Making It. Be ready to work harder than you've ever worked. Be ready to test your creativity like never before. Be ready to support and encourage your cast mates. If you win in the end, HOT DAMN! If you don't win,  I can promise you'll still come out feeling proud and accomplished. 
TWO // Making It is only the beginning
Being on Making It has opened so many doors for Damask Love. I've had meetings and conversations that would have probably never happened without the show. I can promise you this: there is goodness to come, friends. This is just the beginning and the road ahead is filled with opportunity. Being on Making It was incredible but I'm so much more excited for what's to come. Don't jump ship now or you'll miss the really good stuff!
If you're thinking about applying for Making It, you can rest assured that it will be hard, but worth it. The application process was long (read more about it here) and the filming was challenging. Even when the show airs, you'll work really hard to promote it. As long as you're ready to hustle to grow your business – apply. Do it now! I can't wait for Season 2, when I can sit back and watch people who are NOT me!
THREE // I have a style – and I'm sticking with it.
Looking back at the projects I created on Making It, there is nothing I would change. Zero. I'm super proud of what I made – even that pizza costume that the judges basically hated, LOL! Throughout the competition there is a temptation to stray from your instinct in an effort to please the judges. Dont do it.  In the end, you don't have control over who wins and who goes home. All you can do is create projects that you're proud of so you can walk away knowing your represented yourself and your craft.
I went into the show excited to bring my style of crafting to a national stage. I wanted to share my passion for creativity with other people. I wanted to show what Damask Love is all about and create projects that still felt approachable. I think I achieved that mission, which means this was a knock-out success.
FOUR // The Damask Lovelies are a FORCE!
Making It was a wake up call.
For years, I've chiseled away at this little corner of the internet, knowing that there are people who love to read and engage with Damask Love. I did not, however, know just how committed and engaged you are. The amount of encouragement I've received has introduced a tribe and community that I did not know exist. When I hosted a premiere party for Making It, registration filled within thirty minutes and guests arrived two hours ahead of time to attend! That is BEYOND anything I would have ever predicted.
By far, the most fulfilling encouragement has come from moms and dads who tell me their children are inspired by what I do and have become more creative because of following me. I recently received a video message from two young black girls – probably four and seven years old – who told me "I want to be you when I grow up." You guys. YOU GUYS. You do not know what this means to me. You know how I feel about diversity and representation. If you don't – here's a reminder from my interview on Design Sponge.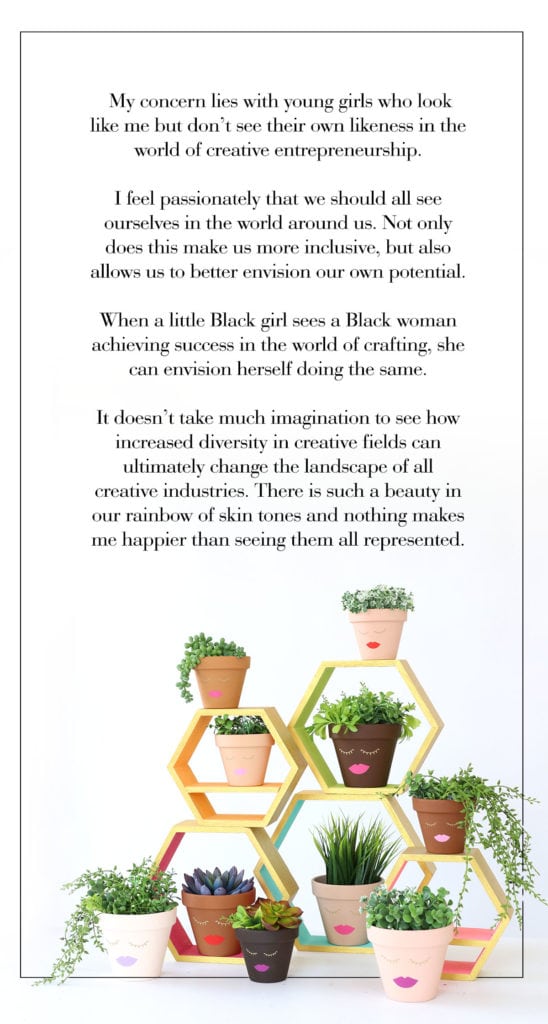 FIVE // Making It will change you
Making It was, without question, the hardest thing I've done in my creative life. There were many times on the show when we were all creatively exhausted – but we crafted on – and continued making awesome projects. Today, I trust my creative abilities and welcome all challenges. Earlier this year, JOANN invited me to design their booth for Alt Summit. I had no clue how to design and execute something like that – but I knew I could make it happen and make it beautiful.
Being on Making It taught me to be thoughtful about my creative process. It challenged me to inject some personal elements into what I make. It taught me that critique isn't so bad – even when it's done publicly in front of 5 million of your closest friends.
Making It totally changed the way I approach crafting and my business and  couldn't be more grateful for the experience.
SIX // 100K is totally overrated
Who am I kidding. $100,000 is not overrated. That's just something losers say to make themselves feel better. Truth be told, $100,000 is awesome and I'm truly excited to Khiem to enjoy his winnings. Let's all watch closely to see how he spends it. I'm guessing he buys a few thousand burritos.