Hello. My name is Amber and I am addicted to color.
As I've mentioned before, one of my best friends likes to say that I dress like markers. I like to think that my clothing just matches my colorful personality!
So, of course, when I saw this week's Tuesday Trigger – I knew I had to get involved!!
So much color in this inspiration photo!!!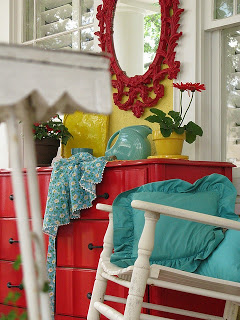 This photo immediately made me think of two words: Colorful & Vintage.
I love the funky combination of colors and the vintage feel of the furniture and that little apron draped over the dresser.
I created a card set that would capture this colorful, vintage feel.
I dug deep into my stamp stash and came out with a set that I picked up from JoAnn's Fabrics – on one of my many 20%-off-your-total-purchase shopping sprees!
The set is from TPC Studios and features a bunch of vintage rooster images – one of which is a solid silhouette.
With the current popularity of cameos – I decided to create a simple, cameo image in a variety of bright colors…I think this captured "color" and "vintage" in a fun way!
I stamped the sentiment on vellum and adhered it with colorful brads. For some reason, I felt the need to use the "Merci" sentiment rather than regular old "Thank You."
There's something about brightly colored rooster cameos that makes me want to speak French!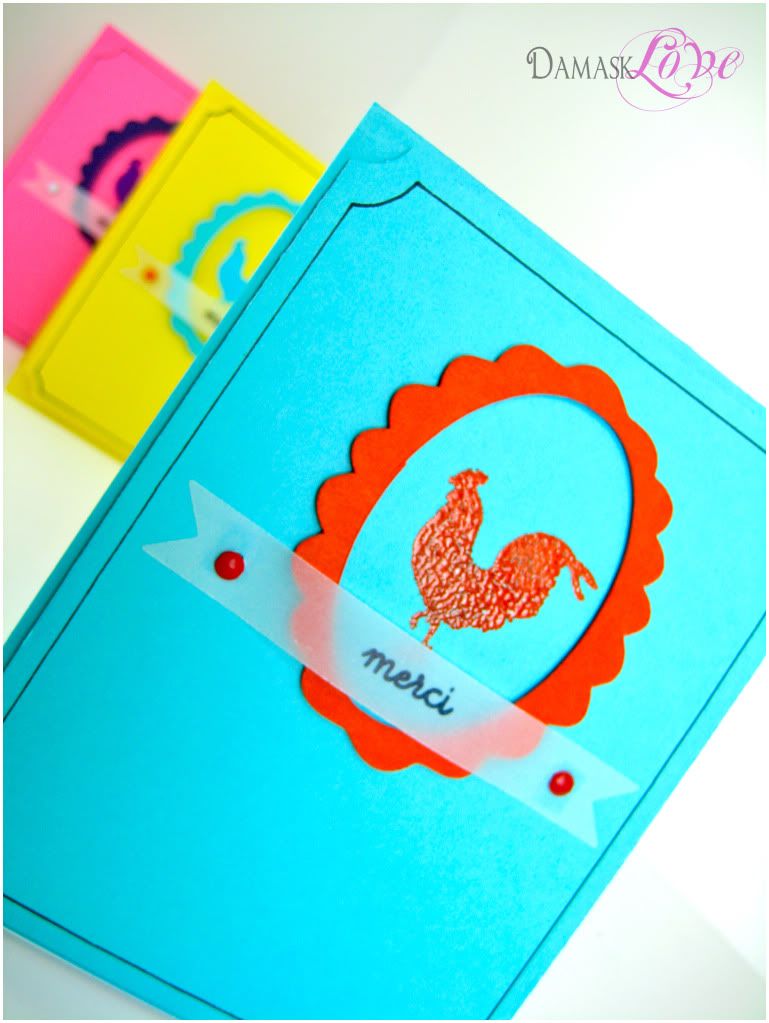 Super simple and I think it captures the spirit of the inspiration photo pretty well!
Thanks for stopping by for some Damask Love!
And DON'T FORGET!!!
Today I will start the Reject Blog Hop for the Stamping Royalty contest –  I hope there are few people who have photos of their beautiful projects!
The hop will start today (March 15) at 3pm EST so be sure to stop by to participate or just take a look at all the fabulousness!
Have a great day!